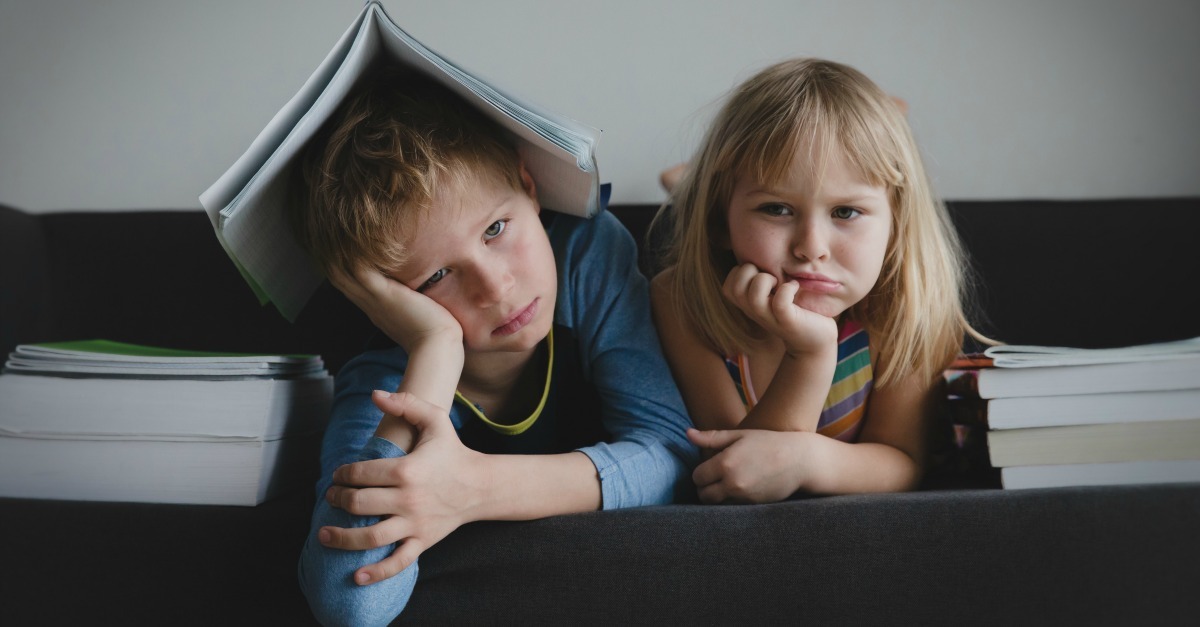 Sure there's lots of talk right now about suddenly transforming everyone's homes into "homeschools", but lets be real. We're all feeling a little stressed and anxious, and many parents are suddenly trying to work at home while also keeping kids occupied.
For those of you that are organized and on top of this and have your color coded daily school schedules – Go you! And I really do mean that sincerely.
But for the rest of us that just can't quite get it together. That's okay too! We are not failing. I mean, aren't we scheduled enough these days? If one good thing can come out of all of this, maybe its a chance to say " to hell with the schedule" for a little bit.
Lets relax, lets take the pressure off and maybe we can just let our kids be kids for a few weeks. They aren't going to fall so behind in school that they'll never catch up. And learning doesn't have to be so structured.
Now, all that said, after the first week of all of this, most of us are probably beginning to need at least some ideas to keep our kids busy, from our elementary schoolers to our teens. They miss their friends, they're maybe actually getting tired of playing video games non-stop and perhaps we'd like to give them something of value to occupy their time.
Here are tons of EASY ideas that can be as simple as downloading a podcast or a quick printable. Give them a try and give yourself a break.
First, this is a wildly popular post that is usually aimed at filling time during summer vacation. But as we're looking at similarly long extended time away from school, the ideas might come in handy.
100 Fun and Easy Screen Free Activities For Kids (Toddlers to Teens)
Next, while this may involve everyone, its a good way to spend some of this time at home reconnecting. However, if you have two or more kids close in age then these games are also something they can play together to pass the time.
Board Games (Family Game Night)
12 Preschool Games to Beat the Candy Land Coma
Simple Card Games Preschoolers Will Love ; Go Beyond Go Fish
Card Games for Families; Make It a Family Game Night!
Top 10 Board Games For Tweens ; From Moms of Tweens
Best Board Games For Teens ; Ideas for Teens from Teens
Board Games For Teenagers (and tweens) To Make Them LOL
The following are all activities that have been popular on our blog for years! They are fun and super duper easy. A few are theme based and others are more general. Just choose what makes sense for you kiddos and their interests.
Lego Themed Activities
Lego Games Lego Challenge ; Thinking Outside the Boxed Set
Lego Star Wars Printable Game Cards
Let;s Get Crazy With Lego-Minifigures
Printables
Star Wars Printables An Out of This World Round-Up
Finding Dory Games; Printable BINGO
Frozen
Elsa's Magic Painting and Frozen Math Game
Teen Crafts
Crafts for Tweens ; Sparkle Tumblers
Crafts For Teens Decorative Hangers
Teen Room Decor 15 Stylish DIY Projects for Teen Girls
All tech time does NOT have to be mindless, there are plenty of ways that kids can use technology for both fun and education. For years, we've been compiling some of the best apps for kids. These apps have proven to be the most successful in different education fields.
Educational Apps
5 Language Learning Apps for Kids that Aren't Boring
10 Best Spelling Apps for Kids
The Best Apps for SAT and ACT Prep To Give Teens an Edge
If your kids are little older- elementary, middle or high school age – then podcasts and Ted Talks are another great way to pass the time. There are so may good ones out there that cover educational topics as well as storytelling or even just provide a good laugh (which is something we could all use right now).
Podcasts
10 Podcasts for Kids That Will Make Them Say Wow! (And You Too)
10 Best Podcasts for Teens and Tweens to Expand Their Worldview
Hilariously Funny Podcasts for Teens That Will Have Them Laughing Out Loud
Ted Talks
The Best Ted Talks For Kids To Light Up Their Minds
The Best Motivational Ted Talks for Teens
Do not feel bad if your kids are blowing all their usual screen time limits out of the water right now. While it may feel like this time that we're all for the most part stuck in our homes will never end, this too shall pass.
Take a deep breath and don't worry so much about how much time they spend watching TV or movies. Heck, join in with them when you can and give yourself a little break from reality too!
TV/Movies
Kids TV Shows That Will Keep Them From Growing Up Too Fast (Kindergarten to Preteen)
Sports Movies for Teens and Tweens ; Inspiration for Your Young Athletes
The Best Modern Teen Movies on Netflix
The Best 80's Movies Parents Should Watch With Their Teens
Not all kids love reading, but if you have book worms and are looking for some good book suggestions for the coming weeks, we've got just about every age range and interest covered below.
And even if your kiddo isn't a fan of turning pages, consider getting some of the books suggested below in audio form. Many libraries have ways you can access audio books online and download to your device or consider signing up for Amazon Audible
Reading
Early Chapter Books ; Preschool, Kindergarten and Early Elementary
Suggested Reading for Elementary Schoolers; Ages 6-10
Star Wars Books for Jedis of all Ages
Suggested Reading for Middle Schoolers and Tweens
15 of the Best Adventure Series for Tweens
Suggested Reading for Teens in High School; Ages 14 and Up
Great Teen Books For High School Girls
Life Skills
Not all learning comes from a book or sitting in a classroom with an instructor. In all our hustle and bustle, many of our kids today are lacking some of the most basic life skills. So, now is a great time to help them learn some of these important lessons.
Cooking can be just a fun activity with kids (if you keep it super simple) and make stuff everyone loves to eat. But it can also be a great way to teach math concepts or help our olders prepare for life when their meals aren't made for them by chef mom and dad.
Cooking
Cinnamon Sugar Baked Donut Recipe
Secret Ingredient Chocolate Chip Cookies
White Chocolate Cupcakes with White Chocolate Frosting
And who says that all the time kids have their hands should be filled with fun. They can pitch in and help around the house and gain some valuable life skills in the process. Here's a few posts to help get you started.
General Life Skills
9 Essential Soft Skills for Teens and Tweens
The Importance of Chores for Children (Printable Chore Chart)
10 Tween Chores Your Middle Schooler Needs For Survival
To all the parents out there just trying to get through each day, you are doing a great job! Your kids love you and you love them, that is what really matters. Everything else is just not that important right now.