This may post contains affiliate links.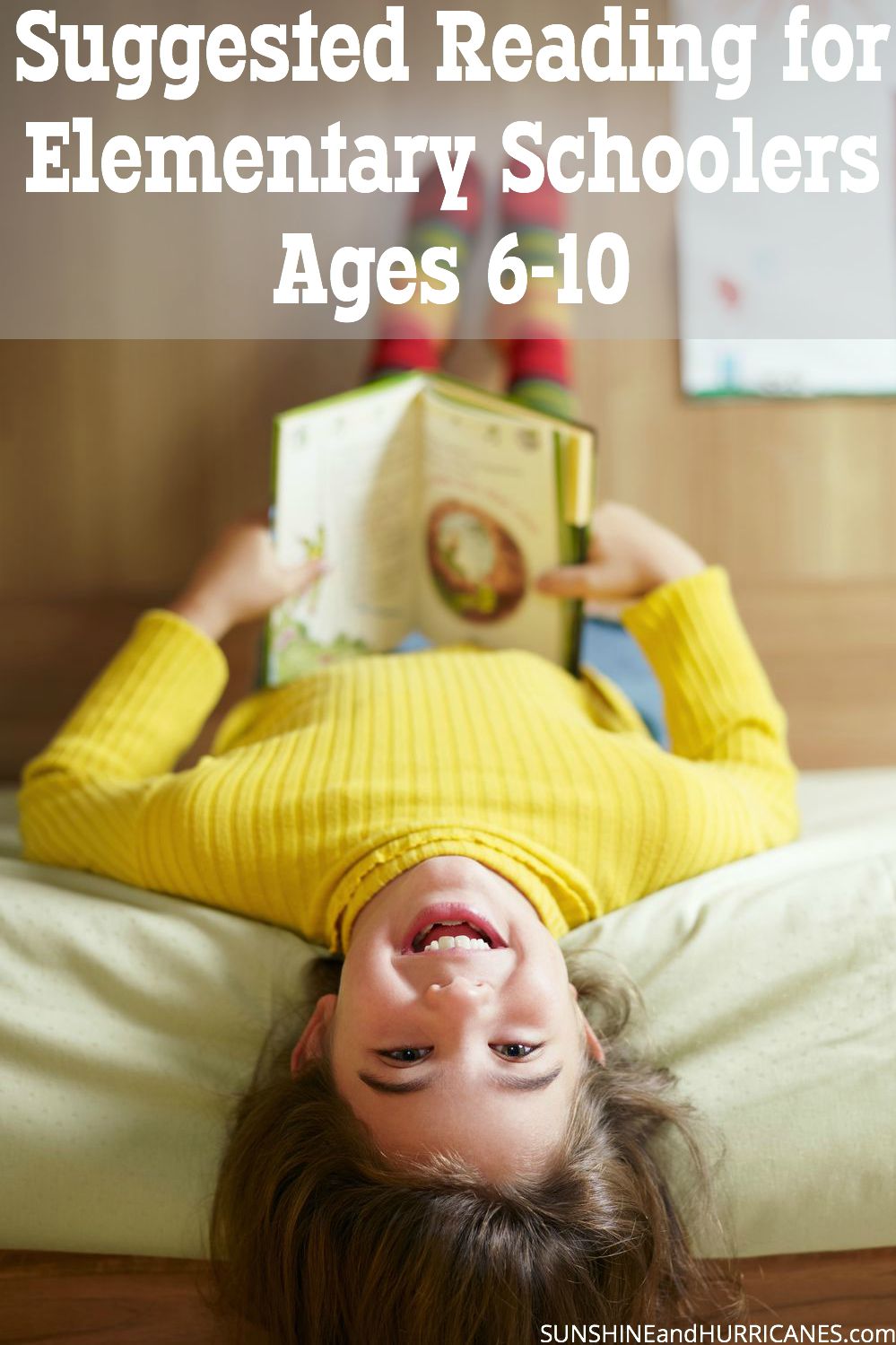 Suggested Reading for Elementary Schoolers: Ages 6-10
The majority of the selections I'm posting in this series of book suggestions for various ages are ones I've read with my children or I plan to read with them at some point. I've included a few that I've seen suggested as good reads on multiple blogs or websites that I would consider reputable. I'm not going to lump them into gender categories, although I realize in some cases boys or girls may gravitate to them in larger numbers, I think that reading is universal and there is no such thing as a "boys" book or a "girls" book.
This age group really includes one of the largest ranges of reading levels. Reading can be a challenge for some children and it is important to find a balance between content that keeps their attention and pushes them a little bit beyond their comfort level. On the other end of the spectrum, if you have an advanced reader, sometimes it is hard to find books that meet their ability without exceeding their maturity. The following selections represent a good range to meet both needs. I've started with easier books and then progressively moved to those for higher reader levels and with more mature themes.
by Mary Pope Osborne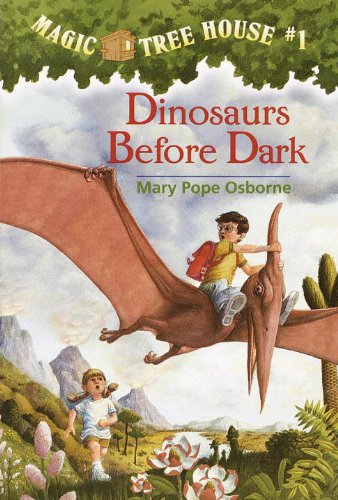 I truly think I may have enjoyed these books more than my son. There are about 100 of them (ok, not quite,but close). They weren't around when I was a child, so I got to experience them for the first time with him. They feature a brother and sister who travel through time via their "Magic Tree House"(aha!) having all sorts of adventures. They are fun and clever with a bold sense of empowerment that appeals so well to children of this age. In addition, many of the books bring historical events or characters into the mix in a way that genuinely intrigues children rather than being some type of obvious ploy to turn an otherwise fun book into something "educational".
by Gertrude Chandler Warner
This was one of my favorite books as a child. My brother and I used to build blanket forts and pretend that we were the box car children, it made for ours of imaginative fun on our part and a good break for our parents. The Boxcar Children tells the story of a family of four children, who finding themselves temporarily without parents or guardians, make a home for themselves in an old abandoned box car. It sounds a bit bleak, I know, but it really is a story of love, adventure and hope.
by Adam Jay Epstein and Andrew Jacobson
A magical story for children who might not quite be ready for Harry Potter. In this book, the reader is introduced to a cat, a blue jay and a tree frog, each a chosen companion to a young wizard in training. When, the young wizards are taken captive, it's up to these crafty creatures to figure out how to save the ones who usually care for them. Filled with a blend of suspense and humor, it's a whole different story when the animals get all the focus and have all the fun.
by Judy Blume
Truly I think this was one of my all time favorite books as a youngster and my son loved it so much we've read the entire series of books and listened to it as a book on cd in the car at least twice! Every parent or child will sympathize with poor put upon older brother Peter Hatcher, while at the same time laughing out loud at the antics of his unruly little brother "Fudge".
by Roald Dahl
Again, another favorite of my son's. This is a classic story that most parents read when they were little (or least saw the movie. Although if you've seen the Johnny Depp version I don't think that counts).
A child can't help but be instantly caught up in the questions this book raises. Will Charlie find the golden ticket? What will be hiding behind the doors of the mysterious chocolate factory? Which of the other ticket holders will find themselves in some sort of trouble next? They won't' want to put the book down until they have all the answers. A great option to lure in reluctant readers and show them the fascinating worlds that can be discovered within the words of a book.
by R.J. Palacio
A new book on the scene that has garnered incredible attention and applause. Wonder is the story of August Pullman, a young boy born with a deformity who wants nothing more to be seen as ordinary. Yet it is through his outward appearance that he teaches those around him the importance of character and the need to look past people's exteriors to a much deeper place. Almost a must read for our children in today's world to both protect them from the cruelty of others and to guard against them becoming the ones who perpetrate such cruelty.
by Ridley Pearson

It's Disney, who doesn't love Disney? Keeping with the magic that they are known for, these books will capture a child's imagination and keep them hooked through all the books in the series. The stories focus on five teens who must protect the Happiest Place on Earth from evil villains who want to take over. Many of the popular Disney characters are featured throughout the books. Perhaps better for your older readers in this category since they can be a bit more intense. It's really going to be a kid by kid decision.
by J.K. Rowling
I am not even sure what to write here, does anyone really need me to tell them about these books? The whole world was entranced by the introduction of a dark headed little boy, with piercing green eyes and a scar in the shape of a lightning bolt on his forehead. We follow him and a cast complex, comical and compelling characters on a journey to triumph over evil, while discovering along the way the importance of friendship, the value of family and the difficulty of dealing with the losses of both along the way.
by Rick Riordan
What do the Greek Gods and an ADHD Pre-Teen boy from New York have in common? Apparently some shared genetics. The Percy Jackson books introduce us to a secondary world that exists just beneath the myst of our own. A place half human, half God children are still being born in present day where they must battle mythical forces and creatures to save the planet and in some cases their other-wordly parents. The adventures are epic and the way the history of the Greek Gods is integrated into a modern tale will slyly make them excited about material that they would normally tune out in a classroom. I read the whole series to my son starting with the first one when he was in 3rd grade. He's now read the full Kane Chronicles series by the same author and we've moved on to the follow-up series to Percy Jackson,The Lost Hero (Heroes of Olympus)
, which brings the Roman Gods into the picture too.
Additional Suggestions:
I'm having such a hard time narrowing down my selections in this category since this is right where my son is currently. So, here are some extras. A few are more recent books, but many are the classics that we're already so familiar with I din't think we needed a refresher on the content. Let me be clear though, just because they are a classic, doesn't mean they are boring or that our kids won't fall in love with these books. They are classics for a reason and I can tell you my son (and even my 5 year old daughter who has listened to us read a few of these out loud) has been completely engaged by many of them. If only you could have heard him laughing out loud as he read Tom Sawyer or Hucklberry Finn. Seriously, I'm not kidding.
The Adventures of Huckleberry Finn
Anne of Green Gables
The Chronicles of Narnia
A Wrinkle in Time
The Adventures of Tom Sawyer
Little Women (Bantam Classics)
The One and Only Ivan
Mr. Popper's Penguins
Because of Winn-Dixie
Hoot
The Strange Case of Origami Yoda
The Secret Garden
Lemony Snicket: A Series of Unfortunate Events
Looking for more Book Suggestions for Elementary Schoolers?
Follow Sunshine and Hurricanes 's board Later Elementary Years Reading on Pinterest.
LOOKING FOR BOOK IDEAS FOR KIDS OF OTHER AGES?
CHECK OUT SOME OF THE OTHER POSTS IN THIS SERIES:
Book Suggestions for Infants and Toddlers
Early Chapter Books – Suggestions for Pre-K, Kindergarten and Early Elementary
Book Suggestions for Middle Schoolers
Book Suggestions for Teens in High School – Ages 14 and up