Inside:Teen Room Decor 15 Stylish DIY Projects for Teen Girls
Tween and Teen girls are definitely entering a stage when they are developing their own style. They want to express themselves and their personality in the way they dress, how they wear their hair and the activities they pursue. But the place they want to most reflect who they are is their bedroom.
This is their sanctuary. The place they go to escape when the world begins to feel a little too big and overwhelming. Here is where they listen to music, dream big dreams and sometimes cry rivers of tears.
It makes sense when it comes to teen room decor, that they have some very specific ideas. Unfortunately, sometimes those big ideas found in catalogs or online can come with pretty big price tags. You may need to persuade them to choose a few of their most favorite items to purchase and then to break out their creativity for the rest.
Inspire their creative vision with our teen room decor 15 stylish DIY projects for teens: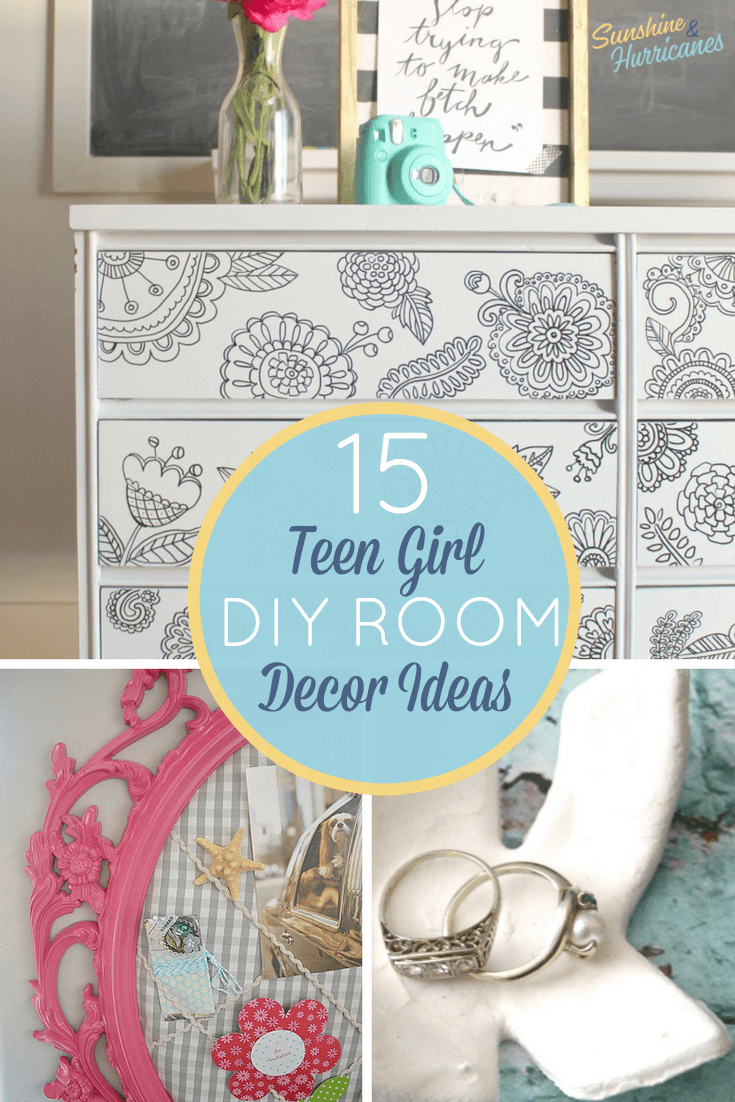 It's amazing how a little imagination and some craft supplies can transform basic teen room decor into something so much more. Plus, what is more "all about me" than projects that are actually made by them.
Teen Room Decor – 15 Stylish DIY Projects for Teen Girls
Tween and Teen girls will not only enjoy making these 15 Stylish DIY projects, but they'll be able to appreciate them for years to come.
Quirky Toy Make Over by Lemon Thistle – Who says they are too old for toys? These clever way to recycle and repurpose old toys in a more grown up way is a genius decor hack teens will love.
Subway Word Art by Nellie Bellie – A few magazines with inspirational words and images, some mod podge and a canvas of the artist's choice will add some instant personalization to any teen room decor.
DIY Doodle Dresser by A Girl and a Glue Gun – It's like coloring, but better. A fun outlet that results in a great statement piece for any teen girl bedroom.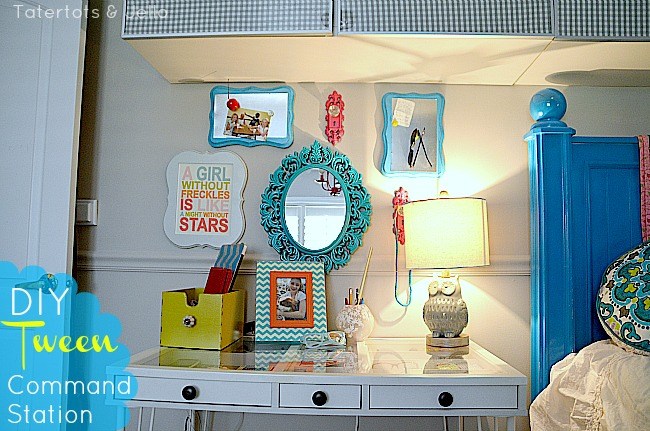 Teen Command Center by Tatertots & Jello – Every girl needs a space that really speaks to her soul and captures all the important things in one place.
Frogtape Wall Decor by Club Chica Circle – Abstract art comes alive and makes an ordinary wall something extraordinary. You have to see it to believe it!
Plumbing Pipe Light Fixture by The Gathered Home – The farmhouse trend meets functional in this clean and clever way to light up any teen's room.
Budget Wall Art by DIY Beautify – Transform an ordinary frame into a work of art with words that will touch her heart and speak to her soul.
Geometric Heart Wall Art by Make and Do Crew – Most teens think geometry is a waste of time, but they'll see it from a new angle when they check out the wonder of this wall art.
Pretty Pink Vanity Upcycle by Fresh Idea Studio – One person's trash is another person's treasure and you never know the potential of something old until you make it new again with your own flare and finesse. (and some paint!)
Monogrammed Ring Dish by Dukes and Duchesses – Her monogram gets new life with this makeover that takes only minutes and will provide a very personalized place to store her precious jewels.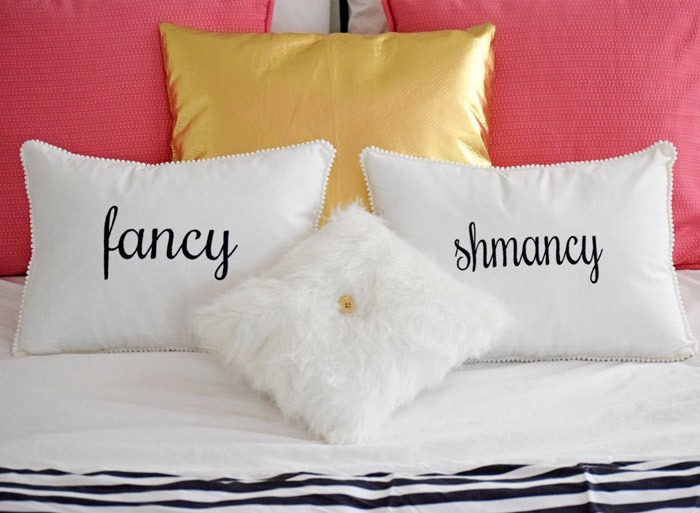 Fancy Schmancy DIY Pillows by Nourish and Nestle – Glam it up while adding some sophistication with these pillows that are simple, but tres chic.
Ikea Bulletin Board Hack by Tatertots & Jello – Give a plain old Ikea bulletin board a whole new look with this easy tutorial that turns boring into bling.
DIY Name Sign by Sugar Bee Crafts – Make a statement about who you are with this bright and bold sign that has you written all over it.
Selfie Wall by Tatertots & Jello – It's a trend that might as well be embraced. Get those fab photos off their phones and on display with this fun modern take on teen room decor.
DIY Reading Nook by Club Chica Circle – It's cool to be a teen nerd these days and book worms are the best kind. Create a private spot all your own to get lost reading in your own room.
Time to tackle a few of these fun teen room decor 15 Projects for Teen Girls and transform your teen girl's bedroom into a personalized retreat made just for her!
Related:
DIY Gifts Teens Can Make; Easy, Meaningful and Fun
Gifts For Teen Girls; Things They Really Want
15 LIT Locker Decor Ideas for Teens; Have the Sickest Locker at School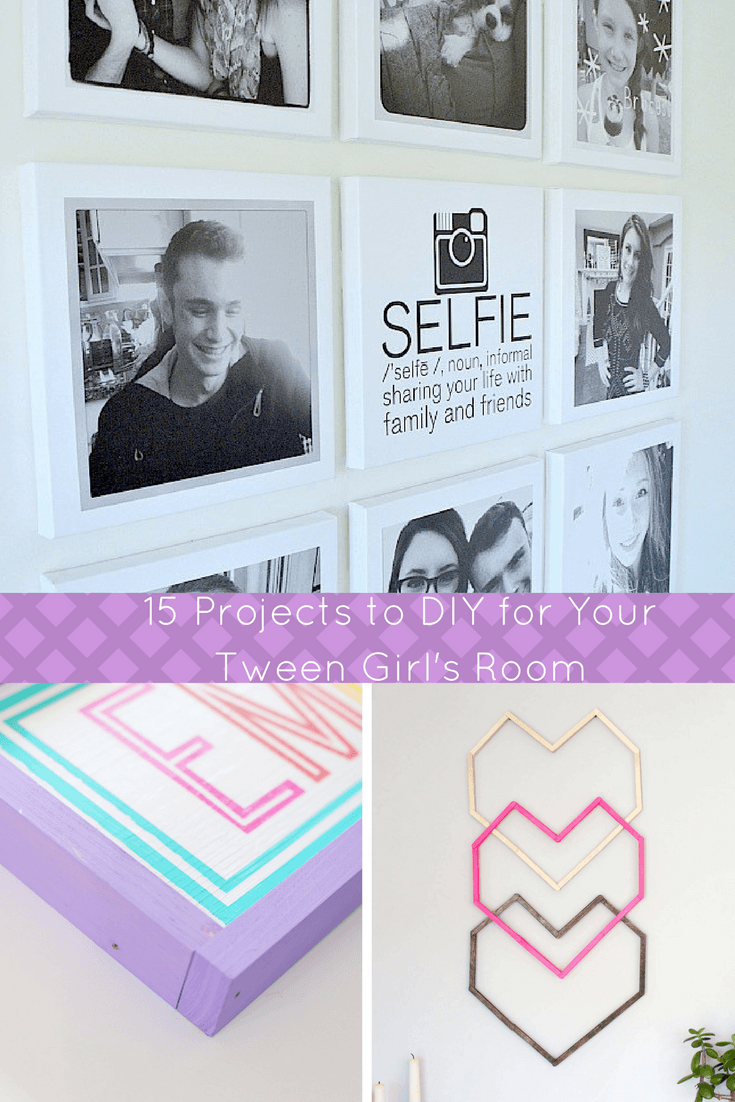 Please share any other ideas you would add to Teen Room Decor 15 Stylish DIY Projects for Teen Girls