It may have been Madonna who said "Express Yourself", but it's a whole new generation of teens who have taken her advice to heart. Never before has a group of young people had so many options for creating their own style and putting their own personal touch on everything from their choice in fashions to their locker decor. These 15 Lit Locker Decor Ideas for Teens will guarantee they'll have the sickest locker at school.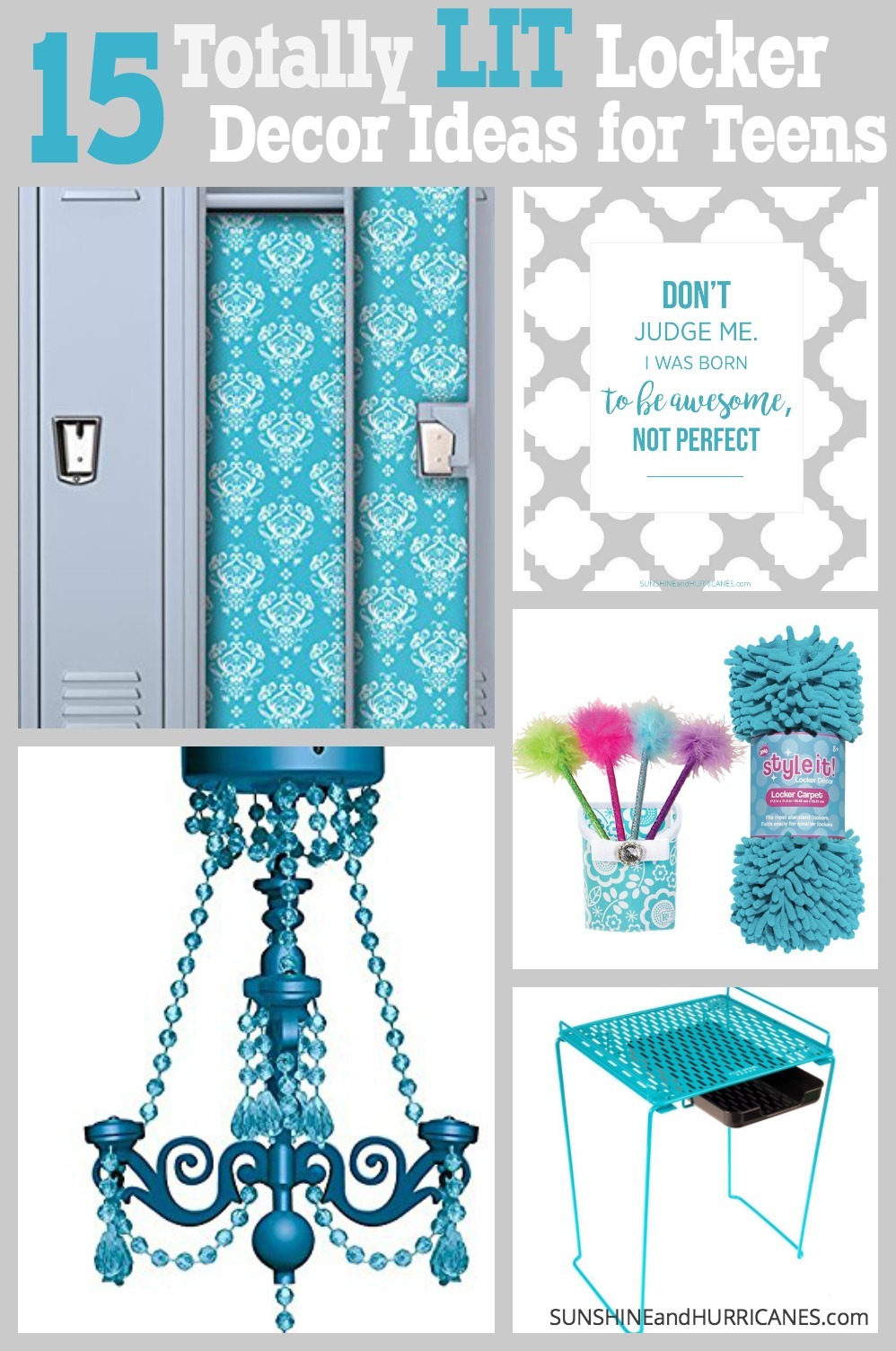 15 LIT Locker Decor Ideas for Teens
Magnetic Locker Wallpaper lets you decorate your school space in a way that truly reflects your personality. With almost a dozen different styles to choose from, you're sure to find one that fits your tastes. (Also available in blue teal damask pictured above)
(P.S. For kicks, go ask your Mom who Joanie and ChaChi are….)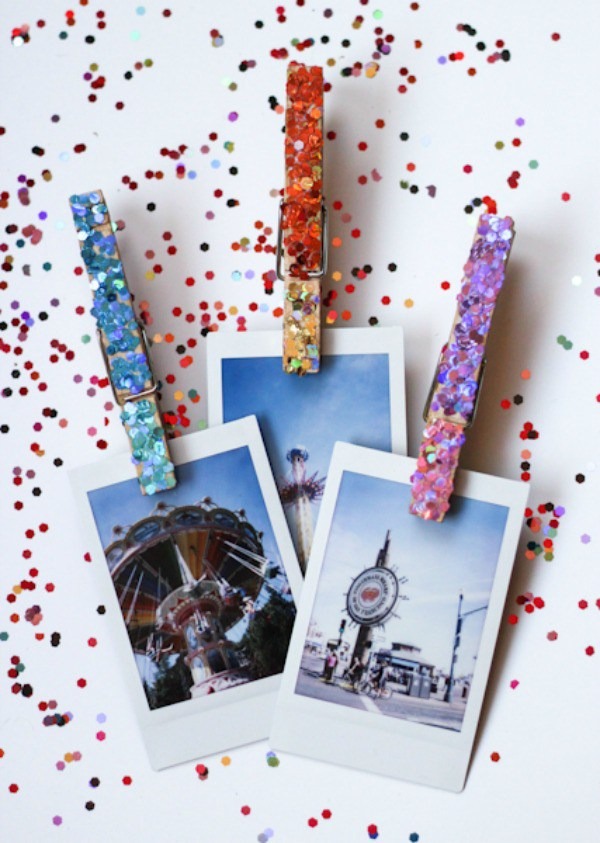 Create your own polaroid picture gallery using these cute magnetic clothespins or make your own DIY Glitter Clothespins pictured above. Everything old is new again and that includes polaroid pics. Updated for today's teens, this cute little polaroid cameras can tuck in must backpacks and purses. Enjoy the old school feel of a real photo, but in a miniature size that is perfect to display in your locker.
A pink and gold polk a dot Dry Erase Board is a must for leaving yourself important reminders, writing down inspiring quotes or letting your friends leave you little messages. The bonus stickers offer an opportunity to add a little more flare if you're into that.
When it comes to locker decor ideas for teens no modern teen locker would be complete without a locker rug. How could you overlook such an essential? This fun and super soft chenille carpet is just what you need to make your locker look complete. But as an added bonus you get a coordinating holding bin and these four fluffy pens.
What kind of day are you having? Let everyone know with these Emoji magnets.
They may not cover all the important feelings you want to communicate to others, but you can still get your point across.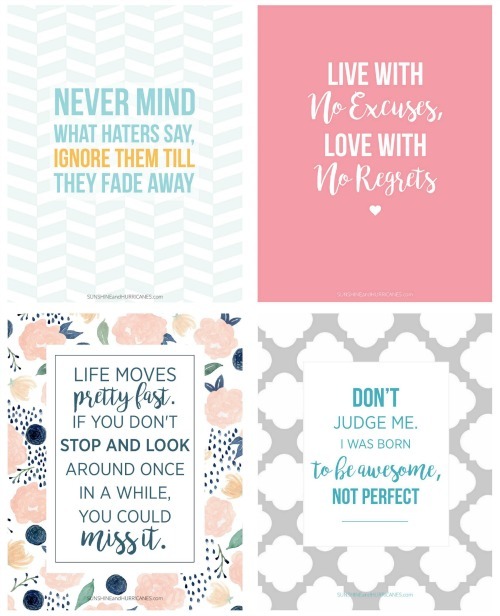 Magnetic Frames with Printable Quotes will help you make a statement. Whether you want to inspire, make people laugh or just get people talking, you'll have fun making these whimsical printable quotes part of your locker decor.
A mirror is definitely a MUST and well a zebra stripe mirror is even better. Check the hair after gym class or dab on a little lip gloss refresher before algebra class in case you finally catch the eye of you know how in the front row.
(Stripes not your thing – there's also leopard print)
In case someone yells "Dance Party" in the middle of changing classes one day, you'll be prepared to help add to the ambience with this locker disco ball. Powered by an LED light it will shine a light on everyone's funky moves.
Now perhaps Disco isn't your thing and you'd prefer something a little more classy to light up your locker. This blue magnetic chandelier would definitely create a whole different mood and certainly would make sure you're locker stood out in the crowd.
Locker shelves
also come in handy for cramming in all the books, folders, magazines, lunch boxes as well as all the life necessities you never know if you might need during a school year. Different colors available. Also available in blue as pictured above.
Speaking on necessities, this storage bin with flares is an ideal place to keep all those little items that otherwise might get lost in the depths of your locker.
Pencils, pens, brushes, make-up and maybe even a few snacks will be easy to grab and go.
Create a retro, but modern locker look with a sparkling magnetic locker curtain. Adding a whole lot of glam along with a little bit of privacy about what exactly you've got stashed in that locker of yours.
Let's be honest, sometimes lockers can get a certain stank to them. Whether it's a half eaten lock that got shoved to the back and forgotten or gym gear that has a bit of a funky smell. This darling and discrete air freshener is just what you need to make sure no one gets a whiff of anything unpleasant when walking by your locker.
You can pretty much guarantee a giraffe cork board isn't going to be something people see every day.
Tack up a few important "to dos" or that school field trip permission slip you don't want to forget.
You may not have time to stop and smell the roses, but you can still brighten your day with a little flower power. Add a touch of color with just one magnetic flower or create a whole bouquet. They also come in pink and green.
While you may not be able to bring your favorite furry friends to school with you, these magnetic locker buddies will keep you company in their absence. Plus, since they are sporting shades, they'll definitely be upping the hip and happening factor of your locker look.
Other Related Posts:
Best Board Games For Teens; Ideas from Teens
5 Ways to Build an Unbreakable Mother Daughter Relationship with Your Tween or Teen
What other locker decor ideas for teens have you seen and loved?