All the little Jedis in your life will learn to read and love to read with all the different choices of Star Wars books we've collected just for them! From preschool Padawans to Jedi Masters, there's something on the list for everyone that's enthralled with droids, princesses, and Sith! Make a bowl of our yummy Star Wars Snack Mix and settle in for a cozy reading time.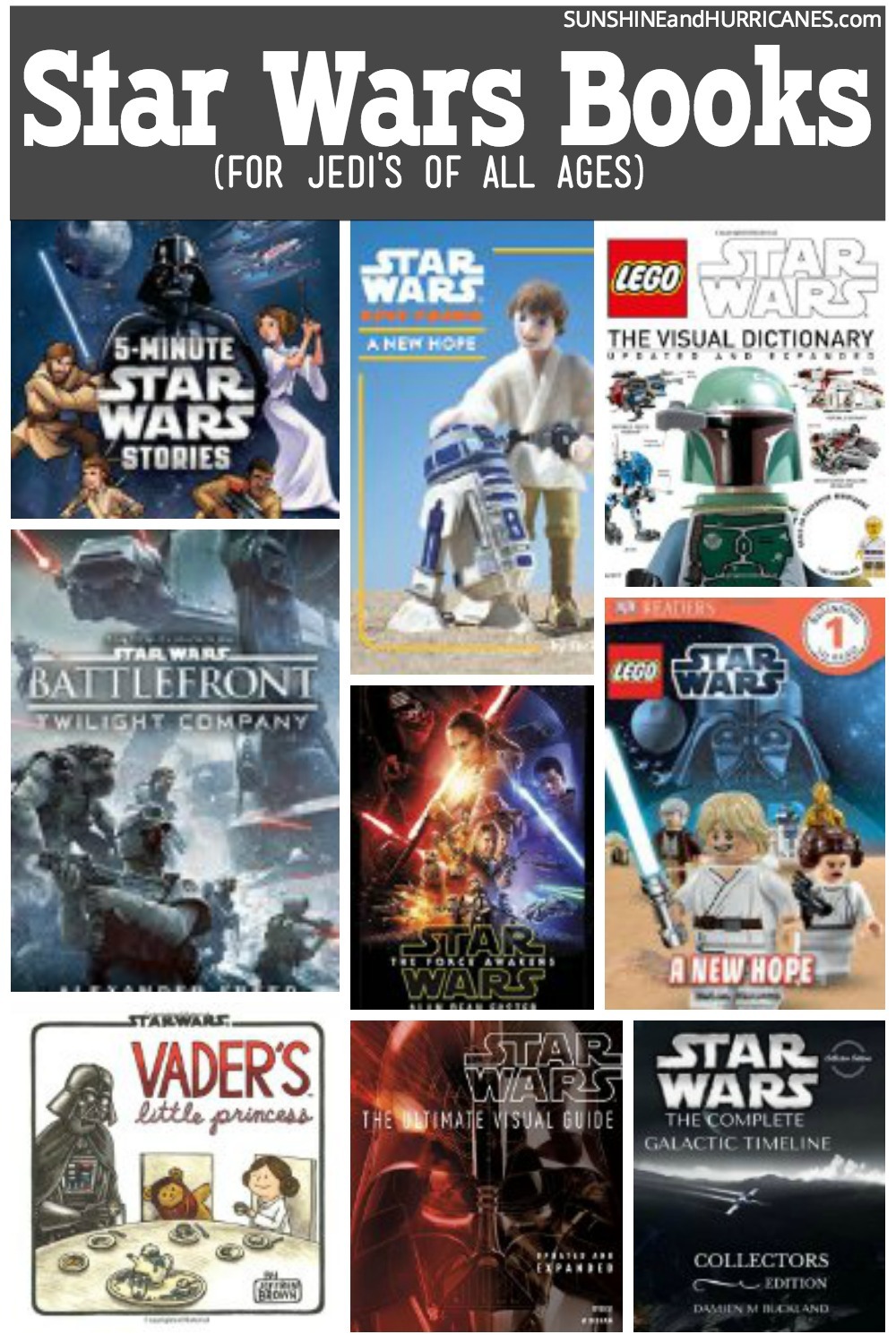 Preschool- Early Elementary

5-Minute Star Wars Stories

The Star Wars Little Golden Book Library

DK Readers L1: LEGO Star Wars: A New Hope
Star Wars: Jedi Academy

Vader's Secret Missions
Star Wars: The Story of Darth Vader

Star Wars Rebels: Battle to the End

Star Wars ABC

Star Wars: Colors

Star Wars Epic Yarns: A New Hope
Darth Vader and Friends

Vader's Little Princess
Tweens-Teens

Star Wars: The Prequel Trilogy

Star Wars: The Complete Visual Dictionary – The Ultimate Guide to Characters and Creatures from the Entire Star Wars Saga

Star Wars Volume 1: In the Shadow of Yavin

Heir to the Empire: The Thrawn Trilogy

LEGO Star Wars: The Visual Dictionary

The Force Awakens

Aftermath: Star Wars: Journey to Star Wars: The Force Awakens

Star Wars: A New Hope The Princess, the Scoundrel, and the Farm Boy

Battlefront: Twilight Company (Star Wars)
Adults & Collectors
STAR WARS Battlefront Collector's Edition Guide

Star Wars: The Ultimate Action Figure Collection

Obsessed with Star Wars: Test Your Knowledge of a Galaxy Far, Far Away

Star Wars The Complete Galactic Timeline: Collectors Edition

Star Wars: 1,000 Collectibles

Star Wars: the Ultimate Visual Guide: Updated and Expanded

The Visual Dictionary of Star Wars, Episodes IV, V, & VI: The Ultimate Guide to Star Wars Characters and Creatures
If you're reading this post than you MUST have Star Wars lovers in your house. Well, we've got more Star Wars posts that are out of this world!
Lego Star Wars Printable Game Cards
Ultimate Star Wars Printables Round-Up
Star Wars Gift Guide for Little Jedis
Star Wars Birthday Party Games
For EVEN MORE Star Wars Stuff:
Follow Sunshine and Hurricanes 's board Star Wars on Pinterest.
Do you have any favorite Star Wars books at your house?