Planning a Star Wars Birthday party or looking for Star Wars games or activities for your little Jedi wannabes? These DIY Bubble Lightsabers and Games to go with them are perfect for tons of Star Wars fun! Children will love being able to improve their Jedi skills as they move through these exciting challenges and strive to grow in the Force!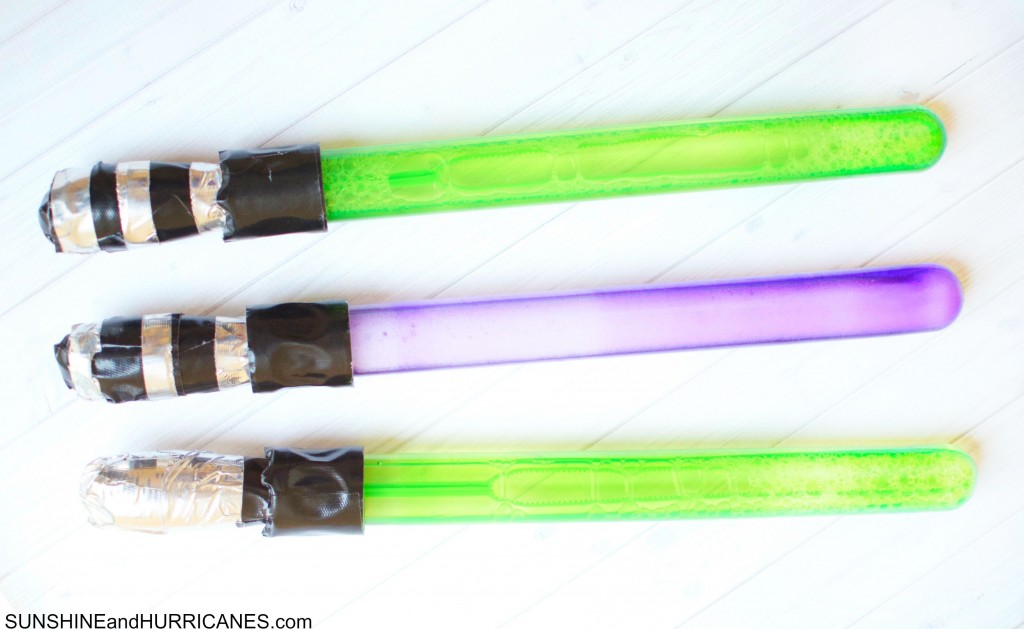 These Star Wars Birthday party Lightsaber Games are a creative and fun party activity that kids of all ages will love (don't think tweens and teens are too grown-up for this!). The bubble wand lightsabers are easy to make and even better, they double as out of this world party favors!
Simply purchase some inexpensive bubble wands
and wrap silver and black duct tape to form the hilt. Change it up a little by varying the designs for more interest.
Next, gather all your Jedi's in training and set them on the path to become masters with their lightsabers.
Star Wars Birthday Party Lightsaber Game Ideas:
Balloon In The Air
Using only the lightsaber, keep a balloon from touching the ground for as long as possible. Other options are to balance the balloon on their lightsabers for a given amount of time or pair up the Jedi in training and have them volley the balloon back and forth as many times as they can without letting it hit the ground.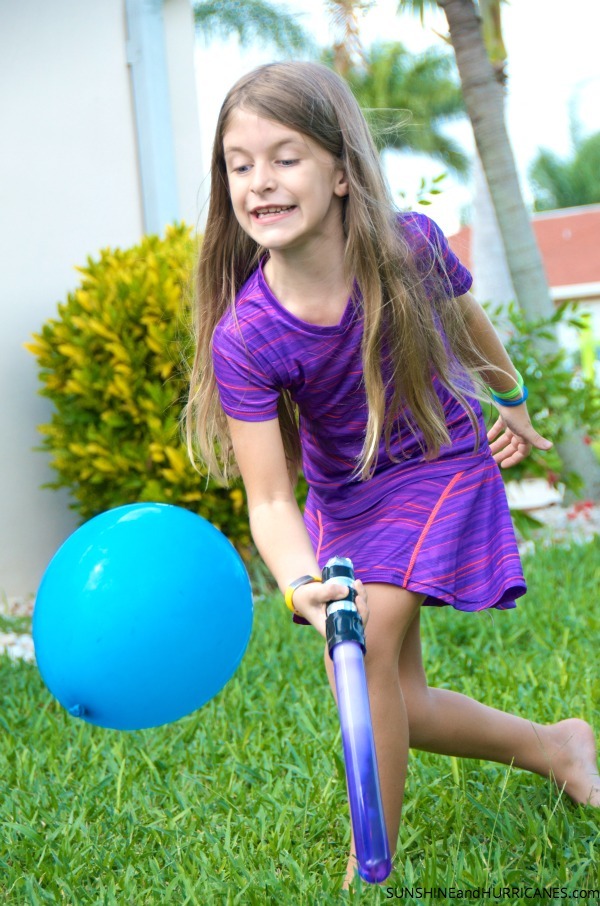 Balance Test
Use your lightsaber to balance a paper plate on the end of your saber. Time to see who can balance it the longest. Or if you just have one or two little Jedi's challenge them to work towards balancing it for at least 1 minute.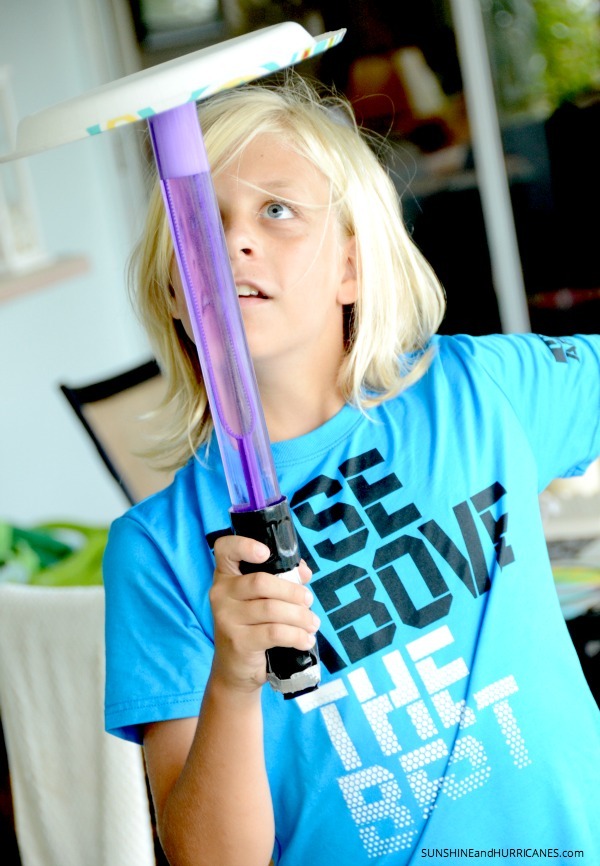 Vine Testing
Hang streamers
criss cross from any door way and just secure with basic scotch tape. Let the little Jedi's use their lightsabers to breakthrough and free the rebels! (P.S. if your child is old enough to hang the streamers themselves, this is a GREAT way to keep them busy for a good 30 minutes any time you need a little break when they're just bored and driving you crazy).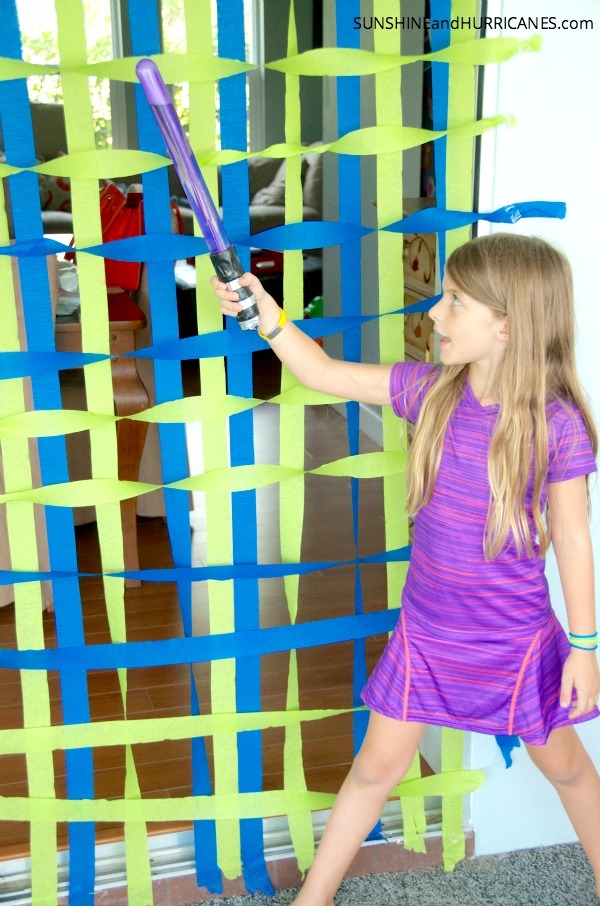 Box Test
Stack various boxes from the recycling bin into different configurations and attempt to knock them down one at a time.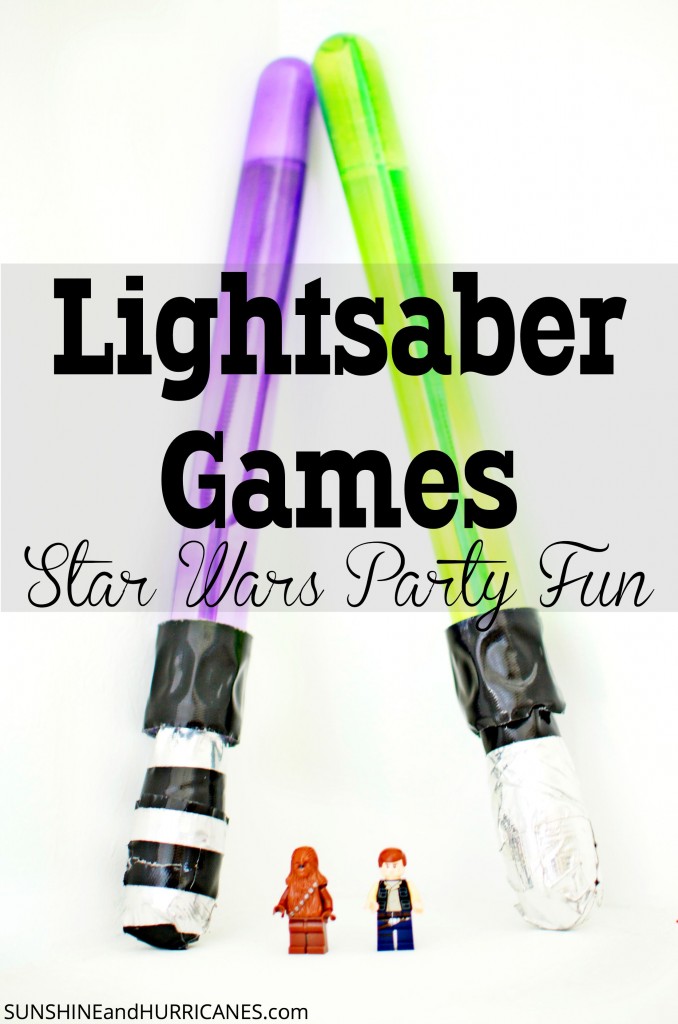 Looking for more Star Wars Birthday ideas and just general Star Wars fun?
Follow Sunshine and Hurricanes 's board Star Wars on Pinterest.
More Star Wars fun for Star Wars fans:
Lego Star Wars Printable Game Cards
Do you have any other out of this world Star Wars Birthday Party Ideas?