I am thrilled to be partnering with Target and Godiva on this sponsored post, but all opinions and ideas are 100% my own (and my kids). #GiftGodiva
Raising kids today is not easy and as parents, sometimes we can take for granted how many people outside our child's immediate family help them along on their life's journey. There are teachers, neighbors and babysitters, soccer coaches and dance instructors, family friends and loving members of our church congregations. Throughout their childhoods, countless people will touch their lives in big ways even though they aren't the ones raising them.
At special times of year, like the holidays, it can be a beautiful lesson for our kids in gratitude and appreciation to recognize these individuals with simple gifts that reflect what they mean to our children (and us) and that the the role they play in their lives don't go unnoticed.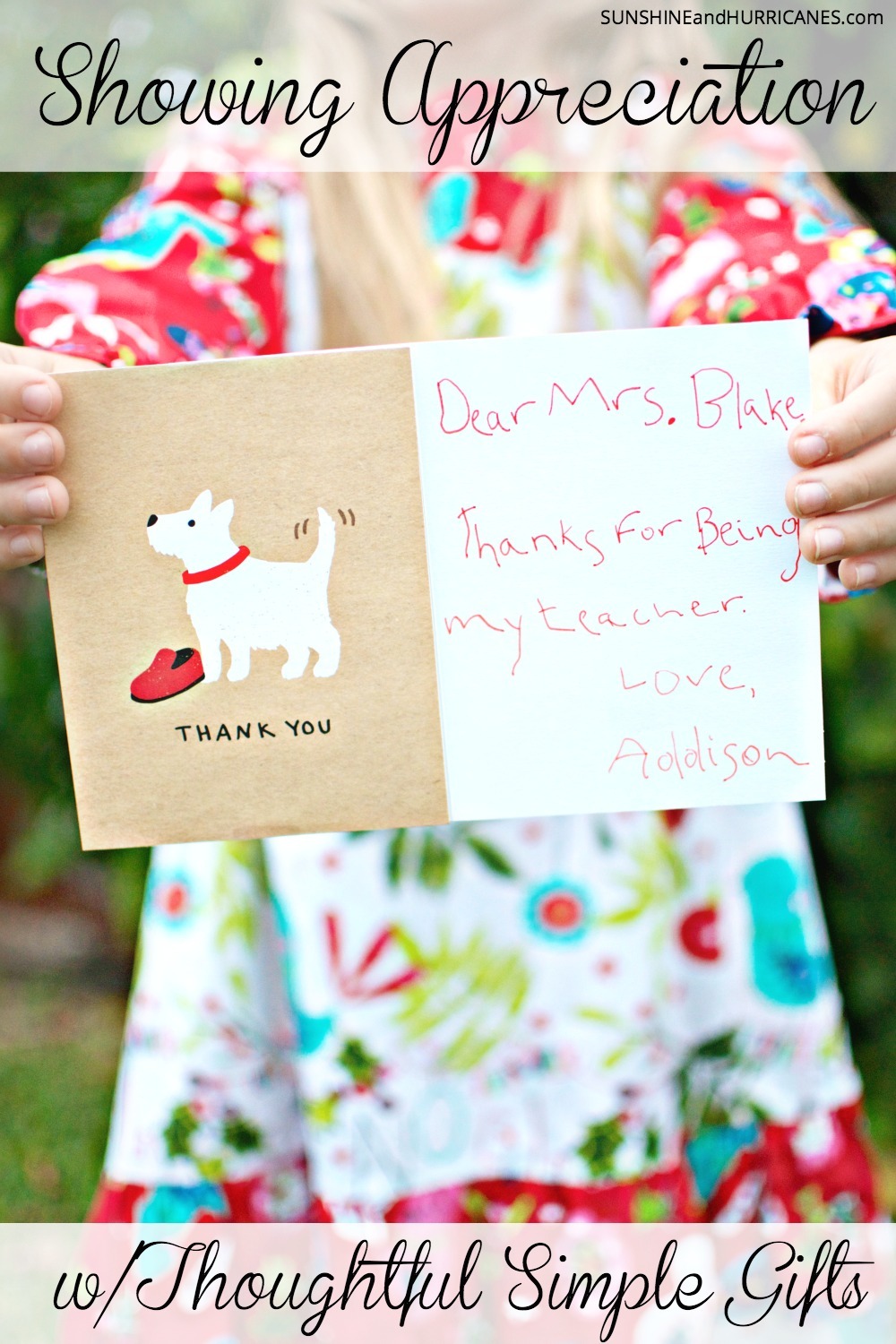 Showing these people that they matter doesn't require spending a lot of money and it doesn't even really have to take a lot of time, all it really takes is being thoughtful. Kids are natural observers in life, often noticing the little details that many adults easily overlook. Use this special skill that they have to teach them how small gestures, done with heart, can truly touch another person. Simple gifts really can prove that it's the thought that counts!
I guarantee most of your kids will notice if their teacher comes in every day drinking a cup of coffee from Starbucks or if their dance teacher always wears sparkly clips in her hair. Now, just build on that to come up with gift ideas. My kids and I made an "appreciation list" of people they wanted to give gifts to this holiday. Here is who they came up with:
– my daughter's teacher
– our neighbors
– my daughter's dance instructor
– the children's youth leader at church
– their babysitter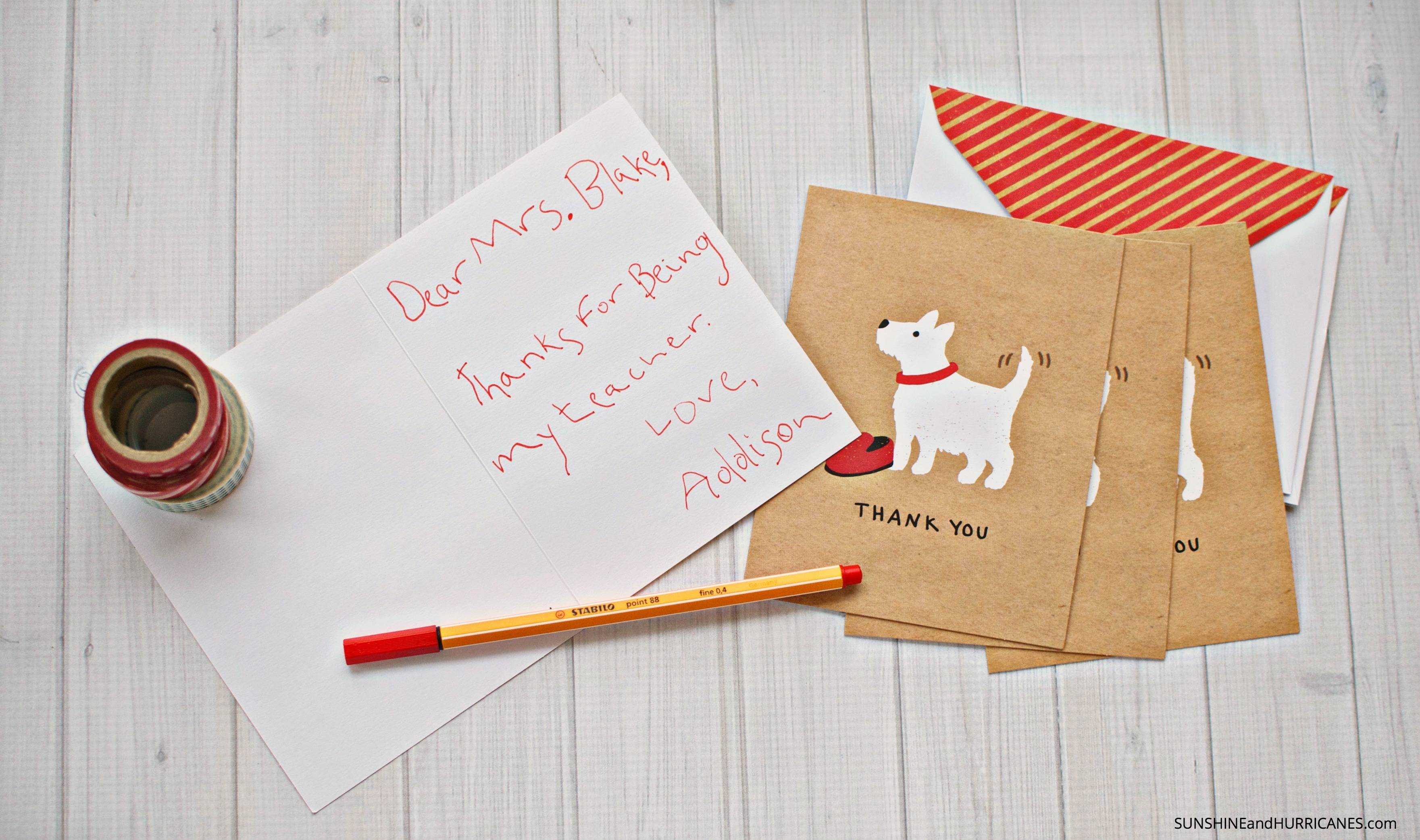 Next we talked about things that just about anyone would want to receive and then we focused in the one item that was unique to each person on the list. Then it was off to the store to pick out the gifts. We headed to Target, because I knew we would be able to get everything in one place, which when shopping with kids who have a limited attention span, can be REALLY key to the whole endeavor.
My kids had decided that no one on earth could not love chocolate! So, we got each person on our appreciation list festive gold holiday boxes of Godiva chocolates. Godiva chocolates just seem like one of those little luxuries that people won't buy for themselves, but that feel extra special to receive. Then we went in search of what we needed to make each person's gift perfect just for them!
First for our daughter's teacher we got a large pack of colored sharpie markers, because my daughter knew that she loved using lots of different colored pens and yet they seemed to always go missing (we have this problem at our house too). We put them in a cute mason jar with a ribbon for packaging and we also tucked a little $5 Starbucks gift card inside b/c as my daughter said, "She loves Starbucks almost as much as you, Mommy!"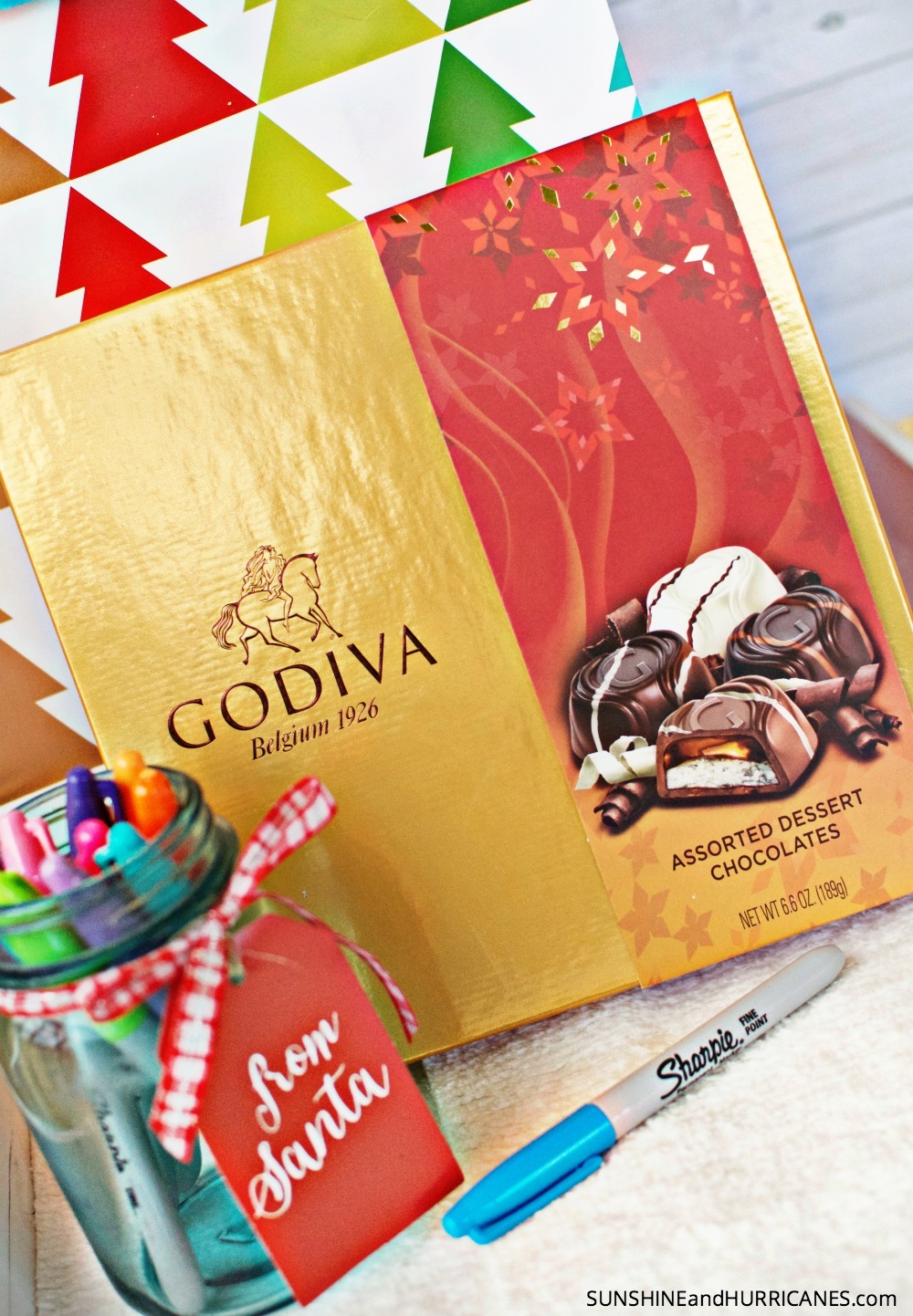 For our neighbors, a sweet retired couple who are always watching out for our family, we got them a nice bottle of wine. This was from all of us, not just the kids, and we all know they love to entertain and are big wine lovers. Plus, what goes better with wine than chocolate?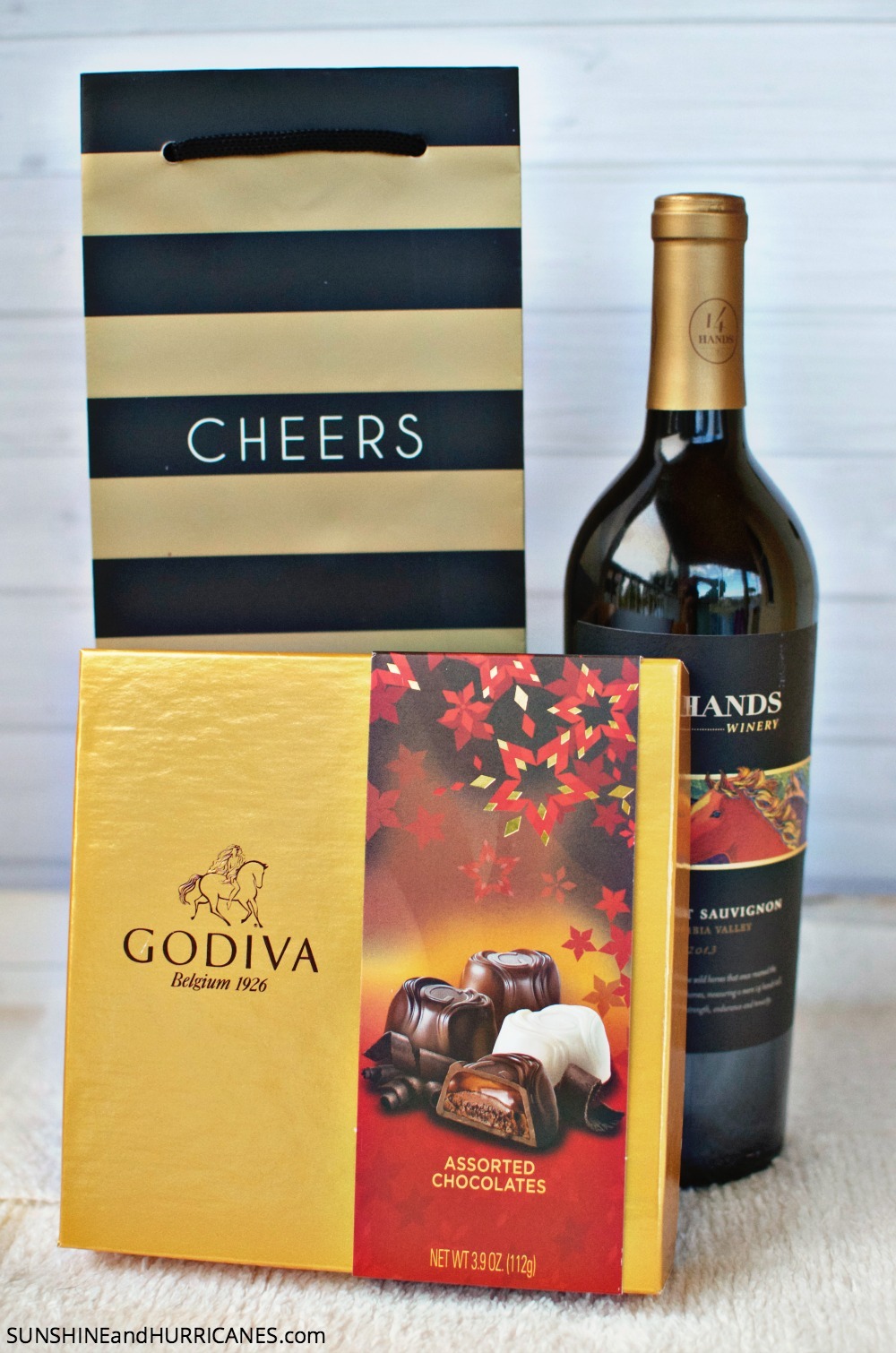 For our daughter's dance instructor, a little extra pampering seemed in order because she is working, going to school and she's just a busy young woman, always on the go. We added the super soft fuzzy socks & lotion because Addison thought with all the dancing she does, her feet must get sore. 🙂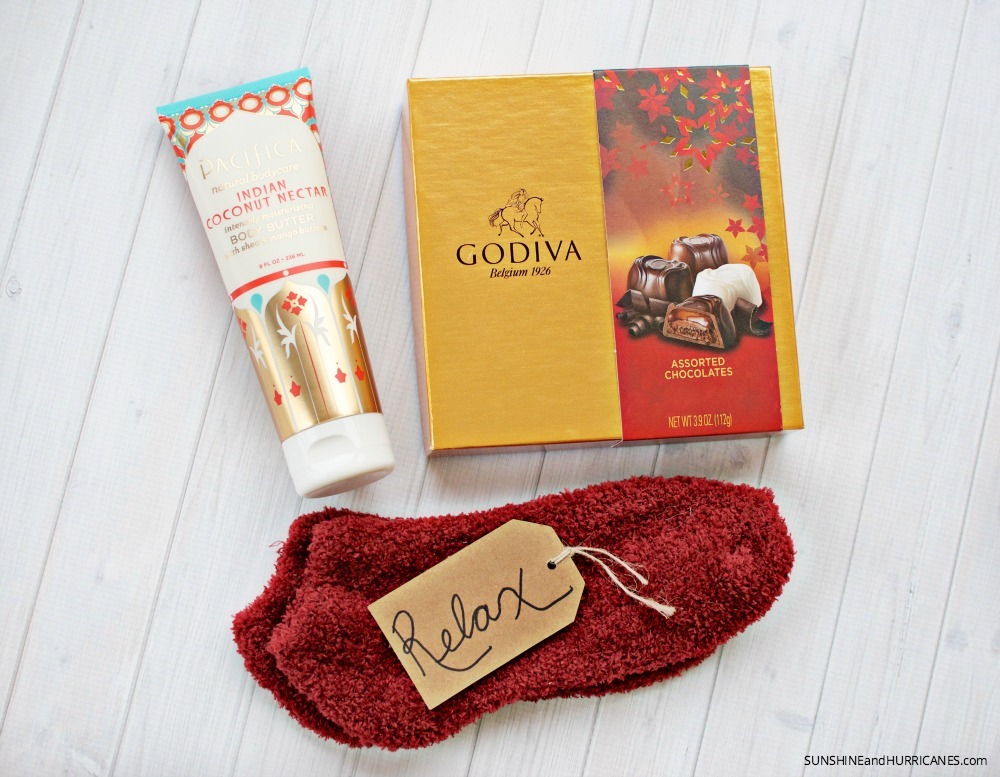 Our children's youth leader at church is also a foodie. She often brings homemade goodies to the kids (that they love) and right away they remembered that and talked about how much she loves to cook. We picked out a pretty tea towel for her kitchen that reflected her Food Network Star aspirations and a cutting board and whisk as little extras.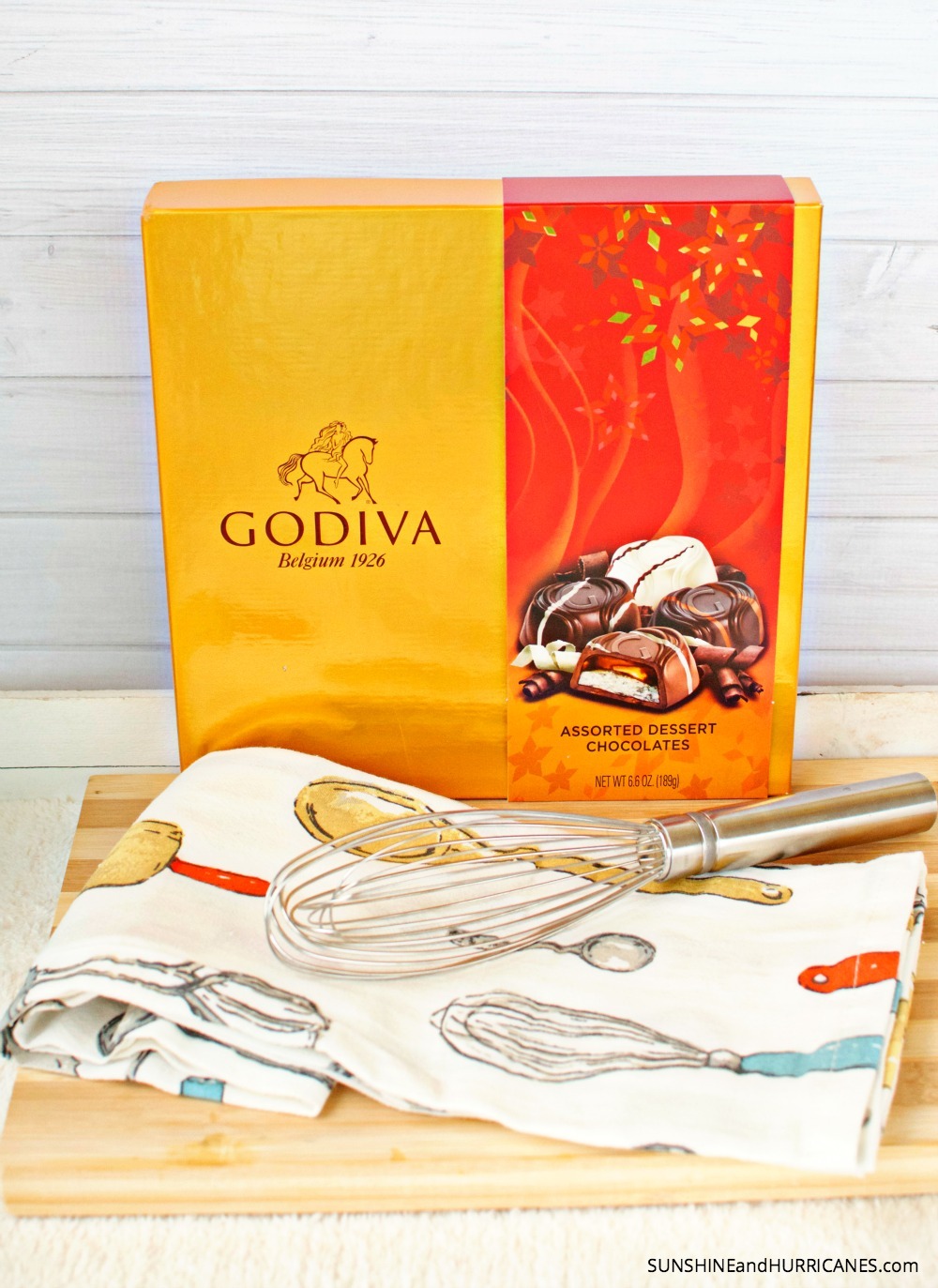 Lastly, it was a no-brainer what to get our kid's babysitter. She's a notorious bookworm and I happened to know she particularly likes historical fiction. So, we picked out a recent bestseller that my book club had read and that was universally loved. They also know that she likes to drink tea, so they picked out a mug they thought would be just right for her.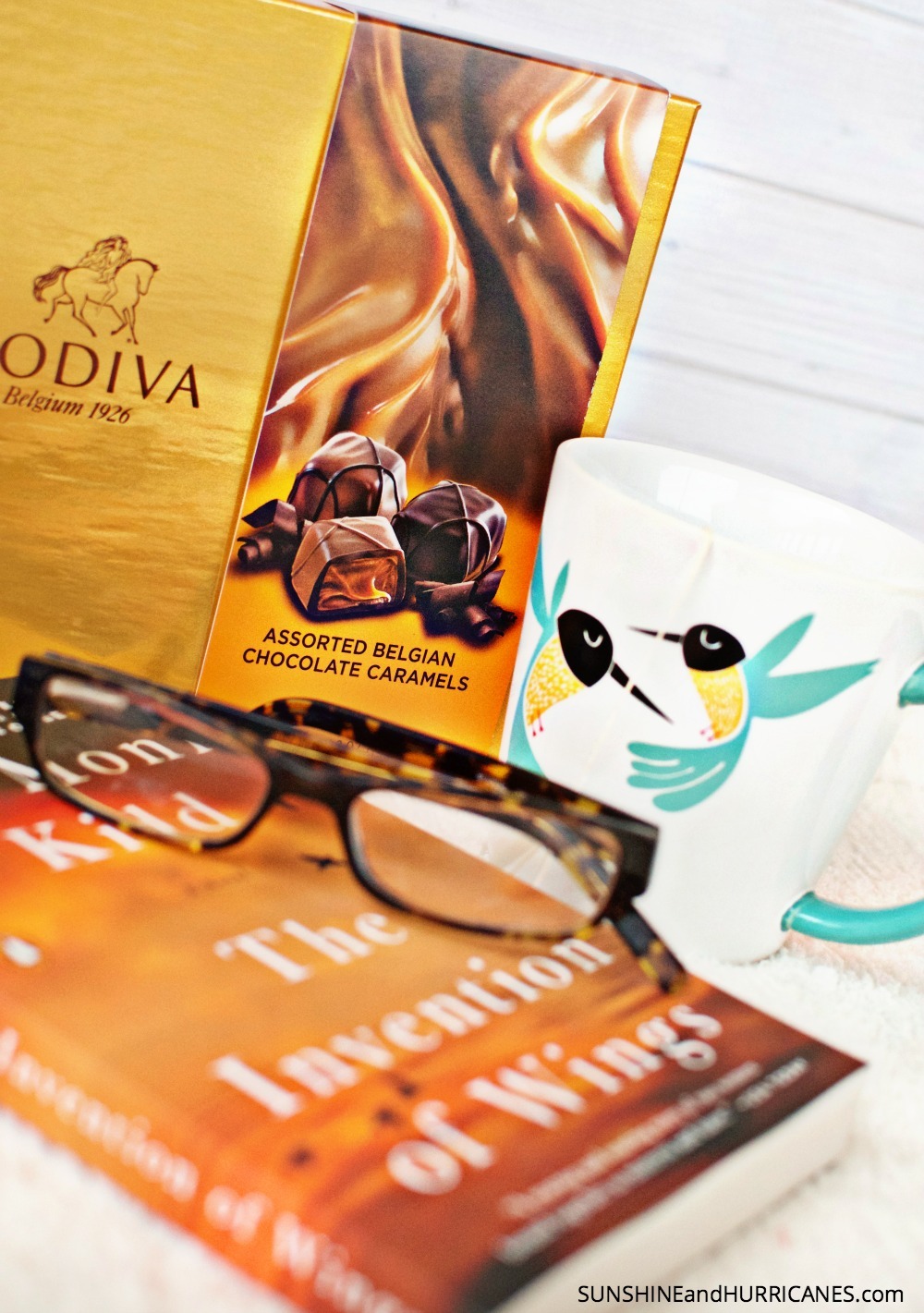 As you can see, it doesn't have to be stressful to be thoughtful. It's a great lesson to teach children early and it might even inspire them to keep those keen observational skills as they get older. It's amazing to see how appreciated someone can feel, when a gift reflects that you took that extra moment to pay attention and notice what is unique and special about them. It's often the little things in life that can make the biggest difference.
If you liked our idea and want to give some special people in your life the gift of Godiva chocolates this holiday (because, again, who doesn't love chocolate!) There is a special Cartwheel offer at Target right now for 20% off the Godiva Chocolate gift boxes we featured, You can get the offer by clicking HERE. (offer expires on December 19th)
If you're looking for other gift ideas this holiday season, we've got plenty of other great gifts posts!
Oh and just for fun… 10 Gifts NOT to Give a Teacher
We've also got EVEN MORE great gift ideas on Pinterest:
Follow Sunshine and Hurricanes 's board Christmas Gifts & Tips on Pinterest.
What simple gifts have you given that really showed it's the thought that counts?