If your house is full of Star Wars fans, like mine is, you'll need this handy Star Wars Gift Guide to help you find the very best options out there for your little Jedi! Whether it's a birthday party or holiday, these are among the best presents out there! Save time and energy and find all you need to be the coolest Mom on the block with these unique finds that'll make even a Sith smile!
Related: The Ultimate Gift Guide Resource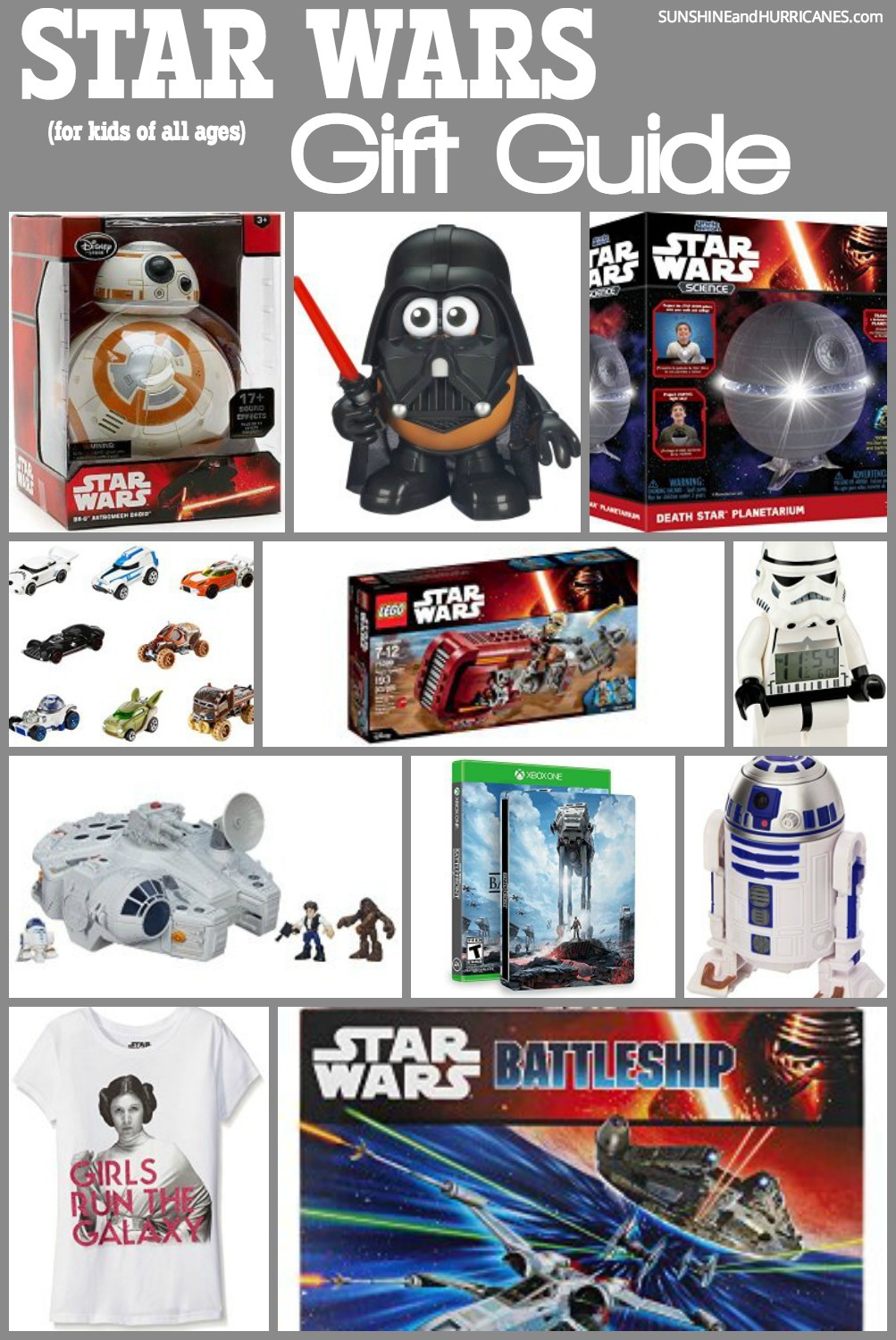 Star Wars has made a comeback and a whole new generation of Jedis are letting their imaginations soar to worlds beyond on our solar system. If your not sure what to get your Star Wars fan for a birthday or holiday look no further, we'll use the powers of the force to guide to the perfect Star Wars Gift.
STAR WARS GIFT GUIDE
Includes all the original movie sounds so your little Jedi can role play her favorite movie moments!
The sky's the limit for imagination with all the creative play that comes along with action figures. Or be that person that collects the figures and leave them in the package, come on, we all know that person….. 😉


Star Wars BattleFront 2
Fun and inexpensive to collect, Funko Pop figures are fun to play with and decorate your room when teh days of imaginative play are behind him!
Seriously adorable(and fluffy!) backpack perfect for trips to preschool or Grandma's house!
What tween/teen wouldn't want to sport her Star Wars designs wherever she goes? Cute & age appropriate, fun costume alternative, too!
Everyone needs a charger, great for tablets, gaming and phones, might as well make it a Star Wars one!
7 color changing functions, plugs into standard wall outlet or USB, nice addition to a desk or bedside table.
Test your knowledge against the holocron and it'll ask you 20 questions to deduct what you're actually thinking.
Everyone needs a flashlight, might as well be a lightsaber version!
Death Star Planetarium
– Study the galaxy far, far away and turn any bedroom into the night sky from the epic movie. Can also be changed to project the earth's night sky.
Talking BB-8 Exclusive Figure
– The cutest droid on the block features full movement from the head and body with 17 sound effects to give your Padawan the feel for owning a droid.
Darth Vader Crayons (64 Count) –
Sophisticated crayons for the discerning, pair with a Star Wars Doodle Book
and you've guaranteed hours of fun and creativity!
Hot Wheels Star Wars Character Car (8-Pack)
– Preschoolers to collectors will love this unique set, a new spin on Star Wars characters and a fun, hands on way to play….or hoard in unopened boxes for the serious fans out there!

Mr. Potato Head Darth Tater Toy
– Perfect to grace the office of a favorite fan or for little hands on build again and again, the imagination is strong in this one!

Star Wars: Battlefront
– This new game for both XBOX and PS4 places your child right in the action fighting as if they were part of the Rebellion or they can explore their dark side and join the Empire. Realistic visuals and sound effects from the actual movies create the ultimate immersive experience for all Star Wars fans.
LEGO Stormtrooper Figurine Alarm Clock
– Alert the Jedis in your house that it's time to awake and battle evil for the day, several different characters available, perfect room decor for nursery to dorm.
LEGO Star Wars Rey's Speeder
– It's time for a whole new generation of Star Wars Legos for little builders to create and play with as they act out their favorite adventures from Star Wars: The Force Awakens.
Star Wars Legendary Jedi Master Yoda
– Equipped with voice recognition and 115 phrases & realistic movements, this Yoda may be the closest you'll come to having a Jedi live with you!
Bop It! R2-D2 Star Wars Game
– Follow the commands in this unique take on the popular Bop It game for loads of fun! Twist it, turn it, bop it to score points according to directions given, Great game for group or individual play!
Battleship: Star Wars Edition Game
– Not your childhood games, there are special Star Wars versions of all the classics, from Star Wars Guess Who?
, Sorry! Star Wars Edition
Risk: Star Wars Edition
, and Monopoly
.

Blue Light Saber Water Bottle
– With several available character options, find your fan's favorite and let them loose, knowing they'll be hydrated throughout the galaxy!

Girls Run the Galaxy
– Everyone know that the real hero of the Star Wars movies was Princess Leia, and the new set of Star Wars movies are bringing us yet another strong female lead. Let today's little girls know that they can love princesses and Star Wars!
Star Wars Classic Peel And Stick Wall Decals
– This is a great temporary way to let your fan show their Star Wars pride. These non permanent decals offer a new way to spice up their bedroom and eventually can be removed without damaging the wall.
Star Wars Galactic Heroes Millennium Falcon and Figures
– Young Padawans will adore this set, especially designed for younger kids. The sturdy figures and easy to open ship will yield hours of creative play!
If you're looking for more gift ideas, check out out:
We've also got more ideas for your Star Wars fan: Lightsaber Games, Star Wars Printable Round Ups, and a yummy Star Wars Snack Mix, perfect for munching on while watching the movies!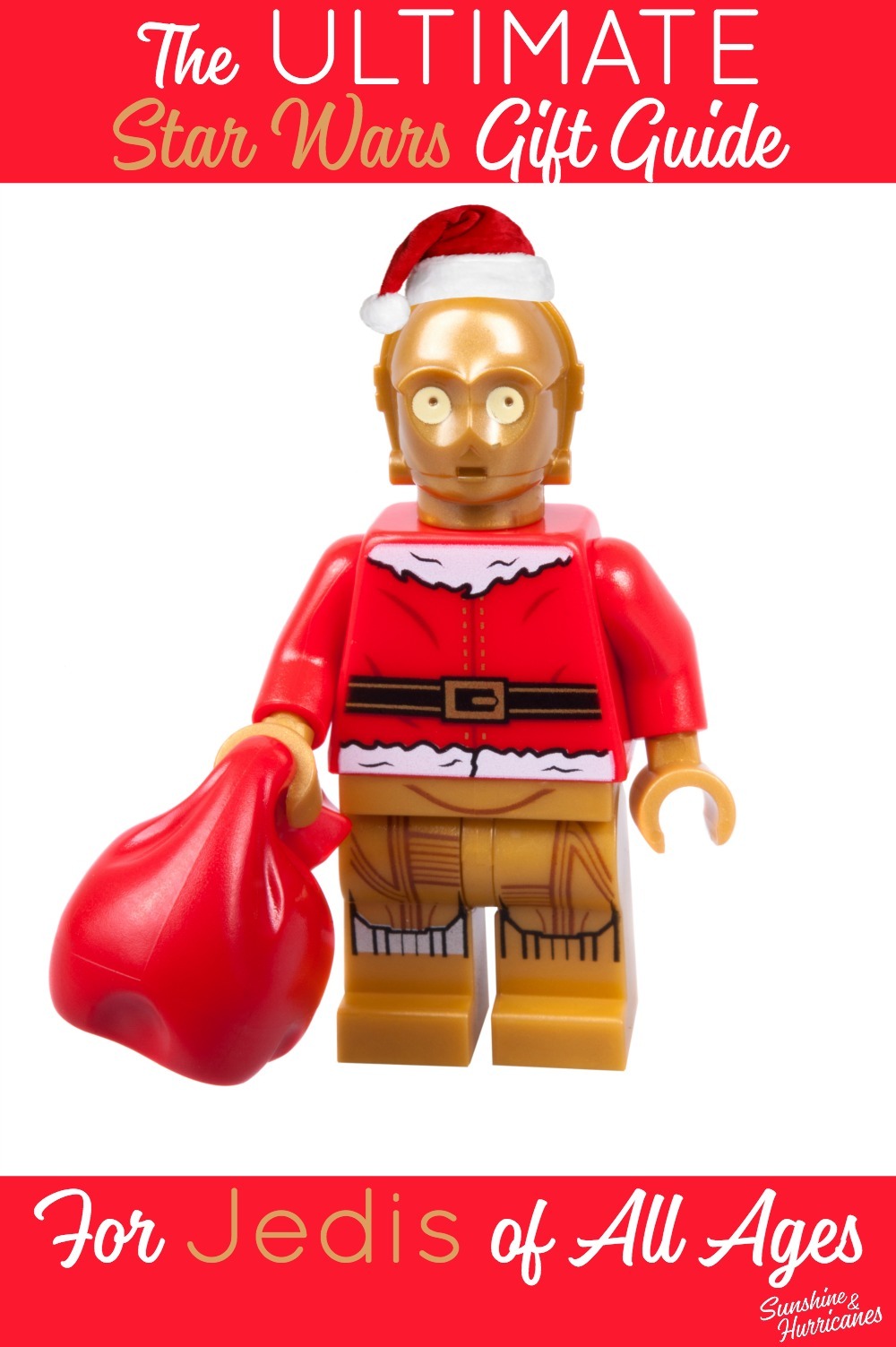 Do you have another Star Wars Gift ideas that you would add to our list?