Christmas in our household is changing.
Since this time last year, my 8 year old has been asking questions. Kids at school talk and then in an unexpected half-asleep visit to the bathroom he even caught his Dad and I hiding Easter eggs earlier this year. I can sense his hesitation every time he inquires anew about whether or not Santa is real?
Part of him doesn't want to know the answers and would prefer to keep on believing. His eyes implore me to wipe away his doubts and to leave only the wonder remaining. Unfortunately, what he is feeling and what I know is that another part of his childhood is slipping away.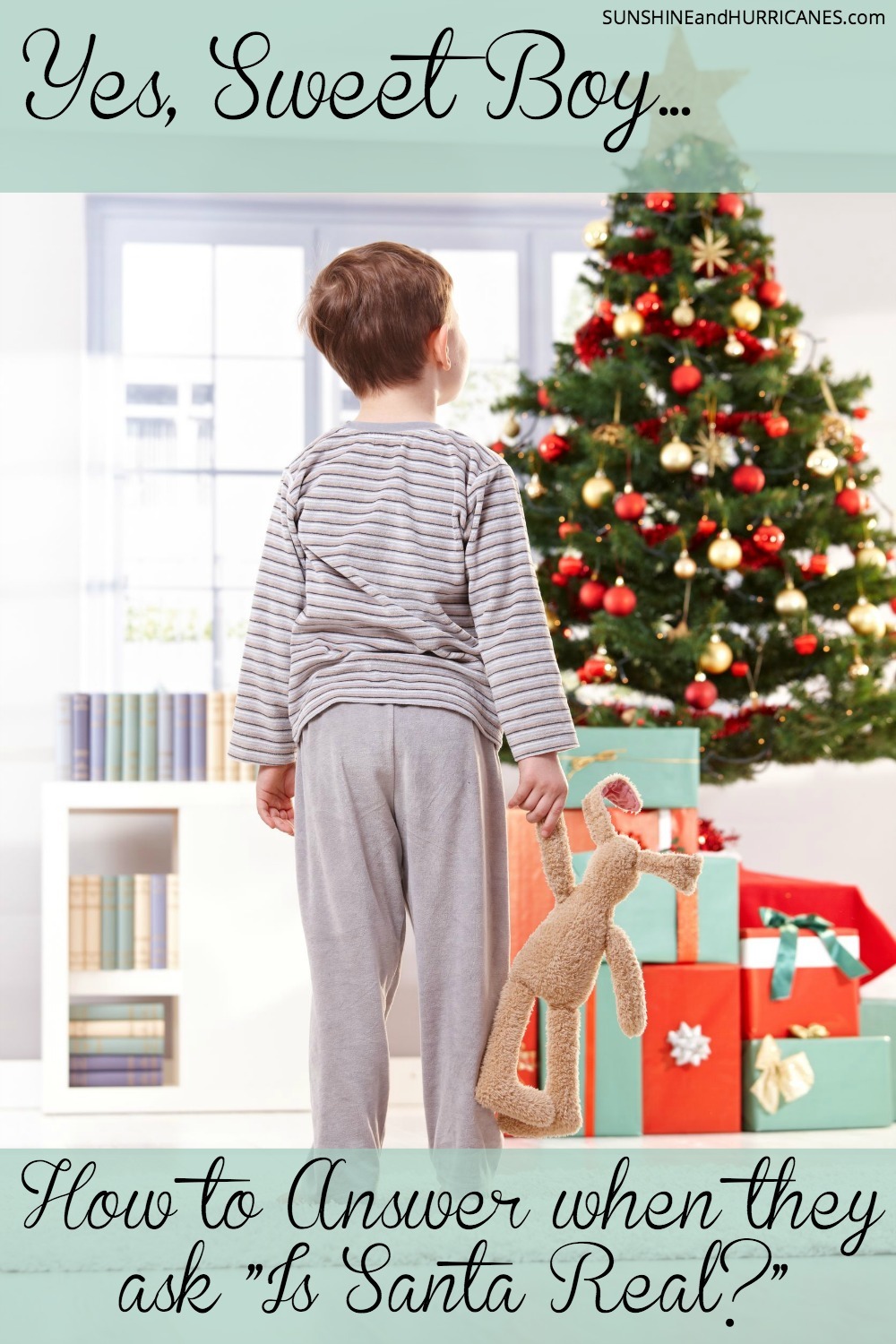 Is there sadness and a sense of loss for both of us? Absolutely. However, I also recognize that this is a necessary milestone in growing-up. When this same moment came for me, my mother gave me a copy of "Yes, Virginia There Really is a Santa Claus." For those unfamiliar, in 1897 an 8-year-old girl (Virginia O'Hanlon) was encouraged by her father to send a letter to The New York Sun Newspaper and ask if there really was a Santa Claus. He told her "if you see it in the Sun, it's so."
The response by newsman Francis Church was published that September and has gone on to become history's most reprinted newspaper editorial. I encourage you to read the entire piece, but the spirit of Church's reply was to illustrate for Virginia what Santa Claus symbolizes. He is meant to represent those qualities from childhood that we should all aspire to carry with us into adulthood, most important among them being FAITH.
As he says to her in one of the most notable lines, "nobody sees Santa Claus, but that is no sign that there is no Santa Claus. The most real things in the world are those that neither children nor men can see."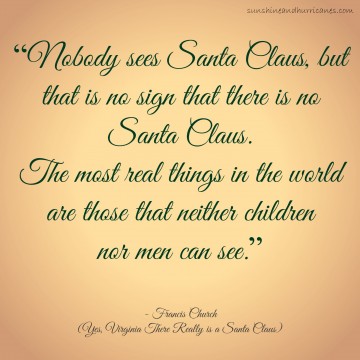 More recently, on Pinterest of all places, I came across what might be considered a more modern day version of " Yes Virginia." When Martha Brockenbrough's daughter asked her, "Are you Santa?, she responded with This letter. In it she says, "No. I am not Santa. Santa is love and magic and hope and happiness. I'm on his team, and now you are, too."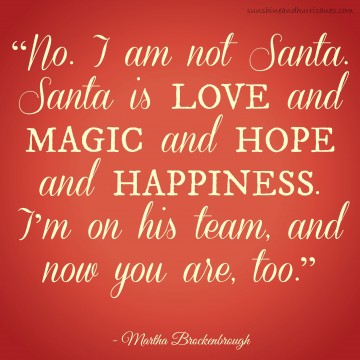 For me, her words, like Church's, helped me find the bridge I was seeking to guide my son through this transition with a minimal loss of innocence. I also liked that they create a bond for us to share afterward, because now we will both be on "the same team."
I suspect my son will feel quite empowered by the idea that he and I have become accomplices and that he gets to be in on our continuing attempts to keep his little sister clueless for as long as we can. For my part, I am thankful to have someone with his imagination to help me figure out new places to put our "Elf on the Shelf", I was definitely losing my inspiration last year.
While I mourn the fact that my son is taking yet another step away from being a little boy, I celebrate that he is ready to understand the deeper meaning of the holidays. He can now begin to appreciate how much more there is to Christmas than the man in the red suit and presents under the tree. I know this doesn't mean an end to the magic, just a redefining.
If you liked this post, you might also enjoy these too:
Motherhood Doesn't Mean Happiness
How Did You Handle it When Your Children Started Asking If Santa Is Real?