Why are Chores for Children important?
The other day as my daughter was changing out of her ballet shoes at dance and I was sitting and talking to a few other moms, she started complaining about how she had to go home and do her chores.
She turned to one of her other dance friends and sighed, rolling her eyes slightly and putting on her best dramatic face, "Now I have to go home and fold my laundry…."
One of the other moms stopped mid-sentence and looked at me. "Your daughter does her own laundry?" she asked with astonishment.
"Yes," I replied not thinking much of it.
My daughter is 11 and has been doing her own laundry since she turned 8. That's the rule in our family, at 8 years old you get a laundry basket and a lesson in how to run the washer and dryer. From then on out, your laundry is your responsibility.
This mother was floored. She went on to ask me about a million questions about how I got her to do her own laundry and wasn't I worried she'd ruin her clothes. Then she wanted to know what other chores my kids do.
They clean their bathrooms, they vacuum the house, they take out the trash.
Her jaw hit the floor.
But at the same time, I was equally surprised that she found this all so "unusual." For a hot minute, I actually questioned whether maybe I was being unfair to my kids or expecting too much.
But then I snapped to my senses and remembered that I did all this and more in my family growing up and it wasn't a big deal. I was more than capable and I learned life skills, responsibility and a strong work ethic.
And this is what I want for my kids. Because too many in our younger generations don't have these things and its holding them back in so many ways.
We've all read the stories about today's millenials.
The boomerang generation.
The go-nowhere generation.
Generation "y" bother.
These are just a few of the labels that follow them around.
There are any number of theories and about a million articles that attempt to explain the challenges faced by these young adults.
But then, let's talk about how OUR kids are being described; Lazy, Entitled and Tech Addicted.
There are probably elements of truth in all of this and yet at the same time not everything is deserved. Overall though, many people will agree that the phenomena of helicopter parenting has definitely contributed to generations of kids who are growing up unable to manage even the most basic responsibilities of adulthood.
In an attempt to be both their best friends and their most ardent protectors, we parents are guilty of shielding them from many of the realities of life that help a child mature into a productive and self reliant adult.
So, what do we do? How do we change this trend?
It's actually rather simple, we give them chores.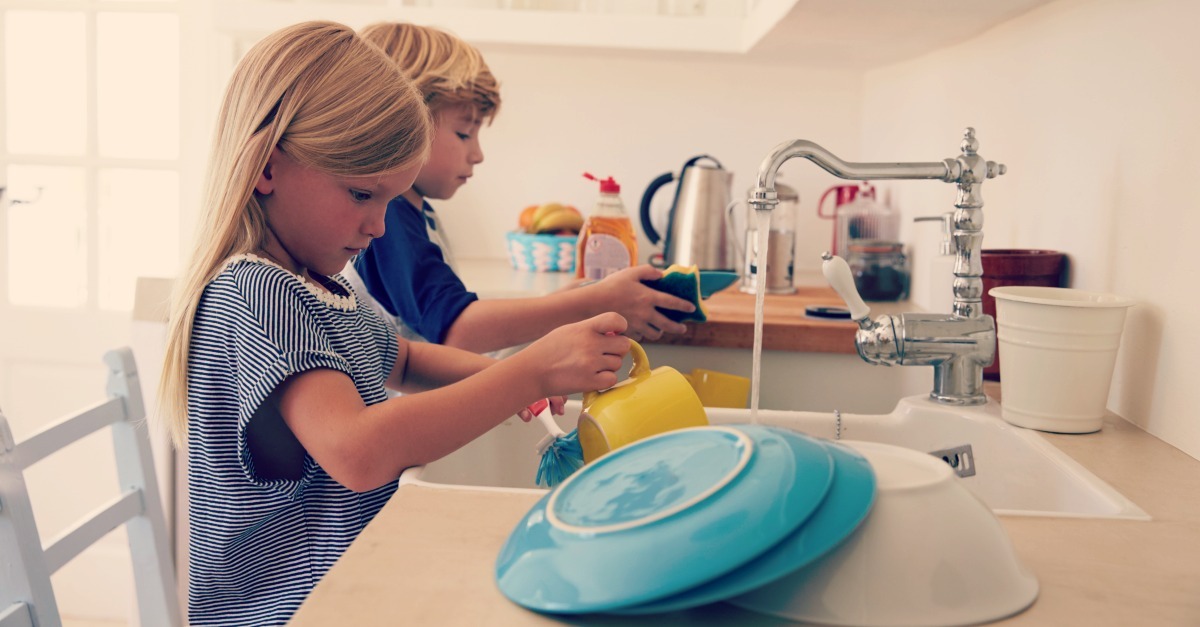 Chores for Children And the Decline of Parental Expectations
One of the significant ways in which our households have changed in recent decades is the steep decline in the expectation that children should contribute to the household in age appropriate ways.
Some parents feel that the time spent on such menial tasks is not as worthwhile as working on homework. In other situations, our children are so over-scheduled with activities crammed into every waking moment that there just isn't room for chores.
What we as parents often overlook unfortunately is that chores can be just as important to the future success of our children as their grades and their talents.
Chores can be "easy wins" for kids. They usually don't take much time, but they can steadily build a strong work ethic, confidence and even give our kids a sense of pride for being able to give back to their familes.
They are also essential to developing the basic life skills that will be needed to survive outside our homes.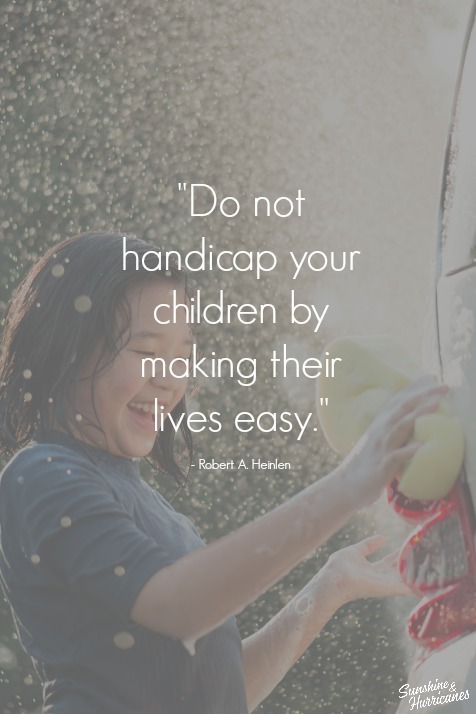 Chores for Children – What Are Your Kids Capable of?
Below you will find a printable chore chart you can hang on your fridge or even each child's door that lists the types of chores for children that are appropriate at different ages.
For some people, the suggestions may be shocking. Like they were for my fellow dance mom.
That is part of the problem.
By forgoing chores, we've arrived at a point where we often underestimate what our children are capable of and when.
Children are not helpless, they are helpers. Take advantage of this untapped support staff in your own home.
Your kids really will thank you for it some day and you will free up some much-deserved time for yourself right now!
"The message I want my children to know by doing their chore list is 'You are Important. I value your help. Your work is good work.'"
– Leah Martin
Do you have older kids? You may like this post on Ten Important Teen Life Skills They Need To Master In Order To Thrive In Adulthood
Sign-up for our weekly newsletter full of tips and advice to help make parenting a little easier, and get your FREE Chore Chart Printable right away!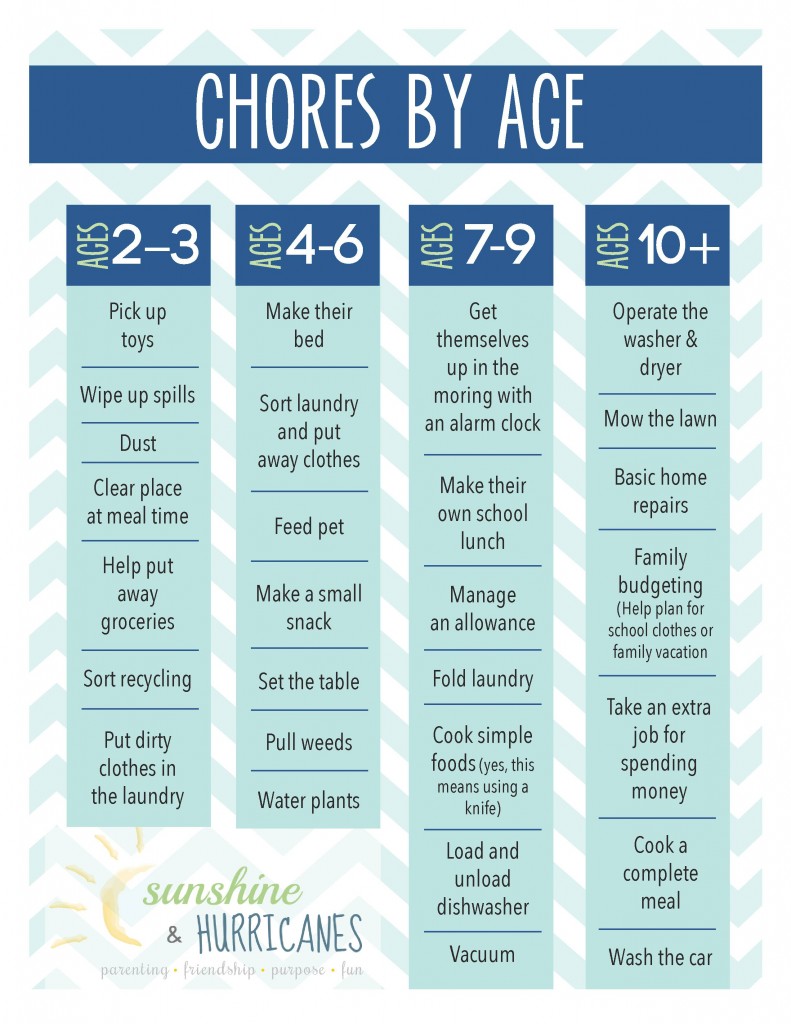 Looking for a way to track and change the chores for multiple kids? We like this Colorful Chalk Dry Erase Chore Chart so you can track it all in one easy spot. Simple and effective!
Related Posts:
Teaching Kids to Pack Their Own Lunch
10 Tween Chores Your Middle Schooler Needs For Survival
Family Technology Rules; Take Control of Tech Before Tech Takes Over Your Family
This post may contain affiliate links where we earn a small commission for products purchased from our site.