Inside:Podcasts for kids that will light up their minds and help them discover the wonder of the world around them
"Mom, can I watch TV?"
"Mom, I need more Xbox time!"
"Mom, will you download a new app for me?"
Seriously, it seems like everything our kids want to do today involves some kind of screen-time and technology!
We know it's not all bad. But we wonder…..
We wonder if they're spending too much time on tech, we wonder if any of it is actually educational, we wonder if it's really adding to their lives in any positive way.
If you're worried about this, then take a deep breath, because the answer is a resounding YES!
Parents, we can use our kids love for today's technology to engage their minds, to empower them to explore their curiosities and to allow them to discover the world around them?
Believe it or not, that is what technology can do for our kids. It's POWERFUL!
"Technology can become the "wings" that will allow our kids to fly farther and faster than ever before—if we will allow it."
So, let's allow it.
Let's allow the screens and tech that can actually provide meaningful experiences. The kind that make our kids eyes light up with wonder and tickle their imaginations.
And you know what, this is the kind of technology parents can feel good about. And it's the kind that parents can enjoy WITH their kids. Or we can use it in those moments we're losing our minds and just need a few minute to think (or have a glass of coffee/wine/sweet tea…)
We're talking about:
Summer Activities for Kids
Long Car Rides
Waiting at the Doctor, the Dentist, The Grocery Story and all the other places moms wait.
So, what are some of these magical types of technology?
Podcasts for Kids Are The First Place To Start
Podcasts aren't just for adults, in fact, there are some phenomenal podcasts for kids our there!
It's sort of like book on CD meets YouTube, but better.
The topics for podcasts for kids are growing by the day. Whether you've got a kid who loves science or books or even cooking! There are some great choices for you to discover together on just about anything your kiddo is passionate about.
To listen to most podcasts you just need to download the podcast app from the itunes store or google play for android. Then you search for these best podcasts for kids and follow the ones that you know you and your kids will enjoy (or heck, follow them all!).
At the end of the post, we've also included some handy suggestions for the best headphones for kids or other accessories you might need for the whole family to listen in.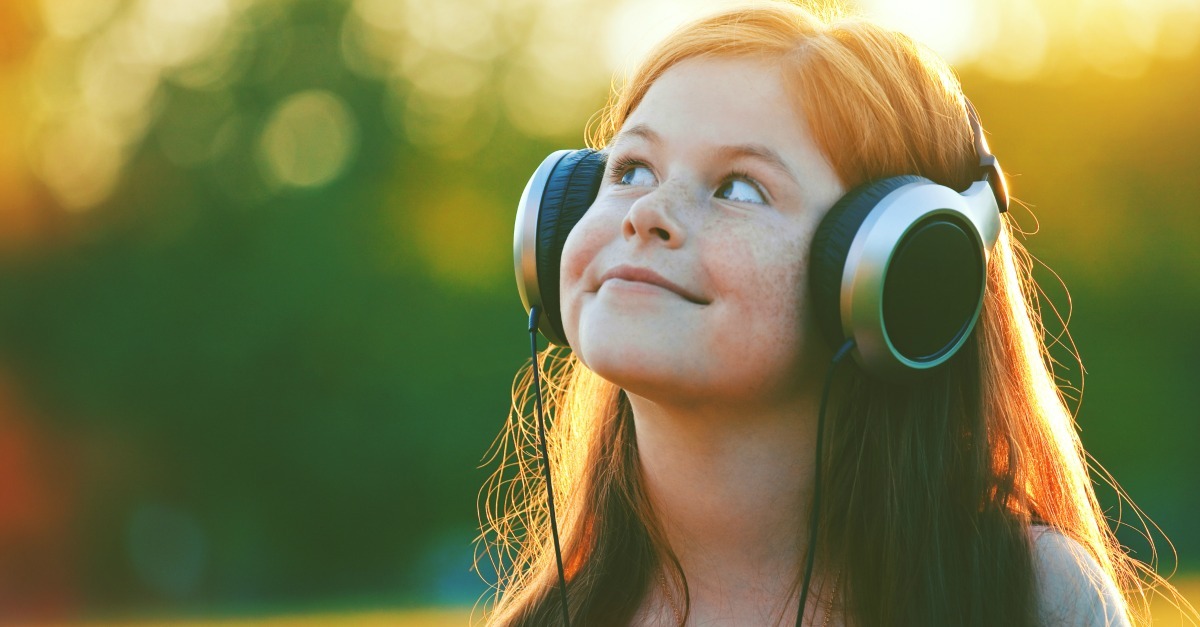 Best Podcasts for Kids
If your child is a book lover, then they are going to love this podcast! Middle schoolers get on every other week to discuss popular books and share their book recommendations. The podcast features celebrity guests and Kitty Felde runs the discussions.
This podcast is dedicated to all of those times your kids have ever asked "but why?" Kids can submit questions to the show, and they are answered each show, usually focusing on one theme per show. Experts come on the show to give interesting answers for all of your child's burning questions.
Eva Karpman and her mother interview celebrities and experts each week with one goal in mind: to encourage kids to follow their dreams. This mother-daughter duo brings on some pretty big names on to their show which can make it fun for adults and kids.
This is for all of those music loving kids out there! Ear snacks is a podcast geared toward children. They have been known for creating songs for Sesame Studios and even Wallykazam! This podcast covers topics by talking directly with kids and experts to provide some food for thought.
Peace Out is perfect for kids who need help winding down at the end of the day. There has never been a time to teach your kids about meditation and mindfulness, and this app is perfect for that! Through short stories, this podcasts helps your children calm down, and takes kids through visualizations of their feelings and combines them with breathing exercises.
If your child is a Sesame Street fan, you won't want to miss this podcast! Sesame Street can now deliver all of your child's favorite characters right to your phone! They are still teaching about friendship, caring, and reading, but now whenever you need them!
Short and Curly focuses on teaching kids about ethics and talking with real kids about real life topics. They have discussed everything from should you fight the school bully, to topics like should pugs exist.
Story Pirates is a podcast run by famous comedians, actors, and even musicians who take stories that were written by kids, and bring them to life! Through sketch comedy and musical theater, these performers transform a kid's story into an action-packed story.
This podcast doesn't talk about the favorite topics but also digs deep into the reason we all love science. Tumble Science regularly interviews scientists to get behind the scenes details about their experiments and discoveries. They break down scientific terms into easily digestible chunks that your kids can understand.
NPR has finally created a podcast just for kids! Wow in the World discusses news geared toward kids about what is going on in the world. Every episode has a series of questions about a scientific discovery which are answered in the form of debate and comedy.
No More Feel Guilty About Kids Tech Time
So, next time your kids are begging for more tech time, feel good saying "sure sweetie, go listen to a podcast!" Or next time you're heading out on a cross country adventure to visit the grandparents, don't stress, just load up your ipad or iphone with some of the latest episodes of these best podcasts for kids and you'll be taking a trip down easy street.
Gear You Might Need:
BestGot Wired Headphones
iClever Kids Headphones
Portable Bluetooth Speakers for Kids
Related Posts:
No More Tech Zombies; How to Tame Too Much Summer Screen Time
Family Technology Rules : How They Can Stop The Tech Battles Forever
10 Best Podcasts for Teens and Tweens to Expand Their Worldview