This is a sponsored post written by me on behalf of Forcefield Parental Control Software. All opinions are 100% mine
You know that here at Sunshine and Hurricanes one of our missions is to help educate and empower parents to
take control of technology and make sure their kids are using it in responsible and safe ways.
So, whether you have a younger child and you are more concerned with their general online usage or you have older kids and you are looking for iPhone parental controls as a way to watch over their digital life, we recently found a parental control software solution called Forcefield that we think will have you covered from pre-school to high school.

Why Parental Controls are Important
So, to help you understand how important parental controls are, I want to share something with you. My kids are 6 and 11. My oldest will be going into 6th grade this fall. In the last year, I've had several friends come to me asking for help because their kids have accessed inappropriate content online or have been caught sending inappropriate texts and pictures with their smartphones. Yes, these are elementary age kids and I have far more than just one or two stories of this kind.
Does this mean I think technology is bad? Absolutely not. However, I do think that parents need to take a very active part in overseeing what their kids are doing with technology. Now, I'm not talking about "spying" on them, which basically means intruding on their personal space without them knowing. The better approach is to be open about the fact that you will be monitoring your kids when they are using technology by implementing parental controls on their devices.
You watch over your children when they are in the pool to make sure they don't get injured or drown, you ask your children to let you know where they will be, when, and with whom to make sure they are safe, you check their homework to ensure they are being responsible. Keeping an eye on your kids when it comes to technology is no different. It is just part of being a good parent.

A Family Friendly Solution
However, because our children access technology through so many different devices (desktop computers, tablets, iPhones) and interact with so many different programs, apps, social media, etc when they are on their devices, it can feel a little overwhelming trying to figure out exactly how to keep track of all of that. This is where The Forcefiled Parental Control software comes in.
Forcefield
is a solution available for desktops,tablets and iPhones (no android yet, but definitely in the future) that aims to give parents and kids a set of completely transparent parental controls tools so that everyone is informed, connected and safe. Here are some of the different features it offers:
1. Activity Report
Parents receive an activity report each day that shows them which sites have been visited by their kids (each kid gets own profile)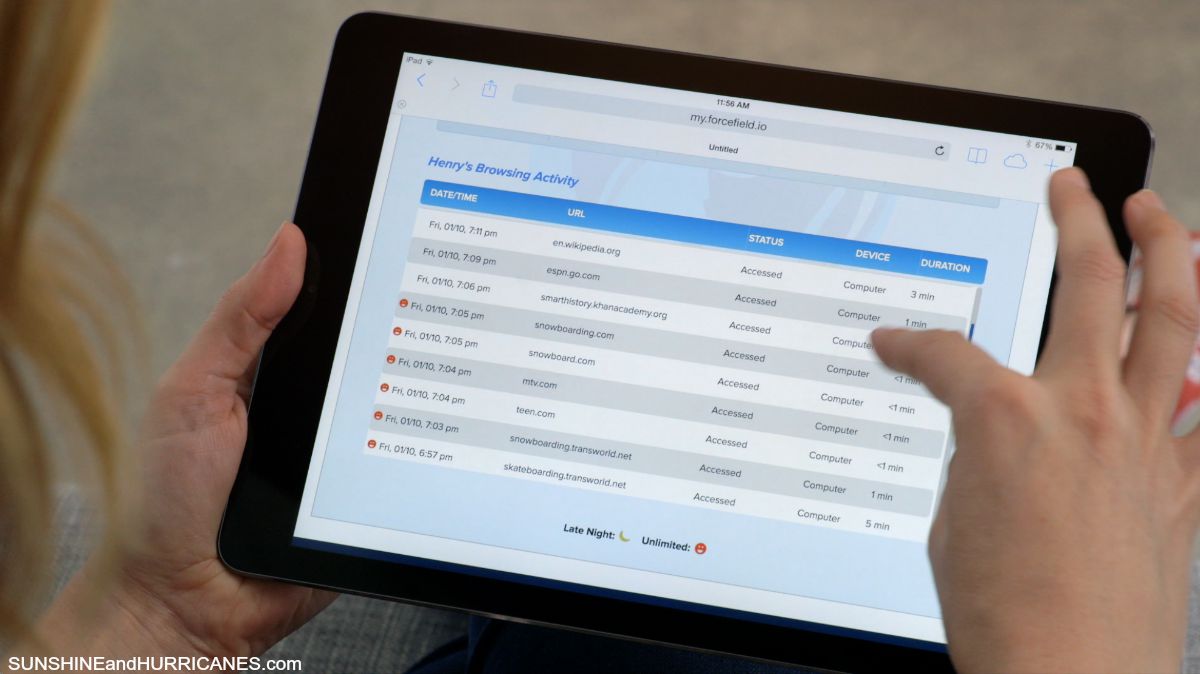 2. App Sleeper
Parents can create screen time schedules from their own device. They can turn off all of their kids' devices either on a schedule or on-demand. This is done remotely from parent's computer/mobile device.
3. Safe Search
For young kids, parents can choose from different options for search. Option 1 firewalls the entire Internet and only allows the top 500 educational websites into a "walled garden" of content. Parents can add their kids' own favorite sites into this. Option 2 gives kids access to open Internet but with Google Safe Search on as default. Option 3 has no filters.
4. Photo sharing
Any time a kid/teen uploads any photo from any device, the image is thumbnailed onto the parent's Activity Report. This helps hit the "pause" button in kids, knowing their parents will see the image. Developmental psychologists say this is a much more powerful way to teach kids self-control than the idea that the parent is spying on them.
5. Safe Driving Mode
This will disable texting when the teen is behind the wheel. Navigation, phone and music will still function but texting, tweeting, Internet will all be disabled.
This all sounds pretty like some pretty powerful parental controls, right? We think so too and we are very excited, because our readers are getting a chance to actually try out this product before anybody else!! Forcefield is currently in a Beta testing phase of development for its parental control software, which means while it's really close to being ready for everyone, they need a little more feedback to make sure it's the best it can be. So, they would be thrilled to have you sign-up for their FREE Beta test product and see how it works. You can enter your email to get access to the Forcefield Beta right here:
http://forcefield.me/#signup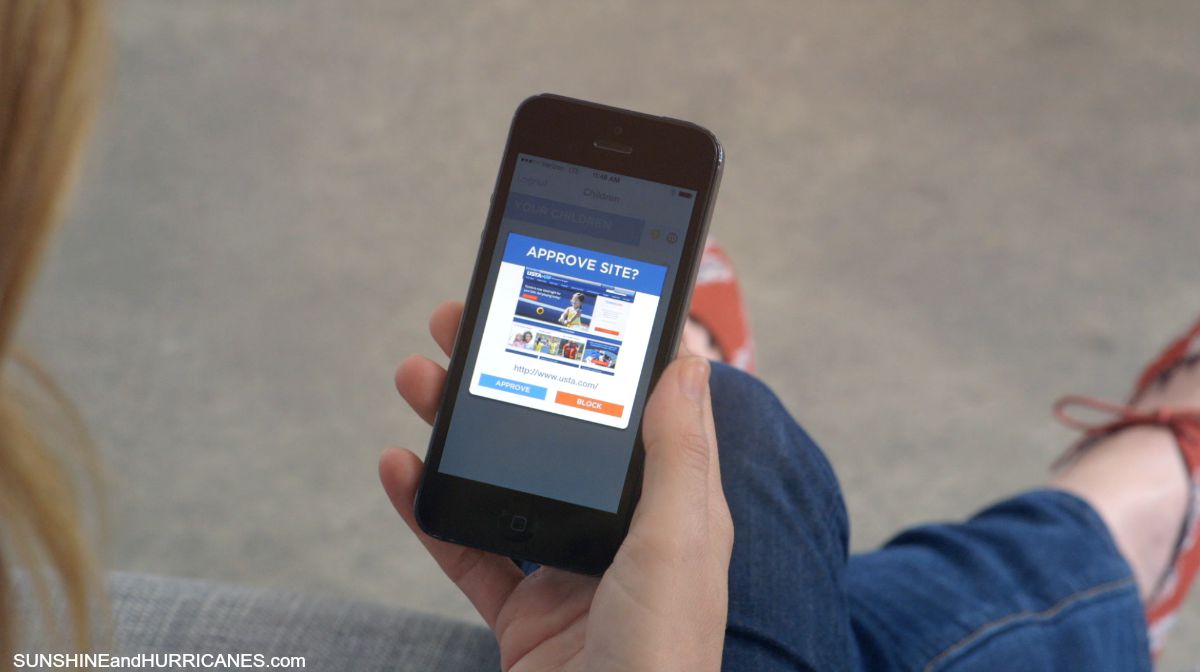 Once you sign-up, you'll get an email (it could be a week or two, because we're getting in on this so early) where you'll receive instructions with a link to download the software/app. The free trial will last for at least two months, so that will give you plenty of time to really check out all that it has to offer.

If you want to know more about
Forcefield
, this video is a great introduction to how it works and why it is such a great parental controls solution for families.
What concerns you most about your kids and technology?
Want more info about kids and technology?
Read our Worst Apps for Kids
AND
Follow Sunshine and Hurricanes 's board Technology for Kids on Pinterest.