Inside:100 Screen Free Summer Activities for Kids. Whether you've got toddlers or teens or a little bit of everything in between, there are screen-free activities for kids to keep them busy all summer.
"Mom, I'm bored!"
"Mom, can I play on the ipad?"
"Mom, can I watch TV?"
"Mom, can I play Fortnite? "
"Mom, I really need snapchat so I can stay in touch with my friends this summer!"
And welcome to the second day of summer break. Okay, maybe if you're lucky you'll make it to the third day without constant pleas from your children, toddler to teen, for screen-time.
Hey, it's okay, technology isn't all bad!
There is no reason to feel guilty for giving your kids a reasonable amount of screen-time this summer. But what is reasonable? And how, as the summer goes on and you run out of creative ways to keep your crew busy, do you keep reasonable from turning into – "How many TV shows have you watched today?" and "Wait, weren't you playing Fortnite when I left this morning?"
First things first, you want to start as you mean to end. If you don't set up rules and boundaries from the beginning, when summer still feels fresh and new and your resolve hasn't been worn down to a little nub, you'll have a hard time getting things back on track.
What if things are already off the rails, because well, you left your resolve somewhere back in January? We know you're SO OVER IT when it comes to your kids and tech. You're tired of the tech tantrums, the screen-time battles and all the guilt. You can get things back on track! It's never too late to rewind and start over and we'll show you how in our new book Screen-Time Sanity: the Crazy Easy Guide To Doing Technology With Your Kids.

Or you can go straight to get your kids to sign a Summer Screen Time contract, we've got a FREE printable one available here: No More Tech Zombies; How to Tame Too Much Summer Screen Time
A contract is great because it states clearly how much screen time they get, and you know what, "You get what you get and you don't pitch a fit". If it works for teachers, it can work for parents.
Also, it encourages them to do screen-free activities first in order to earn that precious screen-time.
But how exactly should kids fill that screen-free time?
It almost feels like kids today have forgotten how to play or keep themselves entertained without something that plugs in or runs on batteries.
Deflect those "I'm bored!" and "There's nothing to do!" complaints like a Jedi Master with this list of 100, yes 100, screen free summer activities for kids. And many of these are free activities for kids or easy to do activities for kids to do at home that work on those rainy days when you might be most likely to turn to tech.
Use our handy dandy 100 scree free summer activities for kids printable that you'll find at the end of this post and hang it where all your kids can see.
Then simply point them in that direction anytime they so much as "But, mom…."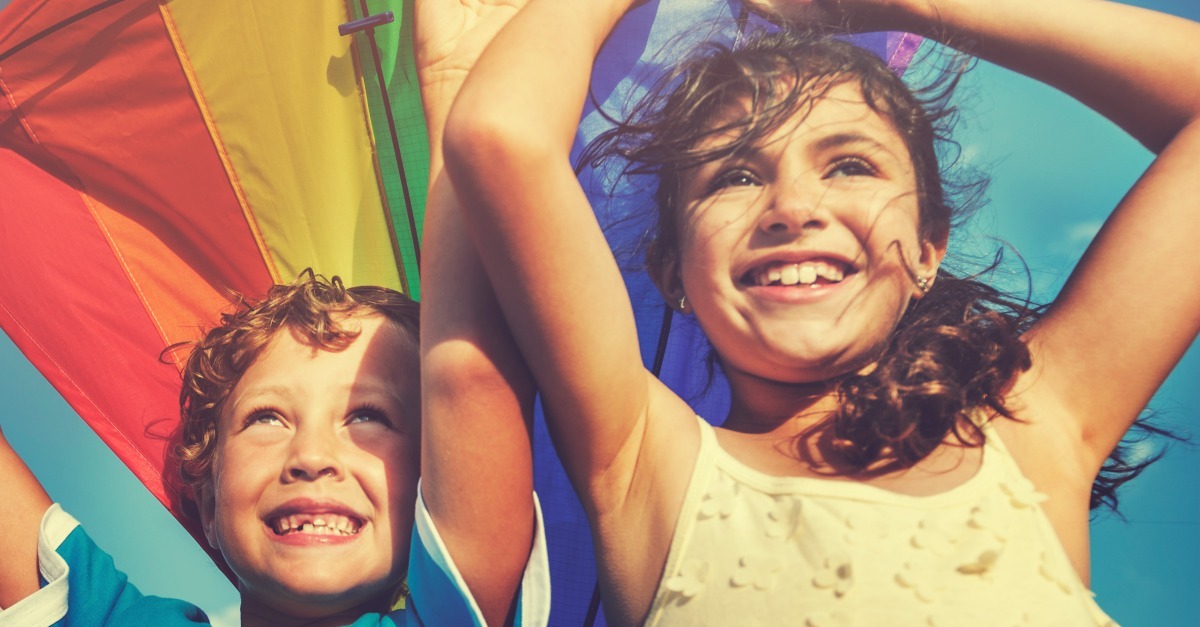 100 Screen Free Summer Activities for Kids
Screen-Free Activities for Pre-School Kids:
Take a bike ride
Search for bugs outside
Call a relative for a phone chat
Run through the sprinklers
Practice writing your first & last name
Fill a bucket with water and "paint" the outside of your house with a paintbrush
Have a toy car wash
Play "I Spy"
Pack a picnic lunch
Write your letters from A to Z
Have a tea party
Stick several ice cubes in a large bowl, add water, splash away
Fingerpaint
Storytime at the library or bookstore
Make leaf rubbings
Blow bubbles
Take a nature walk
Visit the park
Play leap frog
Have toy car races
Build with Duplos
Give your babydolls a bath
Cut up catalogs and magazines
Create a tower with plastic cups
Set of 4 Classic Children's Card Games with 2 Hands-Free Playing Card Holders by Imagination Generation
Carson BugView Quick-Release Bug Catching Tool and Magnifier for Children and Adults
Melissa & Doug Sunny Patch Blossom Bright Sprinkler
Green Toys Tea Set – BPA Free, Phthalates Free Play Toys for Gross Motor, Fine Skills Development. Kitchen Toys
Crayola My First Fingerpaint Kit, Washable Paint, Gifts, Ages 1, 2, 3, 4, 5
Fun Filled Summer Super Miracle Bubble Makers Party Activity, Assorted Colors, Plastic , 4 Ounces, Pack of 6
LEGO DUPLO All-in-One-Box-of-Fun 10572 Creative Play and Educational Toy
Screen-Free Activities for Elementary School Kids:
Draw a hopscotch with chalk outside
Build with Legos
Choose 5 toys to donate to charity
Play tic tac toe
Color in a coloring book
Build a fort
Draw a portrait of a family member
Look at family photos in an album
Jump Rope
Host a lemonade stand
Write a story with a grown up
Take a hike
Make a collage with what you collected on the hike
Illustrate a favorite TV program
Make Slime
Sketch plans for a fairy garden
Put on a puppet show
Lay in the grass and cloud watch
Fly a kite
Search for birds & butterflies, create a graph of results
Search for shells or rocks
Create kindness rocks and hide them in your neighborhood
Crayola Outdoor Chalk, Glitter Sidewalk Chalk, Summer Toys, 5 Count
LEGO Classic Medium Creative Brick Box 10696
Fort Magic: Fort Building & Construction Toy Kit
Carnival Games Party Supplies – Lemonade Cardboard Stand
White Blank Books with Hardcovers 6
My Fairy Garden – Magical Cottage
Large Delta Kite/Rainbow Kite (200′ of Line) – Easy to Assemble, Launch, Fly – Premium Quality, One of the Best Kites for Kids/Kites for Adults – Great Beginner Kite
Popsicle Molds Set – BPA Free – 6 Ice Pop Makers + Silicone Funnel + Cleaning Brush + Ice Cream Recipes E-book – by Lebice
Screen-Free Activities for Tweens:
Origami
Help in the garden/landscaping at your home
Choose 5 books to donate to charity
Color your hair with hair chalk
Make playdough
Solve a Sudoku puzzle
Paint with watercolors
Do Yoga
Sing Karaoke
Write a letter and mail it
Learn to knit/crochet
Practice braiding hair
Draw and doodle
Play flashlight hide and seek one evening
Go stargazing
Do a mad lib
Go geocaching
Give yourself a manicure
Create a comic book
Make a project using items from the recycling bin
Ultimate Origami for Beginners Kit: The Perfect Kit for Beginners-Everything you Need is in This Box!: Kit Includes Origami Book, 19 Projects, 62 Origami Papers & DVD
Ameauty Hair Chalk Set, 24 Hair Dye Colors Non-Toxic Washable Temporary Hair Chalk for Girls Kids Party Cosplay
Mini Sudoku For Kids 6×6 – Easy to Hard – Volume 1 – 145 Puzzles
Artists Loft Fundamentals Watercolor Pan Set, 36 Colors
Learn to Knit Kit: Includes Needles and Yarn for Practice and for Making Your First Scarf-featuring a 32-page book with instructions and a project (First Time)
Make It Real – Glitter Dream Nail Spa. Nail Art Manicure Set for Kids, Complete with Nail Polish, Glitter, Gems, Stickers, Nail Dryer and More
Fun in the Sun Mad Libs: Ultimate Box Set
Blank Comic Book. Create Your Own Comic Book Journal Notebook: 110 Pages, Large 8.5
Scree-Free Activities for Teens:
Volunteer
Clean out your dresser drawers
Do a puzzle
Give yourself a pedicure
Write in your journal
Practice your dance moves
Wash the car
Take a nap
Do Pilates
Rearrange your bedroom furniture
Watch a sunset
Memorize a poem
Work Out
Play solitaire with cards
Read a magazine
Teach a pet a trick
Go fishing
Take a bubble bath
Complete a few pages in an ACT/SAT prep book
Color in an adult coloring book
Use a camera, not your phone, to take pictures of what interests you
(psst. it's a little pricey, but polaroids are a blast for tweens and teens and there are tons of fun projects for them do on Pinterest using polaroid photos)
The Healthy Teen Cookbook: Around the World In 80 Fantastic Recipes
White Mountain Puzzles Things I Ate As A Kid – 1000 Piece Jigsaw Puzzle
Gospire 8 in 1 Professional Pedicure kit/set Pedicure Foot Rasp Foot File and Callus Remover Sided Remove Set Best Foot Care
Through My Eyes: A Journal for Teens
The Pilates Body: The Ultimate At-Home Guide to Strengthening, Lengthening and Toning Your Body- Without Machines
A Book of Poetry for Teenagers: Book of Poems
Teens Cook Dessert
The 7 Habits of Highly Effective Teens
Tech Done Smart
We know going totally screen free for the summer isn't really attainable.
It rains, kids get sick, we take long road trips to see family and friends. Screens and technology are a part of our kid's lives, but we can look for ways to make the time they spend using technology higher quality and even educational.
Here are a few high quality/lower tech options that your kids will enjoy and maybe you will too:
Books on CD (get them at your local library)
And now for that promised FREE Printable:
Sign-up for our weekly newsletter full of tips and advice to help make parenting a little easier and get your FREE 100 Screen-Free Activities for the Summer Printable!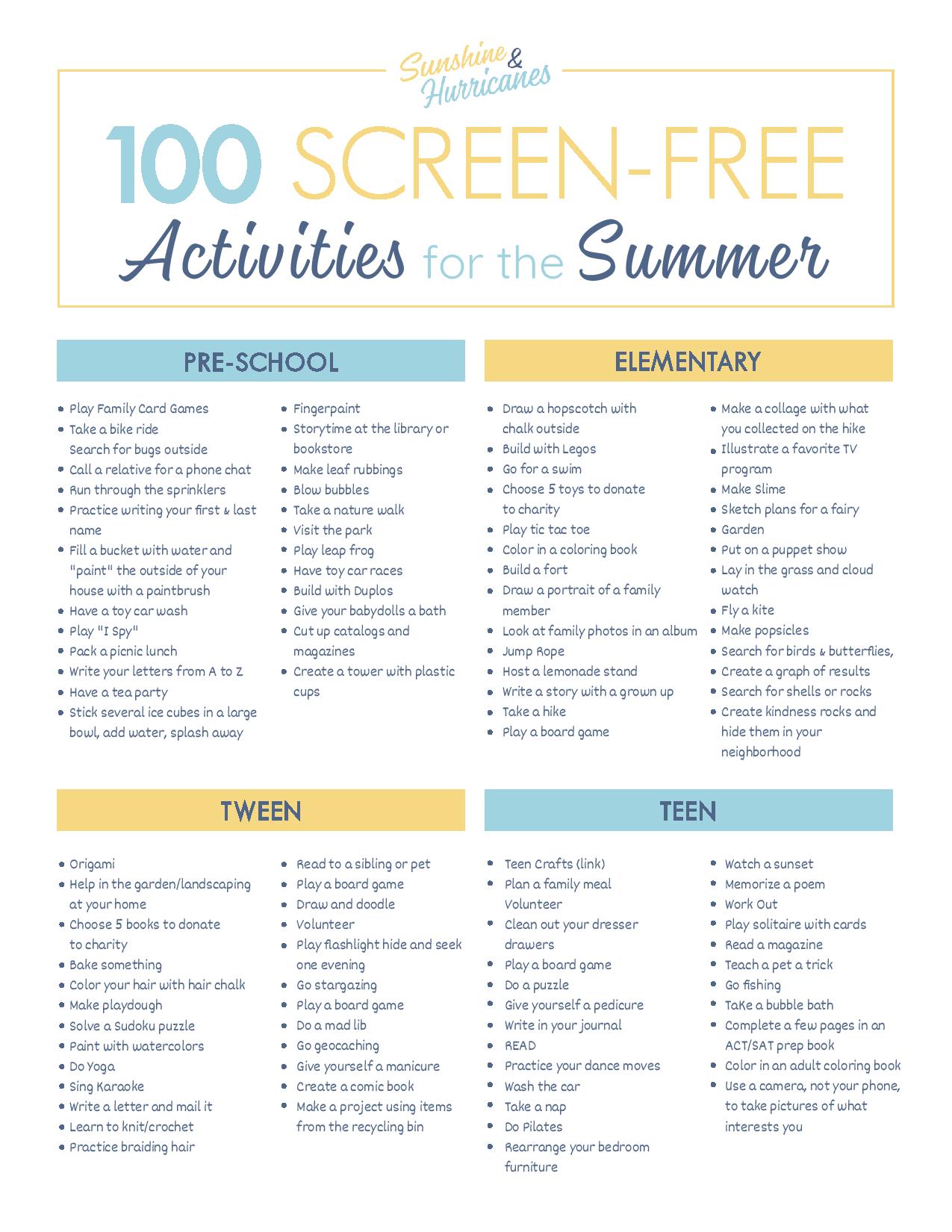 Related Posts:
Summer Activities for Kids – Boredom Busters That Don't Break the Bank
5 Ways To Prevent Summer Slide
Why I Really Hope My Kids Are Bored This Summer
Do you have any other ideas to add to our 100 Scree-Free Activities for Kids To Do This Summer?