Meal Subscription boxes offer moms an easy solution to get dinner on the table for their families fast and affordably.
What's for dinner?
The question that relentlessly stalks moms everywhere, everyday, forever… Okay, at least it feels that way.
I know I've tried so many different ways to make meal planning less of a hassle. I created a great system to meal plan using Pinterest. Other people love it, I gave up after a few weeks.
I've tried printables, planners, a standard make ahead menu, freezer meals, you name it. And here's where they've all ended up. FAIL.
Many of you out there reading this can relate, right?
What is wrong with us? Do we get some weird thrill from checking the fridge at half past six to see what we can throw together from half a package of hot dogs, some questionable lettuce and a jar of olives?
Maybe we just really prefer spending all our disposable income on pizza and take-out rather than family trips or those cute new boots we saw online yesterday.
Or could it just be that we're overwhelmed with the 7,000,0000 other decisions we make on a daily basis.
I'm going with C.
Do some of you actually like to cook? I do!
That's crazy I know. So, it makes my dinner decision making dilemma that much more perplexing.
But a solution finally arrived at my doorstep.
No, literally at my door step. It was a meal subscription box and it was like having my mom prayers answered.
A little dramatic. Nope.
Meal subscription boxes have been crushing it in the meal planning space.
Their overall their quality and options have dramatically improved since they first launched. Additionally, they aren't as pricey as people think. Really calculate how much you spend per person on meals each week. Think about how much food you throw away. Oh, and don't forget all the unexpected expenses for delivery, drive -thru or last minute stops to the store.
You may discover, like I did and many other moms, that you're actually saving money.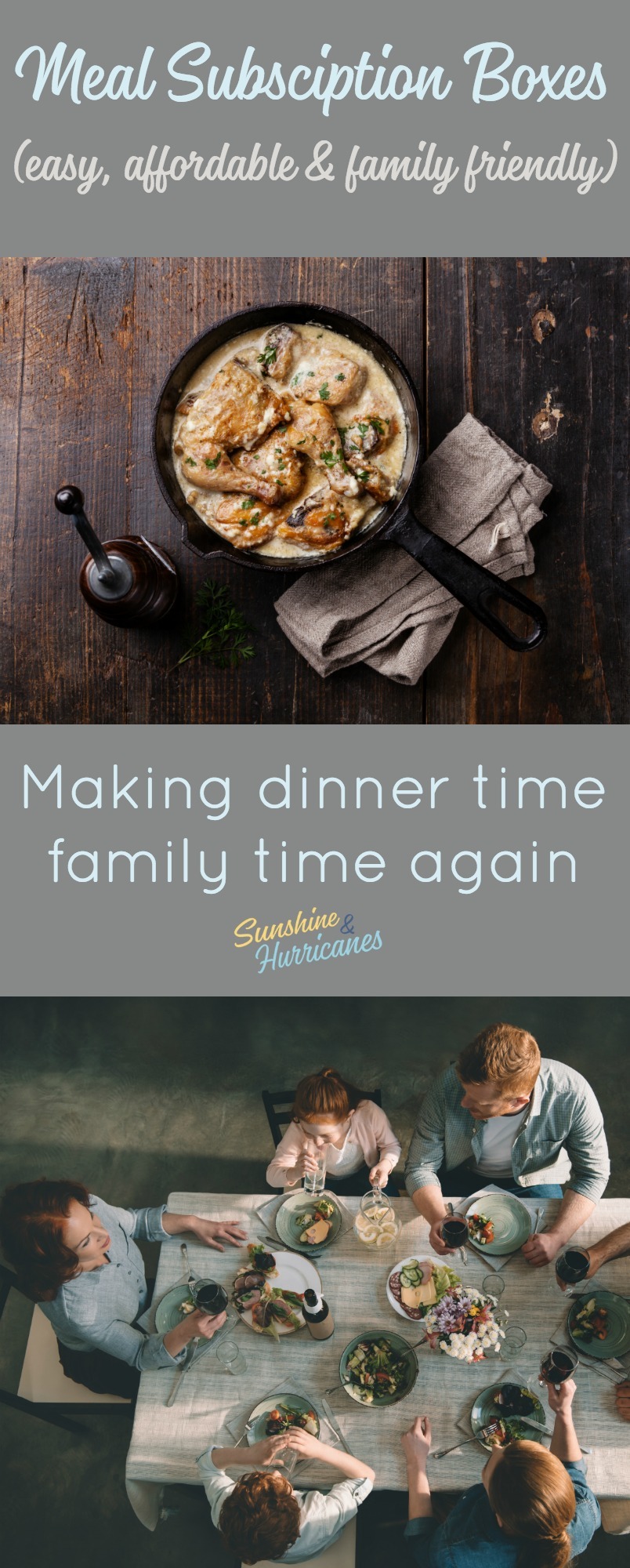 Meal Subscription Boxes – What Are They?
Meal subscription boxes are services that deliver all the ingredients for a certain number of meals along with detailed instructions every single week.
You can choose the number of meals you want and the types of meals you want. And you are NOT locked in. You can skip weeks or cancel whenever you feel like it.
And yes, the meals are FAMILY FRIENDLY. So, it's simple recipes that are easy to prepare and that MOST kids will eat. That means, if you're kiddos are chicken nuggets and mac & cheese only, okay maybe this isn't for you (but you could still order the smaller boxes for you and your hubs so you can eat healthy, grown-up meals!).
What Are My Meal Subscription Box Choices?
There are TONS of options to choose from and new ones getting into the game all the time. BUT I do think getting meal subscription boxes right is an art form that takes some trial and error. For this reason, I'd suggest sticking with the ones that have been around awhile.
I've actually tried a few and it really comes down to what kind of meals you want. Here are the top three I would suggest (along with a 4th hybrid alternative) and all offer fantastic DEALS for your first order. So you get a very low risk way to try them out and see what you think!
Blue Apron is the most well-knows of all the meal subscription boxes. They offer good variety and most of the items on their family plan are pretty kid friendly. They keep things simple,
Instructions delivered with meals
Videos available online
App for managing your subscription (making it easy to skip or cancel at any time)
In terms of food, this is what they promise:
Farm-fresh, seasonal produce
Meat with no added hormones
Sustainably-sourced seafood
Blue Apron has 2 person and family meal plans (serves 4). For the 2 person plan you can get 2 or 3 meals a week. On the family plan, it's two, three or four meals per week. You also can specify the day you want meals delivered and time
Okay and here is my new favorite thing about Blue Apron – wine! Yes, wine. In addition to your meals, you can also get wine delivered.
Hello Fresh came on the scene and definitely has given Blue Apron a run for its money. Initially, it seemed like they were trying to be a little more sophisticated. Which is fine, except..families. The recipes were a bit complex and so was the food. As a busy mom with kids who aren't too picky, but who aren't going to get too excited about shrimp risotto that wasn't great.
BUT I'm thrilled to say they took people's feedback and really overhauled their family meal kits. Now you'll find far easier and faster recipes and things kids will actually eat. Check our their monster mac& cheese. YUM!
They offer three different menus – classic, veggie and family. The family plan gives you a choice of 2-3 meals per week. On the classic plan you can get up to 4.
Boxes come with all the ingredients portioned out and easy to follow step by step recipe cards. And everything comes in insulated packaging, so if you aren't home to receive it, no worries, it will just "chill" and wait for you.
Oh, and p.s. they've got wine now too. 😉 These people clearly get moms!
Plated has run with the whole meal subscription box idea and then taken it up a notch. Fresh food is pretty much a staple and source of pride no matter what meal service you choose. Plated just provides more options that will appeal to true foodies.
Now , I know some people will immediately scroll back up to the other two and that's fine. But wait… I'd encourage you to at least give a look at their menu page and see what they offer.
On the other hand, I know more and more families fall in the "foodie" category these days. Kids are being introduced to more and different foods earlier and having kids willing try try a good variety of foods is becoming more important.
Plated's chef designed recipes are tailored to meet a varying level of tastes and skill. 20 minute recipes are a thing, but so are more advanced options for those who have a more refined palate or who might even be looking to up their cooking game. It's not just dinner, it can be acquiring some mad kitchen skills in the process.
Plans are available for 2 -4 servings and anywhere from 2-4 nights of meals per week. Again, delivery is flexible to your schedule. You can skip or cancel at anytime and yep, they've got an app too. So it can all be managed in a matter of minutes right from your phone.
Think Outside the Meal Subscription Box
Okay now, maybe you're looking for a meal planning solution, but you don't need something quite so turn key. I know that many people just can't find the time to actually put together the meal plan itself and then the shopping list. Just having someone do that much for you would be like a gift from heaven.
So, heaven has heard the call and sent emeals. This is a service that will put together a weekly meal plan for you based on your family's preferences as well as the shopping list. Really, isn't this the hardest part anyway. I actually kind of like grocery shopping (usually b/c I get to go kid free).
Life Is Too Short (and too busy) To Stress About Dinner
Dinner should be a time to come together as a family, at least some nights of the week. Let's look forward to this time talking to our kids and enjoying a meal, rather than freaking out as dinner time approaches each night.
There are a lot of issues we face as moms that don't have easy answers. When a simple solution IS available like meal subscription boxes, we need to just jump on it. Don't overthink it. Healthy and delicious dinners delivered to your door, easy to make with step-by-step directions and you feeling like at least one thing in life is under control. It's a win/win/win!
Related Posts:
Circle with Disney; Simple Parental Controls For Your Kid's Devices That Make Sense
10 Ways To Build A Rock Solid Relationship With Your Teen (or Tween)
Quick and Easy Dinner; Turkey Sliders