How many of you find meal planning to be one of the MOST difficult parts of running your household?
Is your hand up? Yeah, me too!
I can't tell you how many times I get to 4 in the afternoon and suddenly realize that I have not clue what I've making for dinner. Talk about serious stress. Half the time it means we end up eating out, which usually isn't planned for in my budget. Plus, then I tend to end up throwing out lost of unused food at the end of the week.
It also turns into a terrible cycle, because the more stress I feel about planning and making dinner the less I want to do it. BUT I finally decided that this couldn't go on any longer. There are SO many things I can't control that make my life crazy, but dinner isn't one of them. That is when I developed my PINTEREST MEAL PLANNING solution.
(affiliate links included which help support S&H)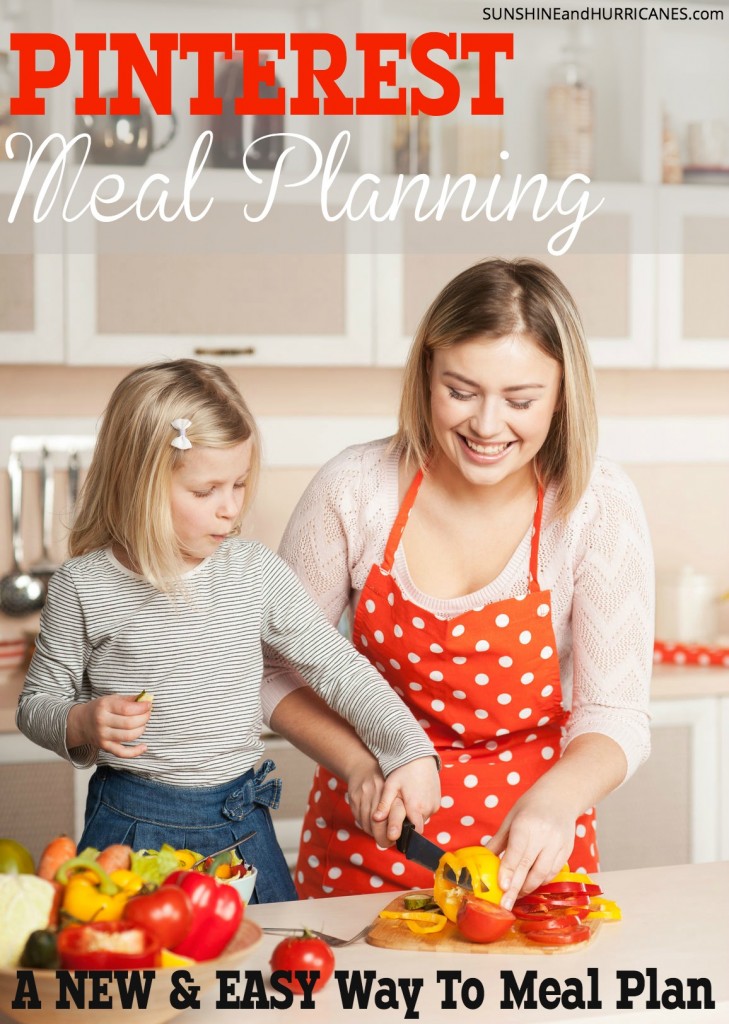 Pinterest Meal Planning
THE MEAL PLANNING PREDICAMENT
Most of us know how much easier (and more affordable) meal planning makes our lives, and yet somehow it seems to always be one of the toughest things to sit down and do. I will often find myself at the grocery store just sort of randomly buying what I think I might want to make for dinners the upcoming week. Then, when it comes time to actually making dinner, I'm always missing something, or I forgot to thaw the meat or b/c I don't have a good plan, I just put it off until there is no time left to make dinner and we end up eating out.
WE'VE DONE THE WORK FOR YOU
Well, after too many months of dining out bills that were totally throwing our family budget out of whack, I decided it was time to try something new and different. What does that mean for you?
Well, basically, I've done the work for you and come up with what I think is actually a NEW and EASY approach to meal planning that might appeal to people who have visual brains like mine. I find Pinterest really useful for organizing my life and keeping track of things. So, I figured why not use it for meal planning.
FOUR WEEKS OF MEAL PLANS WITH PRINTABLE SHOPPING LISTS
Over time, I have created FOUR Pinterest boards, each with one week of meal plans on them. Some of the meals come from our blog and some from other sites that I like and follow. For each week, there is a good mix of recipes that include chicken, beef, pastas, slow-cooker, etc. Plus, many of the recipes are easy to double to create leftovers for later in the week or to freeze for a busy night down the road. Oh, and I've ACTUALLY MADE these meals and fed them to my family, so I know that everyone likes them. Yes, even the kids!
HERE IS HOW IT WORKS:
Weekly Recipes
You can choose to follow our boards OR create four of your own boards (title them weeks 1-4) and pin the recipes to your board. Whatever works for you!
Here's an example of our Meal Plan Week One Pinterest Board.
Follow Sunshine and Hurricanes 's board Week 1 Meal Plan on Pinterest.
Printable Shopping Lists
On the weekly boards, you will also find a pin that links to a printable shopping list for that week of meals. Here's an example of what the shopping lists look like.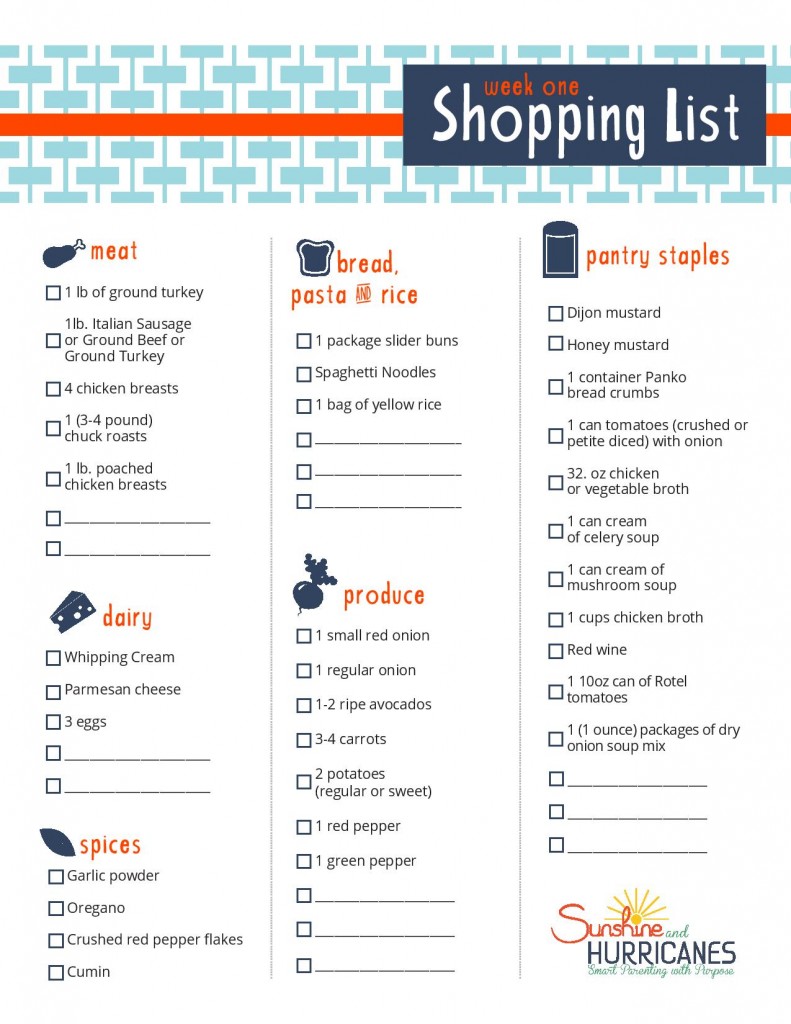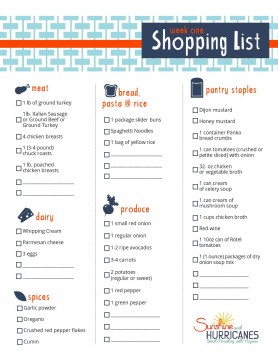 Every week, just print off your shopping list, check off which items you need for that week's recipes, add any other grocery items you need and head to the store.
Then, each day, simply pull up that week's Pinterest board to grab the recipe for that day and you are good to go!
You'll have four weeks in all when it's done, so a full month's rotation of easy, family friendly meals. Yay! I'm officially proclaiming Dinner SOLVED!
Okay, so are you ready to get started?
In total, you'll have a four week rotation of meals, which is a good variety over time. Click on the weeks below to access the pinboards and printable lists for each.
Week 1 Meal Plan and and Printable Shopping List
Week 2 Meal Plan and Printable Shopping List
Week 3 Meal Plan and Printable Shopping List
Week 4 Meal Plan and Printable Shopping List
Looking for other meal planning resources? Be sure to follow our meal planning Pinterest Board.
Follow Sunshine and Hurricanes 's board Meal Planning Resources on Pinterest.
Maybe Pinterest meal planning isn't for you, but you still need some kind of a solution. Freezer meals are another fantastic approach and you can get everything you need for this simple solution at Freezer Meals 101.