Inside:Holiday movies for teens and tweens
When our kids are little, one of the best parts of the holidays is making hot cocoa, snuggling up on the coach and watching all the holiday specials we loved as kids. There is Rudolph and Frosty and of course we can't forget Charlie Brown.
But as our kids get older, they can go through a stage of feeling like they're "too old" for these nostalgic favorites. Or they may just be tired of watching the same old shows and movies.
That doesn't mean that this tradition can't go on. It simply means it's time to move on to movies that are a bit more mature. Many of these holiday movies for teens and tweens are classics that the whole family can enjoy, while some may be new for everyone.
Either way, teens and tweens still love hot cocoa, so don't skimp on the marshmallows. And although your big kids may have outgrown your lap, they are never too big for a little snuggle on the couch as long as their friends aren't over watching with you.
Holiday Movies for Teens and Tweens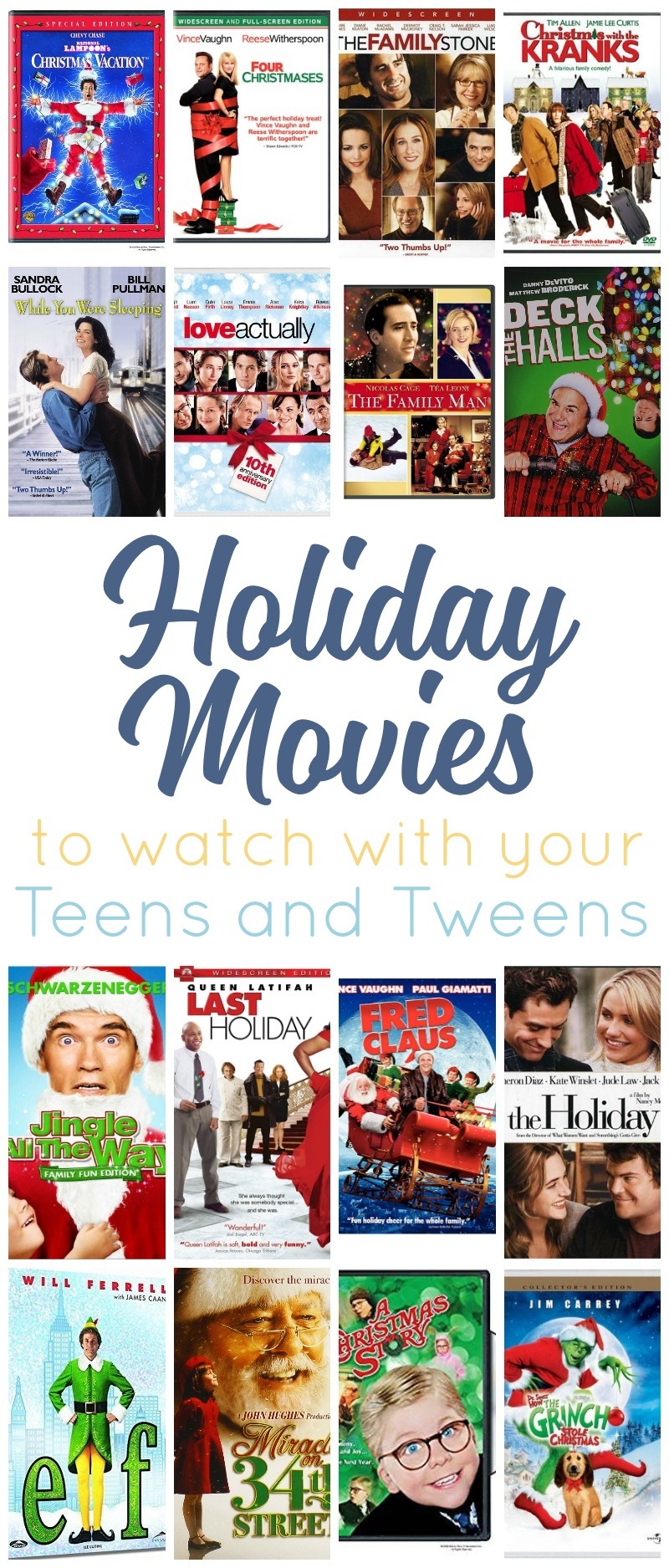 Holiday Movies for Teens:
The Family Stone
A new guest makes for an interesting holiday get together in this movie about Family relationships.
Christmas With The Kranks
The Kranks have to cancel their cruise plans and pull Christmas off at the last minute when their Daughter surprises them by coming home for the holidays.
Four Christmases
A happy couple has to visit four different sets of family in this comedy about how children of divorced parents navigate the holiday season.
National Lampoons Christmas Vacation
The Griswolds are celebrating the perfect Christmas in this holiday classic.
The Family Man
Jack Campbell gets a 2nd chance to be a family man in this heart warming movie.
Deck The Halls
Danny DeVito stars in this comedy about a neighbor who needs some help getting in the Christmas spirit.
Love Actually
This romantic comedy explores love's twists and turns during the holidays.
It's A Wonderful Life
An angel shows a business man what life would be like if he never existed.
While You Were Sleeping
Sandra Bullock plays a train conductor who rescues a man who gets mugged.
The Holiday
Two women trade homes for the holidays to escape their lives and situations at home.
Fred Claus
A Christmas comedy about Santa's brother, Fred.
Last Holiday
Recently diagnosed with a terminal illness, a woman decides to take a European vacation.
Holiday Movies for Tweens:
The Mistle Tones
A holiday musical starring Tia Mowry and Tori Spelling.
Jingle All The Way
A father frantically searches for the perfect Christmas toy on Christmas Eve.
The Grinch
The live action version of the Classic starring Jim Carrey!
The Nativity Story
A live action version of the true meaning of Christmas.
Ernest Saves Christmas
A zany Christmas holiday hit featuring Ernest who is a comedy favorite!
A Christmas Story
In this Christmas classic, all Ralphie wants is a Red Ryder BB gun.
Miracle on 34th Street
A department store Santa is spreading Christmas magic.
Elf
Will Ferrell stars in this movie about a human orphan raised as an Elf who meets his biological father.
Scrooged
A selfish TV executive gets haunted by 3 ghosts sharing lessons with him on Christmas Eve.
Home Alone Series
It all started with Kevin McCallister when he gets left home alone while his family heads off on vacation for Christmas.
Santa Clause Series
This holiday series features Tim Allen as he becomes Santa after the former Santa falls off his roof on Christmas Eve!
Related:
Best Board Games For Teens – Ideas from Teens
Top 10 Board Games For Tweens; From Moms of Tweens
Gifts For Teen Boys; Their Actual Suggestions
Gifts For Teen Girls; Things They Really Want
Sports Movies for Teens and Tweens; Inspiration for Your Young Athletes
Are there any other suggestions you would add to our holiday movies for teens and tweens?