Beyond Oh, the Places You'll Go – Be an Original, Try One of These Other Books for Graduation Gifts Instead
Raise your hand if you own a copy of "Oh, The Places You'll Go!" by Dr. Seuss?
Now, raise your hand if you have now, or did at one time, have multiple copies of this book? Wow! That's a lot of hands. 😉
Getting multiple copies of this book for graduation is pretty common. It's a great book and it is perfect for the occasion. But that is why EVERYBODY gets this as a gift for graduates. It's kind of a no brainer and c'mon who doesn't love Dr. Seuss and all his inspirational rhymes?!
Tradition is a beautiful thing, but sometimes breaking the mold and going a new direction can be a good thing. It's not like this is the ONLY amazing, inspiring, fun book for grads out there.
Why not be an original? Give the graduate in your life a more updated selection. Plus, no worries, someone with less creativity will totally give them a copy of this. In fact, probably more than one person.
Not sure what to give instead? We gotcha covered!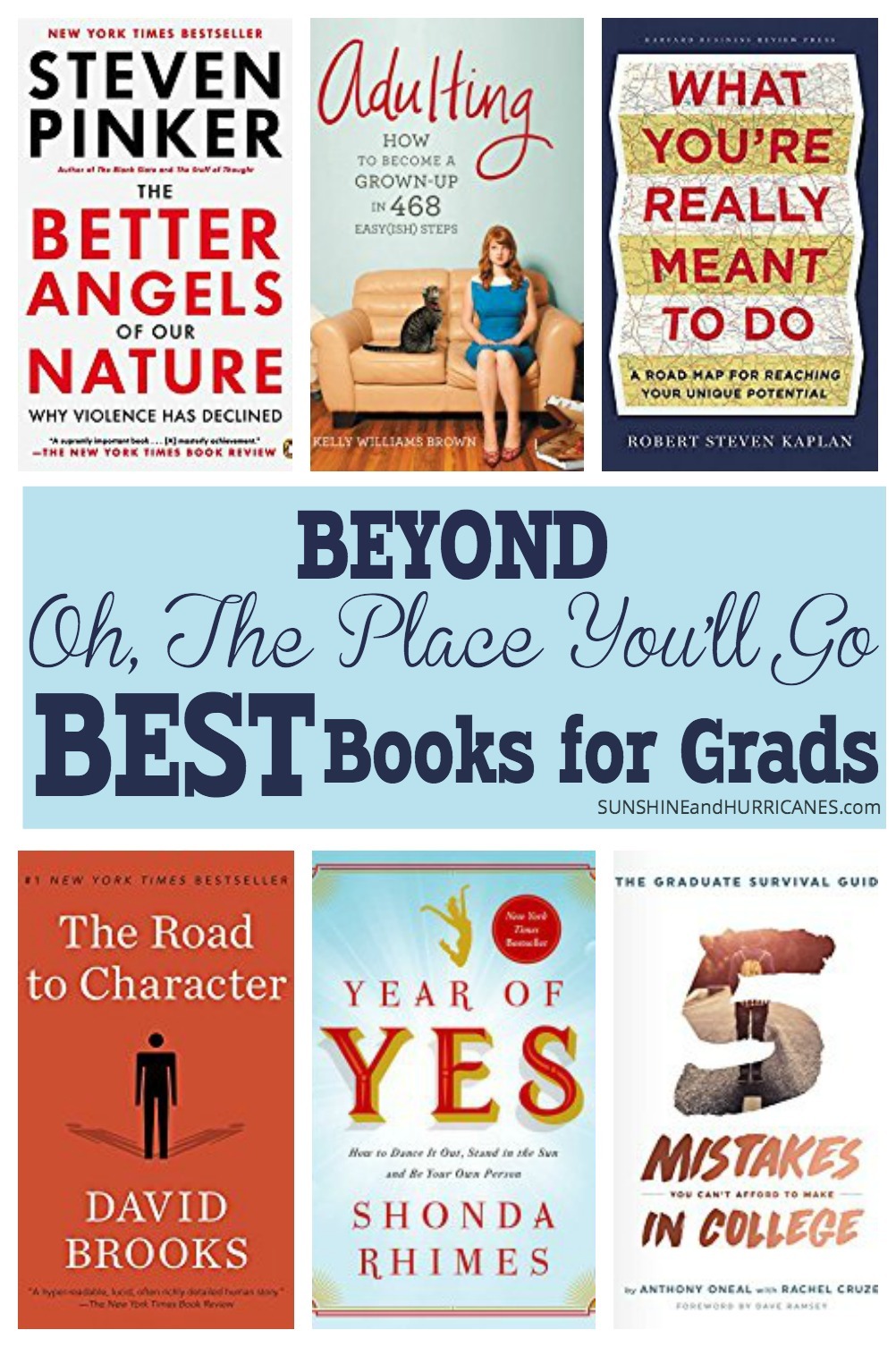 Beyond Oh, The Places You'll Go! – The Best Books for Grads
This selection of books is a mix of modern and time proven classics that will help you Go Beyond Oh, The Places You'll Go. Whether you're looking for inspirational, practical or just a whole lotta fun, you'll find the perfectly unique book to gift the graduate in your life. (Options for High School Grads and College Grads)
Inspirational Books for Grads
Tuesday's with Morrie – A professor and a student reconnect after 20 years and a beautiful friendship is formed. One that shows we still have much to learn even long after we leave the classroom.
Enjoy Every Sandwich – When a Medical Director of a leading research institute whose mission is to help those struggling with disease overcome their fear of pain and death, discovers he has terminal cancer, can he apply the same principles to his own life? The answer is a resounding yes! His journey will convince anyone that it is not the duration of our life that matters, but whether we can live each day we are given with purpose and meaning.
The Road to Character – New York Time's columnist Dave Brooks looks to some of the world's greatest thinkers and inspiring leaders and illustrates how through internal struggle and a sense of our own limitations, we can build rich inner lives marked by humility and moral depth.
TED Books Box Set – If you've heard of TED Talks, imagine a whole collection of them in book form!
wild
– Sometimes we never know exactly who we are or what we are capable of doing until we push ourselves to our limit and survive.
The Year of Yes – From the creator of "Must See TV" including Grey's Anatomy, Private Practice and Scandal comes a book that challenges the very definition of success. You can have it all, and have nothing, if you aren't being true to yourself and embracing a life that truly challenges and fulfills you.
The Better Angles of Our Nature – "If I could give each of you a graduation present, it would be this — the most inspiring book I've ever read." – Bill Gates. According to this book, our world is actually becoming a safer and less violent place, contrary to what most of us think and the media would have us believe. A compelling argument in favor of optimism and believing that it is still possible to make the world a better place.
Practical Books for Grads
What You're Really Meant To Do
– Too often, people live unfulfilled lives because they chase after the wrong kind of success. Here's how to define what "success" means to you and then put a plan together that will get you there.
How to Cook Everything: The Basics
– Hopefully by the time one graduates they've learned enough to at least boil water and make toast. Even that is debatable today, when we're slowly losing the art of cooking. Here is an excellent introductory book of the essential skills and recipes needed to at least have a foundation in cooking and how to feed oneself without relying on take-out.
1,000 Places to See Before You Die – Just because one becomes an adult, it doesn't mean losing all sense of adventure. Life should continue to be an exploration and here are the 1,000 suggestions for that bucket list.
The 7 Habits of Highly Effective People – There is a reason this has been a best seller for decades. Timeless advice that applies both at work and at home, it's a book many people read over and over again.
Five Mistakes You Can't Afford to Make in College
– Don't want to end up living with your parents after college? Here are the five mistakes to avoid making in college to save yourself years of pain and expensive life lessons.
The Complete Guide to Money – All the basics every college graduate needs to know from everybody's favorite financial guru, Dave Ramsey. A primer in managing your own money and making wise decisions when it comes to everything from budgeting, debt, homeownership and investments.
Funny Books for Grads
Adulting, How to Become a Grown-Up in 468 Easy(ish) Steps –
Just because you don't feel like an adult doesn't mean you can't act like one. From breaking up with frenemies to fixing your toilet, this fun comprehensive handbook is the answer for aspiring grown-ups of all ages.
Everything I Need to Know I Learned From a Little Golden Book
– Nostalgic and humorous, practical tips for getting the most out of life drawn from more than 60 of these best-loved children's books of all time—among them The Poky Little Puppy, Pantaloon, Mister Dog, Nurse Nancy, We Help Mommy, Five Pennies to Spend, and The Little Red Hen.

Graduation Mad Libs
– Just a little something fun to keep everyone entertained at the graduation party. 😉
Looking for some other graduation gift ideas?
Graduation Gifts; Meaningful, Practical, Inspirational and Fun
Great Teen Books For High School Girls
What book would you suggest for a graduation gift if you want to break out of the
Oh, The Places You'll Go Tradition?