Inside:Board Games for Teenagers and tweens that will have even your moodiest teen laughing out loud
There's nothing like a good laugh to change the mood in your house.
As a mom of 4, including a tween and a teen, I know how things can get at home sometimes. The schedules and the homework and the never ending to-do list (not to mention the hormones) can leave everyone feeling stressed.
It's almost like the whole household is one big funk.
one of the best ways I've found to turn the funk back info fun back is to add a little laughter.
Sometimes, it's silly jokes at the dinner table or a funny movie or TV show we all enjoy.  But the best memories are made when we play board games.
Now there are lots of great board games for teens and tweens. You can see some of the most popular ones here:
best board games for teens
best board games for tweens.
But there have been new board games that have popped up in recent years that are just downright hysterical. We're talking games for teens and tweens that will have you all laughing so hard there could be tears, the good kind.
Since these games are fairly new to the scene, many people haven't heard of them yet. OR because they're not time tested, maybe you're not sure if they're really as good as they sound.
Well, after a little chatting with friends and trying some of them out ourselves, I'm pretty sure we've found some keepers.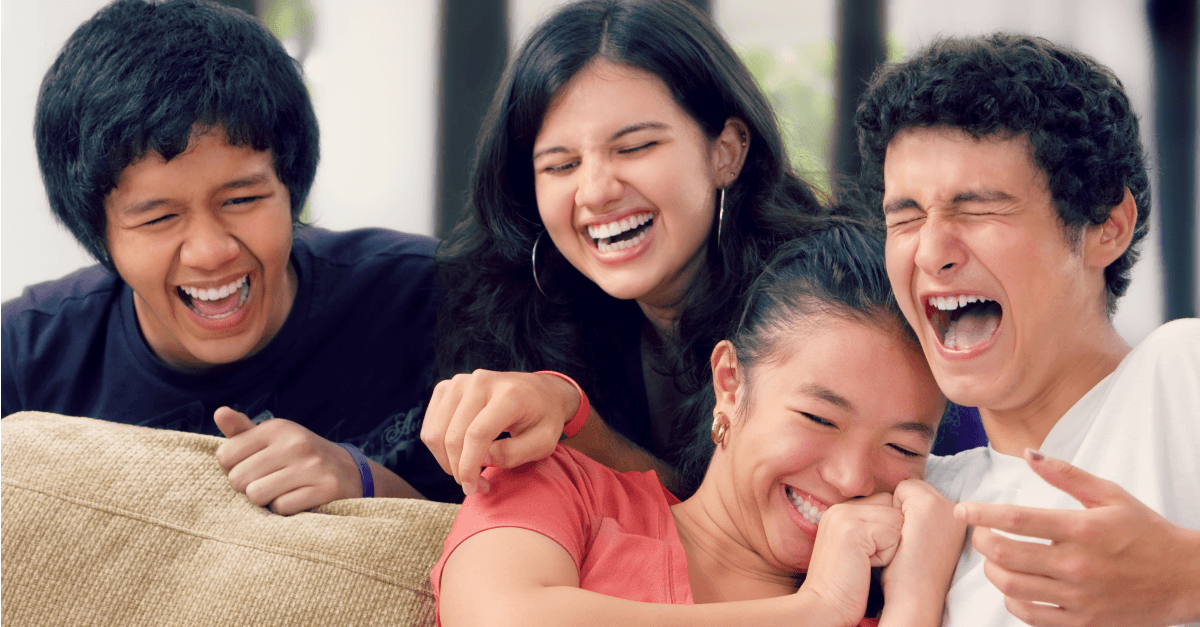 Board Games for Teenagers and Tweens That Will Have Them LOL!
Now, just a heads up, most of these make great board games for teens (or tweens), but many might not be so appropriate for your younger kids. Just check out the age rating or reviews if you're not sure.

Watch Ya' Mouth This game brings the laughter when up to 10 players wear the mouthpieces and get to say a variety of funny phrases. Teens may hesitate at first, but once they get going they'll be rolling on the floor.  Oh and don't worry, the mouthpieces are washable or you can buy an expansion set of mouthpieces to expand the fun!!!!

Exploding Kittens The most backed project in Kickstarter history bills itself as a card game for people who like kittens and exploding things…which is basically everyone, right? Fast paced and fun, this one is a huge hit with my tween son and his buddies.

Goat Lords Get ready for light hearted play and TONS of laughter as you throw down cards in an effort to become Lord of the Goats. Perfect for a group, this is a board game for teens and tweens that they will love!

5 Second Rule Buckle for crazy fun as players try to beat the 5 second clock without getting tongue tied and see all your favorite people react under pressure….silliness abounds! Family favorite at our house for sure!!!

Bears vs. Babies Use your cards to build monsters that eat babies in a fast paced strategic manner. It's not nearly as gruesome as you think, it's beyond silly and tweens through adults will enjoy!

Reverse Charades  Everything you thought you knew about charades is turned upside down in this funny version of family game night! A team acts out clues for one person to figure out and the giggles abound!

Not Parent Approved Hilarious, quick, simple play, a perfect game for teenagers, tweens and even adults. Concept is similar to Cards Against Humanity but FAMILY FRIENDLY and perfect for game night!

Been There Done That  Gather everyone 12+ and the laughter begins! Take turns putting each other in the hot seat and discovering crazy facts about one another. Love this for getting to share Mom & Dad's crazy side with teens!!!!

LUPO: The Space Adventure  Planet Earth has turned into a tiny raisin and there your creative storytelling experience begins! Perfect for dreamers and growing big imaginations, this becomes a hilarious way to create inside jokes for years to come!!!!


Rollick Team Charades at it's finest, this family game is guaranteed to create belly chuckles and memorable moments that require teamwork but without talking to one another!


Spontuneous No talent required and the more off key the better! Think of it as a riff-off in Pitch Perfect fashion, but only having to sing a line or so with each word clue! It's not about your singing ability, it's all about your word associations!!! A fun board game for teenagers, tweens and adults!

Pie Face Showdown Listen, if all else fails, the opportunity to watch someone get plastered with whip cream is just oddly satisfying. If you've ever dreamt of pie-ing someone in the face, this is about to make your fantasy happen! Perfect for ALL ages!
Related Posts:
Card Games for Families: Make It a Family Game Night!
Conversation Jenga: Family Game Night Fun
10 Ways To Be Silly And Laugh More With Your Kids

Do you have any other funny board games for teenagers that your family loves?