We are huge Valentine's Day lovers in this house. I'm not sure if it's the beautiful shades of pink, or the discounted chocolate the day after Valentine's Day that I love so much, but we look forward to Valentine's Day every year.
In case you needed a reason to indulge a little this Valentine's Day, I've come up with some of the tastiest, cutest and just all around most fun Valentine's Day recipes for you that are pink or red! There a great festive food ideas for school parties or so you can treat yourself and your family to something yummy this Valentine's Day.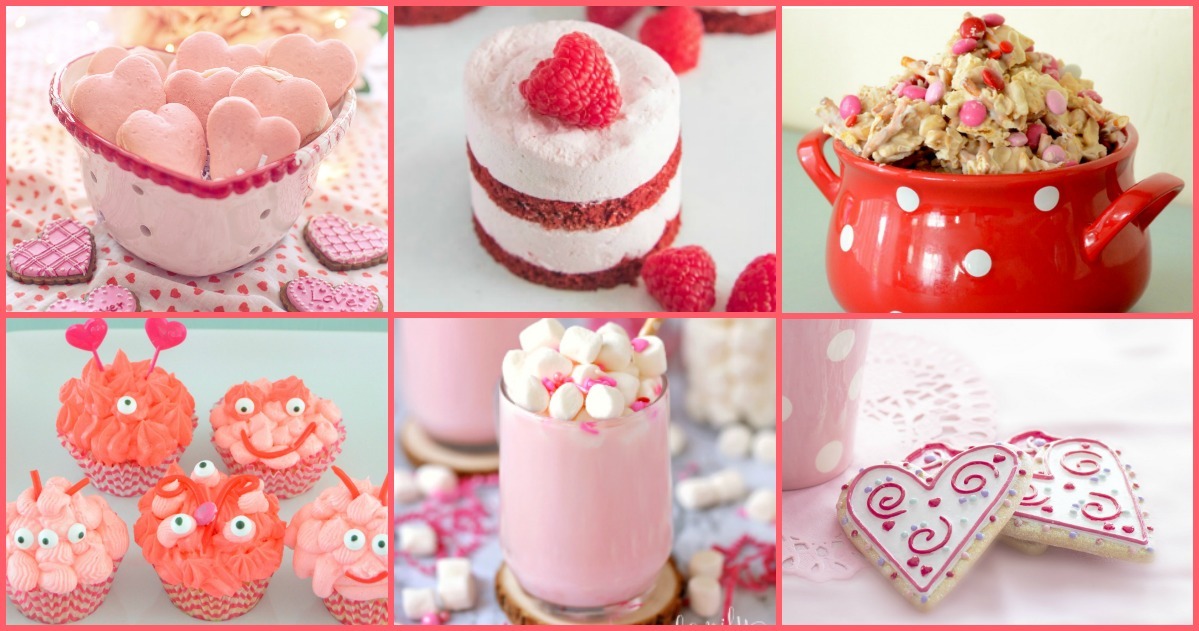 Here are the best red and pink themed recipes for Valentine's Day.
If you are looking for a great red and pink themed food idea that is super easy, you can't go wrong with this easy Valentine's Day chocolate bark! The colors are just beautiful and it really does taste as good as it looks.
These red and pink themed stained glass heart cookies are so cute! They would make a great classroom party snack, or a fun treat for your kids when they get home from school.
There is nothing better than a nice hot cup of cocoa. With this pink hot chocolate, you can still enjoy your cocoa but with a fun Valentine's day twist.
Out of all our red and pink themed food ideas for Valentine's Day these red velvet cookies are probably one of the easiest! These cookies use a box of cake mix to create a tasty yet decadent cookie.
These cuddle monsters would be a fantastic and sweet Valentine's Day surprise for your kids or even your spouse! These adorable cuddle monsters are so cute, you almost don't want to eat them! You only need a handful of easy to find ingredients, and these work great for classroom parties.
If you are looking for something on the healthier side of things this Valentine's Day, you can't beat this gluten-free and sugar-free Strawberry pie.
These creative red velvet brownies would be a great option for a classroom snack or a dense treat to enjoy after dinner on Valentine's Day.
If you are looking for an easy Valentine's Day recipe to make with your kids, consider these dipped heart Valentine's Day cookies! They are so easy to make and yet so yummy! If you are looking for something simple this year, this is the one to go with!
If you want your dessert to be more on the elegant side, consider making this beautiful raspberry mousse red velvet cake. This would be a great date night dish or a fun after dinner treat.
These strawberry candy heart cookies are the perfect sweet treat to have this Valentine's Day. It will be really hard to have just one!
Regardless what recipe you choose to make this Valentine's Day, hopefully you found something festive on this list to make this year. Also, if you are on the hunt for ideas for a Valentine's Day School Party or a little Valentine's Day family fun, be sure to check out our post on FREE Valentine's Day Printables >>>Valentine's Day Printables
OR some of Valentine's Day Crafts & Activities Posts:
Valentine's Day Necklaces; Super Cute Valentine's Day Craft
3 Simple Valentine's Day Crafts For Kids
Valentine's Day Playdough Cupcakes
Simple 15 Minute Valentine's Day Wreath
Other Great Valentine's Day Resources for when you're parenting school age kids:
Valentine Gifts for Tween Girls; All $15 or Under
Stocking Stuffers for Tween Boys; From a Tween Boy Mom
Valentine Gifts for Teen Girls; Sugar, Spice and Sassy
Valentine Gifts for Teen Boys; Tons of Ideas from Sweet to Silly