Do you have a sweet cheeked little cherub that steals your heart for Valentine's Day? Then here's a fun way to show them how much you care with these super adorable Valentine's Day Cuddle Monster cupcakes.
You can bake them as a sweet surprise. Or better yet, bake them up together. Kiddos love that one on one time with you and you're sure to laugh together and make some great memories making these cuddle monster cupcakes.
Don't feel like you have to stick to the same versions seen here. Get creative, get goofy and bring on the giggles. These cuddle monsters are certainly sweet, but what makes them extra fun is that they are oh so silly!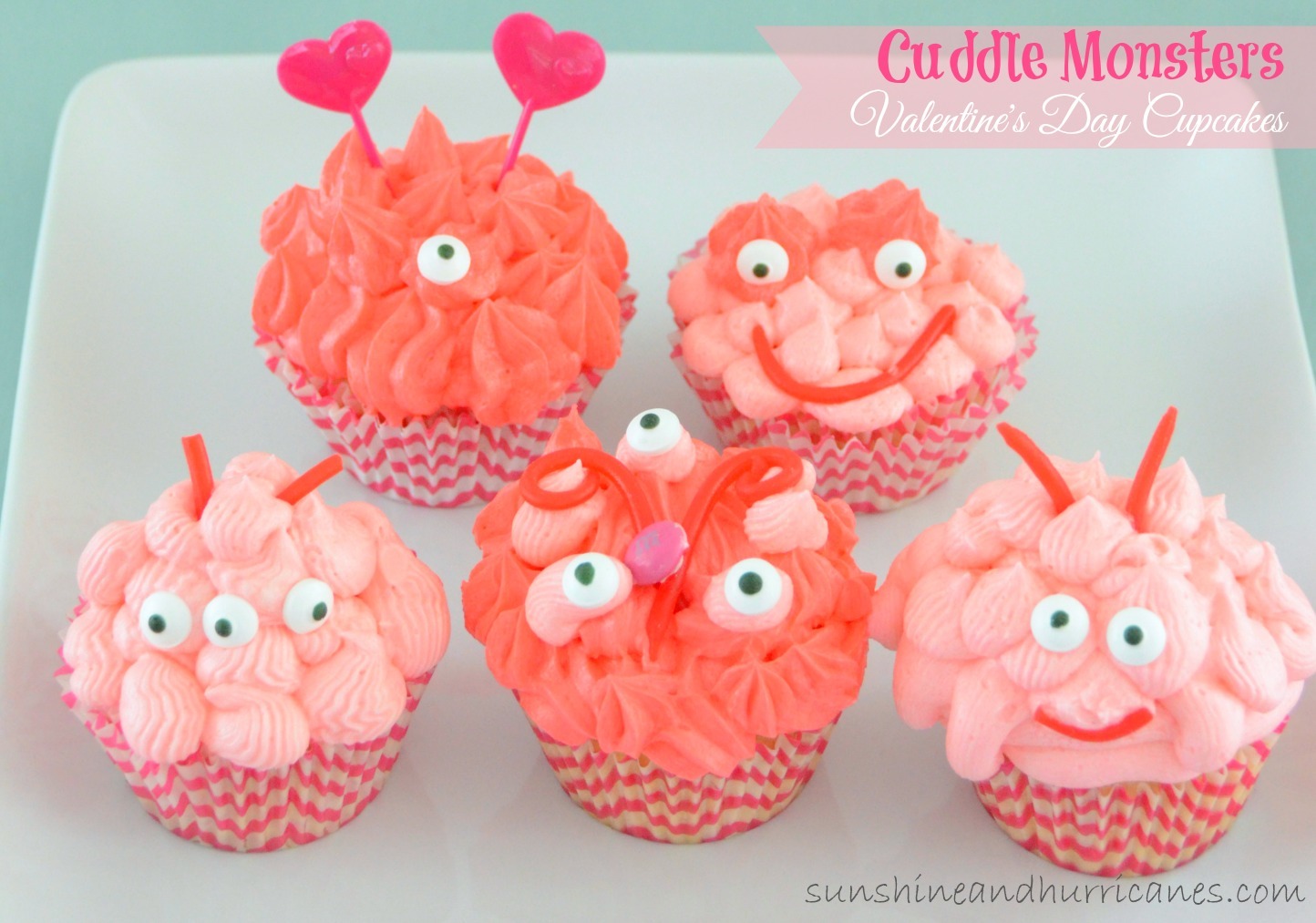 Cuddle Monster – Valentine's Day Cupcakes
As cute as these cuddle monster cupcakes are they are, what makes them extra special is that are actually super easy to make. A bonus for busy moms!
So, give these sweet treats a try this Valentine's Day party! Serve them up at home or share them at a child's school valentine's day party.
Cuddle Monster Cupcakes Recipe:
Here's What You Need—-
Boxed Cake Mix or We Also Recommend Our Yummy White Chocolate Cupcake Recipe.
Candy Eyeballs
Heart Cupcake Picks
Valentine's Day M&Ms
Red Licorice (the kind that peels into little strips)
Valentine's Day Cupcake Liners
Easy Butter Cream Frosting (Recipe Below)
Red Food Coloring
Frosting Decorating Tips and Icing Bag
Prepare the cake mix as indicated for cupcakes, place the batter in Valentine's Day cupcake liners and then bake according to the box instructions. While the cupcakes are cooling prepare this easy buttercream frosting recipe:
1/2 Cup Softened Butter
4 1/2 Cups Powdered Sugar
1 tsp Vanilla Extract
6 Tbsp Milk
Beat the butter with a mixer on medium until it's light and creamy, add in 1 cup of powdered sugar and blend on low, add in the vanilla and milk, then add powdered sugar 1 cup at a time until it reaches frosting consistency. Divide frosting into multiple bowls (just depends how many shades of red and pink you want). Add food coloring to each bowl until you get the desired colors.
Place each of the different color frostings into an icing bag and then choose a tip (you can also just use a ziploc bag and snip off the corner). Hand each child their own bag of icing and let them go to town creating funny layering effects for their "cuddle monsters". Next use the candy eyes, M&Ms, licorice, heart shaped cupcake picks and whatever else suits your fancy to customize the "cuddle monsters" and make them your very own.
Eat and Enjoy!
Looking for other Valentine's Day Recipes and Ideas?
Easy Valentine's Day Chocolate Bark
Valentine's Day Necklaces; A Super Cute Valentine's Day Craft
Valentine's Day Printable Round Up – Cute and Clever Ideas from the Heart