Inside:Tons of Non-Candy Easter Basket Ideas from silly and sweet to cute and clever. Something for all your little bunnies.
I'm definitely not a "no candy" mom, but holidays like Easter can sure leave my little bunnies too hopped up on sugar.
I'm also not a fan of all the plastic, mass produced junkaroo that enters our home via the birthday party treat bags, Sunday School, or the fabled dollar store.
For the last few years, I have tried to be more intentional about what I purchase for my kids' baskets and have come up with a large selection on Non-Candy Easter Basket Ideas.
My kids love getting most of these items, and I love giving them because they are fun and affordable and I know that my kids will actually use them beyond Easter morning.
Feel free to steal a few of these non-candy Easter Basket ideas for your own kids.
This post may contain affiliate links.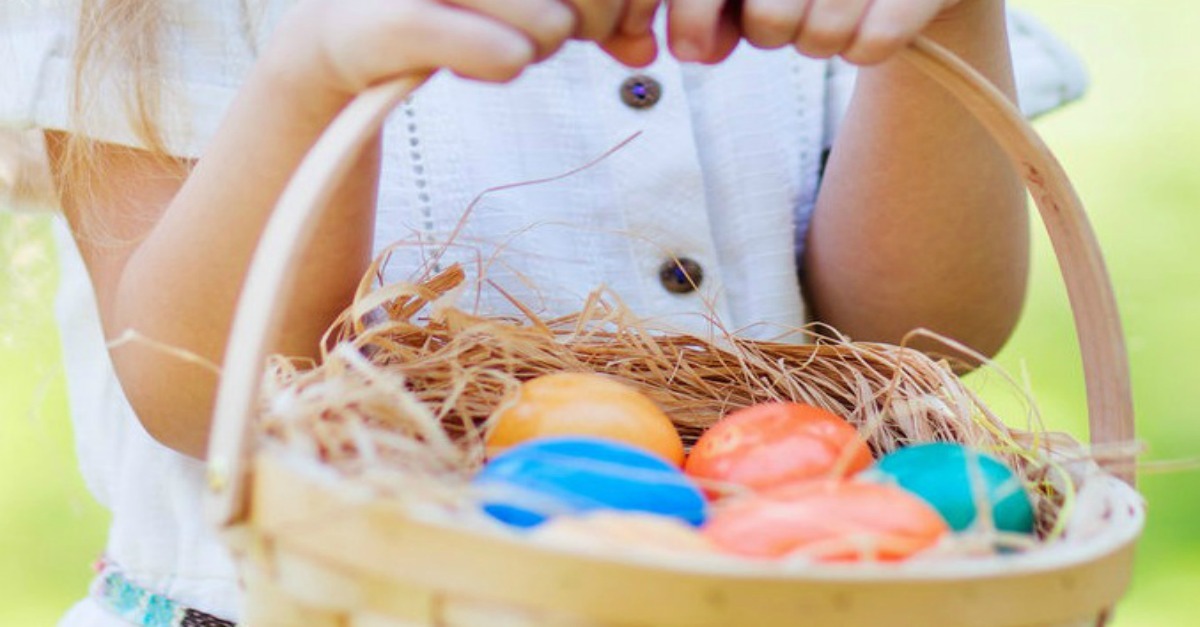 Non-Candy Easter Basket Ideas
The thing that probably helped me cut-down on the candy and find unique Easter basket ideas was reducing the size of their baskets. The smaller the basket, the less I have to put in it…my genius is overwhelming, I know.
It also made me more intentional in what I selected for them and to use their individual interests as my guide. Artsy kids will love art supplies, My lego loving boy was thrilled with small lego sets and mini – figures, my tween loved lip balm and hair accessories.
Here are a few non-candy Easter basket ideas that were the most popular with my offspring:
Artsy Ideas
Koh-I-Noor Progresso Woodless Colored 24-Pencil Set, Assorted Colored Pencils (FA8758.24)
Crayola 40ct Ultra-Clean Washable Markers, Broad Line, Easter Basket Stuffers
Play Visions Crayola Bathtub Crayons, 9 Count plus One Bonus extra crayon
Koh-I-Noor Woodless Colored Pencils – Set of 24
– we encountered this unusual colored pencils on a recent trip to Disney's Hollywood Studios and let me tell you, they are AHH-MAAAZING! My little girls colored with these during a visit to the animator's gallery and I immediately noticed they were different from any other colored pencils we had encountered…these are woodless. I had no clue what, exactly, the difference was until I struck up a conversation with a cast member. The Koh-I-Noor Woodless Colored Pencils – Set of 24
pencils require less pressure to achieve extra vibrant colors which make them perfect for young children! I immediately purchased these after we returned home and they've been used daily and renewed an interest in drawing for my son!
Crayola Washable Markers– if you're kids love to color with markers, but you're worried about them potentially trying to add color to your walls or other places that aren't intended to be their creative spaces, these are the best markers ever! Great vibrant color, but easily wash off clothes and other surfaces. Hand them over and you might even be able to turn your back for a few minutes.
Crayola Bathtub Crayons – I used to love these when my kids were smaller. They could keep them entertained in the bath for a good twenty minutes. I'd bring in my favorite book and actually get to read real words, while they created masterpieces that only took a squirt of the shower to remove.
Balloons
Toysmith Rocket Balloons (Various Colors)
Zuru Bunch O Balloons – Instant Water Balloons – Color May Vary (3 bunches – 100 Total Water Balloons)
30pcs 18
Rocket Balloons
– another big hit among my nephews and kids. Frankly, my hubs and brother in law enjoy them and are always reluctant to hand them over to the kiddos for a turn. Definitely pick up a 21 Rocket Balloon Refills
, you'll need them!
Water Balloons – So much fun and now that the weather is getting warmer, it won't be long before your kids can go outside and launch a full scale attack. The only problem is that it always took so dang long to fill up all those balloons. Now, you can do 100 at once. Let the games begin!
Punching Balloons – seriously, do you remember these from when you were a kid. I sure do. Best. Thing. Ever. and even with all their awesome techie gadgets today, kids can still appreciate some old school fun.
Water, Land and Jungle….
HEXBUG AquaBot Single
Pull Back Cars Alloy Vehicles Set Mini Car Model Construction and Raced Trucks f
Animals Figure,54 Piece Mini Jungle Animals Toys Set
HEXBUG Aquabot
fish sets. My son got these at a birthday party and they were such a huge hit. They provide enjoyment and are just FUN to watch!
Pull Back Cars – how cute are these little rev 'em up and go vehicles?!
Animal Figures for Pretend Play – These are awesome go anywhere toys. Some can stay at home, stash a few in the car and another couple in your diaper bag or a backpack. Your child can create an insta-zoo wherever he/she goes. Tons of other animal choices available.
Kids on the Go
reduce WaterWeek Kids Reusable Water Bottle Set with Fridge Tray Organizer, 10oz- 5 Pack Simply Sweet (Assorted Colors)
Set of 6 Cute Animals Luggage Tags, Colorful Silicone Travel Suitcase Bag Label
Regal Games Original Travel Bingo 4 Packs
Kids Water Bottle Set – With Summer only a few months away, I like to start restocking our water bottle supply before the endless Summer Camp losses begin. Please tell me it's not just my children that struggle with the concept of bringing home the water bottles they left with that morning.These are a favorite because they come in sets of 5 with a refrigerator tray that makes storage a breeze! Several styles available.
Luggage Tags – Keep your kiddos bags straight with their own cute little animal luggage tags. Great for putting on backpacks for field trips or other kids gear that you want to keep track of wherever they may roam.
Original Travel Bingo – Sorry, but this game will never go out of style. A great way to get kids off their devices and looking at the world around them on short or long car rides.
Ready, Set, Summer
Speedo Kids Swim Goggles Triple Goggle Pack
Blue, Pink & Purple Bubble Blaster Set with LED Light Up and Sound (Batteries Included)
12 Pack Splash Bomb Balls With Neon Drawstring Mesh Bag for Pool
BigMouth Inc Gigantic Donut Pool Float, Funny Inflatable Vinyl Summer Pool or Beach Toy, Patch Kit Included
Goggles – Every year my kids inevitably lose a pair of goggles leaving them at the beach or a friend's house. Or honestly, they just can get worn out. Always a great repeat gift for the Easter basket.
Bubble Gun and Bubbles – Get them outside and chasing bubbles with these awesome bubble blowers.
Splash Bomb Balls– It's pool time! My kids adore these and they are so inexpensive for a set of 12 I put some in their baskets and hold onto the rest for later in the season.
Donut pool float – Who doesn't want a gigantic donut floating in their pool. If nothing else it makes a great conversation piece.

Whimsically Practical
5 Pack Dr. Fresh Kids' Extra Soft Toothbrushes
NPW Unicorn Ouch Bandages
Lappy Lips USDA Certified Organic Lip Balm for Kids (All flavors)
Kids Toothbrushes – Do you know you're supposed to replace their toothbrush every month? And more often if they get sick. Never hurts to have extras on hand and these brightly colored ones are fabulous.
Unicorn Band-Aids – What kids doesn't love band-aids. Sometimes they just make up boo boos so they can put on a new one. This unicorn ones are on trend and totally cute, but go with whatever your kids favorite character of the moment might be.
Lip Balm – Chapped lips are a problem and it happens to our kids too. They'll love putting on this fun and flavored variety that just happens to be organic too.
Totally on Trend
Slow Rising EASTER BUNNY & FRIENDS JUMBO SQUISHIES PACK in GIFT WORTHY BOX: Bunny, Chick, & Easter Basket Kawaii Soft Squishy Toys & BONUS Stickers Come With the Squishys!
Hatchimals CollEGGtibles – Spring Basket with 6 Hatchimals CollEGGtibles
L.O.L Surprise! Lil Sisters Series 2 Wave 2 Mystery Pack (Pack of 2)
Squishies– They are all the rage right now and kids can't get enough. Get them a special set just for Easter or choose from a bazillion other equally cute and fun to squeeze.
Hatchimals – Admit it, these are pretty cute. It's not surprising that kids are crazy about collecting all these adorable little critters who actually hatch.
LOL Surprise– Totally don't get these, but kids love them. One of the hottest toys on the market right now and just the right size to stick in an Easter Basket.
Books
The Don't Laugh Challenge – Easter Edition: Easter Joke Book for Kids with Riddles and Knock-Knock Jokes Included – Top Gift in Easter Basket Stuffers … and Girls; Easter Crafts, Books, Toys & Games
Farting Animals Easter Edition Easter Bunny Coloring Book with Easter Jokes!: Easter Basket Stuffer for Boys, Girls, Teens & Adults! With Funny Bunny … Cute Easter Animals, Funny Easter Fart Book!
Emoji Easter Coloring Book: of Easter Egg Coloring, Cute Animals, Easter Emojis & Funny Bunny Jokes! Easter Bunny Coloring Activity Book, Easter Basket Stuffer for Boys, Girls, Teens & Adults!
The Don't Laugh Challenge Easter Edition – Kids love jokes and this takes it to a whole new level, creating an awesome opportunity for fun family interaction. Who will be the one who can hold out the longest and keep a straight face, and who will be the first to burst into uncontrollable giggles.
Farting Animals Easter Edition – Yep, totally went there! Come on, we all can't take life too seriously and if you've got little kids, farting is about the most hilarious thing ever. Join in with their childish amusement and just let loose…;)
Emoji Easter Coloring Book – Filled with tons of their favorite emojis to color along with lots of Easter themed activities. Something a little bit silly their sure to enjoy!
Lego
LEGO Classic Quad Pack 66554 Building Kit
LEGO Disney Series Minifigures 71012 – One Random Pack
LEGO Holiday Easter Egg Hunt Building Kit (145 Piece)
Lego Classic Mini Sets – Lego has tons of small sets that are just perfect for the Easter Basket. You can go with classic or opt for a more modern set like Ninjago or Star Wars. Even the more girl leaning Friends sets are available.
Minifigures – You can't ever go wrong with Lego minifigures. Kids love these and with hundreds to choose from you can find an exact match to meet your kids latest interests and favorite people from super heroes to Disney.
Lego Easter Sets – Well of course Lego has sets that are holiday themed! Whether you want to sent your minifigs on their own Easter egg hunt or build an adorable bunny or a chick, there are options for everyone.
Related:
Best Books for the Easter Basket
Easter Basket Ideas for Tweens and Teens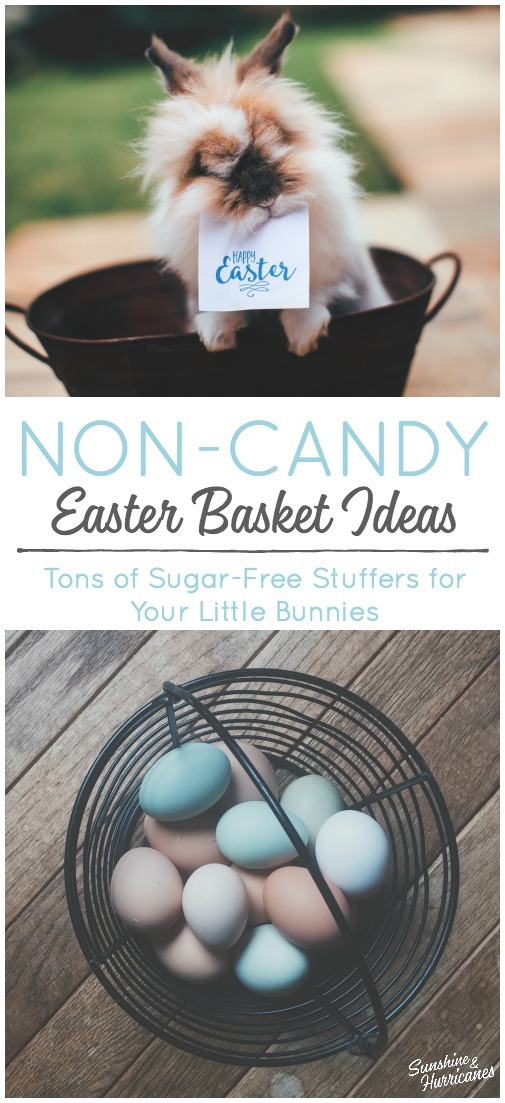 I hope you like all our Non-Candy Easter Basket Ideas – now hop to it!