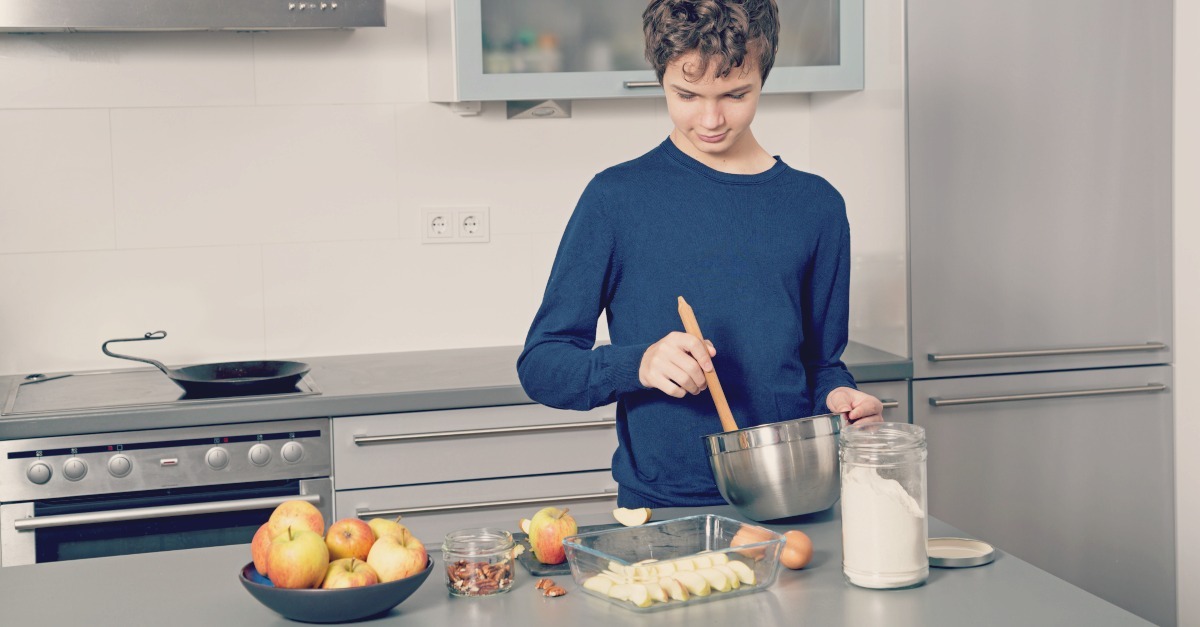 Easy recipes for tweens and teens to help teach them basic cooking skills can be kind of a double-edged sword. If your tween or teenager is new to cooking, and still needs to really learn how to cook, it can be a little challenging to find recipes that would be a good fit for them.
If your teenager is being lazy or reluctant to cook, these are easy dinner and snack recipes that you can use to get them started. Knowing how to cook is really a must have life skill for every teenager.
If they need something quick to take on the go, or if they have a little more time to prepare something at home, here are lots of easy recipe ideas for teens and tweens to help them learn to cook.
This pizza soup is an excellent option for picky eaters, and it's easy enough that your teen can make it! This is great for winter or fall when it's cold outside, and it is good stove practice. This is a great way to teach your teen how to make soup without making it too complicated.
Pizza bites are a great after school snack or dinner option that your teen can easily make in a pinch. This recipe is pretty forgiving and easy to tell if it's done, making this a great recipe for getting used to the oven.
This bruschetta pasta is the perfect way to show your teenager that you don't have to have boring pasta to call it pasta!
This crockpot mac and cheese is one of the best easy recipes for teens to make. It's a set it and forget it recipe, and will help them build kitchen confidence.
If you are looking for something a little more challenging but still easy, this greek flatbread is the perfect easy recipe for teens.
Stir frys are some of the easiest foods to make, and this recipe is no exception! This is a great stovetop recipe for beginner cooks and an easy recipe for teens to make.
Grilled cheese doesn't have to be boring, and this is one of the best easy recipes for teens because of that! It will be a great recipe they can keep handy when they want to show off for their friends.
Grilled cheese is a great starting point for cooking, and this gourmet grilled cheese will help them get a little more confident with sandwich making.
Usually, I wouldn't put this on a dinner list, but teens are always on the go! You can't beat a meal that guarantees fruits and vegetables and is easy to take with them wherever they go!
This is a more substantial meal, but still quick and easy for teens to make. This quick recipe is perfect for squeezing in some last-minute cooking practice on a busy night.
There are so many easy recipes that your teens can make! If you are looking for more recipe inspiration for your teenagers, check out our easy Sheet Pan Dinner Recipes and Easy and Cheap Dinner Recipes that would be perfect for your teen!
Raising Teens and Tweens can be challenging, here are some other popular posts parents found helpful that might make it a little easier:
10 Tween Chores Your Middle Schooler Needs For Survival
9 Essential Soft Skills for Teens and Tweens
8 Things To Do Right Now To Help Your Eighth Grader Succeed In High School
10 Ways To Build A Rock Solid Relationship With Your Teen (or Tween)