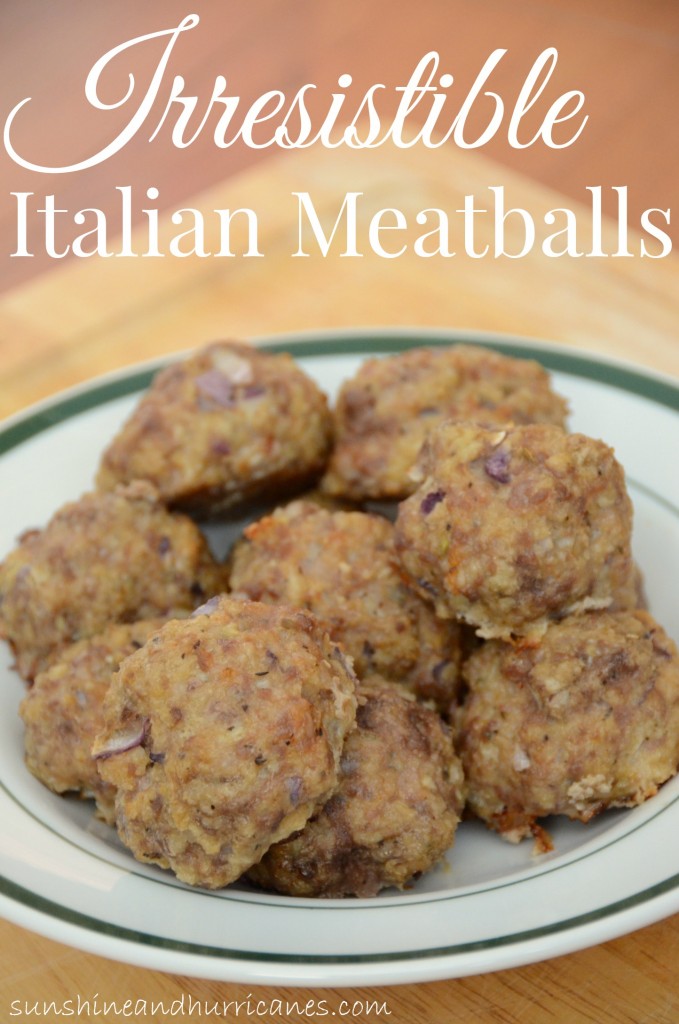 Irresistible Italian Meatballs Recipe
Dinnertime can be a hassle, especially if you have picky eaters or you're just not inspired. This easy Italian Meatball Recipe is a perfect solution for a busy family and one that everyone will enjoy.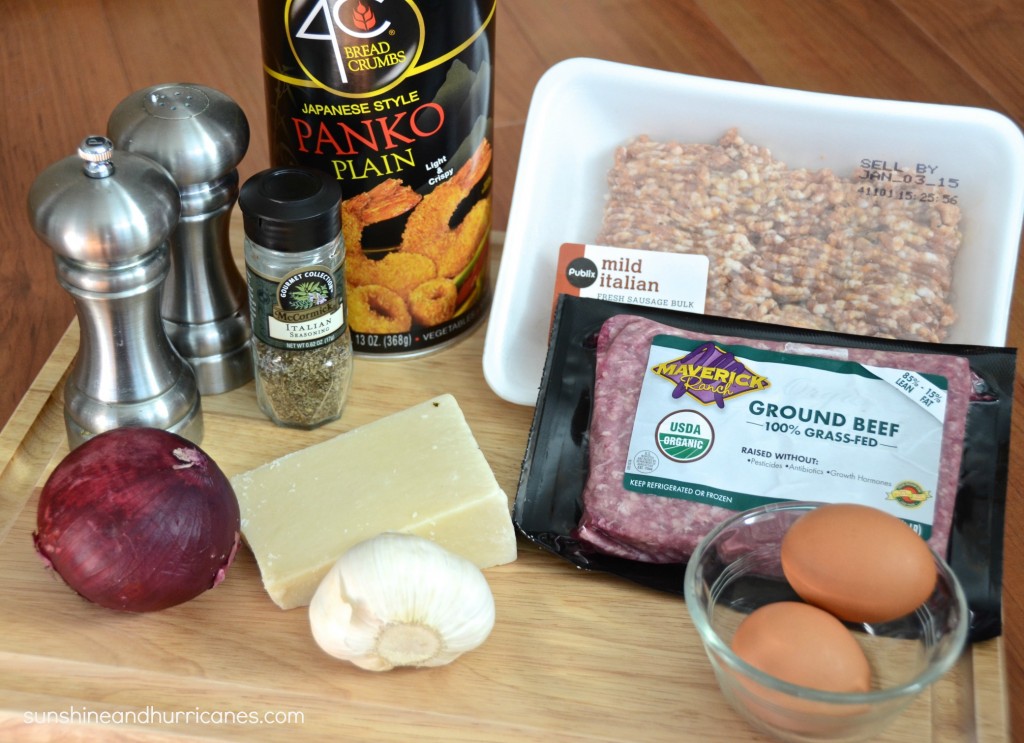 Here's what you need:
1 lb ground beef
1lb mild Italian sausage
3 eggs
1/2 -3/4 cup grated parmesan cheese
3/4 cup milk
1/2 cup Panko bread crumbs
1 small onion chopped
2-3 cloves garlic minced
1 1/2 tsp salt
1 tsp pepper
1-2 tsp Italian seasoning
Yes, I know, I forgot something in the picture above. 🙂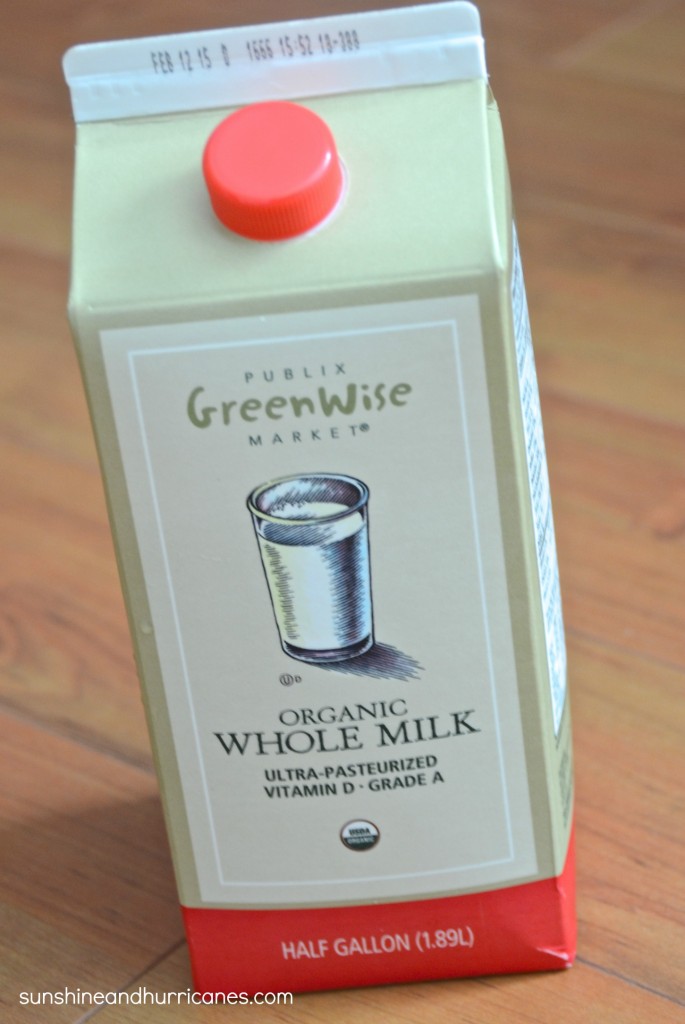 Start by preheating your oven to 350 degrees. Next mix together the ground beef and the sausage with the eggs (I usually do this by hand or let my kids do it. It's kinda squishy fun for everyone). Add the Panko bread crumbs along with the onion and combine. Then add in the milk. Lastly, add in your parmesan, garlic, salt, pepper, and Italian seasoning.
Form the mixture into meatballs just a little bit bigger than a golf ball and place them on a baking tray that you've covered in parchment paper. Definitely use the parchment paper or at the very least, use some olive oil, butter or cooking spray to prep the pan ahead of time. These meatballs will stick to your pans. Place the pan in the oven and bake for 30 minutes. Once done, you can serve them with spaghetti, use them to make meatball subs or even just eat them plain with some yummy dipping sauce.
I often double this Italian Meatballs Recipe and freeze half as they'll keep beautifully for several months and you can warm them up quickly to put in kids lunches or just for a faster meal on a night when you are really pressed for time (none of us every have those, right?!)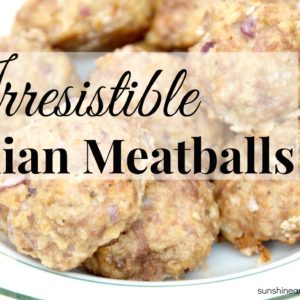 Irresistible Italian Meatballs Recipe
Ingredients
1

lb

ground beef

1

lb

mild Italian sausage

3

eggs

1/2 -3/4

cup

grated parmesan cheese

3/4

cup

milk

1/2

cup

Panko bread crumbs

1

small onion chopped

2-3

cloves

garlic mined

1 1/2

tsp

salt

1

tsp

pepper

1-2

tsp

Italian seasoning
Instructions
Start by preheating your oven to 350 degrees.

Next mix together the ground beef and the sausage with the eggs (you can do this by hand or it's a great job to give to the kids. It's kinda squishy fun for everyone).

Add the Panko bread crumbs along with the onion and combine. Then add in the milk.

Lastly add in your parmesan, garlic, salt, pepper and italian seasoning.

Form the mixture into meatballs just a little bit bigger than a golf ball and place them on a baking tray that you've covered in parchment paper or prepped with olive oil or cooking spray.

Place the pans in the oven and bake for 30 minutes.

Once done you can serve them with spaghetti, use them to make meatball subs or even just eat them plain with some yummy dipping sauce.

I often double this Italian Meatballs Recipe and freeze half as they'll keep beautifully for several months and you can warm them up quickly to put in kids lunches or just for a faster meal on a night when you are really pressed for time (none of us every have those, right?!)