This bruschetta pasta recipe is perfect for those that love to shop at farmer's markets or those that just love easy meals with few ingredients.
Kids love this pasta, but it is also sophisticated enough to serve at a dinner party and makes a great pot luck meal that is sure to impress.
Bruschetta Pasta Recipe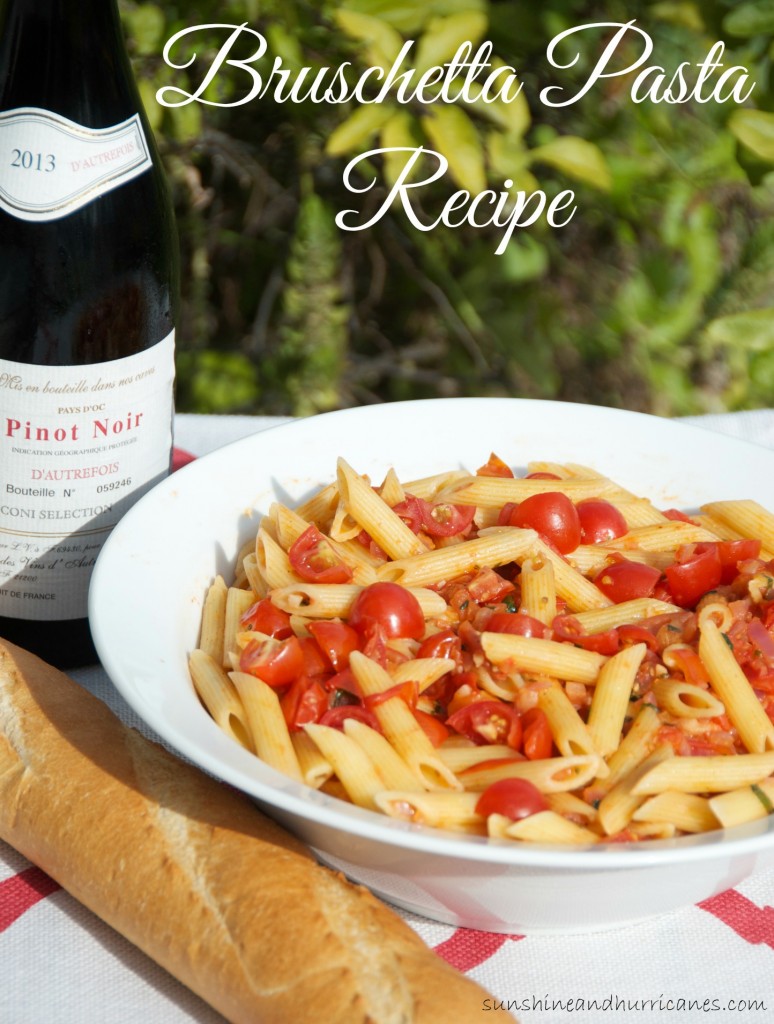 We are a busy family, but when we get a free Saturday morning, one of the things we love to do is go to the local Farmer's Market. There is nothing better than making a meal with fresh food!
Right now Florida Tomatoes are in season and they are one of our favorite foods. They are great for lots of different types of recipes and my kids love the little grape tomatoes in their lunches. Also, since I try to prepare at least one meatless meal each week, because it is both good for our health as well as better for the environment, pasta is typically "go to" dinner option on those nights.
Now, I know mentioned earlier we're a pretty busy family. So, while I like to cook with fresh food, I also need it to be fairly easy and fast. This is why at least once a month I love to pull together this Bruschetta Pasta Recipe. To be honest, I could probably get away with making it once a week, it's that good!
Plus, I'll often double the recipe, because it is just as good (maybe better) cold as it is when first prepared. This way we can have it for lunch somedays or even as a leftover meal later in the week. Alright so, first you want to star with some of those gorgeous little grape tomatoes you can get at your farmer's market or at the grocery store.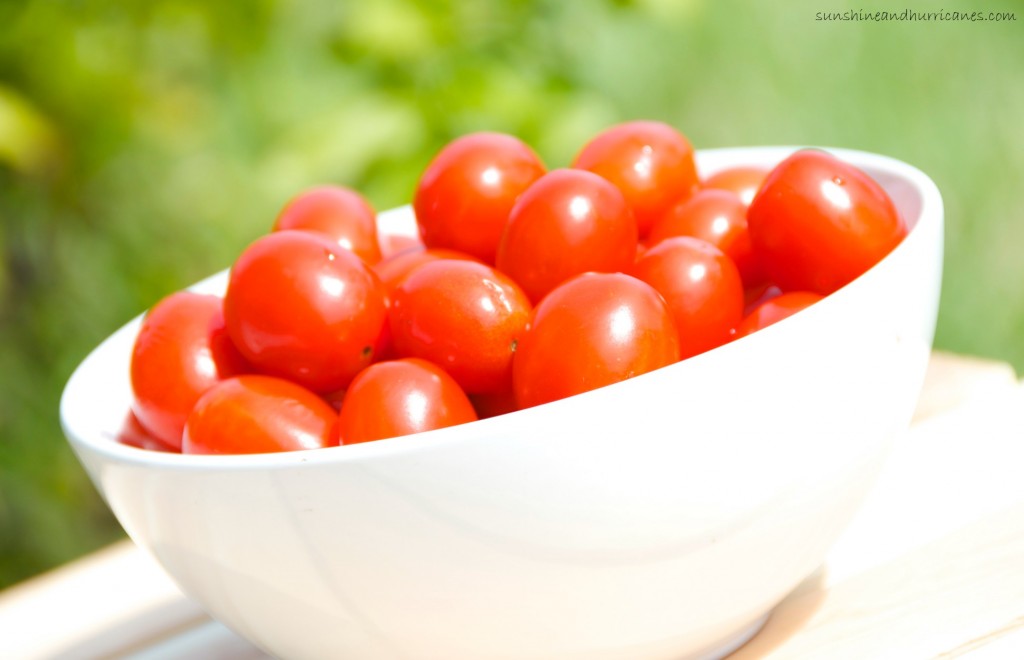 Along with the tomatoes, here are the other ingredients you will need: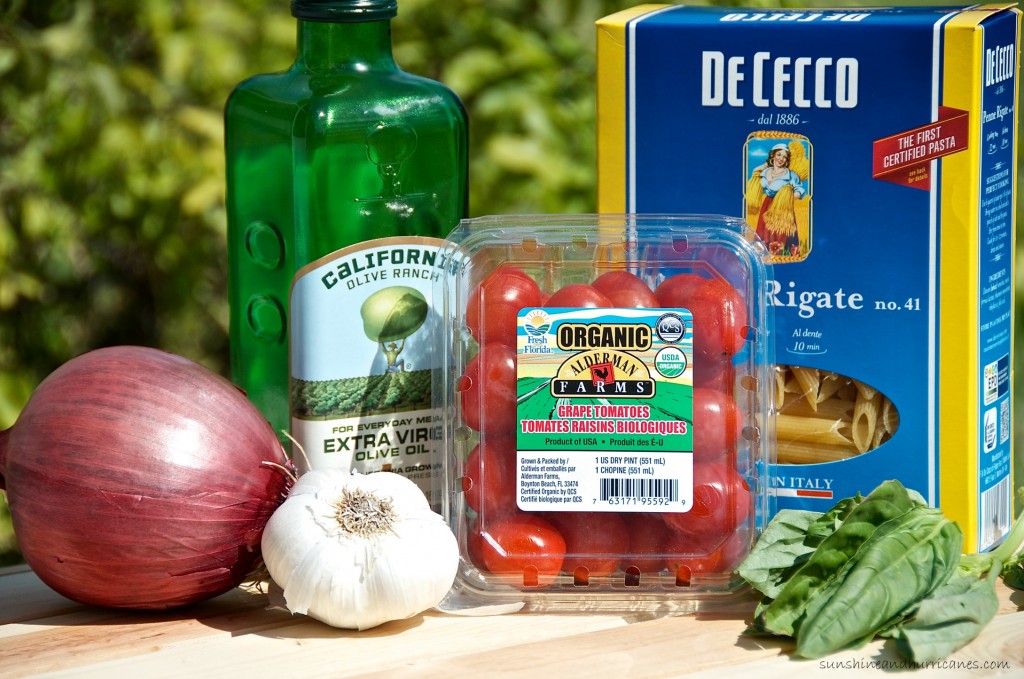 2 containersFresh From Florida grape tomatoes
1 box penne pasta
3 cloves garlic
1 small or 1/2 a large red onion
1/4 cup chopped fresh basil
2 Tbsp olive oil
Prepare the pasta according to the package directions and while it's cooking you can get the other ingredients ready. You'll want to mine the 3 cloves of garlic, dice up the onion as finely as possible, and then chop the tomatoes and the basil.
Heat the 2 Tbsp of olive oil in a large saucepan and then add the garlic and onion. Cook, stirring regularly, for about 5 minutes until the onion is changing color. Add the tomatoes and cooke another five minutes. Finally add the basil and cook an additional 2-3 minutes.
Once the tomato mixture is done, combine with the cooked and drained pasta and serve warm or place in the refrigerator to chill and serve later. It tastes amazing both ways!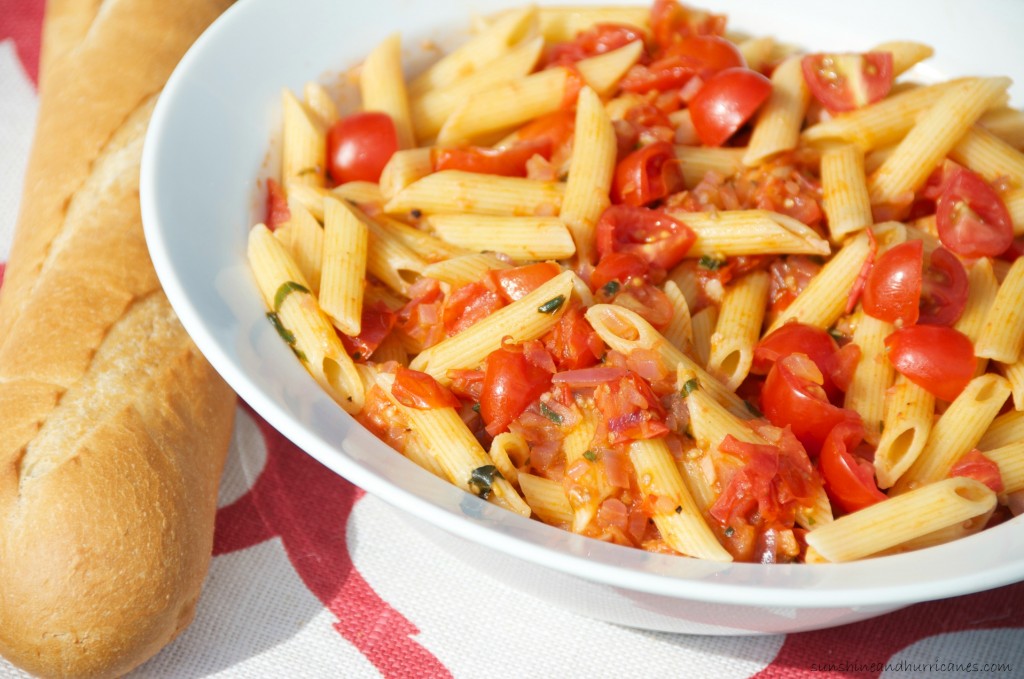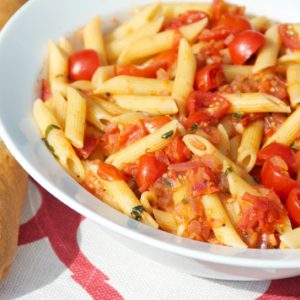 Bruschetta Pasta Recipe
Ingredients
1

box penne pasta

2

containers Fresh From Florida grape tomatoes chopped

3

cloves

garlic minced

1

small or 1/2 a large red onion finely diced

1/4

cup

fresh basil chopped

2

Tbsp

olive oil
Instructions
Boil the pasta according to the package directions and drain

While the pasta is boiling prepare the onion, garlic, tomatoes and basil

Add 2 Tbsp olive oil to a large fry pan

Once olive oil is heated add the garlic and onions and cook for about five minutes stirring throughout

Next add the tomatoes and cook for an additional 3-5 minutes stirring occasionally

Finally, add the basil and cook for 2-3 minutes

Add the pasta to the tomato mixture until combined

Serve immediately or chill in the fridge and serve cold
Looking for other family friendly meals like this Bruschetta past recipe?
20 Fast Dinners for Busy Families Everyone will Love
20 Easy Slow Cooker Recipes Busy Families Will Love