Inside:Halloween Photo Scavenger Hunt for Teens
Those days of searching for the latest popular character costume to wear on Halloween might be over but there's still plenty of fun to be had by teens and parents!
It's a little sad when your older kid finally decides it's time to turn in the trick or treat bag, but that doesn't have to mean the end to celebrating Halloween.
There are still tons of spooky tween activities and teen activities that are appropriate for scaring up a good time on Halloween night. We've got an excellent list of Halloween Alternatives For Teens that may give you some ideas and help you make the best decision for your family this Fall!
One of my daughter's absolute favorite things to do with a group of friends is a Halloween Photo Scavenger Hunt. Almost all teens these days have cell phones. So, this gives a modern twist to the old fashioned scavenger hunt you may have participated in once upon a time!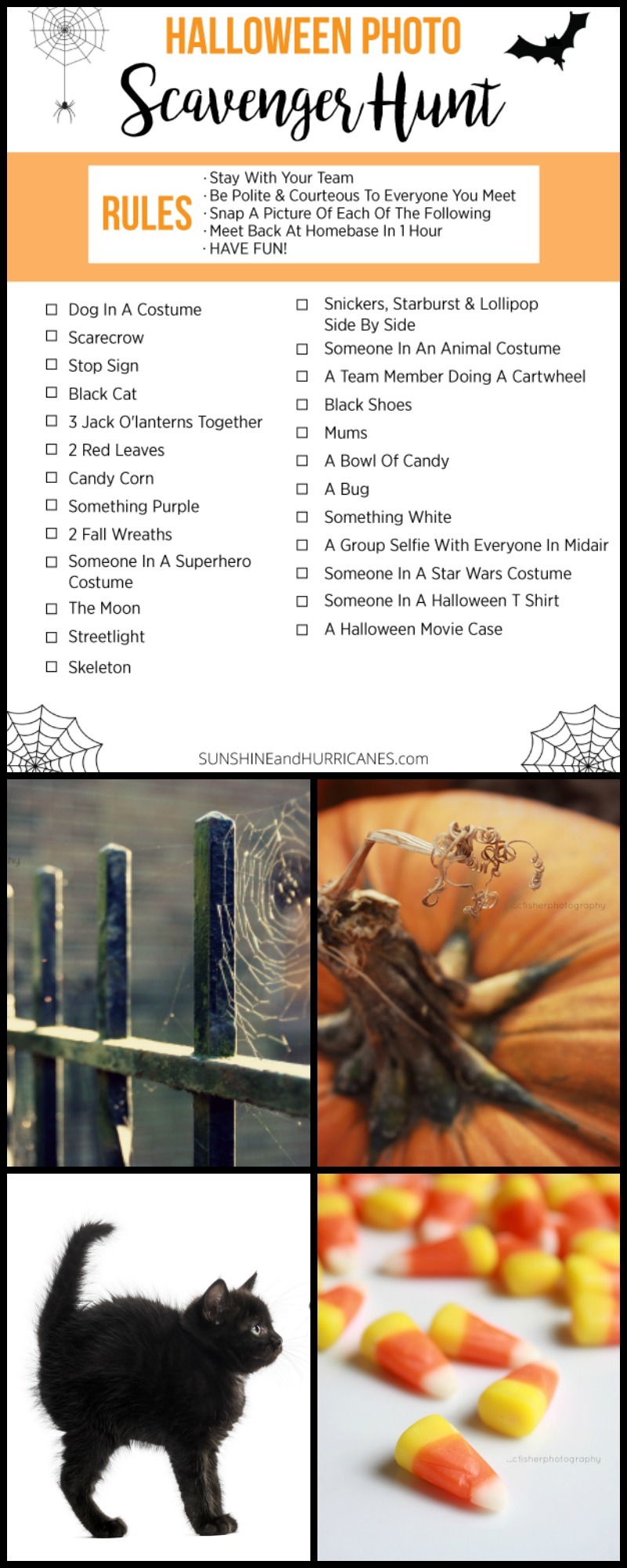 How to Host a Halloween Photo Scavenger Hunt for Teens
Gather a group of your tween or teen's friends or even neighborhood kids and divide them into teams. Make sure at least one person on the team has a cell phone (guessing this won't be a problem). Another fun option to use for a Halloween Photo Scavenger Hunt instead of a cell phone camera is one of the new polaroid cameras that many tweens and teens have rediscovered.
Make sure they each come up with a team name. The crazier the better. Then go over the rules.
The rules are simple:
stay with your team
be polite and courteous to everyone you meet
snap a picture to complete each category
meet back at homebase in 1 hour
HAVE FUN!
I'd also suggest setting neighborhood boundaries and deciding whether or not this will all be done on foot or you'll have an adult driver.
I like to give each team a clipboard, pens or pencils, glow sticks and a copy of our free Halloween Scavenger Hunt Printable you can print out below. Don't forget one more reminder about the rules before letting them loose on the world.

Sign-up for our weekly newsletter full of tips and advice to help make parenting a little easier and get your FREE Halloween Photo Scavenger Hunt Printable right away!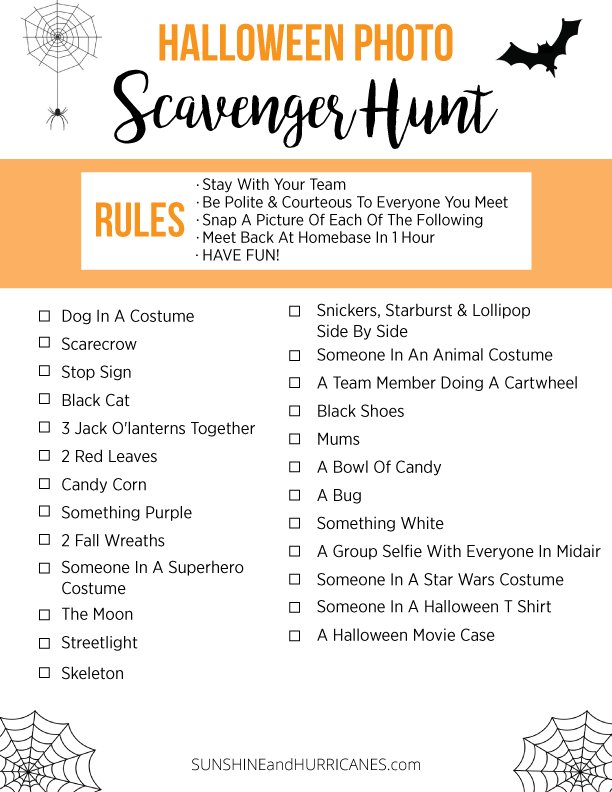 Once the teams return from their Halloween Photo Scavenger Hunt, reward them with treats for their efforts or even some more inventive prizes.
Halloween Candy in a fun Halloween Themed Container
iTunes Gift Cards
Or even one of the items in our post: cell phone accessories for tweens and teens
For the after-party, whip up some Scarecrow Snack Mix and continue the fun with a game night. Here are a few suggestions from our Best Board Games For Teens; Ideas from Teens
Happy Hunting!
Related:
Halloween Party Ideas Round-Up
Halloween Printables; Cute to Creepy Fun For All Ages
Trick or Treat Alternatives; 10 Halloween Activities for Teens