Inside:It's not too late to find your holiday joy and love the season again
I used to love the holidays.
Even as I moved into adulthood, I couldn't wait for the first chill in the air. It meant soon the world would be filled with twinkling lights, sparkling decorations and good cheer.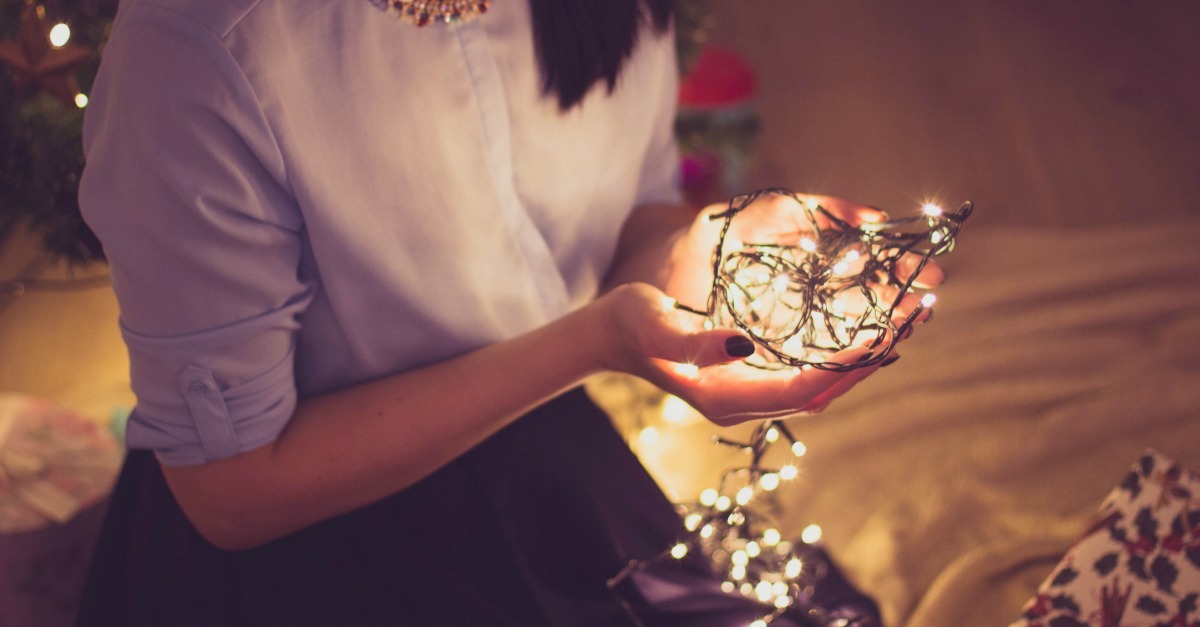 But slowly, over the years, all my holiday joy started to transform into something else.
It was like my family and I had somehow boarded the overkill train without realizing that the stops would be a succession of superficial and stress-filled celebrations that reflected very little of the wonder and meaning they once contained.
And I know I wasn't alone.
Unfortunately, I think like me, for many moms the holidays feel like they are a lot more about the holiday show than the holiday spirit.
Now I realize for some, Home and Gardens worthy décor, coordinating family outfits and elf on the shelf stagings that involve tiny sugar covered footprints leading away from the cookie jar are fun and fulfilling.
If you genuinely engage is such activities because you want to and not because you feel the Pinterest pressure to over perform, then by all means go for it!
But it is also okay to say "no" to fancy parties for quiet nights at home, to let go of too many traditions in favor of one or two and to forgo a home full of sparkle for a simple tree.
If you're ready to get off the too much train, here is how to take on the holiday overload and rediscover your holiday joy.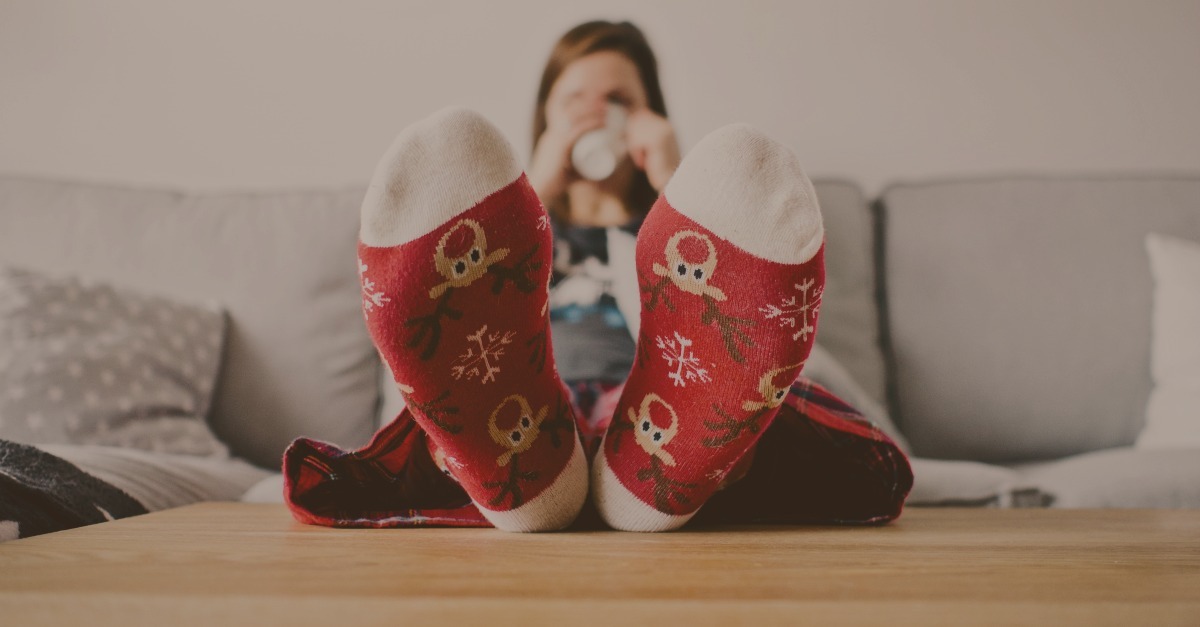 Toot Toot – the train stops here.
This is not a one size fits all list. It's just about taking the holidays down a notch or ten, depending on what makes sense for you and your family. It's about looking forward to the last months of the year, instead of finding yourself filled with dread and you turn the next page on the calendar.
Holiday joy looks different, feels different, acts differently for everyone one of us. The problem is when we start feeling more like the grinch and less like Buddy the Elf that we know we're raiding the rails. Here are five ways to help you find your holiday joy again.
Put An End To The Holiday Creep
The stores may be selling Halloween costumes in July and Christmas lights- – well, also in July, but no one has to buy, carve, craft, decorate, watch a seasonal special, listen to holiday music or for the most part acknowledge any holiday outside about a three week window of it's actual date.
Take the holidays at your own pace and stop feeling pressured by all the outside forces telling us we should be on holiday mode 365/24/7. One at a time is fine and even those, you can take a breather in between. No one says your Christmas tree has to be up the day after Thanksgiving or that it can't still be up on Valentine's Day. 😉
Simplify The Stuff
Bins of holiday paraphernalia that take up half you garage. Toys that sit in your children's toy chests rarely played with. We cant' combat consumerism completely, but we can shift the spending from excess to experiences.
When it comes time to decide what you're giving people this holiday season, not every gift has to be over the top. While we often feel like a gift has to be bought and wrapped to be meaningful, many people would be thrilled with a gift card. Don't make it harder than it has to be.
For closer friends and family members and even our own kids, they don't need more things. If we want to be thoughtful, lets fill their souls instead of their closets. Think movie tickets instead of movie merchandise, a family trip rather than a Christmas morning full of presents, or even time together given in place of another trinket.
Need more ideas: Experience Gifts – The Value of Memories Instead of More Stuff
Tone Down The Traditions
Most Christmas traditions start innocently enough. Perhaps we carry some over from our own childhoods and then we add a few new ones of our own. As our kids get older they hear about what other kids are doing or fun events in the community and before you know it, you've got a "tradition" scheduled just about every day of December. Yes, there are so many fun things to do at the holidays, but that doesn't mean your family should be doing ALL of the things.
We want our kids to have wonderful holiday memories of their childhoods, but the memories they have should be special. If they are going and doing and baking and seeing non-stop from Thanksgiving to Christmas, will any one thing really stand out? Plus, at some point, there is too much of a good thing and our children will simply become overloaded and ungrateful.
Take a look at all the traditions your family has accumulated over the year. Which ones do your children seem to enjoy the most? Which ones really represent your family's values? Are there some that perhaps your kids have outgrown? As you answer these questions, you'll be able to let go of some of those traditions that aren't really serving you and focus on the few that really matter.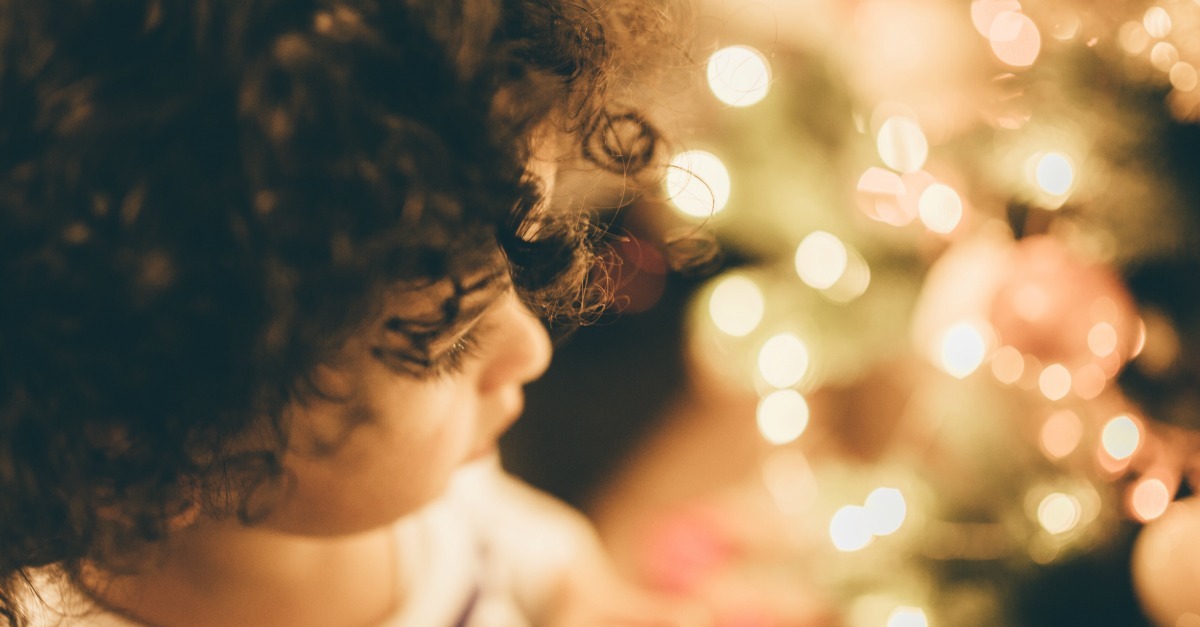 Enlist Your Elves
It's easy to get caught up in making the season magical for our children, and forget that they can help create some of it. In many cases, they are dying to be part of it all. Yes, it means letting go of a little bit of that "perfect" we have pictured, because we all know what a Christmas present wrapped by a child looks like. But think about how they beam when they hand that barely recognizable bundle of tape and mismatched paper to the recipient.
There are lots of little ways that our children can lighten our load that we may not even think about. How about licking the envelopes and sticking on the stamps for Christmas cards or untangling those twisted up Christmas tree lights?
In our house, we started the whole elf on the shelf shenanigans long before you could buy one at Target. So, when my oldest finally discovered the elf's secret identity I happily turned the nightly hijinks over to him. He's enjoyed the magic for ten years and it was time he learned a little bit about what goes into creating it. I has been fun for him and I no longer have to expend my limited creative energy thinking up excuses for why the little spy has not moved from the same shelf for three days in a row.
Find Your Own Holiday Joy
When it comes to cooking and baking and all that time spent in the kitchen. This is my own example of being true to yourself. My happy place is whipping up a batch of gingerbread muffins, mashing the potatoes and frosting six-dozen cookies. My hope is that in downsizing our holidays, I'll have more time to sip cocoa at my counter while planning meals that I can actually sit down and enjoy with my family.
Not your thing, then there is no shame in store bought and restaurant made.
That's the point. Most of us accidentally got on the "too much" train, because we were following someone else. We were trying to be the mom that sews her kid's pageant costume, runs the perfect school party, crafts the cutest teacher gifts and makes the Martha Stewart holiday meal.
However, it's exhausting enough just being one kind of mother, let alone trying to be them all.
In order to truly find our own happy holiday destination, it's time that we focus more on what that place looks like for us and our family and less on what it looks like for everyone else.
Related Posts:
50+ Family Christmas Traditions To Build Lifelong Memories
Affordable Ways to Avoid Holiday Burn-Out
The ULTIMATE Christmas Resource Guide – Making Magic Easy for Moms
How have you helped your family stop the Holiday Overload?