I used to love the holidays, but slowly over time before I even realized what was happening it turned into holiday overload.
Recently,  I've felt like my family boarded the overkill train without realizing that the stops would be a succession of superficial and stress-filled celebrations that reflected very little of the joy and meaning they once contained.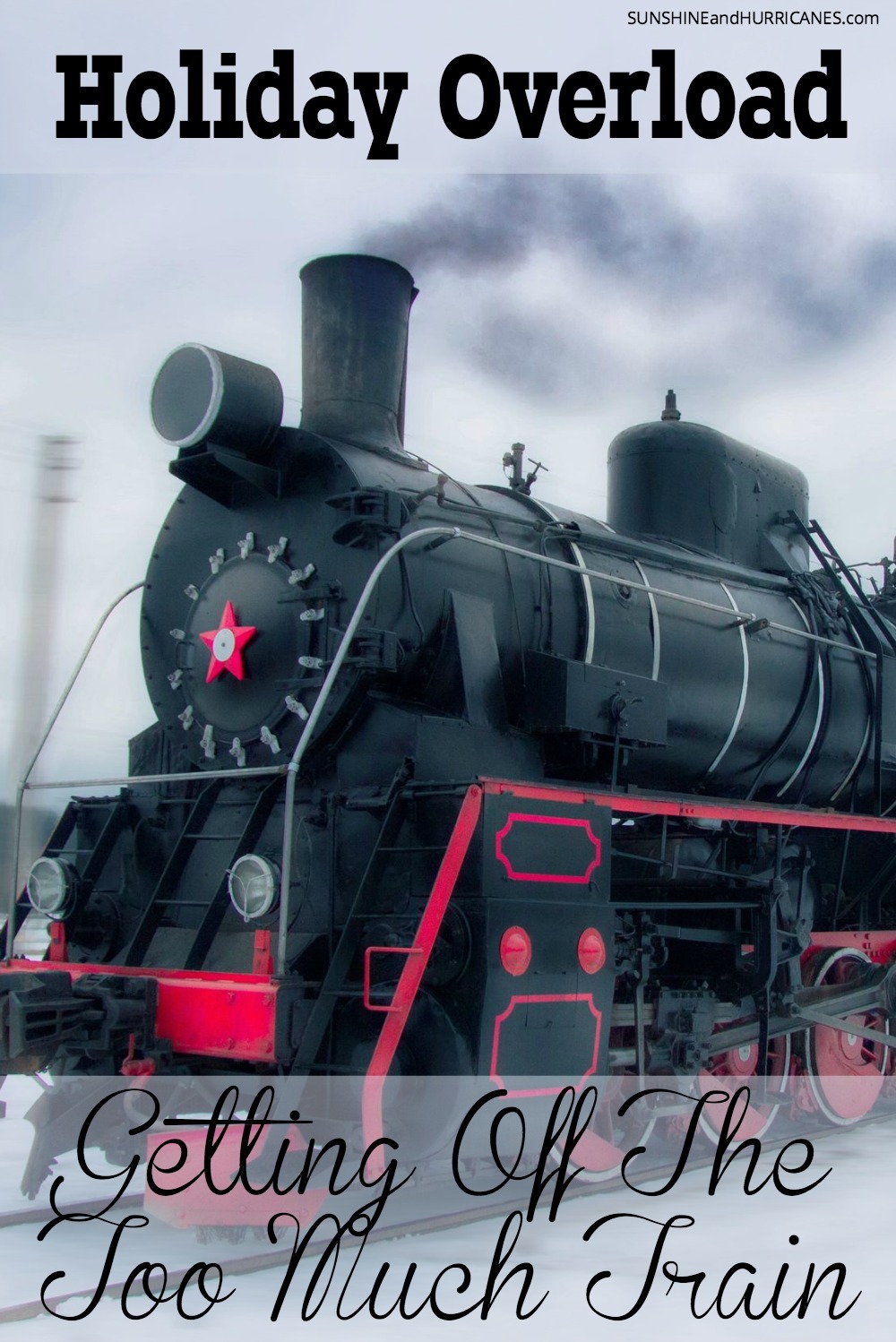 This is why I was so relieved a year or two ago when I happened upon this post from Kristen Howerton,  "Let's Bring the Holidays Down a Notch,"
As I read it, I was comforted to realize I was not riding the rails alone.
The author, a mother of four, begins with a story of how on the night before St. Patrick's Day one of her children comes bounding into her bedroom late at night wanting to know if he can help her hide the candy coins and set up the leprechaun trap for his younger siblings.
As she describes the moment unfolding, you can just hear her silent self talk saying "Seriously?!" She ponders how things evolved from the simplicity of wearing something green to expectations of a full on hunt for pots of gold and little green men.
This encounter leads her to question the myriad of ways all the holidays in our culture have become over the top productions.
Now I realize for some, Home and Gardens worthy décor, themed school lunches, coordinating family outfits and elf on the shelf stagings that involve tiny sugar covered footprints leading away from the cookie jar are fun and fulfilling.
If you genuinely engage is such activities because you want to and not because you feel the Pinterest pressure to over perform, then by all means go for it!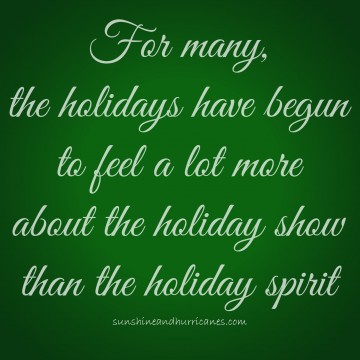 Unfortunately, I think like me, for many the holidays have begun to feel a lot more about the holiday show than the holiday spirit. This was clear as I saw more than a few "amens" as friend after friend shared the post on Facebook. It was then that I decided that the holidays would be changing in our house this year.
Toot Toot – the train stops here.
What does that mean exactly?  How did I decide to take-on the holiday overload?
Well for starters, I am putting an end to the holiday creep.
The stores may be selling Halloween costumes in July and Christmas lights- – well, also in July, but I refuse to buy, carve, craft, decorate, watch a seasonal special, listen to holiday music or for the most part acknowledge any holiday outside about a three week window of it's actual date.
Speaking of buying, let's talk about the "stuff".
Bins of holiday paraphernalia that take up half my garage. Toys that sit in my children's closets rarely played with. I cant' combat consumerism completely, but I can shift the spending from excess to experiences. Think movie tickets instead of movie merchandise, a family trip rather than a Christmas morning full of presents, or even time given in place of a trinket.
Oh, and that elf…
I'm turning his hijinks over to my oldest this year. He's enjoyed the magic for ten years now and it's time he learns a little bit about what goes into creating it. I think it will be fun for him and I will no longer have to expend my limited creative energy thinking up excuses for why the little spy has not moved from the same shelf for three days in a row.
Finding Your Own Holiday Joy
When it comes to cooking and baking and all that time spent in the kitchen. Well, this is my own example of being true to yourself. My happy place is whipping up a batch of gingerbread muffins, mashing the potatoes and frosting six-dozen cookies. My hope is that in downsizing our holidays, I'll have more time to sip cocoa at my counter while planning meals that I can actually sit down and enjoy with my family. Not your thing, then there is no shame in store bought and restaurant made.
That's my point. I think we all accidentally got on the "too much" train, because we were following someone else. We were trying to be the mom that sews her kid's costume, runs the perfect school party, crafts the cutest teacher gifts, makes the Martha Stewart Thanksgiving meal, or even sets up leprechaun traps.
However, it's exhausting enough just being one kind of mother, let alone trying to be them all. In order to truly find our own happy holiday destination, it's time that we focus more on what that place looks like for us and our family and less on what it looks like for everyone else.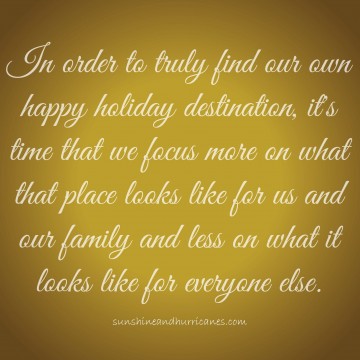 If you are feeling overwhelmed by the holidays and want to dial things down, but maybe you're really not sure where to start, it's not too late!
If you enjoyed this post on holiday overload, you might like these too!
Affordable Ways to Avoid Holiday Burn-Out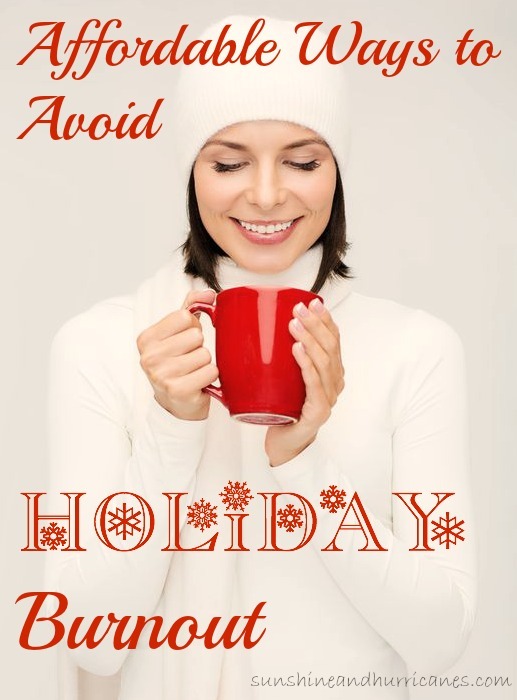 Giving Experience Gifts Intead of Things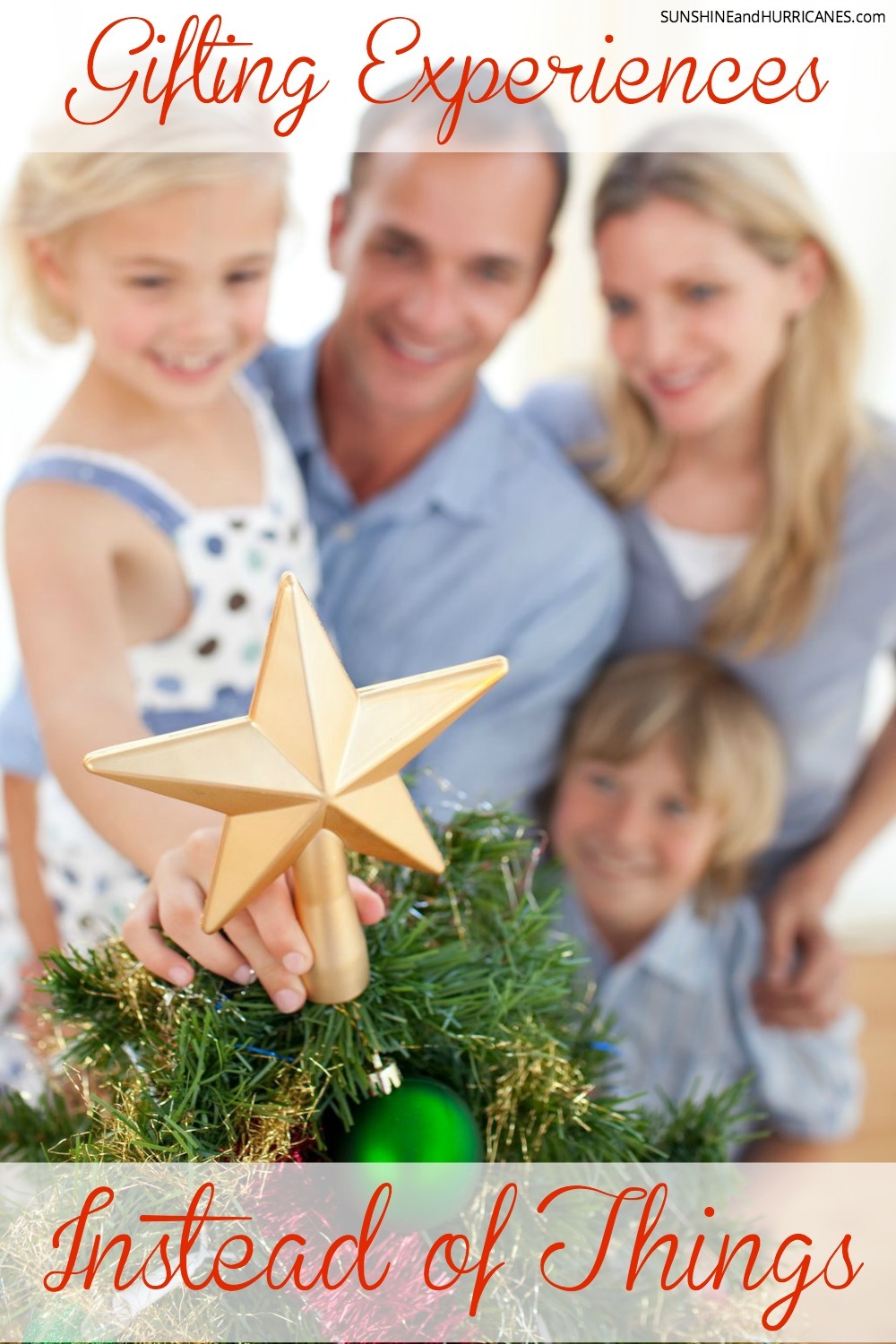 How have you helped your family stop the Holiday Overload?