My family is enjoying healthy snacks as part of a sponsored series with GoGo squeeZ and Socialstars. #GoGosqueeZSquad
One of the best ways to overcome entitlement in our children is by encouraging them to serve others. I've shared several posts with you before about Raising Kids Who Serve Others and how modeling a lifestyle of doing for others is one of the finest methods to combat the innate selfishness we all experience from time to time.
These 10 Ways to Spread Holiday Cheer are designed to involve the whole family, even the youngest members! There are activities to complete at home or throughout your community. There's no better way to help your family understand the joy of giving to others than to let them experience the feeling themselves. These acts of service will become traditions and fantastic memories for your family long after the presents are unwrapped and the eggnog has disappeared.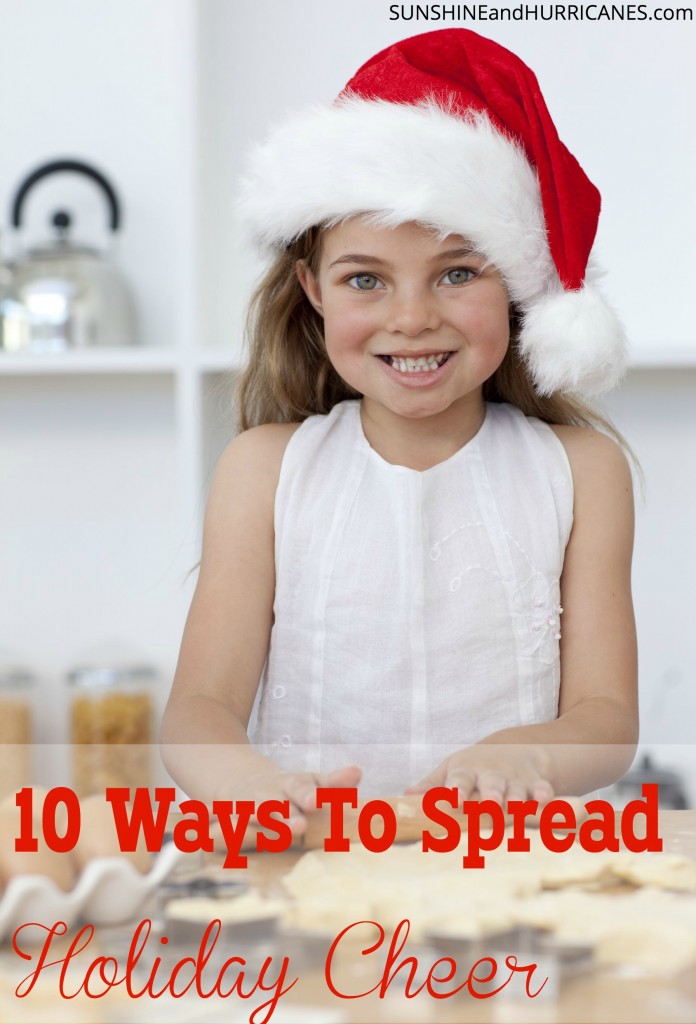 Our family looks forward to giving to others and these are some of the things we've enjoyed through the years:
10 Ways To Spread Holiday Cheer

Charitable Collection- Ringing the bell and collecting for charity is a fun way for toddlers through teens to be involved and spread Christmas Cheer! Our kids love ringing the bell, singing a few off key carols, and sharing smiles with busy shoppers. We often like to pass out a special treat to the kiddos we see and this year, we chose the 100% fruit pouches of GoGo squeeZ! Because so many families struggle with food allergies, we wanted to offer something gluten/nut/dairy free so all the little ones could have a healthy snack!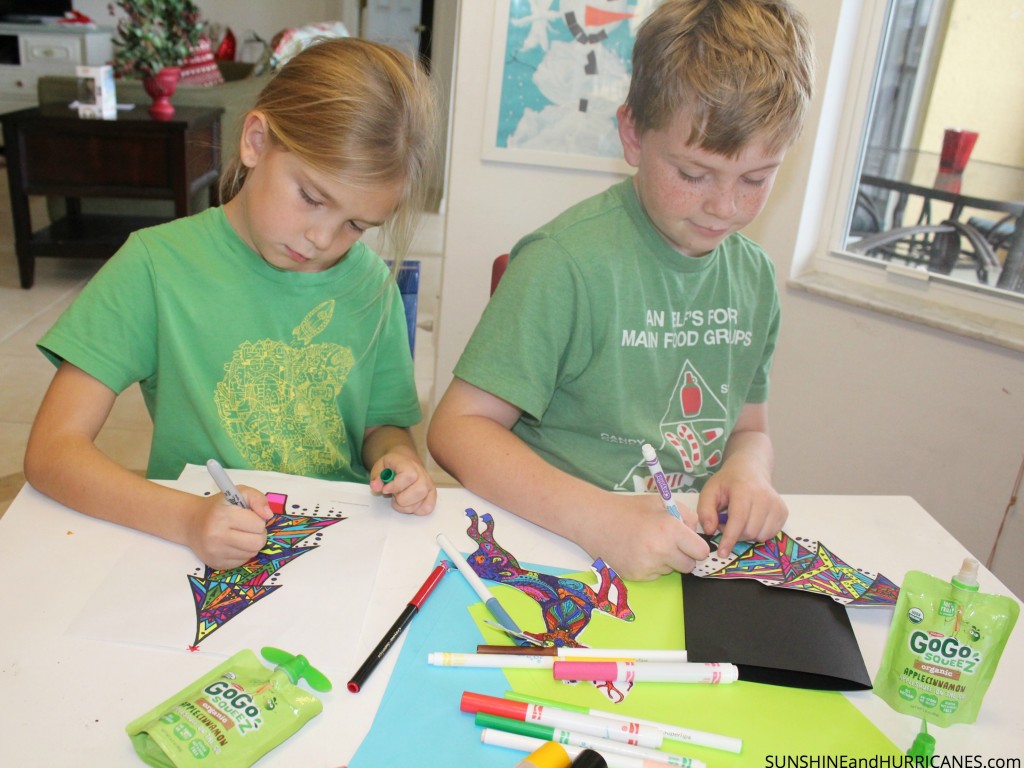 Homemade Cards- It's fun to spend an afternoon creating cards for our local heroes, like firefighters and police officers! Grab some paper, markers, and imagination then set the creativity lose! Taking the time to thank those who keep us safe is a good way to show appreciation and gratitude. Drop them off at your local station with a plate of holiday treats!
Elf Your Neighbors- Grab a box of popcorn, some candy, & a holiday movie, tie together with a ribbon and leave it on the doorstep of your friend! We like to do this anonymously by ringing the bell and running away as fast as possible. We call ourselves "elves" and look forward to this secret mission each year!
Spread The Art Around- With 4 kiddos, the holiday craft projects can pile up pretty quickly over here so we started selecting just a few favorites and delivering the rest to a local assisted living facility. Our colorful creations are adored by the residents and it's a great way to brighten someone else's surroundings!
Book Drive- My teen organized a book drive this year, encouraging her middle school peers to bring in picture books and easy readers they no longer needed. Over 400 books were collected and then taken to a local elementary school, adding to their library.
Shopping Cart Rodeo- There tend to be more carts in the parking lot than in the stores this time of year so we've made it our unofficial job to help with that problem. We round up carts from around the lot and, at minimum, return them to the corrals, if not inside. It's a great feeling to see the Mama with 3 kids and an infant carseat easily grab a cart inside instead of hopelessly searching for one.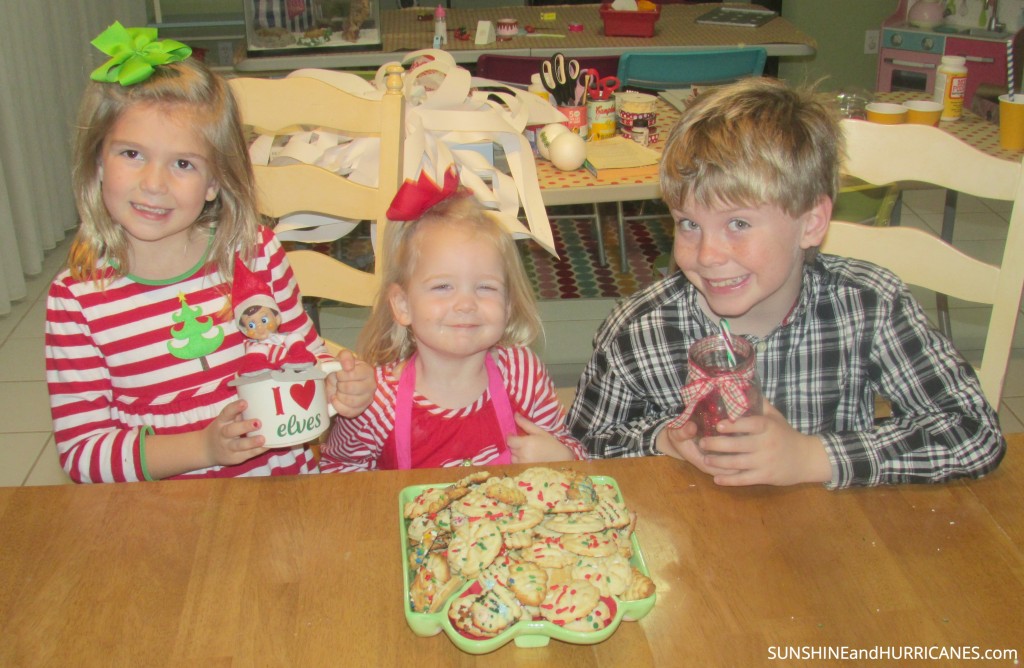 Bake With Purpose- We often forget about the countless people who work on holidays and dropping off a plate of goodies at the hospital, precinct, or even the highway toll booth can be a sweet way to show appreciation for the many who work through the days we enjoy at home.
Make A Meal- Everyone is extra busy during the holidays so why not double that meatloaf recipe and take the extra one to a friend? Having an answer for that age old question, "What's For Dinner?" is a blessing any Mom will appreciate!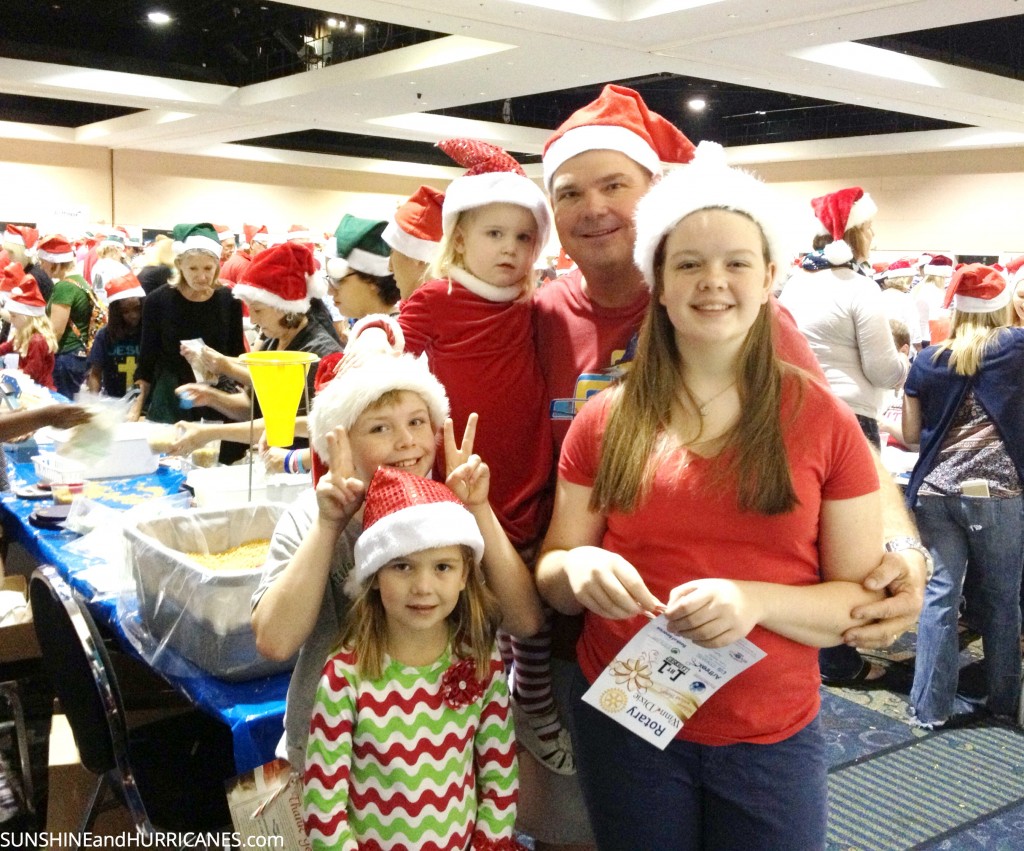 Volunteer As A Family- There are dozens, literally, of organizations that would love an extra set of hands during the busiest time of the year! We spent a morning of our Winter Break wrapping donated presents for kids in need and we all loved it! We had a meaningful discussion about gifts and how much we really needed vs. wanted driving home afterwards. Food pantries, shelters, and civic groups all have needs this time of year and there are tons of ways to help!
Remember The Homeless- Because we live in Florida, our homeless population increases during the Winter months as more people make their way into our state searching for milder temperatures. Our family has taken large men's tube socks and filled them with bars of soap, cleansing wipes, crackers, a toothbrush & toothpaste, a fast food gift card, and a healthy snack, like a GoGo squeeZ pouch. With no spoon needed, no artificial ingredients, and delicious taste, these pouches are perfect for this project. We give the "sock packs" out to those in need as we see them throughout the season.
Participating in service projects with your family can make a lasting impact on them and cause them to be aware of those in need around them. Positively influencing your community and your family is one of the best ways to bring light joy and goodness this season!
Does your family have a special way to spread holiday cheer? I'd love to hear about it in the comments!
For more ideas on how to serve the world with your children, check out our posts on Raising Kids Who Serve Other: Spreading Cheer and Spreading Kindness.