Inside:Cell Phone Accessories for Teens and Tweens
These are the cell phone accessories all the cool kids are saving their allowances to buy.
They're fun, trendy and a few are even sort of useful. All these cell phone accessories for teens and tweens would make great birthday or holiday gifts or they could even be stocking stuffers. Almost all of them are under $25!!!
But be warned tweens and teens, if you find them missing, don't be surprised if your mom stole them.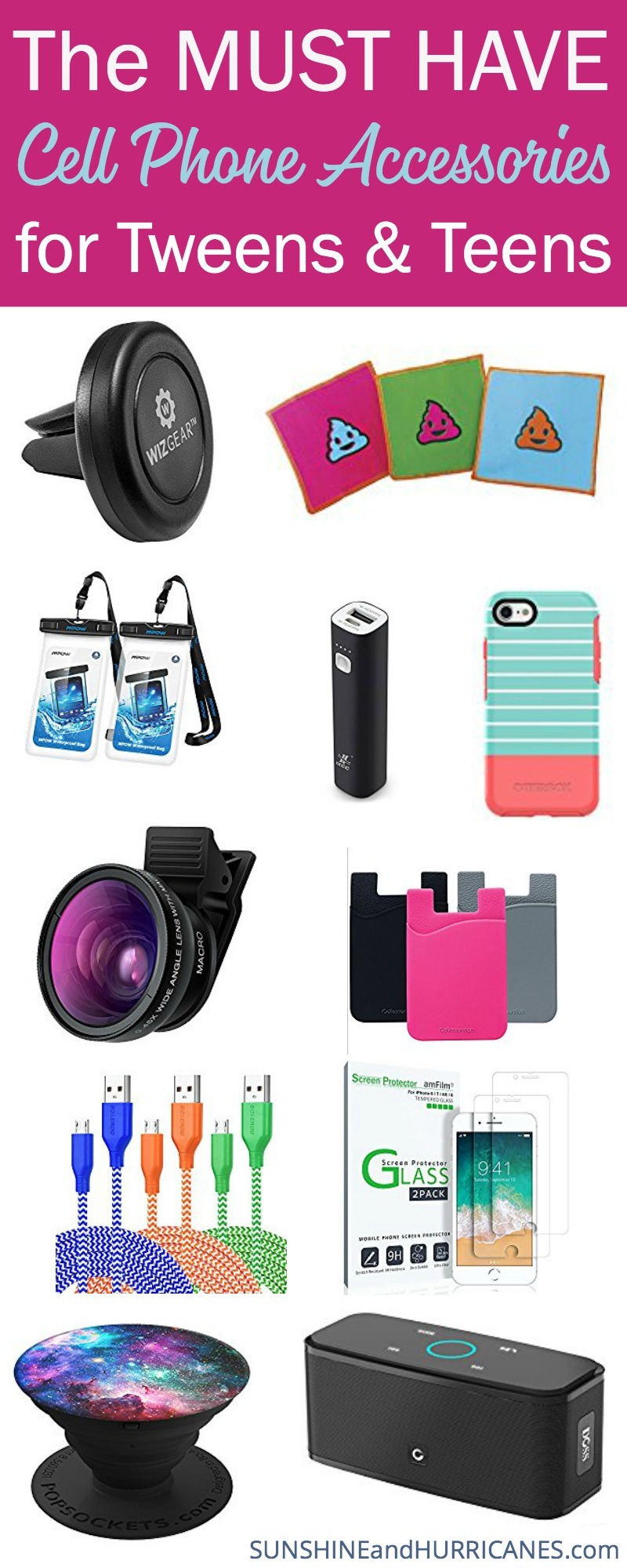 The Trendiest Cell Phone Accessories for Teens and Tweens
Dozens of fun designs available, this accessory is a must have! Pop, tilt, wrap, prop, collapse, grip, repeat – PopSockets are great for enhancing the grip and capabilities of your phone. This gives secure grips for texting, calling, photos, and selfies – compatible with all smartphones and tablets.


Phone Wallet
World renown 3M smart technology makes this cell phone accessory wallet a must! Keep ID, credit cards and more in one convenient place, available in a variety of colors and patterns.

Blue Tooth Headphones
Definite must have accessory, these wireless, blue tooth enabled headphones are highly rated and reviewed, and at under $30, a worthwhile investment for any teen.

Cell Camera Lens
Fun, easily detachable lens to create a pro style camera right from your cell phone! Wide angle and macro lens make taking group pictures or detailed close ups a breeze!

Screen Magnifier
Super cool and FUN for all ages, use your phone to watch movies or favorite TV shows on a larger screen!This HD screen also contains 3D capabilities and is compatible with iphone and android phones.

Selfie Stick
High capacity, durable battery, this blue tooth enables stick makes family pics a breeze and is just plain cool to make videos with friends!

Charging Cables
Nylon cords with extra length make charging phones, tablets and more a breeze! Wide color range available and perfect for keeping cords separated by family member.

Olloclip Pivot Stick
Capture stunning video with confidence at any angle with olloclip's all-new Pivot grip, any budding videographer needs this tool in their repetoire. Plus, it's pretty awesome to just make home movies and music videos with friends.

Antimicrobial Cleaning Cloths
If you'd rather not think too deeply about where your teen's phone has been, you definitely want to invest in these microfiber, antimicrobial cleaning cloths. This 3 pack features everyone's favorite emoji and is fabulous for cleaning tablets, laptops and phones!

Bluetooth Wireless Speaker
Absolute necessity for any music loving teen, which is basically every teen! This speaker is well rated and a steal at this price. Their phone playlist will sound awesome and be the perfect background for all that studying going on in their room!

Screen Protectors
This screen protector has saved my phone a time or two so I definitely recommend for anyone! These ones are for the iphone 7 but they're available for all makes/models on Amazon for a low price. Smart investment for any phone owner.

Sturdy Case
One of the best investments you can make after purchasing a phone is the case that will protect it. There are, literally, thousands of choices out there and it's worth taking a few minutes to find one that is sturdy and secure as well as stylish enough for your teen to use. Popular choices for the fashion conscious, sports fanatic or a personalized version.
Spending the day at the beach or pool? Taking a trip to the local waterpark or hitting the ski slopes? This highly rated waterproof wallet allows you to use your phone while protecting it from water damage. With nearly 4000 5 star reviews, this trusted case will help you bring home your phone in working condition!
Providing almost a complete charge, gone are the "My phone was dead.." excuses from your favorite teenager. Wide variety of prints and colors available, a must have for days at the field, a favorite theme park or night out with friends.
Air Vent Magnetic Car Phone Holder
This powerful device allows a phone to be mounted to the air vent of a car to keep the driver from holding the phone while operating a vehicle.
Related Posts:
Cell Phone Rules For Tweens and Teens(Includes Printable Contract)
Gifts For Teen Boys; Their Actual Suggestions
Gifts For Teen Girls; Things They Really Want
What are your favorite cell phone accessories for teens and tweens?