Inside:Alternatives to Trick or Treat: 10 Halloween Activities for Teens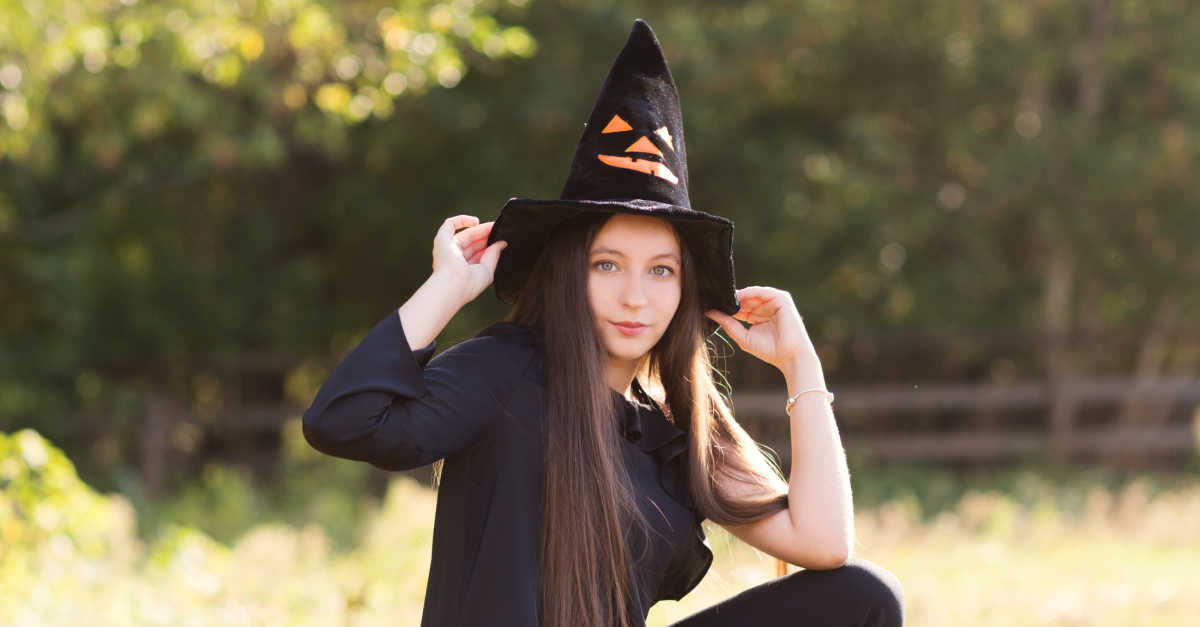 There is a lot of controversy about whether or not teenagers should still be trick or treating.
On one hand, you have those that want to let kids be kids and as long as they dress-up and are truly acting in the spirit of the holiday, then why not. Many argue that it's also a way to keep teens from getting into trouble, like underage drinking. (But really, then how are we keeping them out of trouble the other 364 nights of the year…)
On the other hand, others truly feel that trick or treating is meant for younger children. They worry that older kids can scare or bully the younger ones. And unfortunately, there is also the perception that teenagers who trick or treat tend to do so for the wrong reasons. They may harass those handing out treats and act rudely or even destroy property.
Whatever stance you take, it really may not matter. By late middle school and high school, there are lots of teens who decide on their own that they've outgrown trick or treating.
However, kids can still be kids, even if they aren't going door to door. There are plenty Halloween activities for teens and tweens that your kids can still do to enjoy and celebrate Halloween.
Trick or Treat Alternatives – 10 Halloween Activities for Teens and Tweens
Teen Costume Party
This seems like an obvious alternative to trick or treating but it is still one of many great halloween activities for teens. Plan a fun filled evening with games, fun Fall themed food definitely whip up a batch of our famous Scarecrow Snack Mix for starters and make an awesome Halloween themed playlist!
Don't forget to include some oldies like Monster Mash, Thriller and Ghostbusters. And most importantly, load up on the candy with a candy bar! Let the guests create their own goodie bags before heading home for the night.
Movie Themed Party
Pick a flick and tell the guests to come dressed according to theme! All ages love the Star Wars brand, we're partial to Rogue One, and there are tons of amazing Star Wars costumes out there! Whip up a batch of our delicious Star Wars Snack Mix and check out our round up of Star Wars printables for more ways to add to the theme! Another option: plan to show The Avengers movie and invite everyone to sport their favorite super hero gear. Whether it's a Captain America shirt or a full out Iron Man suit your guests are in for an adventure as you load them with fun themed snacks!
Halloween Game Night
Simple fun, we've rounded up the Best Board Games For Teens; Ideas from Teens
and you're in position to host a fun & memorable night. Take the fun to a whole new level by letting everyone create their own pizzas with this delicious and easy dough mix and a variety of yummy toppings!
Movie Theater
Take your favorite group of teens to see the latest blockbuster at your local theater. Make a stop for Froyo afterwards and the evening is a hit! Of if the weather isn't bad, consider doing an outdoor movie night with a Halloween themed movie. You can pick up an inexpensive projector pretty easily these days that is compatible with most iphones or tablets. Here's one we like.
Bowling
Load the minivan with teens and get ready for a night of spares and strikes! A basket of mozzarella sticks and chicken wings will buy you a spot in anyone's heart! Many places that you can take kids bowling these days have become more like indoor activity centers, so they may have things like laster tag and arcade games to provided more choices and more fun!
Volunteer
Offer to lend a hand at a shelter, soup kitchen, local Fall Festival, Trunk or Treat, Boys & Girls Club or Children's Hospital. Put your thinking cap on and contact your favorite non profit to see if they have a way for you and your teens to help.
We've got tons of great ideas about Raising Kids Who Serve Others.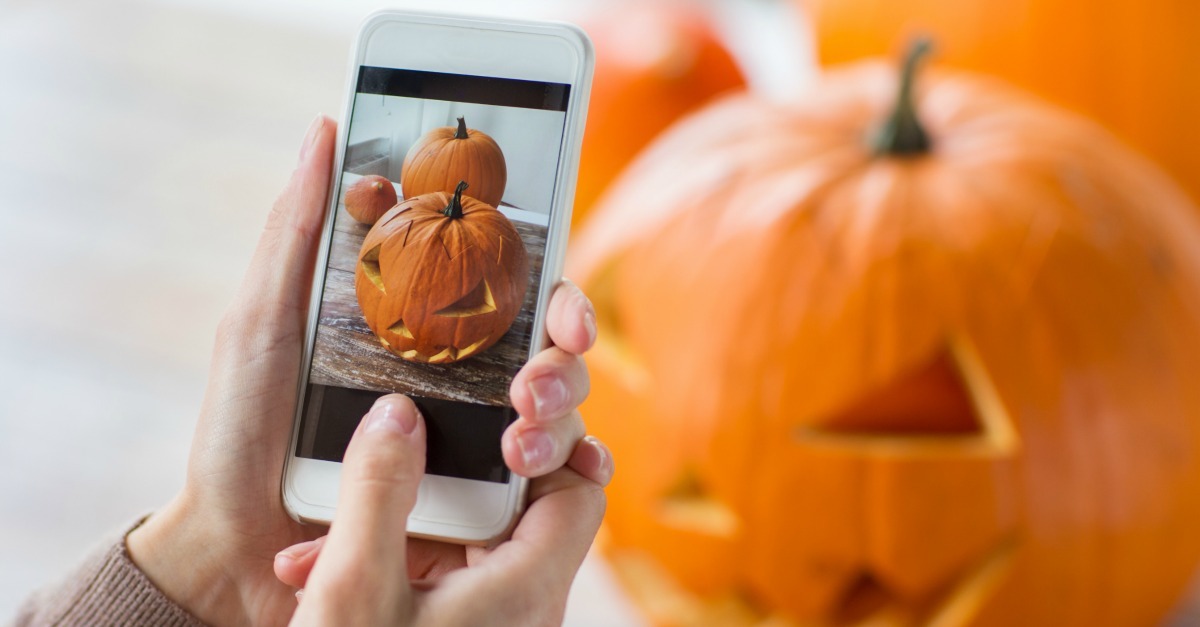 Pumpkin Carving
Halloween Day is a fab time to pick up highly discounted pumpkins from your local retailer and set your favorite teens imaginations free! Throw in some stencils and specialized carving tools and you've got a fun evening of friendly competition underway. See how can make the spookiest pumpkin, the funniest pumpkin and the best pumpkin character.
Pass Out Candy
This happens to be a favorite of my teen daughter and many of her friends. They enjoy dressing up and manning the driveway, passing out candy and chatting up the neighborhood. They've also taken over candy duty at some neighborhood houses so parents could walk their kiddos on the candy collection quest.
Bonfire
I must admit, my Florida heart is slightly jealous over this possibility. Spoiler Alert: Florida is an amazing place to live but it's usually still in the high 80s with lots of humidity when October 31 rolls around, trick or treating is a bit of a sweat fest….so a bonfire is pretty much out of the question. However, apple cider, s'mores, cozy flannel shirts and jeans seem like the perfect way to spend a Fall night!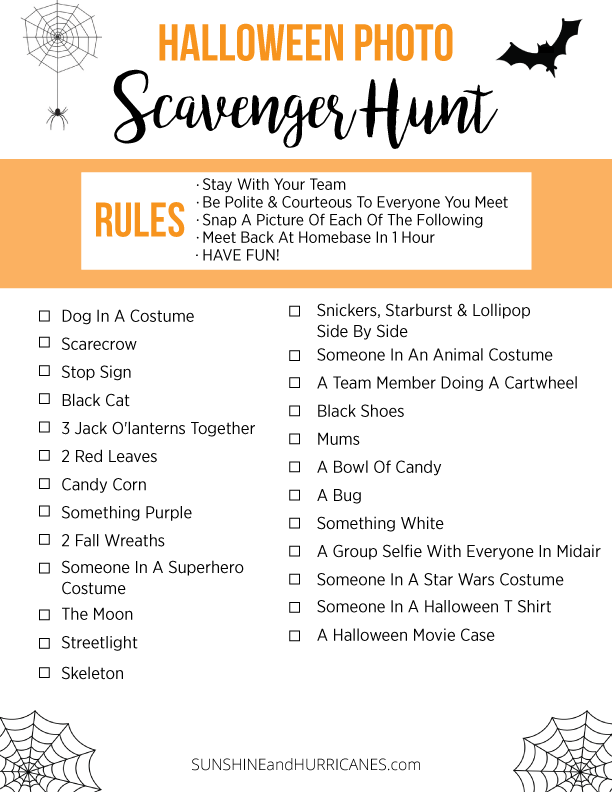 Photo Scavenger Hunt
This is serious fun! We even have a special Halloween edition hunt all ready for you as a free printable and the grand prize? A monster bag of candy, of course!
Halloween Photo Scavenger Hunt for Teens and Tweens
Whatever your family chooses for the teens in your life this Halloween, we hope you have lots of frightful F-U-N!
Looking for other fun Halloween activities for kids and tweens, then check out these popular posts other parents have found helpful.
Halloween Printables; Cute to Creepy Fun For All Ages
Halloween Party Ideas Round-Up
10 Ways To Build A Rock Solid Relationship With Your Teen (or Tween)
Best Halloween Advent Calendars for Teens and Tweens (Yes, this is a thing!)
Do you have any other great Hallowen Activities for Teens to share with us?