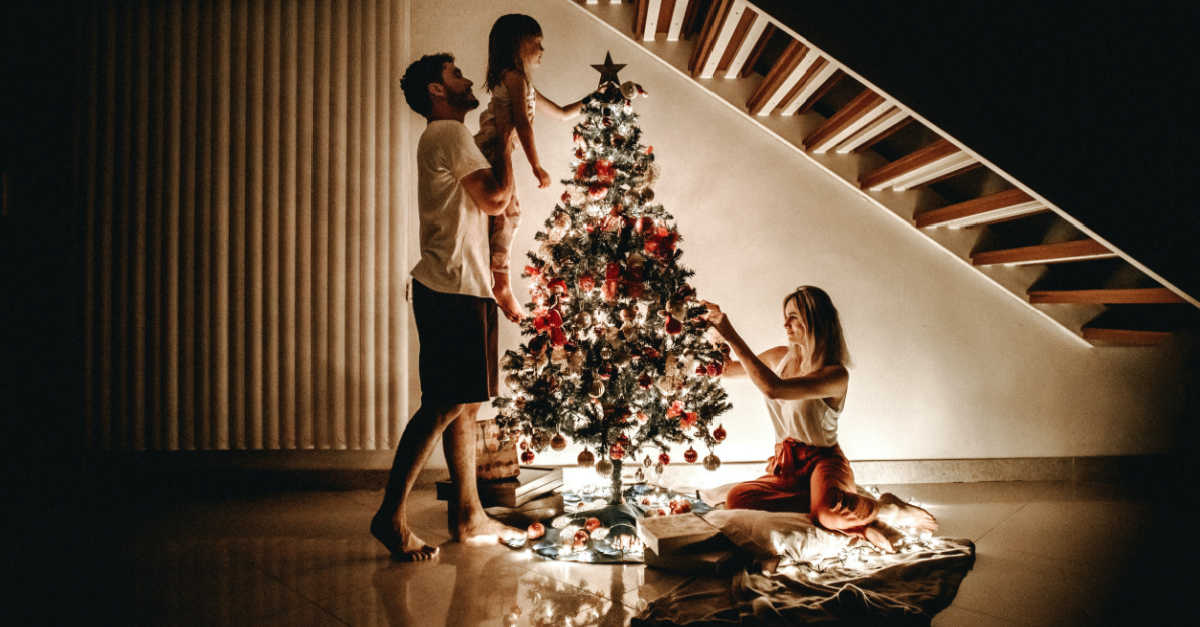 As our kids get older, it can be so tricky to shop for them at the holidays. If you've got school age kids and you and your brain is oh so tired from trying to figure out what gifts to buy for your kiddos or what are the best stocking stuffers for school age kids, this list of over 100 stocking stuffer ideas for school age kids will make your life so much easier.
There are tons of fun stocking stuffers for school age kids that will please those with all sorts of interests. There are ideas for athletes and artists, fashionistas and outdoorsy kids. Oh and then of course you don't want to forget to have some things that are just for fun. Sometimes the silliest stocking stuffers are the ones they remember most.
You can still make their eyes light up like they did when they were younger. Just because they are getting bigger, doesn't mean that our sweet kids can't still find the magic in the holiday. And us too. 😉
Over 100 of the Absolutely Best Stocking Stuffer Ideas for Your School Age Kids
MAPIXO 6 Packs Light-Up Floating Dinosaur Bath Toys Set, for Baby Toddler Nephew in Birthday Christmas Easter , Great Water Bathtub Shower Pool Bath Toy for Children Preschool
Glo Pals Light Up Water Cubes – 12 Cubes in Green, Purple & Yellow
Taste Beauty Sweets by Hershey 8 Flavored Lip BALMS
BetterYou Natural Magnesium Sleep Lotion for Kids, 4.5 Fl Ounce
Soft Thick Seamless Cotton Hair Ties, Ponytail Scrunchies Head bands No Damage Crease for Women Girls Kids Poncytail Holder 100 Pieces (Brunette Brown Set)
Hair Detangler Spray for Kids. Made with Organic Aloe Vera Juice and Natural Vitamins to Hydrate. Organic Detangler and Leave In Conditioner for Children & Adults. No Chemicals or Fragrance. USA Made.
Wet Brush Multi Pack Squirt Detangler Hair Brushes – Pink, Purple and Blue, 3-Pack – Mini Detangling Brush with Ultra-Soft IntelliFlex Bristles Glide Through Tangles with Ease – Pain Free
Piggy Paint Backpack Fun Packs – Party Heart-y
Lip Smacker Marvel Super Hero Spiderman Amazing Pomegrante
The Ultimate Puzzle Book for Kids: Sudokus, Mazes, Crosswords, and More!
Sun squad Glitter Unicorn Sidewalk Chalk 5 Pieces
Mini Football Soccer by finger
Twisty Petz, Series 4 3-Pack, Rainbowz Flying Unicorn, Grizzle Bear and Surprise Collectible Bracelet Set
Marvel Titan Hero Series Action Figure Multipack, 6 Action Figures, 12-Inch Toys, Inspired Comics, for Kids Ages 4 and Up (Amazon Exclusive)
FROG SAC 3 PCS Flashing LED Unicorn Slap Bracelets for Kids, Light Up Unicorn Slap Wrist Bands, Unicorn Toy Bracelets for Girls, Tween Girls Birthday Party Favors, Goodie Bag Fillers, Stocking Stuffers for Girls
COASION Classic Polarized Small Aviator Sunglasses for Kids Baby Girls Boys Age 2-10 50MM (Gold Frame/Grey Lens)
Crayola Twistables Crayons Coloring Set, Kids Craft Supplies, Gift, 50 Count
Arteza Kids Erasable Colored Pencils, Set of 48, Triangular Pencil Crayons, Pre-Sharpened, Art Supplies for School, Home, Doodling, and Drawing
Toys for 4-5 Years Old Boys Girls Colorful Flashing Light Up Rainbow LED Gloves for Kids Cool Toys Birthday Gifts for 6-7 Years Old Kids Christmas Gifts for Boys Girls 3-5 Stocking Stuffers Small
Star Wars Mad Libs: World's Greatest Word Game
Think Fun Math Dice Junior Game for Boys and Girls Age 6 and Up – Teachers Favorite and Toy of the Year Nominee
Magic Flying Ball Toy – Infrared Induction RC Drone, Disco Light LEDs, Rechargeable Helicopter – Unique Kids & Adults Christmas Stocking Stuffer Idea 2021, Best Teenage Girl, Teen Boy & Tweens Present
Difficult Riddles For Smart Kids: 300 Difficult Riddles And Brain Teasers Families Will Love (Books for Smart Kids Book 1)
Eevee Evolutions V Tin
Topps 2021 Series 1 Baseball Blaster Box
Epielle Character Sheet Masks | Animal Spa Mask | -For All Skin Types |spa gifts for women, Spa Gift, Birthday Party Gift for her kids, Spa Day Party, Girls Night, | Halloween Party Favors | Stocking Stuffers (Assorted Character Mask-6pk A)
Lip Balm Stocking Stuffer, Burt's Bees Moisturizing Lip Care Holiday Gift, 100% Natural, SuperFruit – Pomegranate, Coconut & Pear, Mango, Pink Grapefruit (4 Pack)
Farting Poop Emoji Pen – Makes 7 Funny Fart Sounds – Cute Smiling Poop Face Emoticon Ballpoint Pens – Talking Joke Toy for Teen Boys & Girls – Fun Silly Cool Easter Surprise Gifts for Kids & Adults
Goody Ouchless Elastic Hair Ties – 60 Count, Assorted In Brights and Pastels – Perfect for Fine, Curly Hair and Sensitive Scalps – Pain Free Hair Accessories for Men, Women, Girls and Boys
EverBrite Kids Flashlight, Mini LED Flashlight, Plastic Torch Use for Emergencies, Camping, Outdoor with Lanyard 3AAA Battery Included, Green
Kids Walkie Talkies with 22 Channels & 3 Mile Range, ITSHINY Walkie Talkies for Kids [3 Pack] with Backlit LCD Flashlight Birthday Toys Gifts
Triceratops LED Headlamp – Dinosaur Headlamp for Kids Camping Essentials | Dinosaur Toy Head Lamp Flashlight for Boys Girls or Adults | Ideal Gift for Birthday, Thanksgiving, Christmas, New Year
Toysmith Ink-a-Do Shimmery Tattoo Pens Bundle – 2 Pack
Purple Ladybug 12 Colors Hair Chalk for Girls with Glitter Tattoos + Body Glitter – Temporary Hair Color for Kids & Teens for Halloween & DIY Cosplay, Easy to Apply & Wash Out – Great Birthday Gifts
Beverly Hills Pretend Makeup Toy Set, My First Princess Cosmetic Beauty Set for Little Girls, Kids Pretend Play, Dress Up with Stylish Polka Dotted Make Up Bag
PixieCrush Pretend Makeup Play Deluxe 16 Piece Set for Children
Harry Potter Pencil Toppers, Gifts, Toys, Collectibles – Set of 12 Harry Potter Figures for Writing, Party Decor –Ron Weasley, Hermione Granger,Sybil Trelawney and more by PMI, 2.4 In, Soft PVC (B12)
The Noble Collection Harry Potter Wand Pen and Bookmark
UNO Harry Potter Card Game
Harry Potter Jelly Gummy Candy Slugs, Bertie Botts Every Flavour Jelly Beans & Chocolate Crispy Frog (Bundle of 3 Items)
LEGO DOTS Go Team! Bracelet 41911, Cool DIY Craft; an Inspiring Kit for Kids who Want to Make Creative Sports Bracelets; Makes a Birthday (33 Pieces)
LEGO DOTS Starlight Bracelets 41934 DIY Craft Bracelet Kit; Fun and Creative Addition to Expand Imaginative Play, New 2021 (34 Pieces)
CF Natural Daily Cars Bath Bomb Gift Set with Pull-Back Cars Inside, 6 Pack 7oz Huge Bath Bombs for Kids, Organic Rich Foam and Strong Fizzie Bath Bombs for Chrildren
FOZZI'S Bath Foam Aerosol for Kids, Brilliant Blue, Groovy Green & Perfectly Pink, Good Clean Fun,11.04 oz(313gm ) (Pack of 3)
Toothbrushing Two Minute Turtle Timer
Power Your Fun Pop Puzzle Popper Fidget Game – 27pc Jigsaw Puzzle Game Pop Push It Bubble Sensory Fidget Toys for Learning, Stress Relief Silicone Pop Puzzle Game Board for Kids and Adults (Black)
Sensory Fidget Toy, Arts and Crafts for Kids, Non-Toxic, Waxed Yarn, 6 inch, Reusable Molding and Sculpting Sticks, American Made by Wikki Stix, Assorted Colors, 24 pack
Magnetic Rings Fidget Toy Set, Idea ADHD Fidget Toys, Adult Fidget Magnets Spinner Rings for Anxiety Relief Therapy, Fidget Pack Great Gift for Adults Teens Kids (3PCS)
Aemotoy 3PCS Push Bubble Fidget Sensory Toys for Kids Adults Silicone Pop Rainbow Hamburger Squeeze Toy Stress Anxiety Relief Toys Novelty Gift for Autism ADD ADHD,Colorful Hamburger+Fries+Cup
NUTTY TOYS Monkey Noodle Sensory Strings 6 Pack; Top Classroom ADHD Fidget, Fine Motor Skills & Learning for Toddlers – Best Kid Boy Girl Tween Teen & Adult Christmas Stocking Stuffer Gift Idea 2021
Taco vs Burrito – The Wildly Popular Surprisingly Strategic Card Game Created by a 7 Year Old
Qwixx Card Game – A Fast Family Card Game
Scentos Scented Fine Line Markers – 10-Count – Assorted Washable Colored Markers for Kids or Adults in Fruity Scents – Fun for Drawing, Coloring & Journaling
Mr. Sketch Scented Markers, Assorted Colors, Set Of 8
Sports Smencils – Scented Pencils, 5 Count, Gifts for Kids, School Supplies, Classroom Rewards by Scentco
Marvel Spider-Man Socks for Boys, 10 Pairs Low Cut Socks for Boys Ages 3-9
Squishmallows Squishville Mystery Mini Series 2 Plush Assortment Blind Package – Colors and Styles May Vary (3 Pack)
Squishville by Squishmallow Mini Plush Sealife Squad, Six 2" Soft Mini-Squishmallow Sea Animals, Irresistebly Soft Colorful Plush, Mini Shark, Otter, and Seahorse Squishmallows
5 Surpise Toys Mystery Capsule Real Miniature Brands Collectible Toy (3 Pack) by Zuru – Series 3
Hot Wheels Super Mario Blind Box Bundle Mario Kart Hot Wheels Toy Set – 3 Pack Hot Wheels Blind Bags Super Mario Cars with Super Mario Stickers (Super Mario Toys)
Star Wars Micro Force Blind Bags Action Figure
Hasbro Gaming Rubik's 3X3 Cube, Puzzle Game, Classic Colors
Bananagrams Word Game
UNO Family Card Game, with 112 Cards in a Sturdy Storage Tin, Travel-Friendly, Makes a Great Gift for 7 Year Olds and Up [Amazon Exclusive]
Connect 4 Grab and Go Game (Travel Size)
Yahtzee
BUILDZI by TENZI – The Fast Stacking Building Block Game for The Whole Family – 2 to 4 Players Ages 6 to 96 – Plus Fun Party Games for up to 8 Players
TENZI Dice Party Game Bundle with 77 Ways to Play A Fun, Fast Frenzy for The Whole Family – 4 Sets of 10 Colored Dice with Storage Tube – Colors May Vary
OOLY Make No Mistake Erasable Markers, Set of 12
Ooly Happy Pack, Scented Stickers + Scented Gel Pens + Graphite Pencils + Scented Erasers – Fantasy & Confections
OOLY, Magic Puffy Pens, Set of 6 (132-061)
OOLY, Totally Taffy Pastel Gel Pens, Set of 6
Hot Wheels 5-Car Pack of 1:64 Scale Vehicles, Gift for Collectors & Kids Ages 3 Years Old & Up
Flip & Flarp Noise Putty for Kids Double Pack Original & Glitter (1 Pack Assorted) JA-RU Farrt Gas Noise Maker Slime Cloud & Scented Putty Fidget Stress Toy for Boys, Girls & Adults. 047-1A
Funko Pop! Keychain: Fortnite – Tricera Ops Toy, Multicolor, One-Size
Fortnite 7
Socks For Kids Adults Boys Girls Sus Socks Medium Stockings Socks Cute Party Supply Adult
POP Funko Star Wars: The Mandalorian – The Child, Grogu with Cookie, Multicolor (54531)
Funko Pop! Marvel: Loki – Kid Loki
Band-Aid Adhesive Bandages, Disneys Frozen, Assorted Sizes, 20 Count – Packaging may vary
Band-Aid Brand Adhesive Bandages for Minor Cuts & Scrapes, Wound Care Featuring Pokémon Characters for Kids, Assorted Sizes 20 ct
Coogam Wooden Blocks Puzzle Brain Teasers Toy Tangram Jigsaw Intelligence Colorful 3D Russian Blocks Game STEM Montessori Educational Gift for Kids (40 Pcs)
IQ-Stars
SmartGames IQ Fit – a fun 3D travel game for ages 7-adult featuring 120 challenges
Activ Life Bike Lights for Wheels (1 Tire, Blue) Best Birthday Gifts for Boys, Men & Teens – Stocking Stuffers 5 6 7 8 9 10 11 12 Year Old. Top Unique 2021 Christmas Ideas for Him, Dad, Brother, Uncle
Kiddimoto – Steel Bicycle Bell for Kids | Perfect Loud Bike Ring Bell for Children's Balance Bikes, Bicycles, Mountain Bikes & Scooters | Floral Print | Size – 2⅜
NERF Fortnite Micro Ice Storm Collection — Includes 6 Microshots Blasters & 12 Official Elite Darts — for Youth, Teens, Adults
Nerf N-Strike Reflex IX-1 Blaster , Blue
2021 Panini DONRUSS Football EXCLUSIVE HUGE Factory Sealed Retail Box with 88 Cards! Look Rookies & Autos of Mac Jones, Trevor Lawrence, Justin Fields, Zach Wilson, Trey Lance & Many More! WOWZZER!
Pikmi Pops Surprise PushMiUps Series 3 Mystery Pack
Kangaroo Marble Set – 160; Marbles Game, in a Tin Box
MarvelBeads Water Beads Non-Toxic (Half Pound Refill) Rainbow Mix for Sensory Play, Spa Refill, Toys and Décor, Marble Sized
George & Company LLC LCR Dice Game Set Bundle (Left Right Center) – 3 Pack Assorted Colors
Hasbro Gaming Bop It! Electronic Game for Kids Ages 8 & Up
Simon Micro Series Game, Single
Perisphere And Trylon Games RG-1076 Jack Straws
Roblox Gift Card – 2000 Robux [Includes Exclusive Virtual Item] [Online Game Code]
Amazon.com Gift Card in a Santa Chimney Reveal
Oral-B Pro-Health Jr. Battery Powered Kid's Toothbrush Featuring Disney's Frozen, Soft, 1 ct & Disney Princess Power Kid's Toothbrush 1 Count Characters May Vary
Oral-B Kids Electric Toothbrush Featuring Marvel's Spiderman, for Kids 3+
Crocs Disney Jibbitz Shoe Charms | Jibbitz for Crocs, Baby Yoda, Small
Crocs Jibbitz Charms Rainbow 5-Packs | Jibbitz for Crocs, Everything Nice, Small
Hasbro Gaming Candy Land Kingdom Of Sweet Adventures Board Game For Kids Ages 3 & Up (Amazon Exclusive),Red,Original version
Roblox Ultimate Avatar Sticker Book
Roblox Series 3 Mystery Figures
Jumbo Super Bouncy Balls – (Pack of 12) 2.35 Inch Balls for Kids in Bright Assorted Multi Colors for Birthday Party Favors and Carnival Prizes in Bulk by Bedwina
Air Dry Clay, 24 Colors Modeling Clay Set with Sculpting Tools, Foam Clay DIY Toy Kits, Gifts for Kids( Over 3 Years) Early Education Toys, Non-Toxic Ultra Light Soft Crafting Clay for Slime
Kinetic Sand The Original Moldable Sensory Play Sand, Pink, 2 Pounds
Play-Doh Dino Tools Dinosaur Toys with 3 Non-Toxic Colors
Metal die cast Toy air Plane Set of Military Planes and Jets. Pack of 9.
Flying Ball Toys【2021 Upgraded】Globe Shape Magic Controller Mini Drone Flying Toy, Built-in RGB Lights Spinner 360° Rotating Spinning UFO Safe for Kids Adults Magic Flying Toys Outdoor Indoor (Blue)
ACT Kids Bubblegum Blowout Toothpaste, 4.6 Ounce
Orajel Jurassic World Anticavity Fluoride Berry Blast Flavor- Kids Toothpaste Tube, 4.2 Oz
The holidays with school age kids is still a magical time of year for families. Looking for more holiday resources, gift and stocking stuffer ideas and just plain fun for the whole family?!?! Check out these other popular posts parents have found helpful.
Over 100 of the Absolutely Best Stocking Stuffer Ideas for Your School Age Boys
Over 50 of the Absolutely Best Stocking Stuffer Ideas for Your School Age Girls
Stocking Stuffers for Tween Girls; Fun Ideas They'll Love
Stocking Stuffers for Tween Boys; From a Tween Boy Mom
50+ Family Christmas Traditions To Build Lifelong Memories
The BEST Tween Girl Gifts; Ideas Straight From Tweens
Great Gift Ideas For Tween Boys; Tween Boy Approved
Gifts For Teen Boys They Actually Want; They Told Us So!
Gifts For Teen Girls ; Things They Really Want