Warm afternoons spent running around after my cousins and cool evenings catching fireflies in jars. The taste of sweet watermelon fresh off the rind and the salty, smoky aroma of hamburgers and hotdogs on the grill. The hum of animated adult conversation woven with the laughter of children at play.
In Summer, life just seems more vibrant and alive. Maybe that is why it conjures up some of my most vivid childhood memories. While I can't go back in time, I still love putting on a good, old-fashioned backyard party to gather friends and family near and recreate those moments for even just a few precious weekend hours.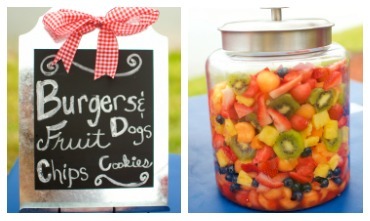 A Backyard party was a blast as kids, because we weren't in charge of planning them. We just showed up and spent the day playing barefoot and carefree. Don't lose that childlike enthusiasm just because you're the one that has to organize things now!
We've gotten away from days when things were simpler and it's time we took a few tips from our Mama's before us and learned that everything doesn't have to be a full-on production. People come over because they want to spend time with you, not because they want to admire fancy table decor and eat gourmet meals.
Keep it Simple, Keep it Fun – The BEST Backyard Party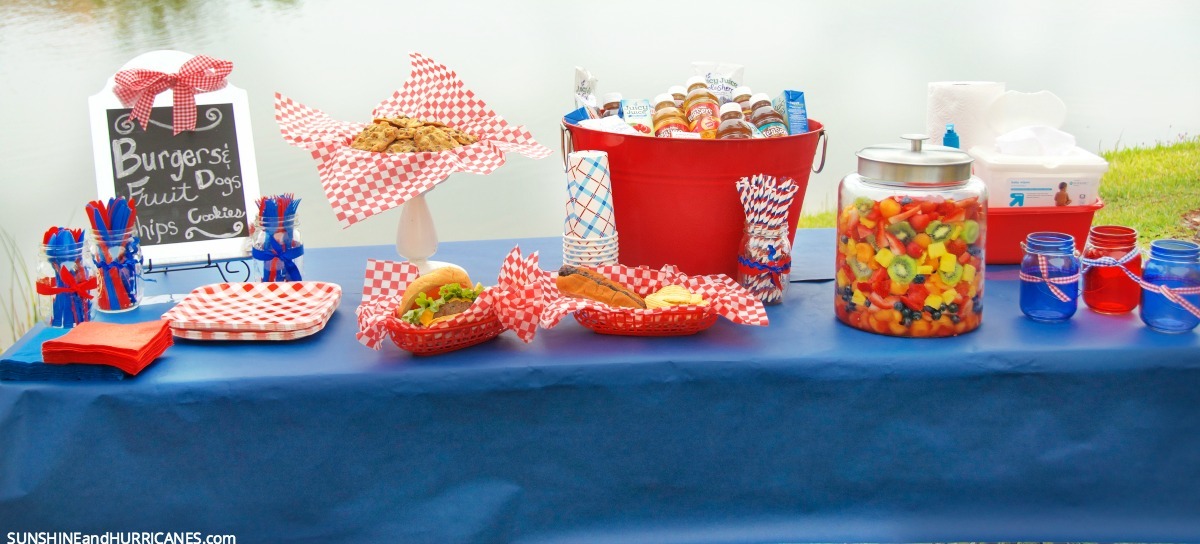 1. Decor- Shop Your House
There's no need to run to the store to grab specialty decor for a great tablescape! Take a look around your house and see what you already own that can double as unique serving ware. I used a cookie jar for my fruit salad, mason jars to hold silverware, and a white candle stand to display my secret ingredient cookies. Adding height and interest to this table took a mere 5 minutes by just "shopping" around my house and using items I already had on hand.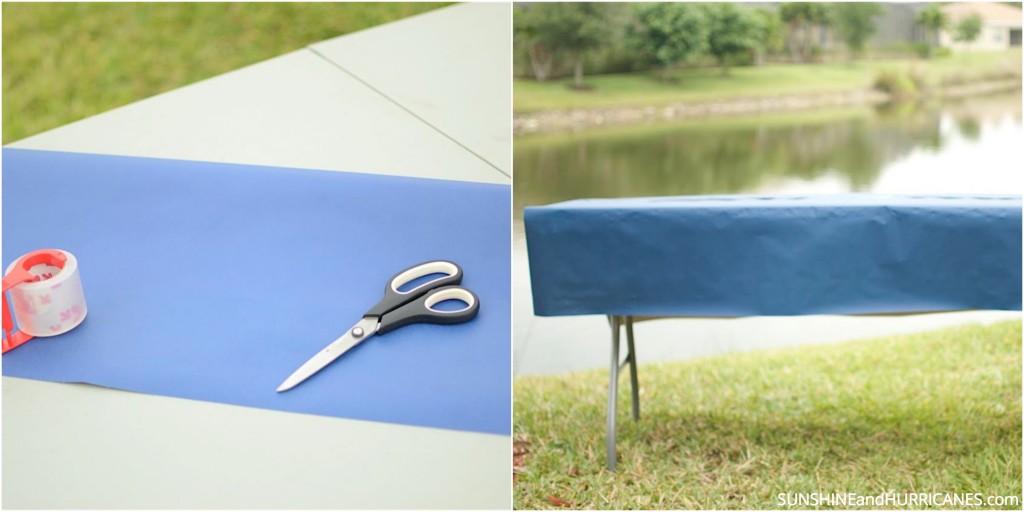 2. Forget The Tablecloth
Use quality, heavy weight wrapping paper that complements your theme, in lieu of tablecloths, to line all the tables. Securely taped to the table tops, it is unaffected by wind and there's no chance for little hands to accidentally yank a tablecloth off. Best of all, clean up is a breeze, simply crumple and toss in the trash, no need to wash & iron a pesky tablecloth!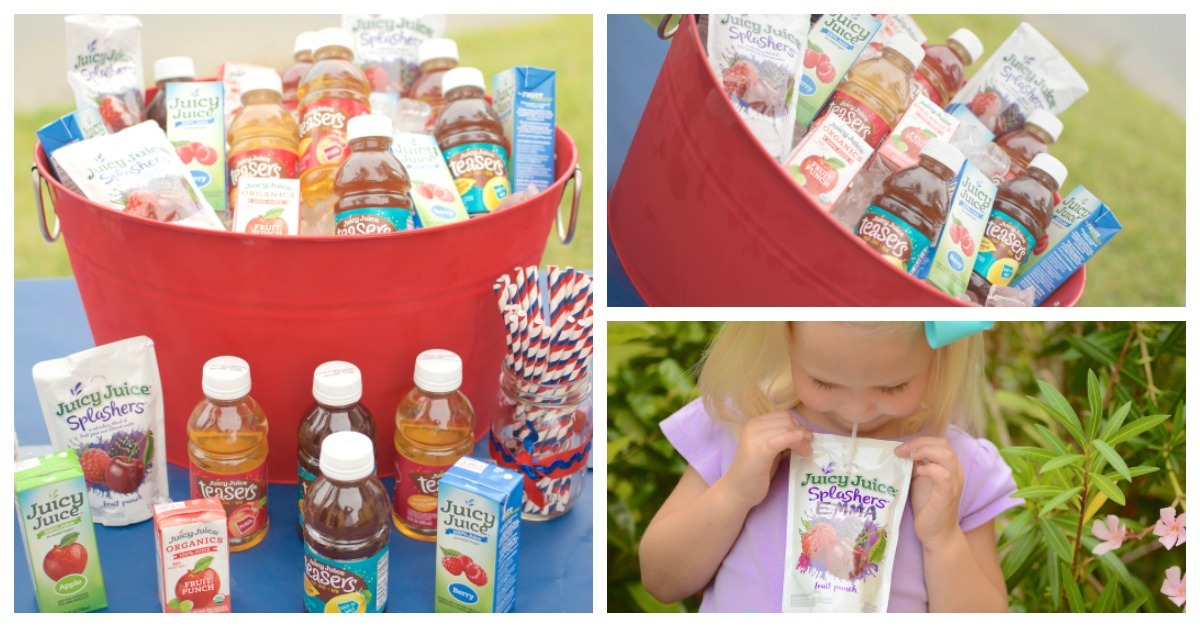 3. Create a FUN Drink Display
A cooler is absolutely an acceptable way to store drinks for a get together, but you could also take things up just one easy and inexpensive notch for your backyard party with a colored metal container. Fill it with ice and then nestle in your drinks for an attractive beverage station. Include some colorful straws in a mason jar and tie a little ribbon around it for a little extra flare.
Also, have some Sharpie markers nearby to write adults or kid's names on their cups or juice boxes so its easy to know whose is whose. It's a great way to avoid ending up with 100 half empty containers littered about and it also avoids unnecessary waste.
Yet another easy choice for a great Backyard Party.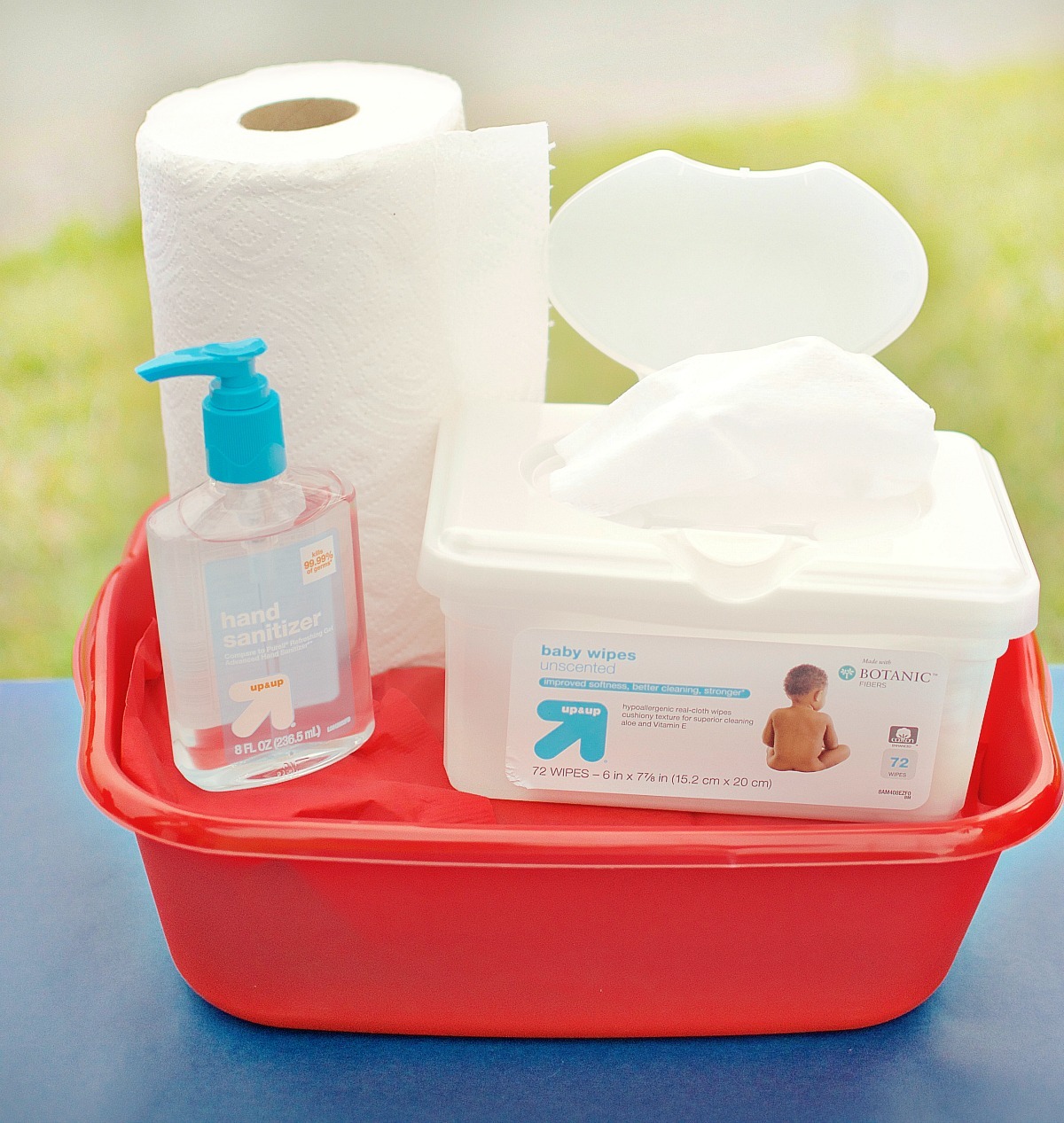 4. Create a Clean-Up Station
Save yourself a thousand trips in and out of the house by bringing everything needed for a quick clean up outside in a convenient tub. In case there's a spill, exploding ketchup incident, or your hubs is literally wearing his famous BBQ sauce all over his face, you're prepped & ready!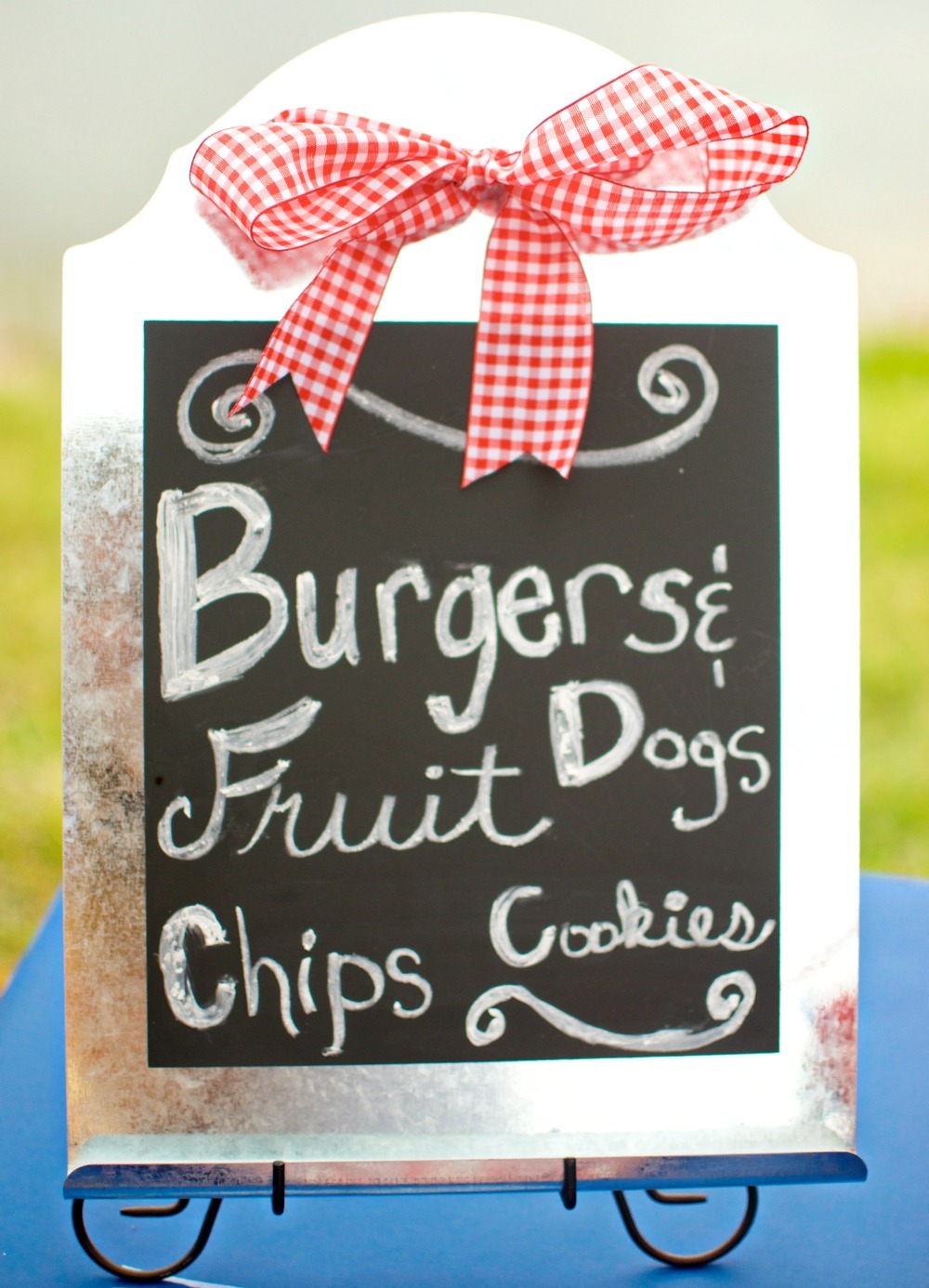 5. Simple Menu
Yes, we know, with all the cooking channels and 30 minute magazine recipes that really take an hour, it's easy to feel like you should be offering guests something a little more fancy to eat. But you know what, there really is nothing better than one of our extra special burgers right off the grill in the summertime. We've got The Best Burger Recipe, sure to make your cookout a legend! Burgers and dogs are a familiar favorite and no one gets tired of them. The smells and the flavors bring back nostalgic memories for everyone.
Serve these up in cute little baskets with checkered linings (available at most dollar stores), a side of classic potato chips and a fresh fruit salad and there won't be a complaint in the crowd (okay, unless you've got vegetarians, but grab a package of garden burgers and that problem is solved).
Our amazing Secret Ingredient Cookies are always a crowd pleaser and a simple way to cover your dessert bases! Or you could also try our easy berry crisp or keylime pie recipes.
6. Organized Activities
Okay, this one's a freebie! 😉 I know I said 5 easy ideas for the BEST backyard party so consider this one a bonus! Unstructured hang out time with friends and family is lovely but if you're hosting a group of folks that may not know one another well, having a few Fun Games to Play Outside, with a bit of friendly competition, is a fantastic way to break the ice and keep everyone mingling. Building memories is never a wasted effort and even playing with extended family is a good way to involve young and old in the fun!
If you're lucky enough to have a pool in your backyard, don't miss out on the Best Swimming Games For Kids! Marco Polo is retired, these new ideas will keep the kiddos entertained for hours!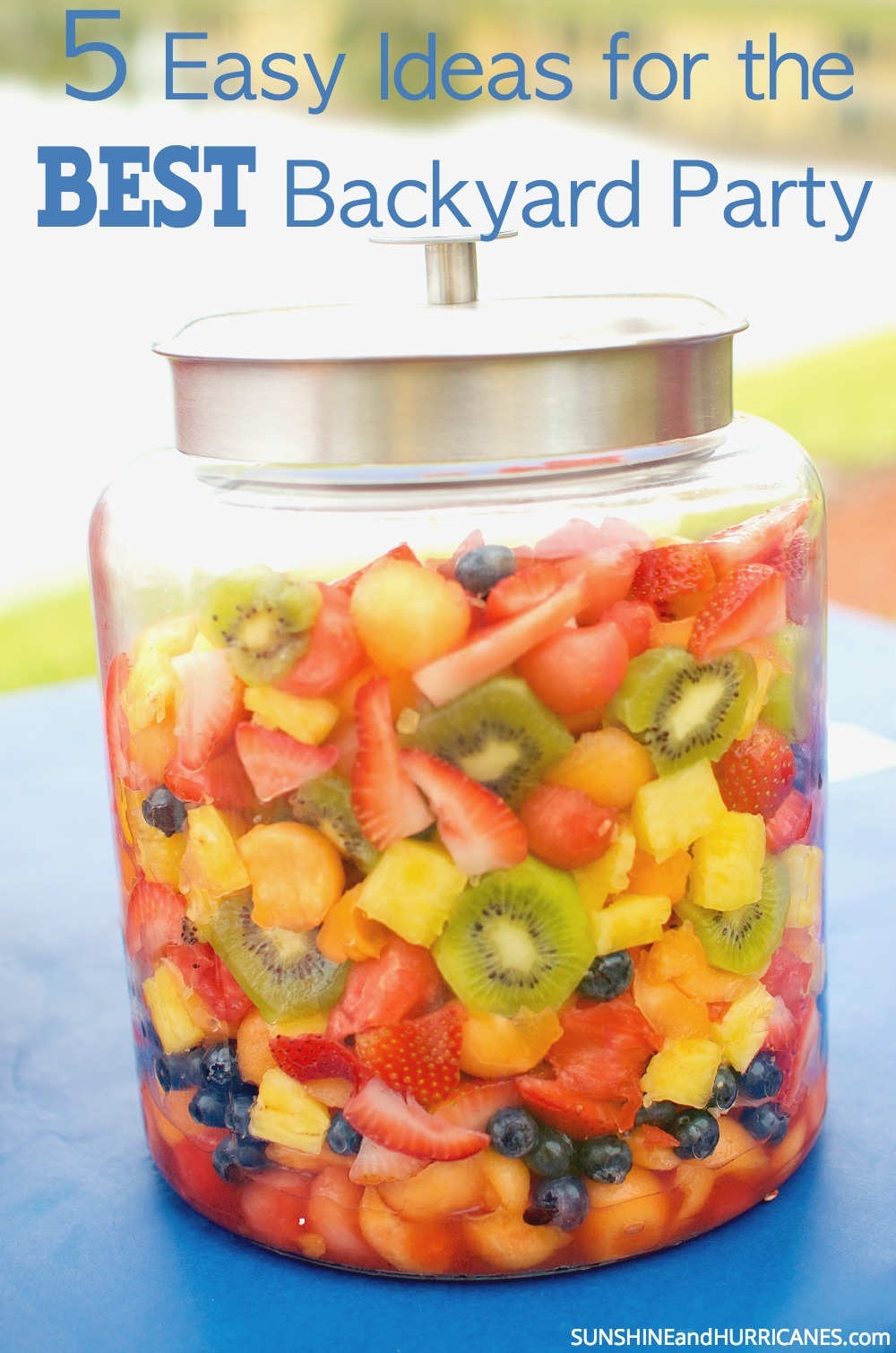 Do you have any tips and tricks for throwing a Backyard Party?
Be sure to check out these popular posts that other readers have found helpful:
Family Games For All Ages and Occasions
100 Fun and Easy Screen Free Summer Activities For Kids (Toddlers to Teens)
Why You Want Your Kids To Be Bored This Summer
10 Alternatives to Birthday Party Goody Bags That Aren't Junk