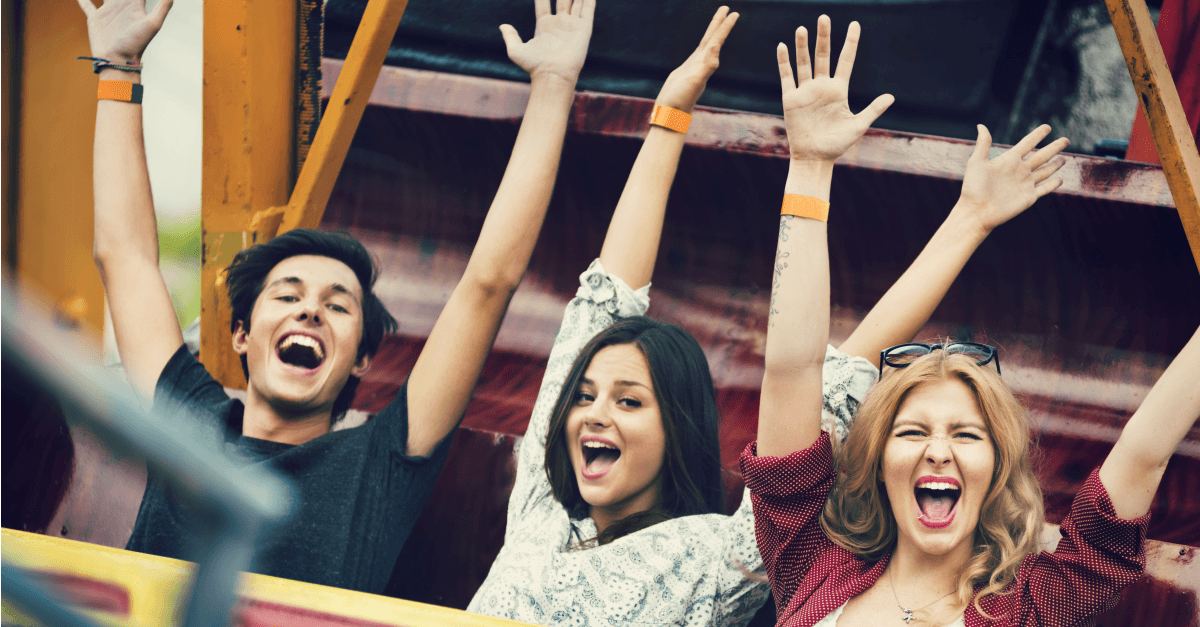 When I was in college, part of one of my classes included visiting a business management program at Disney World. There were about 15 of us who went, all in our teens and early twenties.
When we found out that a FREE day at Disney World with a park hopper pass was included in our visit, we weren't quite sure what to think.
Most of us had great memories of going to Disney World at kids, but now that we were "sorta" adults, we wondered if Disney could still be as much fun for teens and even "sorta" adults.
Wow, were we surprised
The trip, and specifically the day at the Disney World parks, ended up being one of the best memories I have from college. We had an absolute blast! I think we rode Splash Mountain at least a dozen times.
We bought Mickey ears, ate Mickey popsicles and stayed until every single park was closed. They had to kick us out!
It doesn't matter how old you are, there are fun experiences for everyone.
That is why if you are considering taking your teen or tween to Disney, you shouldn't hesitate.
Sure they may roll their eyes or give you one of those classic tween/teen "whatevers", but it really can be a magical place even for our apathetic adolescents. In fact, they may need it more than anyone.
Seriously, it's the one place on Earth where it's 100% normal and natural to let your inner child run free. It's a judgement free zone.
Tweens and Teens are still kids and sometimes they just need to to act like kids.
If your teen or tween gives you a hard time about taking a family vacation to Disney World, let them know that they're not seeing the true "big" picture of everything that Disney has to offer.
There really are some great options at Disney World for teens and tweens.
From rides to performances and games and food, there is sure to be something they will enjoy. They won't be able to help themselves.
Also, point out, that is some ways it can be better when they're older. You can stay later, cover more ground in less time and they don't have to worry about being too short for any of the rides. 😉
Alright, so here's what you should know about Doing Disney World with Teens.
Attractions at Disney that Teens or Tweens Will Love
And don't forget, in August 2019 the first part of the new Star Wars Land at Disney World opens and it will definitely have some rides that appeal to the tweens and teens in your family!
What Teen Doesn't Love To Eat?
While the rides are great and all, let's be real. Your teen and tween will probably be just as excited about all the amazing food options at Disney World for teens!
Disney can be as much an eating experience as it can be a theme park. All kinds of food shaped like Mickey Mouse, ice cream, chocolate at every corner and let's not forget about the magical Dole Whip. Your teen will seriously be in food heaven.
Also, some of the themed restaurants can be more appealing to kids when they're older. They may not want to do meet and greets with the Disney Characters, or if they do that's awesome, but in case you need something more mature you can try the following:
Trail's End, Fort Wilderness Campground
Boma, Animal Kingdom Lodge
'Ohana, Polynesian Village Resort
Sci-Fi Dine In Theater, Disney's Hollywood Studios
Whispering Canyon Café, Wilderness Lodge
Pizza Planet Arcade, Disney's Hollywood Studios
Planet Hollywood, Downtown Disney
Activities That Are Just For Teens and Tweens at Disney World
A trip to Disney is honestly fun for all ages. Your teen may argue that they are feeling a bit old when they hear the family plans of taking a trip to Disney, but once they start to understand all the fun, food and excitement that are waiting for them, they'll change their minds in a heartbeat.
And if there still happens to be a bit of resistance, encourage them to do a little research on their own about Disney World for teens. The more that feel involved in the planning the more excited and engaged they are likely to be about visiting Disney World.
Once you and your teen enter those gates to Disney, the time will fly by with all the fun that awaits! Have fun getting excited with your teen about all the fun options that they'll be able to do at Disney as well!
Play Sorcerers of the Magic Kingdom or Pirate's Adventure:

These "secret" interactive games can be appealing to tweens and some teens. Go the Firehouse on Mainstreet to get all the info you need on Sorcerers of Magic or the Golden Oaks Outpost in Frontierland for the inside scoop on Pirate's Adventure. Both are ways to get less than enthusiastic older kids more engaged with your park adventure.
Find the Hidden Mickey's
Turn a day at the park into a fun Scavenger Hunt, and even they even get to use TECHNOLOGY. There is a great Hidden Mickey's App that you can download and then challenge your teen to see how many they can find during your time at the parks. Make it interesting with some kind of prize that appeals to your teen or tween's interests.
Drive a Motor Boat at the Resorts on Bay Lake
Teens can actually drive the Sea Raycer boats at the Contemporary resort! All drivers must be at least 12 years of age and 5' in height, and a parent or adult guardian must accompany the young driver on the water.
Take a Surfing Lesson at Typhoon Lagood
Group and private surf lessons are available at Typhoon Lagoon. Each lesson lasts for three hours and offers 100 waves to practice your "hang ten".
Also don't feel like all the fun to be had is only at Disney World. There are lots of fun things to do outside the parks that may be of interest to your tweens and teens.
Things To Do In Orlando Besides The Theme Parks
Looking for more great Disney World Travel Ideas for families:
10 Free Things To Do At Downtown Disney
10 Ways To Survive Disney In The Summer
10 Things To Buy Before A Disney Vacation