This post may contain affiliate links.
In the last four years, my family has attended the August 3v3 Soccer National Championships at Disney's ESPN Wide World of Sports. I feel like we've become pros at navigating this great youth sports experience. As there are numerous youth sports events at Disney's ESPN Wide World of Sports every year, I thought I would share what we've learned to help other families enjoy the game and as well as avoid some of the potential problems.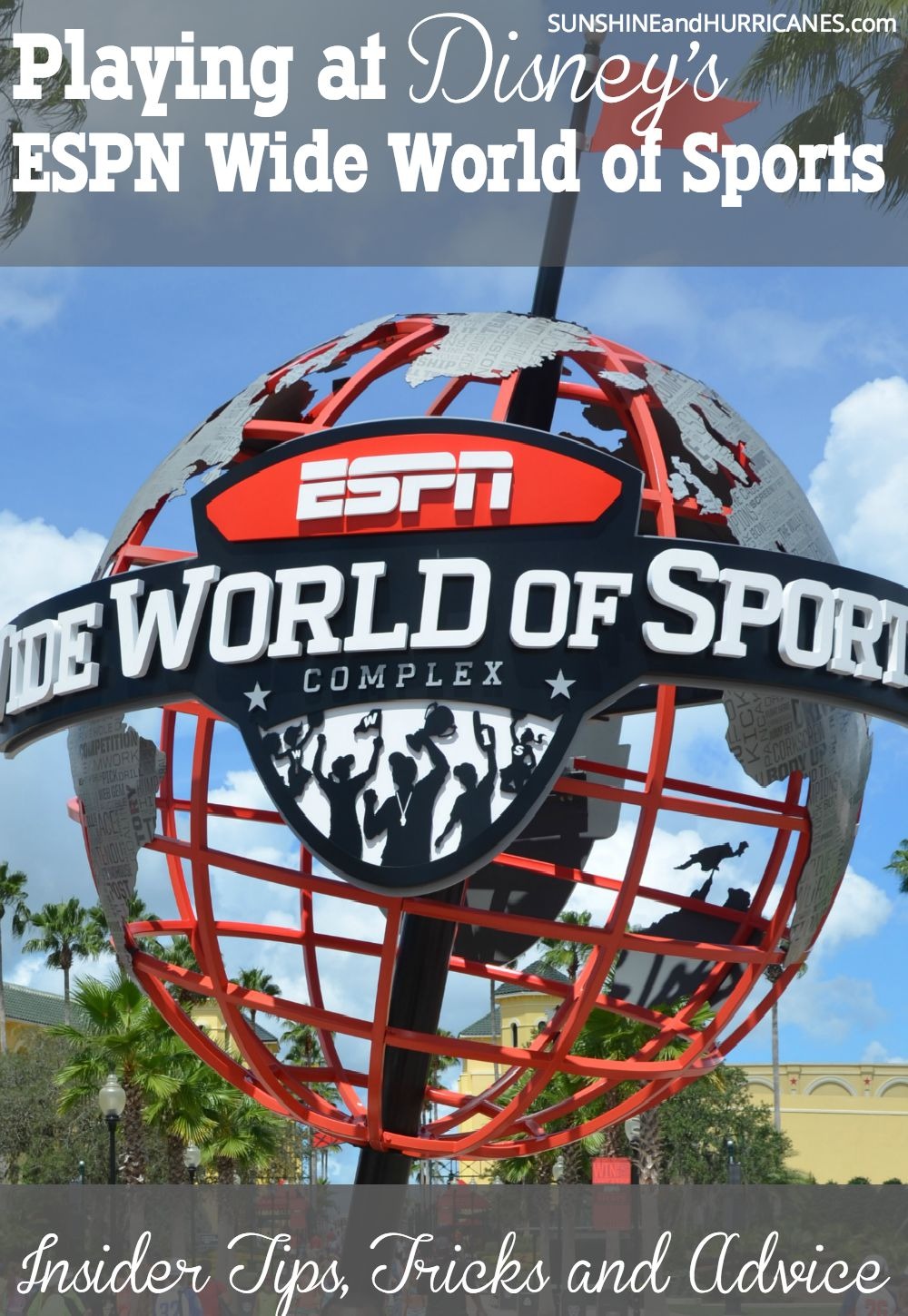 At Disney's ESPN Wide World of Sports, the facilities feel authentic and professional, which gives the teams a true sense of accomplishment for having earned an opportunity to play there. The energy level is exhilarating and the competition can be intense. Also, since it is a Disney park, playing a game or tournament there can be a great way to combine competition with a bit of a family vacation. This is part of why my family has loved participating in sports tournaments at ESPN Wide World of Sports Complex. It is a place where memories are made not only on the field, but off.
However, as exciting as it all can be, there can also be some overwhelming logistical challenges that come with competing at tournaments like those at the ESPN Wide World of Sports complex. Having done this for the last four years in a row, I've definitely got some insights to share that will help make the whole experience less stressful and far more fun!
Top Tips for Playing at ESPN Wide World of Sports
1. Lodging
Travel as a Team
Our teams have always stayed in the same resort and planned our meals and social activities together. Spending that amount of uninterrupted time as a group, gives both the players and the parents a rare opportunity to relax with each other, have fun and bond. Those connections not only improve the way the team plays at the ESPN Wide World of Sports tournament, but also impact the overall growth of the team and how they play together going forward.
Stay Someplace with a Kitchen
To manage costs I suggest selecting accommodations that have kitchens. This enables you to fix healthy meals in your room, which can save you a small fortune on eating out expenses and are better for your youth athlete. We typically stock the room with breakfast basics so it's easy to get out the door in the morning and make early game times. It also gives you a place to store ice, drinks and other items that you'll want to take to the ESPN Wide World of Sports complex with you.
Ask About "Buy Out" Options
Typically, teams are required to use specific hotels/resorts that are associated with the sporting event you are attending. Suite, Condo or home rental properties that are most likely to have kitchens are not always readily made available, but if you ask for a list one usually exists. You also may have the option for a "buy out" to stay at accommodations of your choosing. You may find with the money you save on eating out as well as other parking fees and such associated with the event hotels, that once you split the buy-out among the families on your team everyone still comes out WAY ahead.
2. ESPN Wide World of Sports TICKETS!!!!
Non-Players MUST have a Ticket
The first year we went to ESPN's Wide World of Sports, many of the families were surprised to discover that while the youth athlete and the coaches get in for free, everyone else must buy a ticket to get in. This is NOT well publicized anywhere on the the website, which is my only real complaint with this venue.
Ticket Prices: Standard Daily Admission
Adults (ages 10+): $17.00
Children (ages 3 – 9): $12.00
Buy Tickets Ahead of Time
If you are attending an event running multiple days, there are usually multi-day tickets available that will provide some savings. However, these are specific to the event. I HIGHLY suggest purchasing them before the day of your first event. There is usually a team check in period and you can get tickets at that point. If you don't you may find yourself waiting in a long line outside the park trying to buy tickets and missing part of your child's game.
For more ticket information for groups and special events you can also call 407/939-GAME (4263).
3. What to Take Into the Park
Food
There are restaurants and food vendors at ESPN Wide World of Sports, but like any theme park, it is going to be expensive. In addition, much of it is your standard hamburgers, hot dogs and nachos, which are not exactly healthy for kids in the middle of playing major competitive sporting events.
Coolers are allowed in all the outdoor venues, but not in the Field House or Josten's Center. If you can bring a cooler, DO IT!! Here's a good list to use:
Beverages (plenty of bottled water, gatorade, etc) Florida can be HOT all year round
Cut-Up Fruit
Z -Bars, Trail Mix, Nuts and other healthy snacks
Sandwiches (If you're there for a long period)
Ice
NO GLASS OR ALCOHOL
Other Necessities
For many of the sporting events held at ESPN Wide World of Sports, families will be there the better part of the day for several days in row. It can be hot and there can be considerable downtime waiting for the next game. To make things more pleasant for everyone, pack the following items:
SUNSCREEN – lots of it and re-apply often.
Tents – the website says only pop-up, but I'll be honest, we've used Canopy Tents the last several years and we've never had an issue. I also see quite a few people with Sport-Brellas.
Umbrellas – protection from the rain, which can come out of nowhere, especially during Florida summer, and to use as additional sun protection.
frogg toggs are cooling wet towels. We keep several in a small cooler of ice water. Youth athletes can quickly become overheated in Florida's high temps and these offer quick relief.
Handheld Misting Fans are also great for the heat and as entertainment for younger siblings who may be tagging along.
Portable Chairs
Portable Benches for the players to use during games
Games and Activities for Younger Siblings
Camera and/or Video Equipment
4. Parking
The good news is it is FREE (unless you valet) The bad news is depending on what time of day your sports event is taking place and how many other sporting events are going on at the same time, you may find you have a pretty long walk from your parking space to the venue. In some instances, there are golf carts that can take you from far out parking lots to the front gate, but you often can't take equipment or supplies on them.
Give yourself PLENTY of time for parking and walking prior to your event. Also, consider investing in a Sports Wagon
for hauling all your gear, coolers, tents, etc to and from the park. It took us three years to get one and I can't believe how much easier it made things this year. I so wish we had bought one sooner.
5. Park Tickets
Discounts
There are often deals for park admission offered to attendees of the youth sports events at ESPN Wide World of Sports. Check with the coordinators of your event or any relevant websites or travel agencies. Also, if you are a Florida resident, you qualify for special rates and other deals during the year.
Timing
When attending an event at ESPN Wide World of Sports many families like to make the trip into a family vacation and visit Disney World and all the other attractions that Orlando has to offer. Absolutely, make the most of your time, but I'd like to highly recommend you save the vacation portion of your trip until after your sports commitment. You want your athlete to be well rested and feeling their best for their sports experience, having spent days before at parks can be fun, but also exhausting.
6. Rain
Be prepared if your sporting event is outdoors at ESPN Wide World of Sports, that you could face rain delays. This is especially true in Florida where daily rain showers and storms are commonplace. In these instances, all teams and attendees will be sent to the two indoor facilities and you will be allowed to bring in all your gear. Delays can last hours in some cases, so make sure you have enough supplies to last and some ideas to keep everyone occupied.
I've covered what I believe are the crucial "need to knows" , but for more misc. information that you may find helpful, I definitely encourage you to refer to Disney's ESPN Wide World of Sports FAQ's
Looking for more about Disney Travel? You'll definitely want to check out or post on 10 ways to Survive Disney in the Summer. Many of the tips also apply to playing at Disney's ESPN Wide World of Sports in the Summer.
For EVEN MORE Disney fun:
Follow Sunshine and Hurricanes 's board Disney Done Our Way on Pinterest.