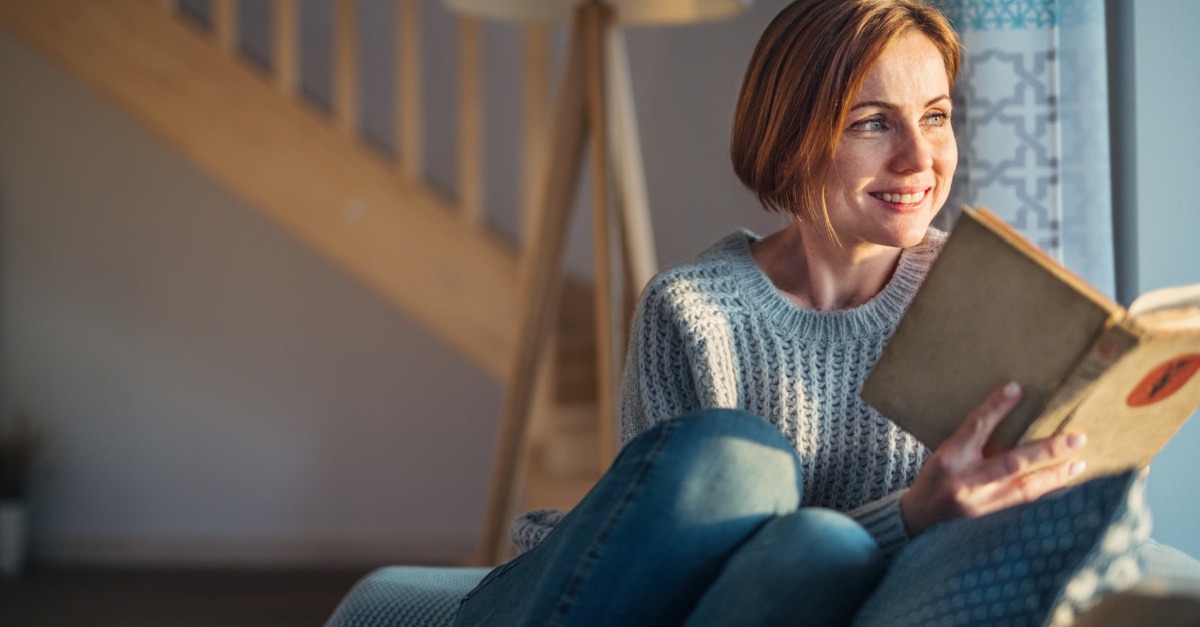 "The Journey of a Thousand Miles Begins with Just One Step." In these famous words from the Chinese philosopher and poet Lao Tzu, that "one step" could represent many things, but most overwhelmed and exhausted moms probably wouldn't think of a book. But, take it from someone who has been there, if you are willing to take that first step, there are books that will change your life one page at a time.
In many cases, one book won't cause a HUGE change all at once. Instead, subtle lessons you pick up in each one you read, can take root and over time small transformations will add up to something significant.
Life isn't perfect and there are no quick fixes or miracle cures to the ups and downs we face every day. However, we also don't have to settle for the status quo and seeking to better ourselves and our families is never a bad goal.
It may mean you read three pages a night before falling asleep and it takes you half the year to get through one book (I'm speaking from experience here). But you know what, that is totally okay!
As Lao Tzu said, it all begins with just one step…. (or book)
Books That Will Change Your Life for the Better
These are all books that I've read since becoming a mom. I'll be honest, I'm actually not big on parenting and advice books, but there are a few gems out there and we mama's can use all the help we can get sometimes.
The Three Big Questions for a Frantic Family is like no other book about family life that you will ever read. The approach is one that actually treats the family like a business. Because in some way isn't our family like running a mini-corporation? The novel idea, when applied, creates fresh thinking and a simplified process that appeals to our common sense. Not to be gender biased, but this is a "self help" book that many reluctant husbands will relate to, making it invaluable for encouraging a team effort.
How to Talk So Kids Will Listen & Listen So Kids Will Talk
. There is no single book that other parents suggest to me more often. If you are tired of being a nag and repeating yourself over and over again, then this is a weapon you want in your parenting arsenal.
The 7 Habits of Highly Effective Families
builds off Stephen Covey's wildly popular "7 Habits of Highly Effective People" book. What I liked about this book was the real world examples and even the suggested dialogue that is provided for some of the tough conversations that happen within families. This has become almost an ongoing reference guide in our household.
Parenting With Love And Logic (Updated and Expanded Edition)
is for anyone who has ever been told they have a "strong-willed" child. It's teachings also help to counter much of the cultural shift in parenting that is leaving us with kids who don't know how to be accountable for their actions and make wise decisions. I've read a TON of general parenting books and this one truly was a life saver for us and completely changed my entire parenting philosophy.
The Best Yes: Making Wise Decisions in the Midst of Endless Demands
is a book that should almost be required reading in today's world. We're facing a time when the pressure has never been stronger to do more, all the time, and at a faster and faster pace. When we're going in circles it becomes increasingly difficult to decide what really is important and what we're just doing because we think we should. This book will help you to realign your priorities and make sure that you only saying "yes" to the things that really make life fuller.
Rising Strong
is a best seller that I wasn't sure I wanted to read. I felt like there was just too much hype. I gave in and it was worth it. The book helps us to see the narratives about our lives that we create, but that we rarely question let alone actually challenge. Get ready to rumble with some tough personal truths, but it's a fight worth taking on to truly improve the relationships in your life.
The Happiness Project is a fun examination about how sometimes we need to force ourselves out of our comfort zones and how sometimes we just need to settle in and accept ourselves for who we are to achieve real happiness.
The Power of Habit: Why We Do What We Do in Life and Business debunks many of the myths we have formed about habits, how they start and how to change them. If you finally want an approach for creating long lasting change whether personally, in your family or even to help your children this is the closest you'll find to a step by step process along with an explanation for why it's so difficult.
Quiet: The Power of Introverts in a World That Can't Stop Talking
is a book about understanding and appreciating introverts whether you are one, you are married to one, or you are raising one. Insights that can dramatically change many of your existing relationships for the better.
In Defense of Food: An Eater's Manifesto
will change almost everything you thought you knew about food and eating healthy. A fascinating history of how "nutritionism" evolved in our country creating all sorts of misconceptions about good and bad foods, it will help you understand basic principles of eating well. A great place to jumpstart any efforts at improved diet and fitness.
Transitions: Making Sense Of Life's Changes helps us to come to terms with all those times change occurs that we weren't really seeking out of planning on (which is the majority of change we actually face in life). Most of us never really learn how to make transitions, which is why any kind of change is difficult for most of us. This book gives us the tools to cope with all the emotions that accompany change as well as the ability to come out the other side stronger.

Gift from the Sea
is the ultimate testimony to the importance of "me time". Written by a woman whose life was more famous for its tragedy than its triumphs. Anne Morrow Lindbergh was a phenomenal woman who raised five children while also carving out an incredible legacy of personal accomplishments outside motherhood. She believed that time away to pursue their own interests and passions was a necessity for women in order to create a truly happy and healthy family life.
Divine Secrets of the Ya-Ya Sisterhood may seem like an odd final choice, but there are two lessons that I think are essential for every mother. The first is that good friends are essential and that we should never sacrifice them when we become mothers. The second is that there is no such things as a perfect mother, you're going to screw up, so give yourself a break now and then.
Want EVEN MORE good book suggestions, but maybe a little more fun?
We've also got other great book suggestions for any and all bookworms.
Do you have any favorites when it Comes to books that will change your life?