This post is sponsored by Kaplan, all opinions are entirely mine.
Teaching can be one of the most rewarding careers for moms, because it blends so well with busy family life. I spent almost 10 years teaching children in preschool and elementary schools before becoming a stay at home mom and they were years full of joy, excitement, and fulfillment. So many of the skills I used in the classroom helped me in my parenting over the last 14 years and I see many women who'd make exceptional educators using the skills they've acquired through mothering.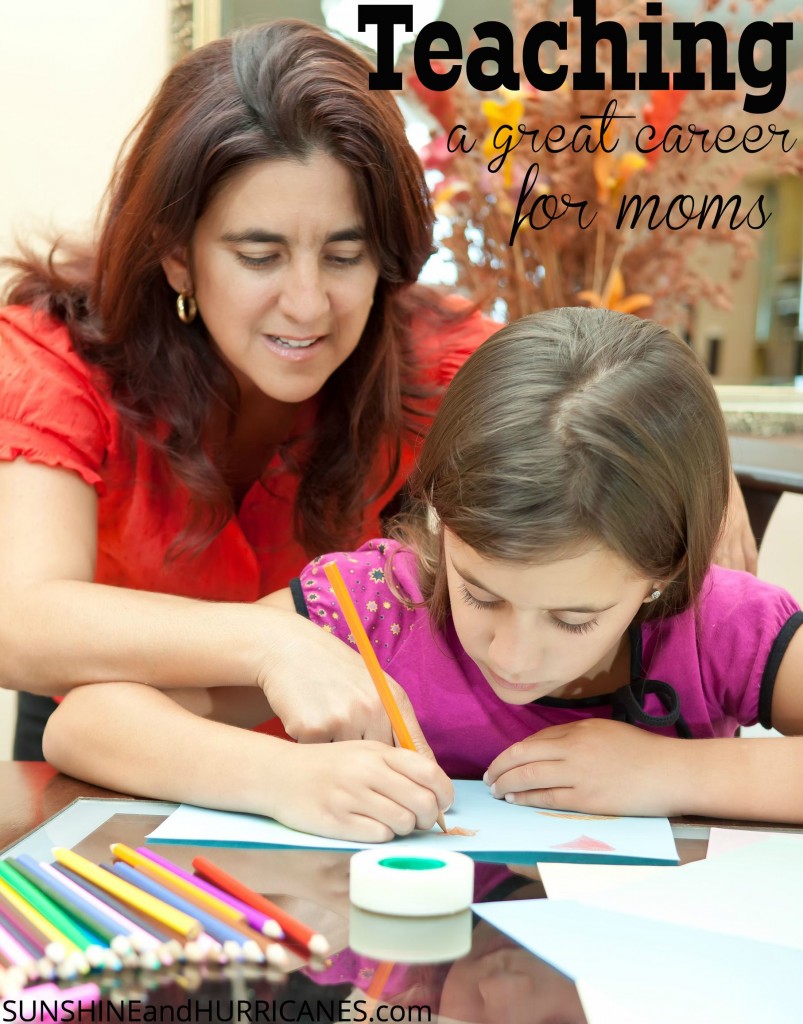 Teaching can be an excellent occupation, especially for mothers looking to re-enter the workforce. After taking several years "off", although we all know there really is no "down time" when you're a mom, I've had several friends choose to pursue full time jobs outside the home or head back to school themselves. Entering the field of education can be a wonderful career for moms that gives them the opportunity to impact the world and use strategies present in everyday parenting.
Teaching provides several benefits for moms
Better Schedule
One of the chief concerns for any woman working outside of the home is finding quality, competent childcare for her children. One of the big benefits of a teaching career is that large blocks of time out of school, like Summer, Christmas or Spring Break, are also times when teachers are out of school so additional, costly childcare is unnecessary. There is also the advantage, in elementary settings, of having your child attend the same school that you're employed at and therefore alleviate the need for before/after care for young kids. It's a definite advantage, having a vacation and daily schedule matching your children's.
Deeper Understanding
With a background in the field of education, you're better equipped to understand the principles behind the curriculum and how it is chosen for your child. You get the "inside track" on the best ways to help kids learn and grow and are able to help your own children master difficult subject areas. You'll have an increased knowledge of testing practices and current educational hot topics.
Stronger Bond
Being able to spend more time with your kids, traveling to and from school, and at school wide events provides additional opportunities for interaction. A sense of community and a deep connection between home and school life is fostered when a parent works at a child's school. As a parent, you're able to form relationships with your family's teachers and provide additional support for school endeavors.
Wider Impact
All mothers are concerned with the culture that their children are growing up in and the world they'll inherit. Teaching is a tangible way to truly impact future generations and ultimately the world. The hours a teacher spends pouring into young lives are never wasted and are part of bringing new ideas and change to the world. When a mother is also a teacher, she is helping shape the world her children and grandchildren will inherit.
Wouldn't you agree that when it comes to careers for moms, teaching offers a wide variety of benefits? If you were thinking about pursuing teaching, are you're wondering what your next step should be? Maybe you have a degree in another field and are ready to change careers, maybe you never had the opportunity to complete your degree or start college, now is your time!
One of the advantages of living in the the 21st Century is the ability to attend school right from the comfort of your own home. Busy women can take online courses and continue their education while their children are at school or in the evenings at home, eliminating the need to pay for additional childcare. Kaplan University has a solid educational program for women looking to expand their career choices without sacrificing all of their precious family time. Using an online format, time is saved in transportation to and from a campus, the hours are flexible, and there is more individual interaction with professors.
Kaplan University has a fantastic tool to help you identify where you may fit in the wide field of education. This
Virtual Advisor
is a quick, simple way for you to see all the opportunities available and help you decide if a career as a teacher or curriculum developer is in your future. Be sure to utilize the free and easy
Virtual Advisor
and you just may be heading back to school alongside the kids!