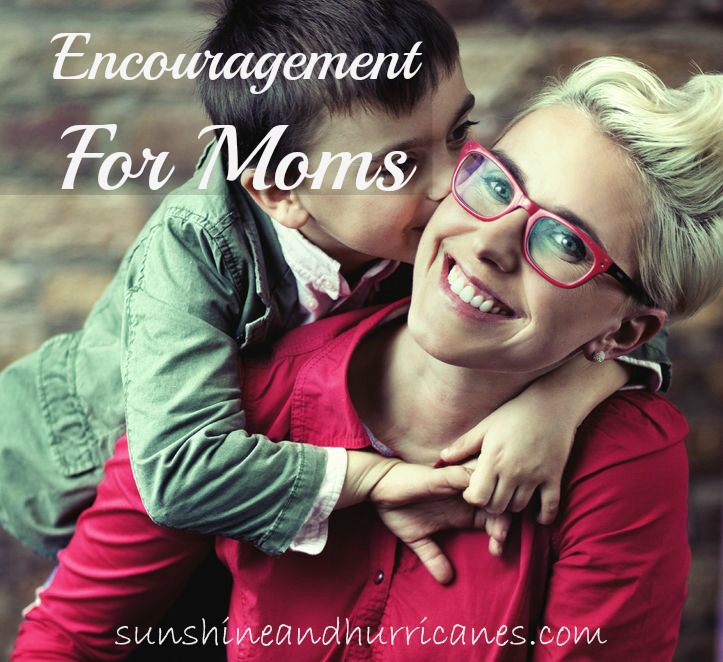 Waiting. I spend a lot of time waiting, especially for my kids. There's the normal things I wait for, like them getting dressed or tying their shoes, the activities I wait at: sports practices, dance rehearsals, and the carlines at school to pick them up. Honestly, since having a smartphone, waiting is not that bad, goodness knows there are hundreds of things to keep me distracted and occupied.
But, I began to wonder if there weren't better things I could do with my time while waiting, especially in the carline each afternoon. I love social media and the internet, I consider Google a friend, texting & emails are my favorite way to communicate if I can't be face to face, & I've been known to dabble in a little Words With Friends, yet I could use my time more wisely.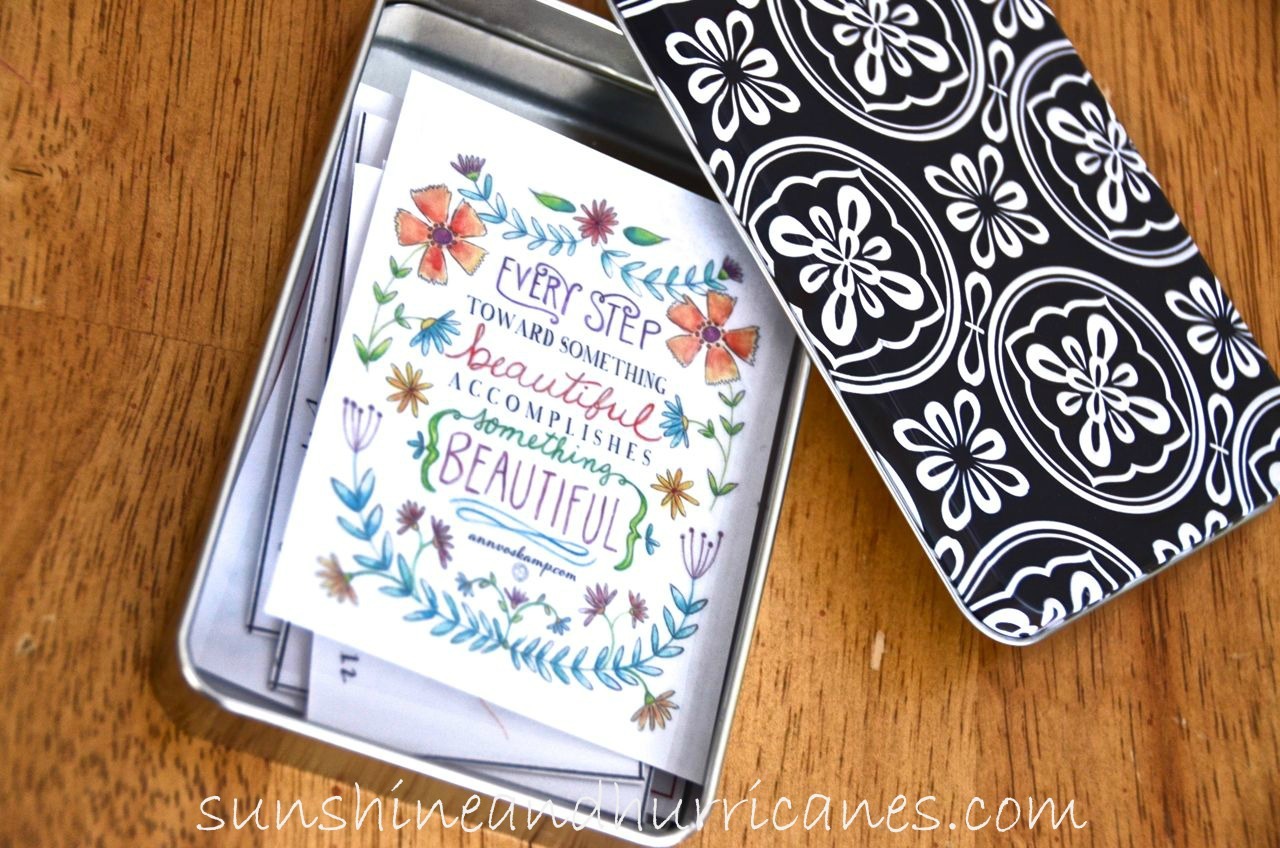 Enter this little project, the Encouragement Box. I had all sorts of grandiose ideas for this but the reality was, quick & easy was the most likely to happen. So, I picked up some tins that are meant to hold gift cards(they were $1 each), found some printables, laminated them for longevity, and stuck them in the tin. Voila, something to flip through & meditate on that has potential to make a difference in the lives of my kiddos.
When we take care of ourselves, when we feed our mind positive, life giving words, when we fill our souls with God's word, we can change our attitudes, our feelings, and our reactions. I love the verse from 1 Samuel 30:6 that says , "…David encouraged himself in the Lord." Himself. He didn't wait for his BFF or spouse to do it. He didn't wait until he felt like it. He didn't get bogged down in his circumstances(which were that everyone around him wanted to stone him). He encouraged himself.
When I've been intentional about taking the time to nourish my spirit, to encourage myself in the Lord, I'm still not perfect, but I am slower to anger and quicker to love. I become more like the mom I long to be, the mom who models the qualities I'm striving to teach my children. There is more patience than frustration, more peace than arguing, more joy than tears, more love, more hugs, more smiles.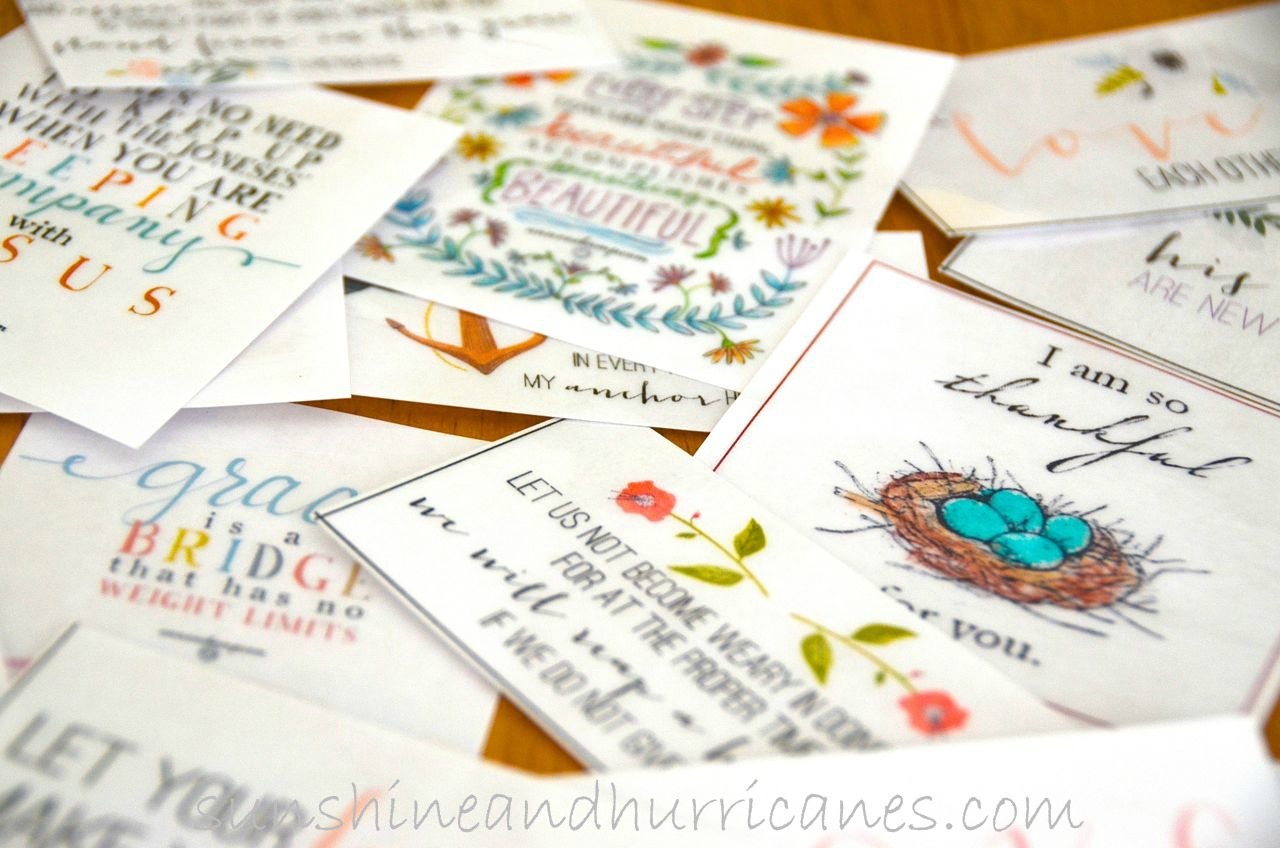 The Encouragement Box is small and fits easily in the console area of my van. It's accessible when I'm sitting in my car, waiting in traffic or our crazy long school car lines. I can easily toss it in my purse and flip through the cards when I'm waiting at sports or the doctor's office and choose to spend my time on something that will positively impact my family.
I made up several of these boxes and plan to share them with my friends. They'd be a great favor at a women's ministry event or party or fun to stick in a baby shower gift. It's one of those thoughtful little things that would be neat to do with a group of girlfriends and then distribute all over the place: schools, MOPS groups, playgroups, the ballfield, wherever moms gather!
So get busy, my friends, encourage yourself, fill up your soul, and then pass it on, you won't regret it!
I used the free printables that I found from Ann Voskamp & Mothers of Daughters and there are hundreds more out there if you do a quick search.