This post may contain affiliate links.
Doesn't it seem like these days even the smallest of occasions requires an elaborate celebration?
For some, party planning can be a fun and creative outlet, for others it is a dreaded obligation. Either way, as the holidays approach, most of us will take a turn or two wearing the hostess hat. To keep from spending a fortune on the festivities, no matter your party planning personality, here are some clever ideas for party planning on a budget.

The How to of Party Planning on a Budget
Invites
Printing, addressing, stamping and mailing is tedious, costly, and not very earth friendly. Save the planet, while saving time and money by sending out online invitations. Most people are familiar with Evite, but several other sites have gained in popularity such as paperless post and punchbowl.
These services are super handy, because you can also easily manage RSVP's and even other elements of your big bash like who is bringing what dish for a potluck or what allergies you might need to know about when putting together your menu.
Snacks and Spirits
Serving any kind of sit down meal, from brunch to dinner is going to involve a big bill at the grocery store. If possible, try to schedule your event before or after a primary dining time. For kids parties, early afternoon usually works well and having cake is plenty. However, store bought bakery goods can still cost a pretty penny. Consider making cupcakes, a prepared mix and icing can make two dozen for just a few dollars. Pick up a selection of inexpensive sprinkles, a bag of mini-marshmallows and choc chips and then let your guests top their own treat. Not up to cooking, substitute ice cream for the cupcakes. Either way, you'll definitely hear a kiddie chorus of Best.Party.Ever!!!!!!
For an adult gathering, plan an evening soiree for around 7:00 and offer light finger foods or a dessert buffet. Also, if alcohol will be involved, try to avoid an open bar. Instead, stick to basic beer and wine. Better yet, create your own concoction like Rum Punch or Sangria, which gives you more control over liquor content. If full cocktails are a must, then check out the drink calculator on Evite to makes sure that you don't overbuy.
When a Meal is a Must
If it is your year to have the entire clan for Thanksgiving or Christmas dinner, simply serving appetizers is not going to cut it. However, there are definitely ways to keep to a budget and avoid spending all day in the kitchen. While it may seem tacky to have guests pitch in, I know I always ask the host or hostess if I can bring anything and I am quite sincere in my offer.
Even when I'm told they've got it all covered, at a minimum I still show up with a bottle of wine or a small hostess gift
. Take advantage of people's willingness to contribute and if you need something specific, let them know. Plus, flattery will always pay off. If Aunt Betty's sweet potato casserole is a family favorite, tell her how much you look forward to it and I bet she'll fix you two.
When it comes to the main course, like a Thanksgiving Turkey or a Christmas Ham, keep an eye out for sales and coupons. Turkey's freeze nicely, so you can certainly buy one ahead of time if the price is right. Plus, in some cases stores even give them away for free when you buy other items. Honeybaked Hams are a tradition in our household as well as for many other families. There are always coupons in Sunday circulars or online during the holiday season.
As for those pumpkin pies and dozens of Christmas cookies, the best time to buy baking goods is from October to December. There are consistently high dollar coupons in the marketplace and my frugal friends actually stock up on these items for the whole year during this time, because the deals are so phenomenal.
(If you're looking for a little recipe inspiration you can't go wrong with as well as
The Pioneer Woman Cooks: A Year of Holidays: 140 Step-by-Step Recipes for Simple, Scrumptious Celebrations
(I have yet to serve a recipe form The Pioneer Woman that doesn't have guests gushing!)
Themes and Supplies
This is the area where people often blow their budget. Having a theme can be great, but then it becomes tempting to go out and buy all the cute coordinating paper products and décor to go along with it.
For those who really relish the details, check out blogs like The Hostess with the Mostess or Kara's Party Ideas, which have become the go to source for fancy fetes. These ladies offer a treasure trove of clever and classy ideas, which are almost all DIY. If you've got the time, you will certainly save a bundle.
You can also look for a little help with popular books on entertaining. I like Pret-a-Party: Great Ideas for Good Times and Creative Entertaining.
On the other hand, if you're more of the keep it simple mindset, it's really not necessary to have everything matchy matchy. Inexpensive paper goods can be found at Dollar Stores that are often comparable to what you'll find at specialized party retailers. However, don't rule those stores out entirely since their clearance sections can turn up some fabulous finds.
Also, online sites like Oriental Trading or Celebrate Express can be a one stop resource offering many affordable options and typically will ship for free if you spend a set amount. When it comes to décor, look first at what you already have on hand like candles, flowers from your own yard and seasonal trimmings. If you're still coming up short, post to FB or text a buddy and see what you might be able to borrow.
Don't Compare, It's About Connecting
Lastly, the most important thing to remember is get togethers are meant to be about spending time with friends and family and having fun. If you're too stressed out to enjoy the event, then what's the point?
In the long run, people won't be talking about the gourmet food or Martha Stewart centerpieces, but about the memories made with those who matter most.
Looking for a few more tips and tricks to help you with holiday planning? Check out our post on the 5 MUST HAVE Holiday apps. Gift list management, menu planning, and so much more. Who knew your phone could be a little assistant right in your pocket?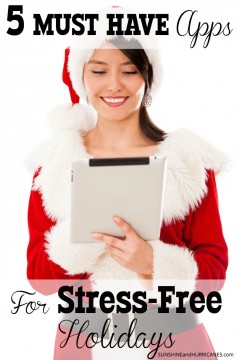 We've also got some great recipes for your gathering!
Follow Sunshine and Hurricanes 's board Christmas Food & Baking on Pinterest.
Do you have any favorite tips for Party Planning on a Budget?