Doesn't it seem these days like we've taken away the simplicity that made Kids Birthday Parties so much fun and turned everything into an elaborate celebration that's almost more about the parents than the kids? Unfortunately, these over the top kids birthday parties are more than many can afford. Birthday party planning on a budget is a reality for most of us and that is okay. You can still have one amazing birthday bash, without forking out a ton of cash!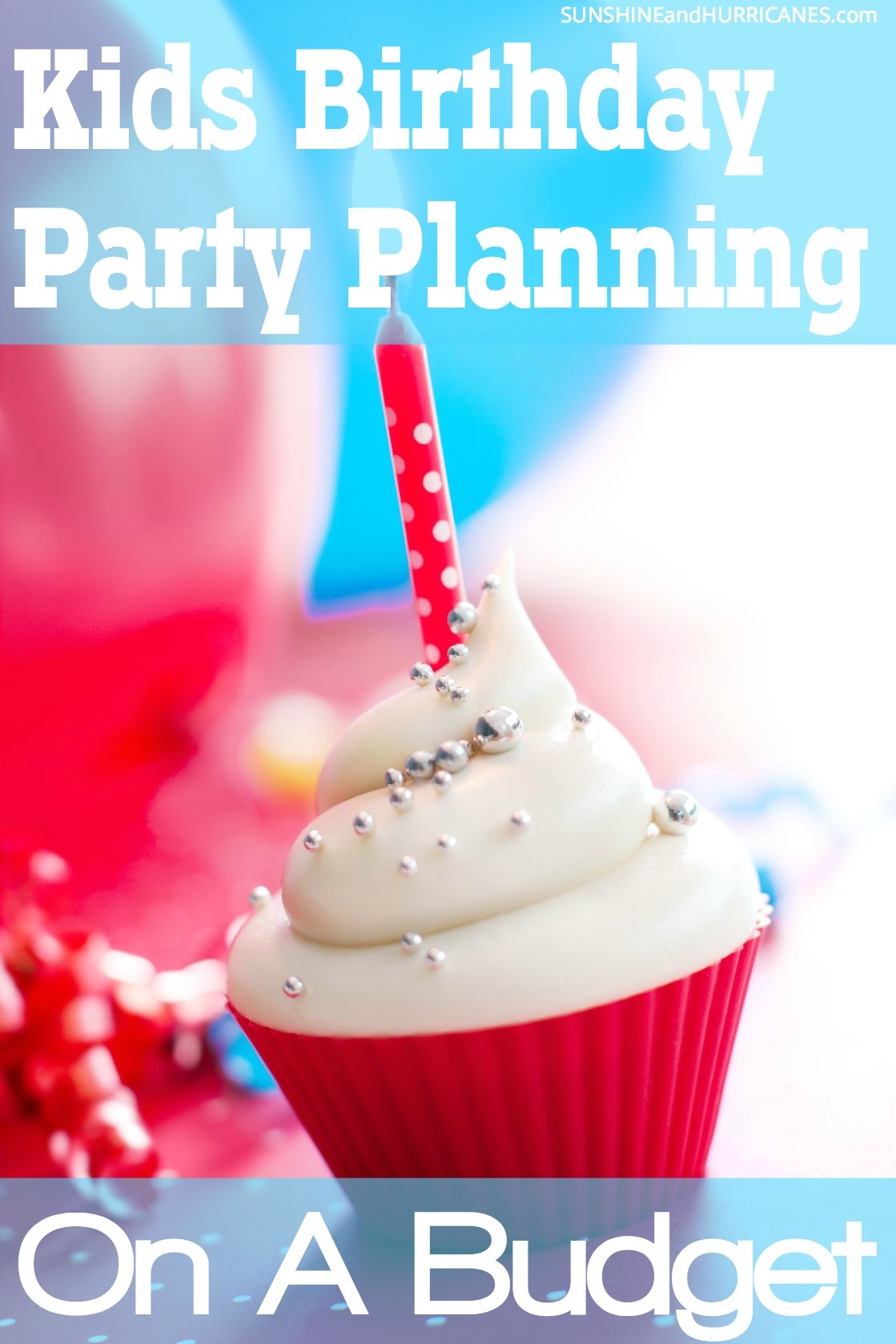 Now, I realize , party planning can be a fun and creative outlet for some. There was a time when I absolutely had over the top parties for my kids and I enjoyed it.However, I know others find it to be a dreaded obligation, and at this point in my life I sympathize. I've come to a point where I've really tried to take everything in my parenting life down a few notches. Either way, to keep from spending a fortune on the festivities, no matter your party planning personality, be sure to set a budget and use some of the tips below to help you stick to it.
Invites

Printing, addressing, stamping and mailing is tedious, costly, and not very earth friendly. Save the planet, while saving time and money by sending out online invitations. Most people are familiar with Evite, but several other sites have gained in popularity such as paperlesspost and punchbowl.
These services are super handy, because you can also easily manage RSVP's and even other elements of your big event, like allergies, which have become an issue when planning food for parties these days.
Location
While local attractions like bounce houses or themes restaurants can be a popular place to have a party, they can also cost a pretty penny. Have the Birthday party at home or at a local park, which can be just as fun! Keep in mind that kids don't always like everything as structured as adults. Anywhere then can run around and just hang out with their friends is a blast for them.
Snacks and Spirits

For kids parties, plan an early afternoon party to avoid having to serve lunch. Instead, easy snacks and a cake will be plenty. However, store bought bakery goods can still cost a pretty penny. Consider making cupcakes, a prepared mix and icing can make two dozen for just a few dollars. Pick up a selection of inexpensive sprinkles, a bag of mini-marshmallows and choc chips and then let your guests top their own treat.Not up to cooking, substitute ice cream for the cupcakes. Either way, you'll definitely hear a kiddie chorus of Best.Party.Ever!!!!!!
Themes and Supplies
This is the area where people often blow their budget. Having a theme can be great, but then it becomes tempting to go out and buy all the cute coordinating paper products and décor to go along with it. For those who really relish the details, check out blogs like The Hostess with the Mostess or Kara's Party Ideas, which have become the go to source for fancy fetes. These ladies offer a treasure trove of clever and classy ideas, which are almost all DIY. If you've got the time, you will certainly save a bundle.
On the other hand, if you're more of the keep it simple mindset, it's really not necessary to have everything matchy matchy. Inexpensive paper goods can be found at Dollar Stores that are often comparable to what you'll find at specialized party retailers. However, don't rule those stores out entirely since their clearance sections can turn up some fabulous finds.
Also, online sites like Oriental Trading or Celebrate Express can be a one stop resource offering many affordable options and typically will ship for free if you spend a set amount. When it comes to décor, look first at what you already have on hand like candles, flowers from your own yard and seasonal trimmings. If you're still coming up short, post to FB or text a buddy and see what you might be able to borrow.
Entertainment
Bounce houses, magicians, clowns, singers or other forms of paid entertainment are just not necessary to create a great Birthday Party experience. Instead take it old school and remember all the things you loved doing at Birthday parties when you were little. Consider the following lower cost activities instead:
Scavenger Hunts
Freeze Tag
Water Balloons
Pin the Tail on the Donkey
A Piñata
Sack Races
Bean Bag Toss
Memory Tray
Three Legged Race
Ballon Toss
Limbo
Face Painting
Donuts on a String
Dress-Up
Killer Wink
Duck Duck Goose
Goody Bags
In recent years, the whole goody bag situation has gotten totally out of control! First of all, this is a party for one child, so why are we sending everyone else home with gifts. Your providing a wonderful afternoon with sweets and fun, that is more than enough. Plus, come on, most of us can't stand these goody bags with all the cheap junk and candy that our kids bring home and we ultimately end up throwing out. If you MUST send the kids off with a little something, consider giving them each a balloon as they leave the party or have them do a small craft at the party that they can take home with them.
We've also put together a great post with Affordable Alternatives to Goody Bags for more inspiration.
Don't Compare or Compete
Lastly, the most important thing to remember is that a Birthday Party shouldn't be about trying to impress a bunch of kids (or their parents for that matter). Kids will often tell you they had just as much fun at a simple backyard Birthday party as they do at a big Birthday party blow-out that cost a bundle.
Competition is something we create in our heads, when at the end of the day, making great memories doesn't haven't a price tag attached that determines their value.
Looking for other great Kids Birthday Ideas?
Follow Sunshine and Hurricanes 's board Kids Party Ideas on Pinterest.