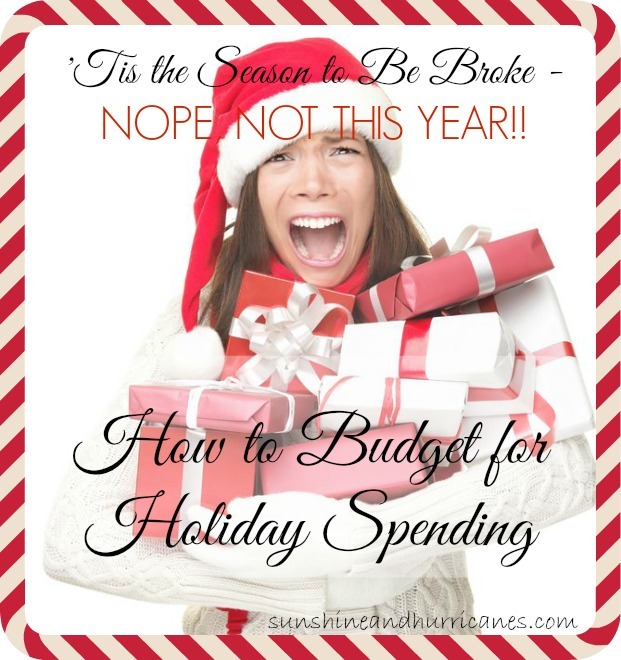 'Tis the Season to Be Broke – Not This Year!
How to Budget for Holiday Spending
Don't Miss the Other Posts in Our Saving Money, Saving Time, Saving Your Sanity at the Holidays Series:
AFFORDABLE WAYS TO AVOID HOLIDAY BURNOUT
Yes, it's only September and I am talking about the holidays. Believe me, like you, the last thing I want to think about is Christmas. Especially considering here in Florida, the thermometer continues to hover near 100 degrees and I'm barely recovering from back to school shock.
However, unless Santa will be lining your stocking with cash this season, you can't afford to wait until your enjoying Thanksgiving leftovers to begin budgeting for the holidays. Take a few proactive steps now and avoid having "pay off credit cards" as one of your New Year's resolution in 2013.
Whose Been Naughty and Whose Been Nice
We've made it easy for you to make a list of all the people you expect to be buying gifts for this holiday season with our Holiday Gift List Printable. Now, check it twice and make sure you haven't missed anyone. This includes teachers, postal workers, newspaper carriers, babysitters and others that we sometimes overlook. Finally, put an amount next to each person of what you think you can afford and when you're done calculate the total.
Don't Forget the Egg Nog
Okay, now you've got a gift budget, but lets talk about all the HIDDEN extra costs that we often fail to account for when it comes to celebrating the season. Adorable new Christmas PJs for the kids with Rudolph's nose on the butt. Baking supplies for thirty types of cookies. The inevitability that the lights for the tree will have one bulb burnt out which inexplicably causes all the rest to not work – like we have time to figure that mess out – off to the store for new lights. It sure adds up, doesn't it?!
A Budget Free of Sugarplums
Once you add #1 and #2 you'll probably begin to understand Scrooge's perspective a bit better. Before you start contemplating whether Grandam really deserves a gift this year, let's see what your family can realistically afford to spend. In many instances by starting early, establishing a savings goal and putting the money aside you can avoid resorting to plastic and still get Grandam something nice. Take a look at your monthly income and expenses from now until December and evaluate if over the next four months there are ways you can save enough to meet your projected holiday budget. Consider opening a totally separate savings account with scheduled automatic deposits just to keep you on track. Check out smartypig.com, an online savings site, that will help you create goals, open an account, earn interest on your savings and even can give you cash back if you convert your savings into gift cards when you're ready to spend (they have a large selection just perfect for holiday shopping). If you're still coming up short, well maybe it's time to do some early trimming.
It's The Thought that Counts
If you got to #3 and discovered that your generous heart far exceeds your ability to give, you are not alone. In light of our country's economy, many families are using this as way to refocus on the real reason for the season. The best gift you can give your family is staying out of debt and setting the right financial example for your children. Here are a few suggestions for maximizing holiday spirit while minimizing holiday spending.
Shop Savvy and On Sale
You have almost four months to get ready, so take advantage of price monitoring sites like pricepinx.com to track the gifts you plan to buy and snatch them up when their prices are lowest. Also, be sure to check sites like retailmenot.com for coupon codes and/or free shipping when you're ready to buy.
Send E-Cards
They are economical, eco-friendly and so easy. Using a site like smilebox.com you can even customize with a family photo or a video.
Get Creative
With online resources available like Pinterest, handmade gifts have gone from cheap and cheesy to cute and classy. You will find an endless supply of easy and inexpensive ideas that are sure to impress with a minimal amount of crafting skill required.
The Gift of Time
Instead of giving your friend the latest best seller, offer to babysit her kids for a few hours so she has time to read the book you got her last year. The last thing most teachers want is another candle, but an extra pair of hands to help with prep work over the break would be enthusiastically received. Even younger kids have skills that can be put to use – how about computer lessons for grandma and grandpa.
I hope by now you have forgiven me for forcing you to face the holidays this far in advance. Maybe this year you will not only find yourself a little less broke, but also a little less stressed by spreading the spending and the preparation over several months.
Download Printable Here: Holiday Gift List Printable