In our post on How to Budget for Holiday Spending I provided a few budgeting strategies to help you make it through the holidays debt free. Hopefully, you have already set aside some savings for your Christmas gift shopping. If you did plan ahead, of course you want to make those funds go as far as possible by figuring out how to save on holiday gifts this year.
It's also possible you're just not a planner and now you're wondering how you're going to be able to afford gifts for everyone on your list this year. Either way, we've got some great ways to stretch your dollars this holiday season and still feel generous.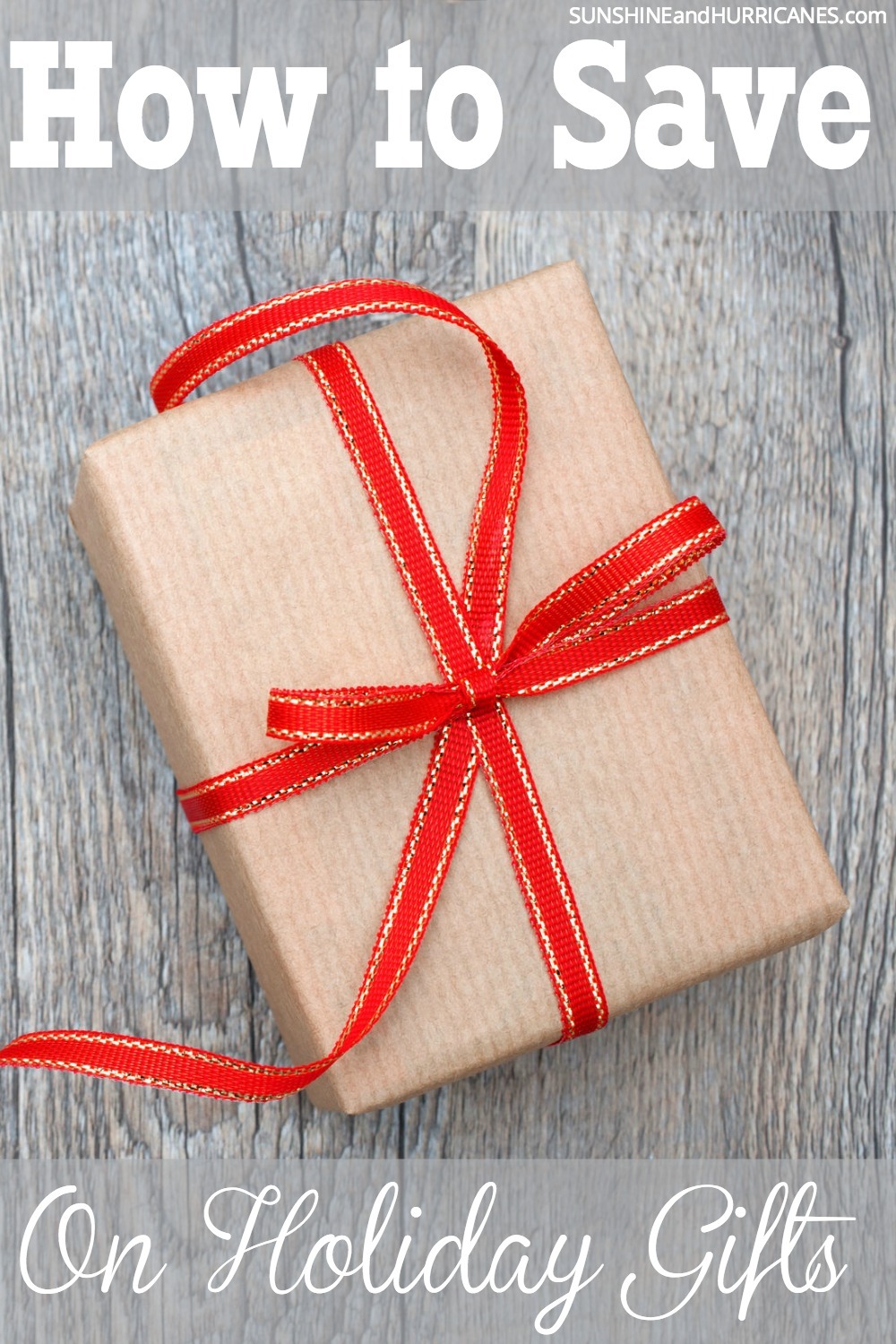 The funny things about gifts is that they don't always have to be expensive to be thoughtful and touching. Some of my favorite gifts are the ones that show a person took some time and really considered who I am and what would be meaningful to me. For example, I'm a Starbucks addict, so even just a $5 gift card will treat me to one of my favorite drinks.
As you are buying gifts for everyone, spending time to make it personal is better than how much you spend. With that in mind, here are some of our best tips and tricks for how to save on holiday gifts:
1. Groupon, Living Social, Eversave and More…
If you have not signed up for any of these popular daily deal sites, at least for the holiday season it is more than worth the extra emails. Sites like these offer a wide range of potential gift options that are 30%-70% off standard pricing. A few examples include photo gifts, spa services, magazine subscriptions and restaurant gift cards. An added bonus, since most of these sites are customized to offer local deals, you may be able to find bargains on many of the holiday happenings in your area. Just be sure to stick to the most recognized of these sites, copycats tend to pop up during this time of year and can be scams.
2. Follow the Bloggers
While Michelle and I occasionally have money saving posts, there is a whole group of blogs that focus on NOTHING BUT SAVING YOU MONEY! This could not be a better time of year to follow a few of them on Facebook or Twitter. They provide a rare service because they help you save not only money, but also time, because they do the deal seeking work for you.
Frugal bloggers have been tracking the holiday sales for years and they know what is going on sale and when, both online and in the stores. They are also excellent at educating their readers about what is a "so-so" price and what is a "you're never going to find this for less so buy it now" price. Additional benefits for following the bloggers are giveaways or even special discount codes that are only for their readers.
If you don't already have your own favorites, check out a few of our favorites:
Saving Money Never Goes Out of Style
3. Amazon
I'm such a fan of Amazon, I actually wrote an ENTIRE post about All the Ways to Save with Amazon.com.
As an overview though, anytime during the year, there are some great bargains to be found on Amazon. Starting just before Black Friday (The Friday after Thanksgiving), Amazon takes its daily deals into overdrive.
Some of the more sought after gifts will sell out quickly, so don't ponder your purchases too long or they may be snapped out from under you (even if it's in your cart it isn't yours until you pay for it).
Additionally, if you have an iPhone or android, you can download the free Price Check by Amazon app which will allow you to quickly compare prices while you are shopping in brick and mortar stores by scanning barcodes, taking a picture or typing in a product name. If the price is substantially less on Amazon, you can use the app to purchase the item right then and there.
4. Gift Cards
In today's world, when people already have so much, it can be difficult to find just the right gift. Giving someone the option to choose what they want is easy for you, fun for them and part of the reason gift cards have become so popular. However, according to Consumer Reports more than 27% of those cards are never redeemed.
Do you happen to have a few still lying around the house? Consider using them to purchase gifts for people on your list at no cost to you. Another option is to sell or trade them for a more preferred card at sites like giftcardrescue.com. These sites will both buy gift cards you don't want and sell gift cards sometimes for as much as 35% off their face value.
5. Dollar Stores
I confess, I have long been a bit of a snob when it comes to dollar stores. In my mind, most of what they carried was either low quality or stuff that nobody else really wanted. Over the last year, my attitude has begun to shift and if you haven't visited one lately I encourage you to take a few minutes and browse the aisles.
Quite a bit of merchandise still falls into the categories I mentioned above, but there can be some real steals as well. This a perfect place for stocking stuffers, wrapping paper or gift bags, cards and even small toys for the kids.
6. Plan for Next Year
While every year there are the "hot" items that we think we MUST have, there are many timeless gifts that people appreciate year after year. Shop the after Christmas clearance sales and you can pick-up these enduring favorites for as much as 75% off regular prices. Puzzles, board games, scarves, candles, bath products and even kitchen tools are great little items that can not only be tucked away for the following Christmas, but can also be used during the year as Birthday presents, teacher gifts or even little hostess thank yous. Also, if you're running low on your seasonal supplies like gift wrap, boxes, bows or any décor, don't' miss the opportunity to stock up while it's super cheap.
Now, we know it's not just the gift buying that can get expensive at the holidays. So, we've got a few more useful posts to help you keep your budget on track this season.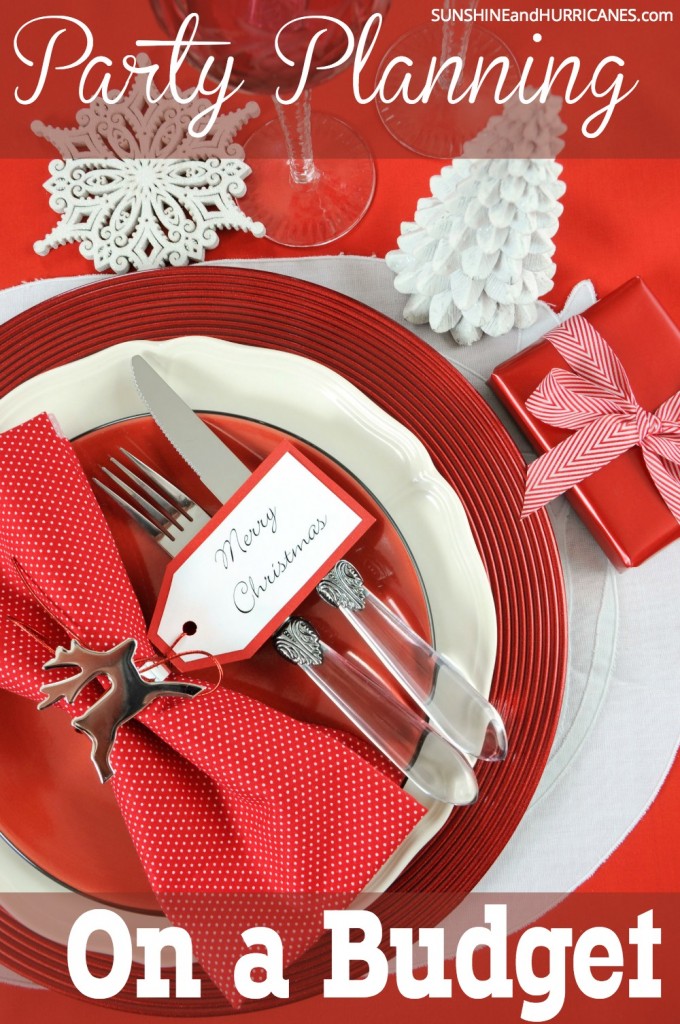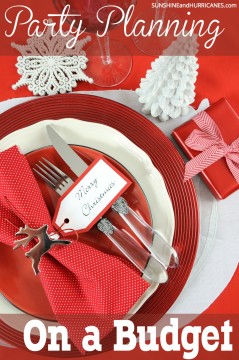 We've also got EVEN MORE holiday tips on Pinterest
Follow Sunshine and Hurricanes 's board Christmas Gifts & Tips on Pinterest.
We'd love to know, do you have any tips for how to save on holiday gifts?