This post may contain affiliate links.
All the Ways to Save with Amazon.com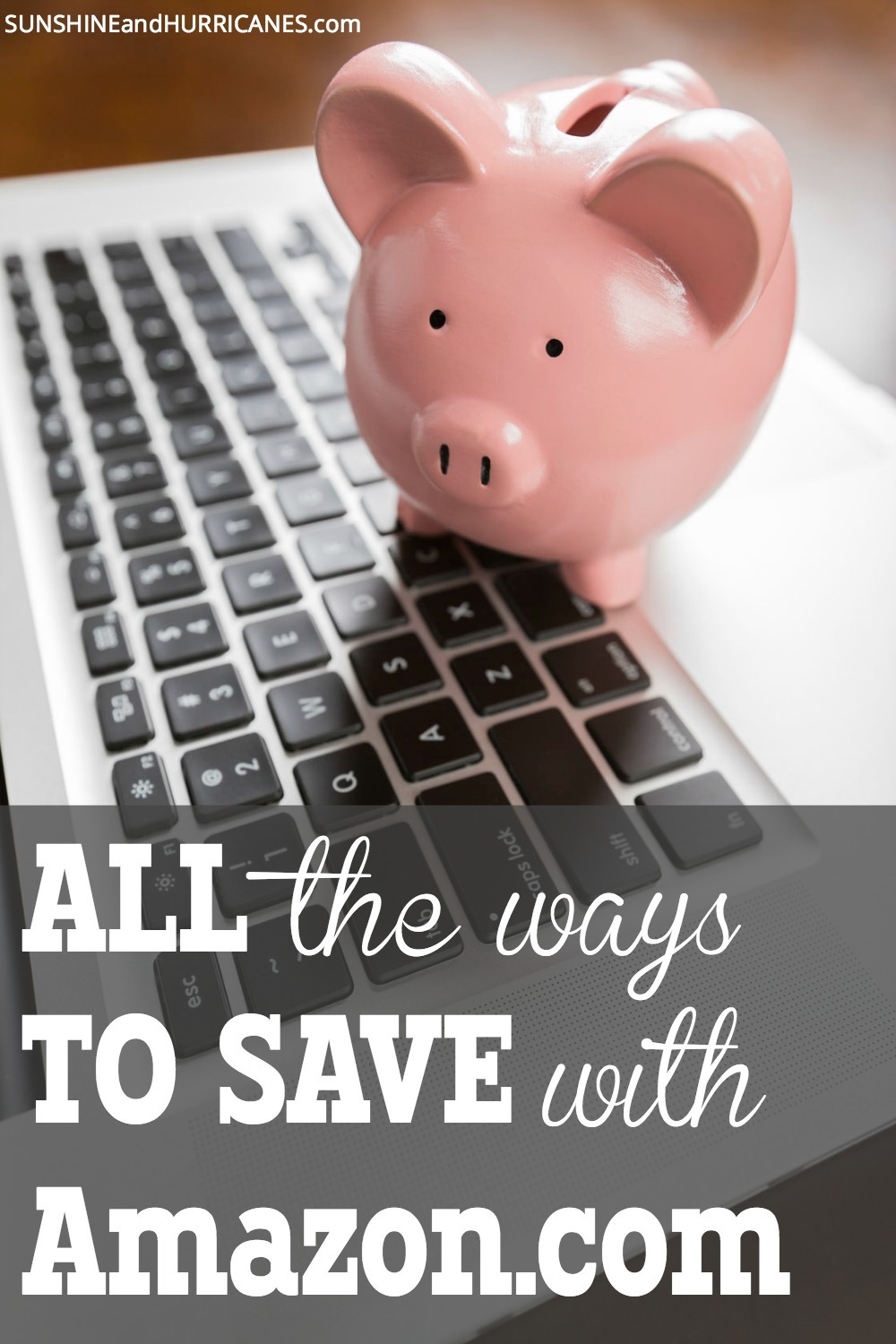 Some You May Know and Some You May not
"Life has just been crazy," is my default excuse for an array of parenting offenses from forgetting permission slips to overlooked emails. Yet that implies that in some way this is a new phenomenon, rather than the on-going state of my life since, well, forever. While I hold out hope that I will get it all under control, considering I'm not even sure what "it all" is, that is an unlikely scenario. Therefore, I've begun to appreciate anything that makes my life at least marginally more manageable. Even better is when it also helps me save money.
One such recent personal discovery for me is Amazon.com. Although, they've been around for over a decade, it is only in the last year that I have come to appreciate all this site offers. There is of course the obvious. Any time I can purchase something without leaving my house, I've saved sanity, time and gas money right there. Win-Win –Win! Here are a few other lesser-known advantages about this online retailer:
Today's Deals
If you go to Amazon.com's main page and look up along the top menu bar right by the logo, you'll see a "today's deals" option. Give it a click and a whole new world of savings will be presented to you. Once on this page, a secondary menu navigation bar will presented with the following titles:
Gold Box and Lightning Deals
– Every day Amazon offers these deals, often on popular and common items, which can be up to 75% off. This is an unbeatable resource for gifts and on occasion, I've scored a few steals on pricier small household appliances that I had been putting off replacing. The Gold Box deals are a predetermined set of items available for the whole day, while lighting deals are only offered for a few hours.
Amazon Coupons
– yes, Amazon has coupons, 100's of them for everything from groceries, to baby items, to electronics. They tend to be fairly high dollar and can definitely add up. In addition, you can sign up for a coupons newsletter that will keep you informed about the most popular coupons on the site.
Amazon Outlet
– I had NO idea Amazon had an outlet until just weeks ago. This is where you'll find close-outs, general markdowns and overstocks for anywhere from 25% -75% off regular prices. Again, the selection is vast, but heavily discounted pet supplies were definitely a find for me.
Amazon Deals and Bargains
– In this section, you can search by category for all the latest sales and promotions. Bookworms should keep an eye on this page, because there are often inexpensive kindle books, $2 or less. It can also be a good place to monitor for children's toys.
Amazon Warehouse Deals
– This is a marketplace for open-box, refurbished or barely used products offered at steep price cuts. It's worth a browse especially if you've been considering some kind of new electronic gadget, or if you're in need of sporting goods. For some reason, grocery and personal care liquidations are also located in the warehouse deals. Amazon sells in bulk similarly to stores like Costco and Sam's, so you'll be buying large quantities. There is always controversy about whether the bulk discounts really pan out, but at these prices, you'll definitely find savings that would be hard to match.
Amazon Digital Deals
– Stop by here for the free app of the day and just may be lucky enough to catch some additional free content. Otherwise, you'll at least be able to download at a discount from a large selection of apps, games, music, rentals, audiobooks and software.
Other Ways to Save
Subscribe and Save
– this service is a must have if you become a regular Amazon shopper for a specific set of products; diapers, paper products, organic snacks. You set a scheduled delivery at an interval that works for you (weekly, monthly) and then automatically receive up to 15% off on those products and free shipping. Change or cancel at any time, it's not a big deal.
Amazon Prime (One Year Membership)

– For $99 a year (yes, it recently went up in price but I think it is still more than worth it), you can join Amazon prime and receive all the following benefits:
– free 2-day shipping on all your purchases
(which can be shared with up to 4 other household members)
– unlimited access to free streaming of 1,000's of movies and TV shows
– borrow one book from the kindle lending library for free each month
Amazon Mom
and Amazon Student
– By signing up for Amazon Mom or Student, you can receive many of the same benefits at Prime members for an introductory period of three months for moms and six months for college students. After that, members have to sign-up for prime to continue receiving the other discounts that are associated with the programs. Mom's pay the full $78 a year price, but get perks like bigger discounts on diapers and other family essentials. College students are actually able to subscribe to prime for up to four years at a discounted rate of $39 per year. Also, if you have a college student, Amazon sells new, used and electronic textbooks and even rents textbooks.
Supplemental Saving to Amazon
Ebates – This cashback site offers up to 3% back on your Amazon purchases. It doesn't cover all product categories, but it can't hurt to start here and then navigate onto Amazon. Every little bit helps.
CamelCamelCamel.com – Amazon has some serious price fluctuations on its products. If there is something you are dying to order, but you've got a specific budget in mind, use this site to track the item(s) and it will let you know when the price is right.
JungleDeals – a blog solely devoted to keeping up with the best Amazon deals.