This post brought to you by Stren. The content and opinions expressed below are that of Sunshine and Hurricanes.

EASY TIPS FOR FAMILY FISHING FUN
Fishing with family is a tradition that my husband grew up with and a hobby we are passionate about sharing with our children. With four children between the ages of 4 and 13, we've figured out a few things that make it easier when you take the family fishing and would love to share them with you!
SIMPLE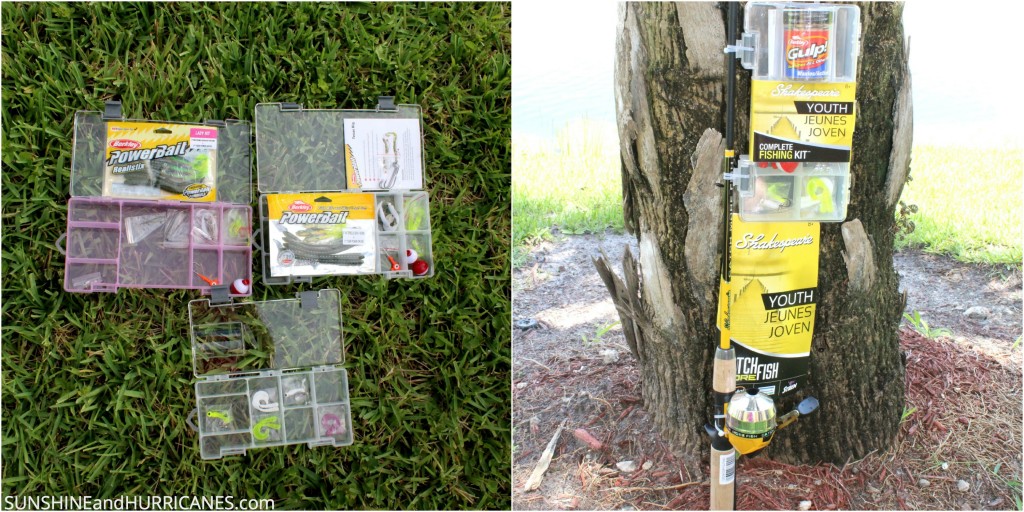 You've heard it said, "Keep it simple", and that is especially true when fishing with kids. Having hundreds of lures, 12 kinds of bait, and 20 pounds of additional gear is completely unnecessary on family fishing excursions. As I mentioned before, my hubs is the resident fishing expert and in charge of getting everyone set up and the more simplistic the rig, the quicker everyone can start casting. Our family enjoyed the Shakespeare catch more fishing combo that come pre-spooled with fishing line and include a fishing kit equipped with everything you need to get started.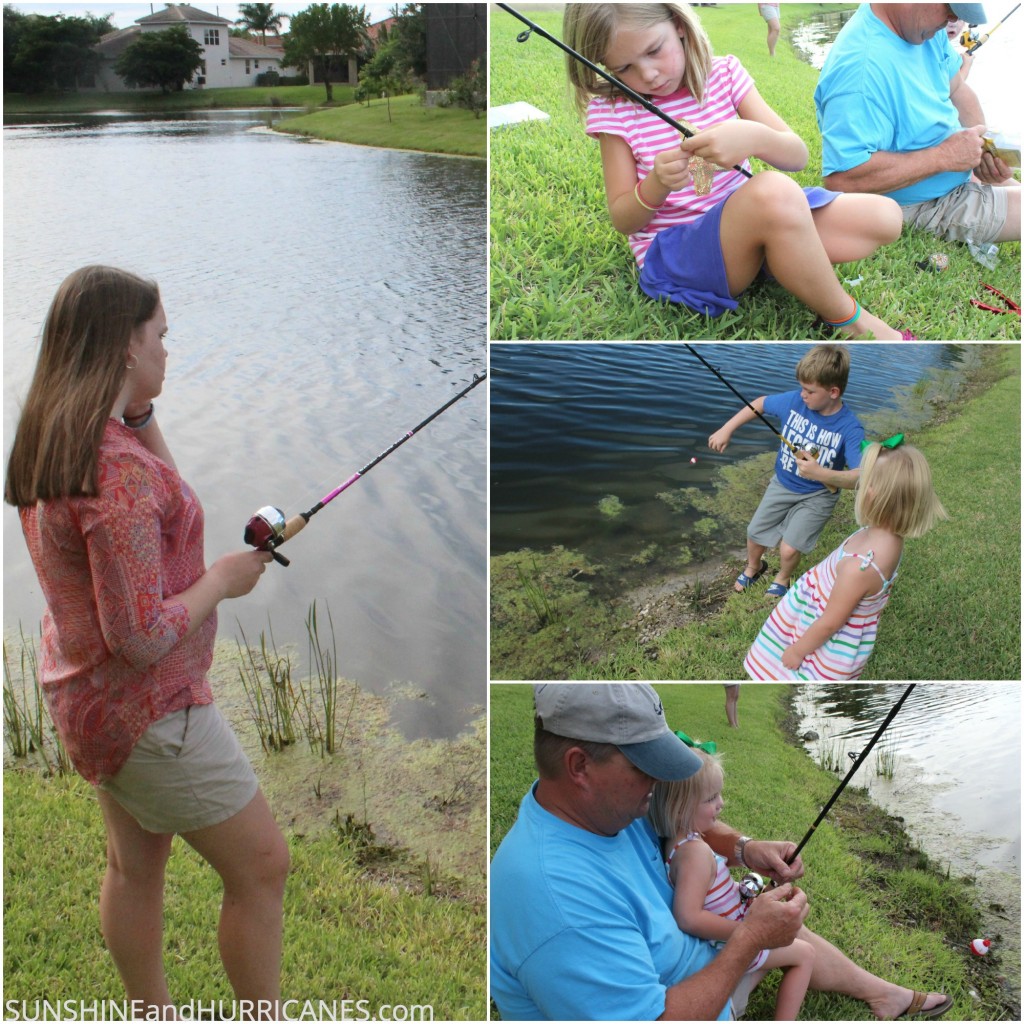 There is a large pond behind our home, full of fish my kids enjoy catching several times per week. And while we love driving 15 minutes to fish at the beach or hopping a boat at the marina, it is definitely simpler to walk out back and start fishing. Don't underestimate the value of everyday family time; big excursions are fun and exciting but taking advantage of the opportunities in your neighborhood can be precious as well.
SAFE
If fishing from any type of boat, lifejackets are a must, no exceptions! Explain that expectation before hitting the water so kids know that's an absolute. Be sure to apply sunscreen and wear appropriate clothing with shoes that are able to get wet. Also, do a quick sweep of the shoreline for any hazards, like broken glass or metal. We've found that outlining our rules, specific to the area we're in, go a long way to ensuring a day of family fun and not one of tears or disappointment.
SHORT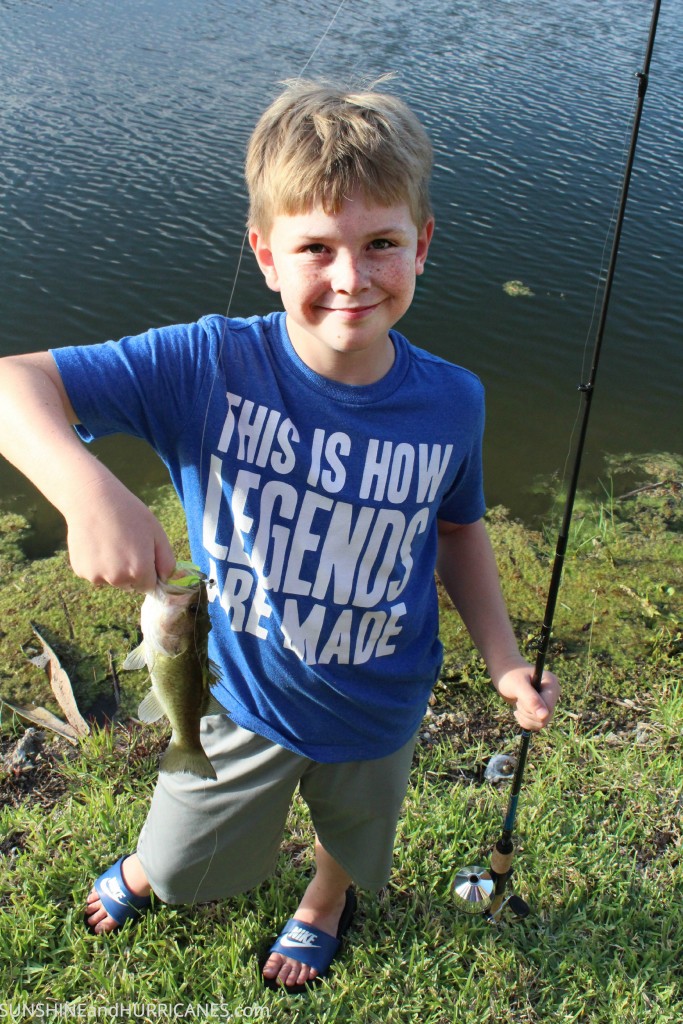 My hubs likes nothing better than fishing from sunrise to sunset. We've tried trips of various lengths and discovered that shorter was better. A few hours with everyone engaged and happy is far more enjoyable than an entire day with grumpy, bored kiddos. In general, about 2 hours on land or 3-4 on a boat has been a good guideline with our family.We love fishing at the beach because if the kids need a break, they can put the rods down and build sandcastles or play in the water until their interest is piqued again.
SWEET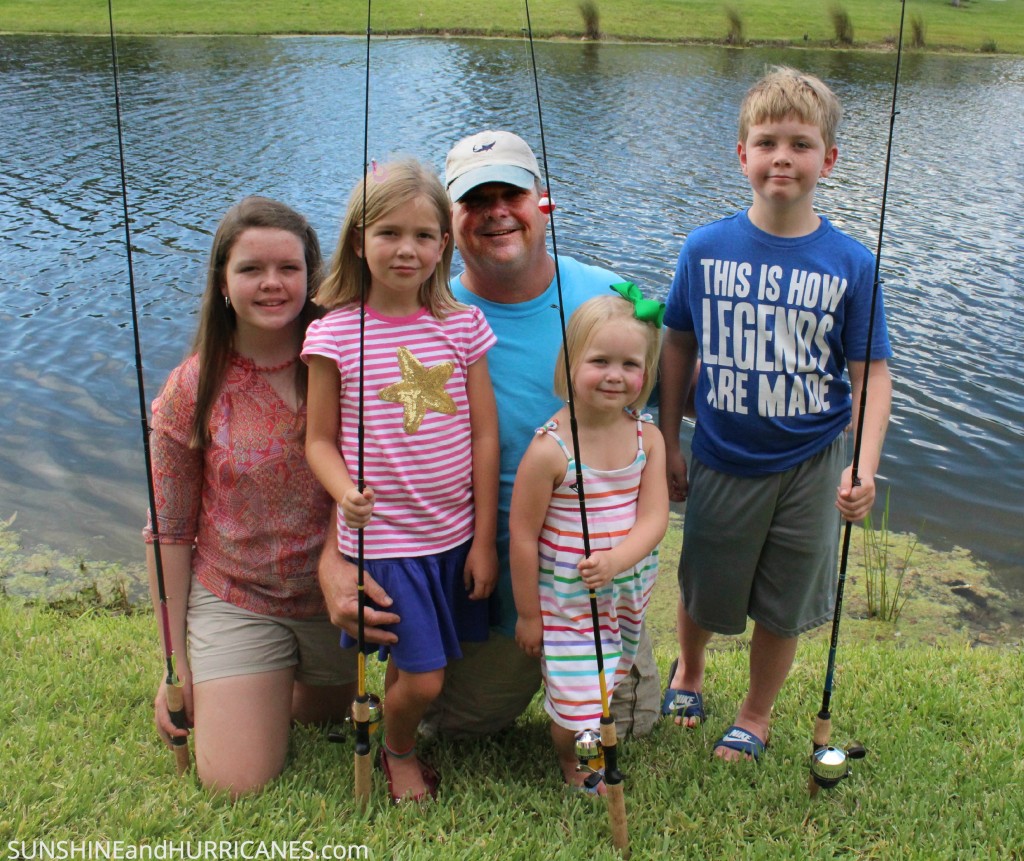 Spending time as a family, engaged in an active, purposeful activity, is one of the best ways to bond and enrich your family life. Over the years, hilarious stories, sweet memories, and great conversations have occurred on boats and shorelines as we've fished and spent time with one another. Parents, pack an extra measure of patience as you set out on your adventure, it can be hectic with multiple kids but you're striving for a positive experience that will keep your kids wanting to return to the water again and again. Taking the opportunity to relax and be still, scheduling a break from the crazy busy of life is priceless gift to give yourself and your family, it's something your children will remember forever.
To make your fishing excursion even smoother, be sure to look at this fishing checklist and short video from the experts at Shakespeare, you'll be ready to fish for F-U-N!
Fishing as a family can give you a lifetime of amazing memories, just keep the four S's in mind: Simple, Safe, Short, and Sweet. You'll be on your way to creating a legacy of fun and sportsmanship!
Be sure to enter here to win a memorable fishing trip with a friend! Simply upload a photo of yourself fishing and share a fishing memory!