This post may contain affiliate links.
10 Great Book Club Suggestions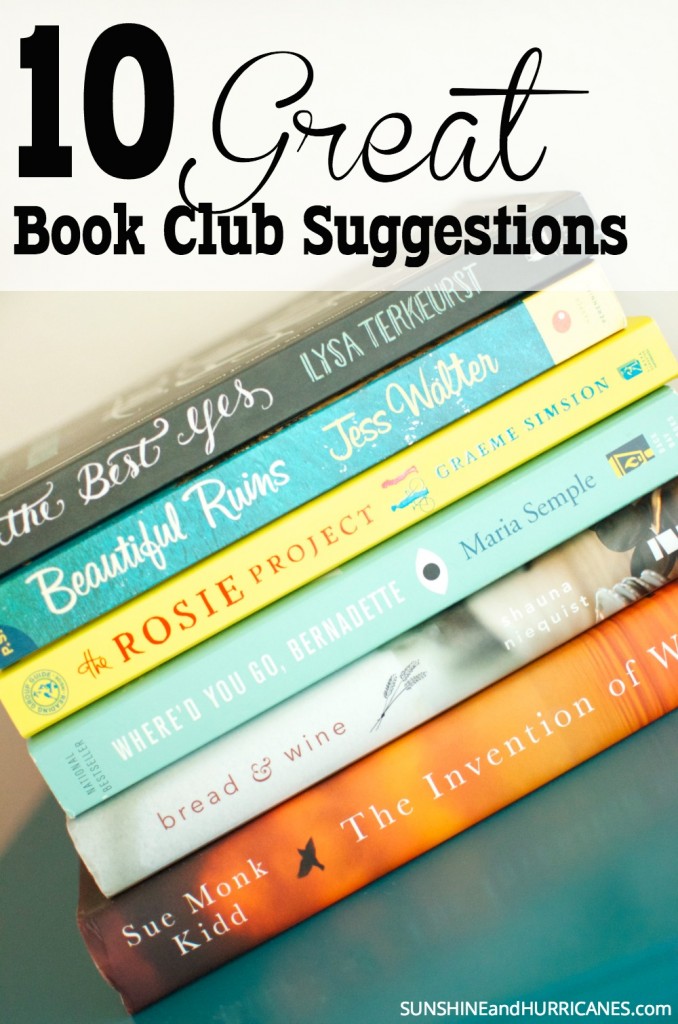 Michelle and I are both BIG readers. We were constantly suggesting books to each other and then sharing all our insights once we'd both finished a book the other had recommended. So, when Michelle asked me one day if I thought we should start a book club, I answered with an enthusiastic Yes, Right Now, Let's Go!
We've had a great year of reading with our book club, but sometimes coming up with a good book was the hardest part of the whole endeavor. It's not always easy to get everyone on the same page. 😉
Anyway, we thought any book club just getting started, or maybe one already underway that is struggling like we did, would appreciate our 10 Best Book Club Suggestions. There is something to suit everyone's tastes here from romance to religion and everything in between.
1.7: An Experimental Mutiny Against Excess
by Jen Hatmaker
7 is the true story of how Jen took seven months, identified seven areas of excess, and made seven simple choices to fight back against the modern-day diseases of greed, materialism, and overindulgence. Food. Clothes. Spending. Media. Possessions. Waste. Stress. She spends thirty days on each topic, boiling it down to the number seven. Only eat seven foods, wear seven articles of clothing, and spend money in seven places. Eliminate use of seven media types, give away seven things each day for one month, adopt seven green habits, and observe "seven sacred pauses." So, what's the payoff from living a deeply reduced life? A call toward simplicity and generosity that transcends social experiment to become a radically better existence.
2. Bread andWine: A Love Letter to Life Around the Table with Recipes
by Shauna Niequist
Bread & Wine is a collection of essays about family relationships, friendships, and the meals that bring us together. This mix of Anne Lamott and Barefoot Contessa is a funny, honest, and vulnerable spiritual memoir. Bread & Wine is a celebration of food shared, reminding readers of the joy found in a life around the table. It's about the ways God teaches and nourishes people as they nourish the people around them. It's about hunger, both physical and otherwise, and the connections between the two.
3. Where'd You Go, Bernadette
by Maria Semple
Seattle Mom, Bernadette Fox is an enigma to all those around her, except for her daughter, 15 year old Bee. This book, narrated by Bee, deconstructs Bernadette, layer by layer trying to explain her sudden disappearance. Dark, humorous and compelling, Where Did You Go Bernadette by Maria Semple will keep you wondering until the very last page and maybe even beyond.
4. What Alice Forgot
by Liane Moriarty
Alice Love hits her head at the gym and wakes up thinking she is 29, madly in love with her husband and about to have a baby. She quickly discovers that she is actually 39, in the midst of a divorce and now has three unruly kids. As she struggles to put her life back together, she explores all the ways we unknowingly let life take us off course and whether or not it is possible to find our way back.
5. The Rosie Project: A Novel
by Graeme Simsion
Brilliant, but socially awkward professor Don Tillman uses science to design the "wife project," which he believes will lead him to his ideal spouse. Although he determines fiery and spontaneous Rosie Jarman is an unqualified candidate, he still agrees to help with the search for her biological father. As they work together, their relationship takes both funny and endearing turns, but most of all reveals to them how the best things that happen to us can often be the most unexpected.
6. The Girl on the Train
by Paula Hawkins
If you loved Gone Girl then this book should definitely be on your beach read list. A dark psychological thriller told from the perspective of three different complex characters you'll both love and hate. The story is filled with unexpected twists and turns as everyone attempts to discover the secret behind the sudden disappearance of one of the characters. You'll be cunningly drawn in from the first chapter and increasingly obsessed until the very end.
7. Living Well, Spending Less: 12 Secrets of the Good Life
by Ruth Soukup
Living Well Spending Less: 12 Secrets to the Good Life is a book of hope and encouragement for overwhelmed moms. Using personal stories to provide heartfelt advice and practical tips, Soukup leads moms through the steps to achieve balance in everything from parenting to household management in order to live the lives they've always wanted.
8. The Invention of Wings
by Sue Monk Kidd
Hetty "Handful" Grimke, an urban slave in early nineteenth century Charleston, yearns for life beyond the suffocating walls that enclose her within the wealthy Grimke household. The Grimke's daughter, Sarah, has known from an early age she is meant to do something large in the world, but she is hemmed in by the limits imposed on women. As the story follows the lives of these two strong and willful female characters, an amazing historical novel unfolds that tells of both the abolition and women's rights movements and how the two came to intersect.
9. Beautiful Ruins: A Novel
by Jess Walter
My own note: This was my least favorite book that we read, but others truly enjoyed it and it is well rated on Amazon.
From the moment it opens—on a rocky patch of Italian coastline, circa 1962, when a daydreaming young innkeeper looks out over the water and spies a mysterious woman approaching him on a boat, the book takes the reader on a deeply human, roller coaster of a novel. From the lavish set of Cleopatra to the shabby revelry of the Edinburgh Fringe Festival, to the back lots of contemporary Hollywood, – a story of flawed yet fascinating people navigating the rocky shores of their lives while clinging to their improbable dreams.
10.The Best Yes: Making Wise Decisions in the Midst of Endless Demands
by Lysa Terkeurst
Are you a people pleaser who has a hard time saying "no"? Do you feel like your spread too think trying to keep up with all the things life seems to expect of us today as woman and mother's? This book teaches you how to let go of some of the guilt as well as the obligations, so when you do decide to say "yes" you can do so with confidence and sense that you are really giving yourself to those things that mean the most to you and will make the biggest impact on the people and the world around you.
Are there other books you would suggest for a book club?
Looking for more Book Club Fun?
Follow Sunshine and Hurricanes 's board Book Club Banter on Pinterest.