Inside:10 Back To School Traditions for Your Family
Tiny backpacks filled with supplies, super hero lunch boxes, cute new outfits that match and are actually clean.
Each first day of school is such a milestone in our children's lives. And whether it's the very first time they are heading off for a day away from us or they are old enough to drive themselves to school, it is always a memorable moment.
That's why back to school traditions often become such an important part of our families lives.These are the memories they will look back on fondly. They might even carry on these traditions with their own kids.
Whether you are sending your first born off to pre-school or you have older kids, it's never too late to start these back to school traditions.
You don't have to be super creative and it doesn't require over the top planning. Just a few simple gestures to get the school year started off on the right foot.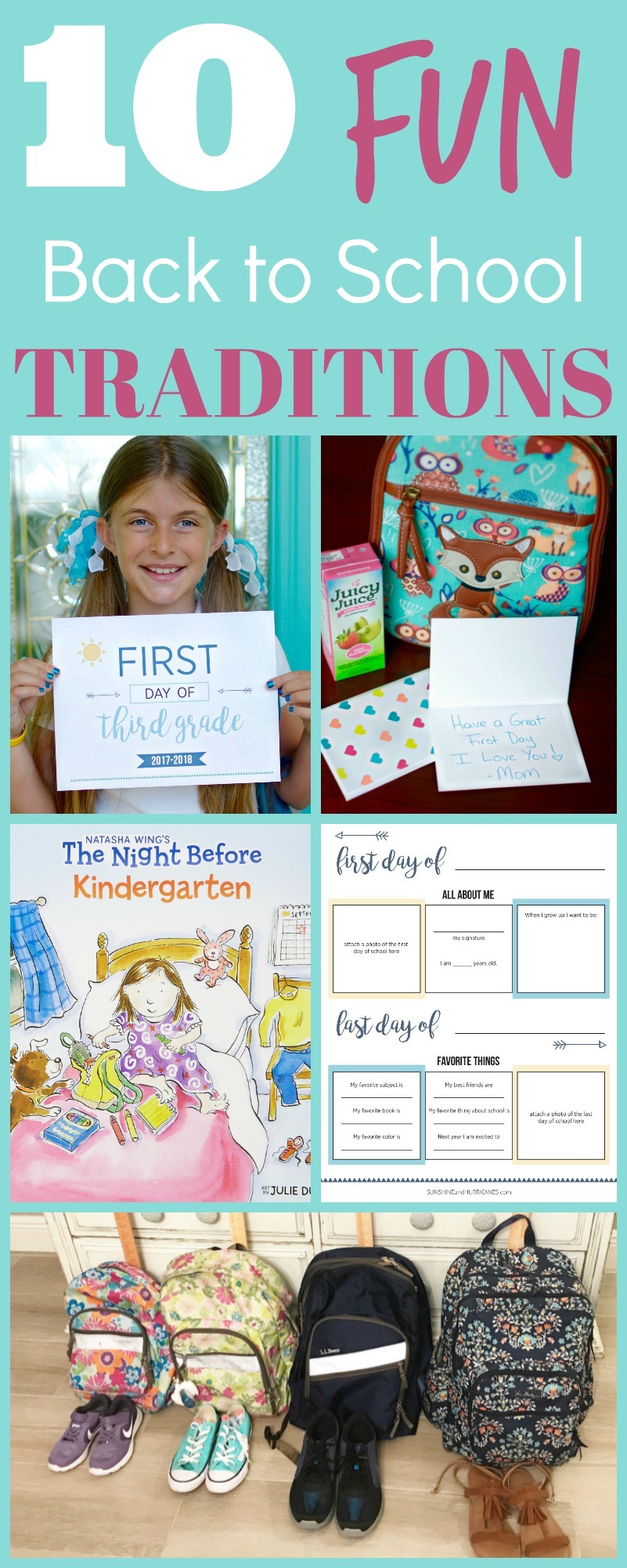 10 Fun and Meaningful Back to School Traditions for Your Family
Pick one or two or go ahead and do them all. These back to school traditions are favorites in our family and those of our closest friends. Find what fits for your family or maybe even create a few new ones of your own.
It's all about connecting with your kids in memorable ways and capturing those important moments that go by so fast in our busy lives.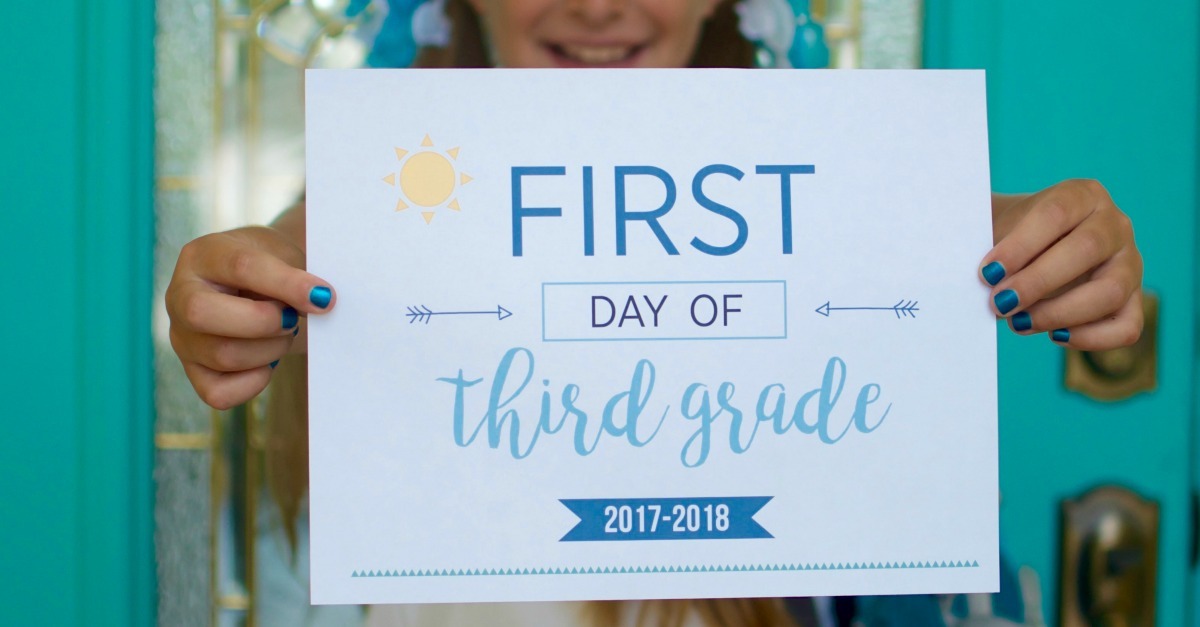 First Day/Last Day of School Photo
Don't miss out on making sure you have photo evidence of the first day of school each year. Your kids will love looking back and seeing how much they've changed from the beginning to the end of each year. Don't get too caught up in getting the "perfect" photo, it's often the candid ones that really show their personalities.
You can use our whimsical printable signs to keep track of each year as it passes from Kindergarten thru Twelfth grade. (we made the older signs a little more grown-up for your tweens and teens).
FREE First Day of School Printables
First Day/Last Day All About Me Questionnaire
It's amazing how much our children can change from the beginning of a school year to the end. It's not just about how they look physically, but how they write and think and even some of their favorite things. Record a few of the fun facts from year to year as a way to compare and remember all these little things about them.
First Day of School/Last Day of School All About Me Printable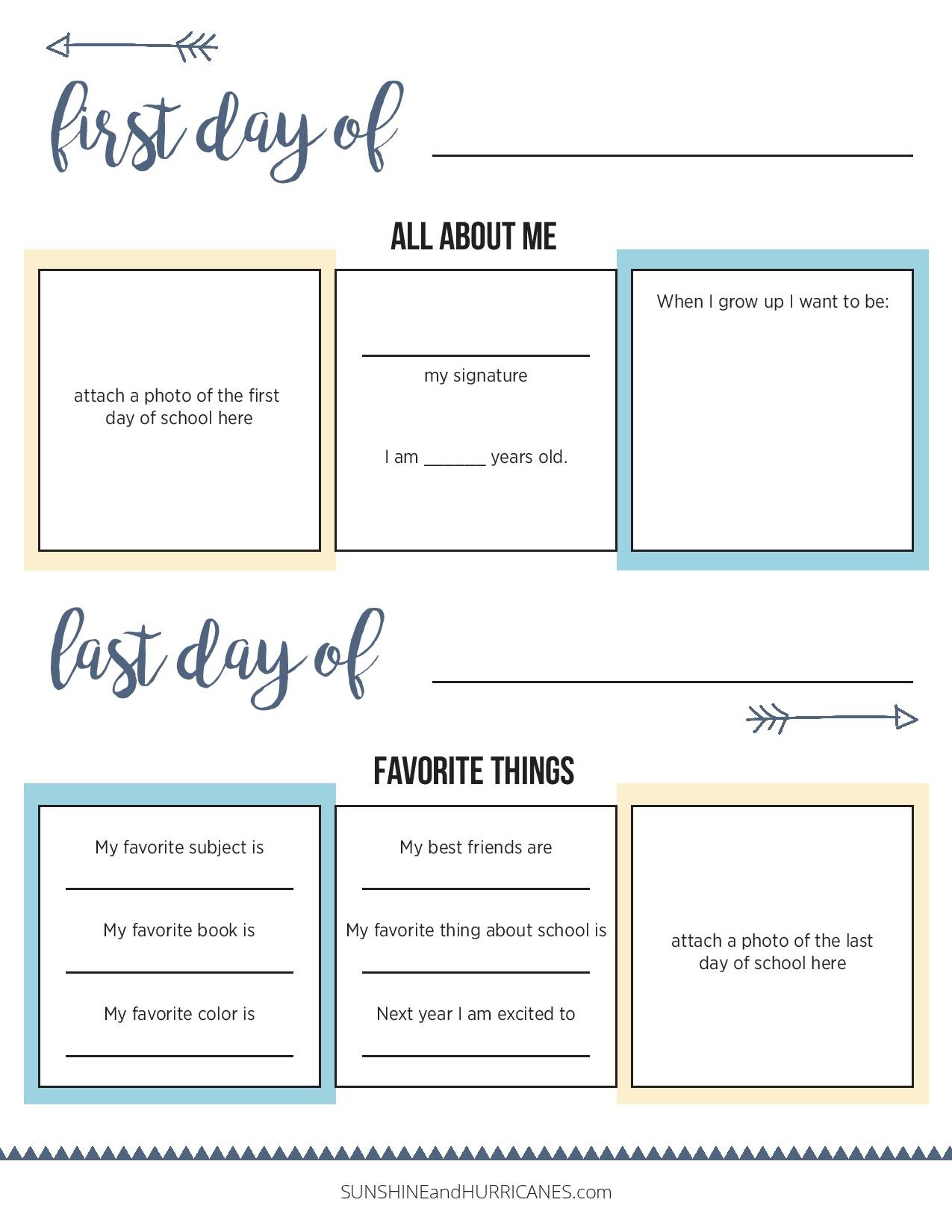 Breakfast for Dinner
On the night before the first day, having breakfast for dinner is a fun tradition that kids will always remember. The morning of the first day can be so busy and there usually isn't time for a full sit-down family breakfast. So, flip some flapjacks or whip up some waffles and then round up everyone's favorite toppings and enjoy your fun feast.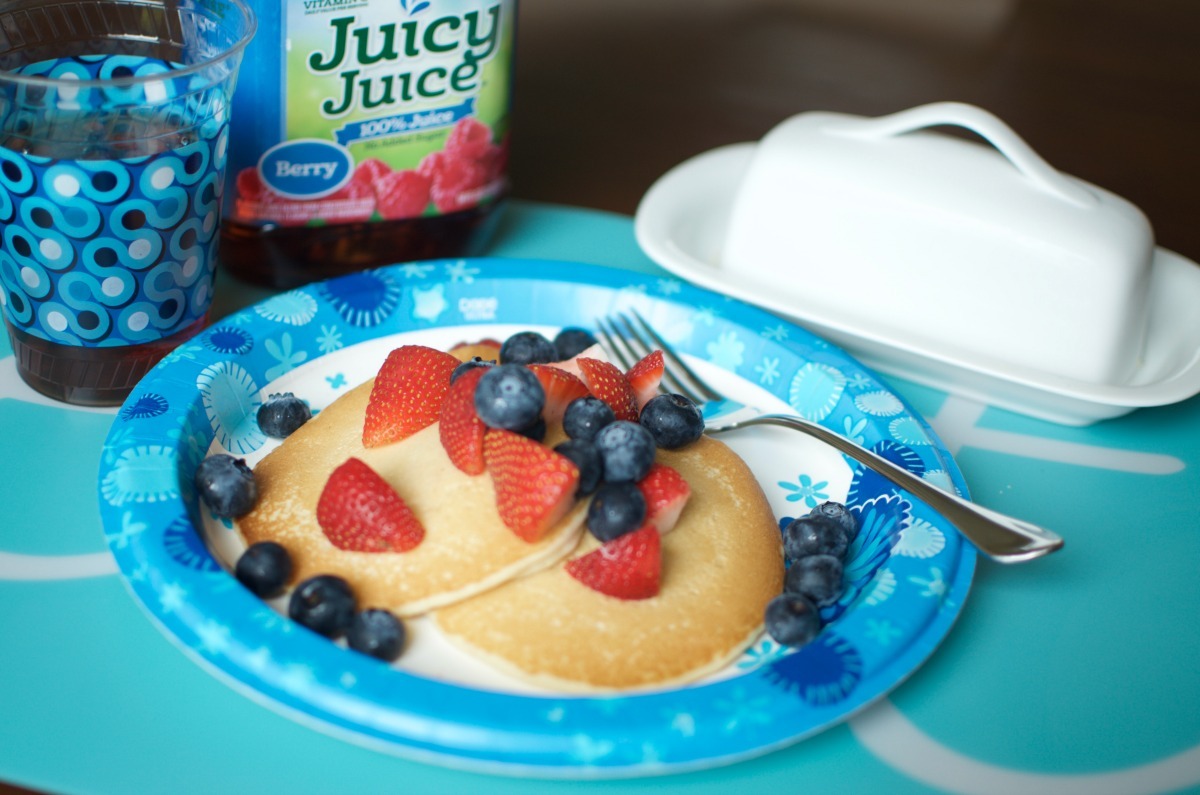 Encourage your kids to talk about the upcoming school year. What are they most excited about? What are they most worried about? What subject do they think will be their favorite?
Related: Family Table Topics
This is a great time to get a glimpse into their hopes, expectations and fears about the new school year. It can help build up their confidence and let you know where they may need a little bit of encouragement.
Lunchbox Letter
Let your kids pick out some of their favorite things for their lunches the first week back to school.
For my kids this usually means PB&J, grapes or berries, popcorn for a side snack and a juice box. If you have older kids who pack their own lunches, help them get everything ready the night before the first day so you're not overly rushed the next morning.
If you're still packing lunches for them, the same goes for you, try to have it all ready the night before to give yourself extra time in the morning.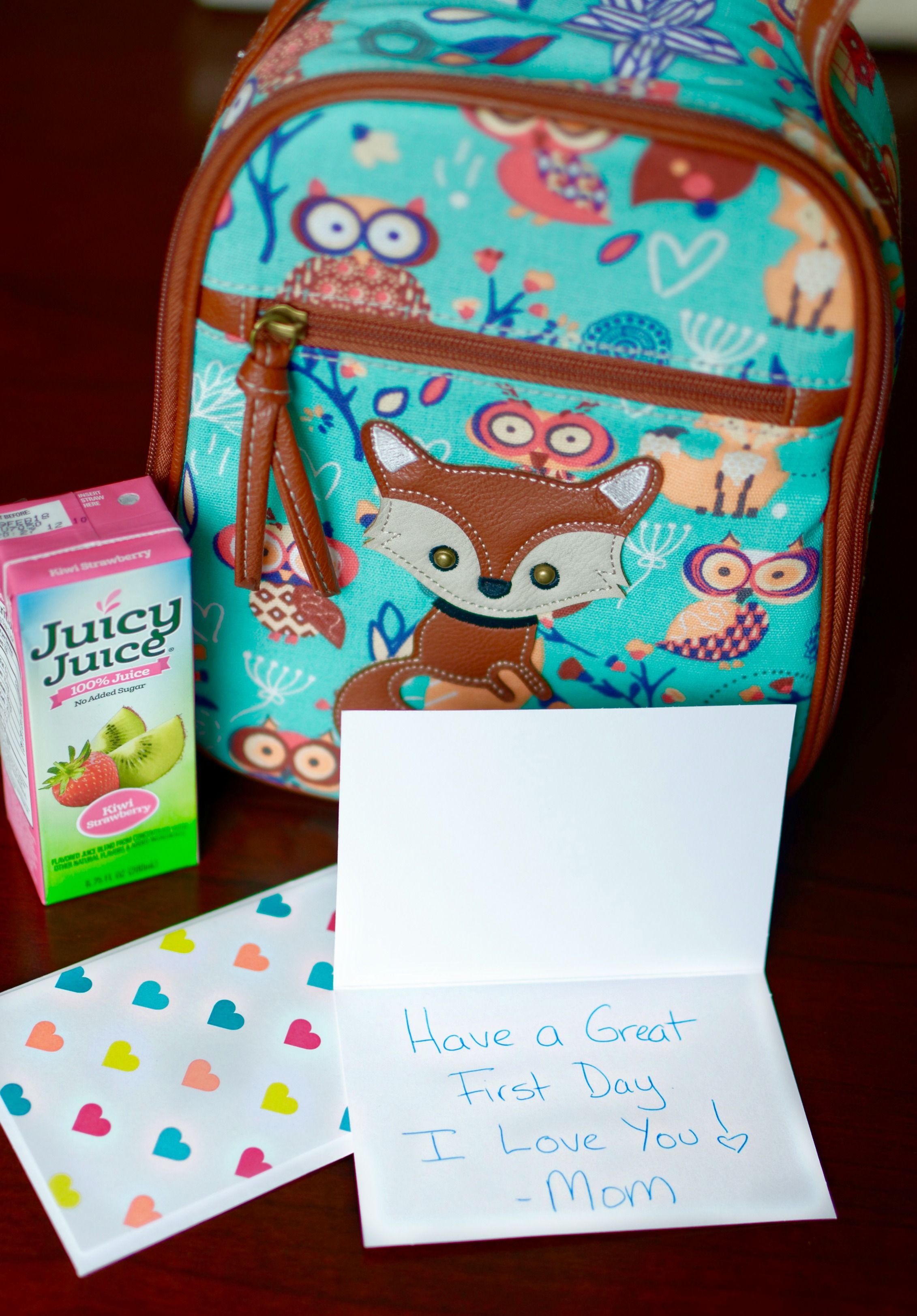 Once the kiddos have all gone to bed. Get a cute piece of stationary or whatever notepaper you can find and write them a little love letter to remind them how proud you are of them and to reassure them that it's going to be a great year ahead.
It doesn't have to be long or too mushy, gushy but just something that will put a smile on their face and warm their hearts. (you can do this for your tweens and teens too, they will appreciate it, even if they don't even acknowledge they read it).
Read A Special Book
There are several great books specific to starting Kindergarten that are perfect to read to nervous little ones on the night before.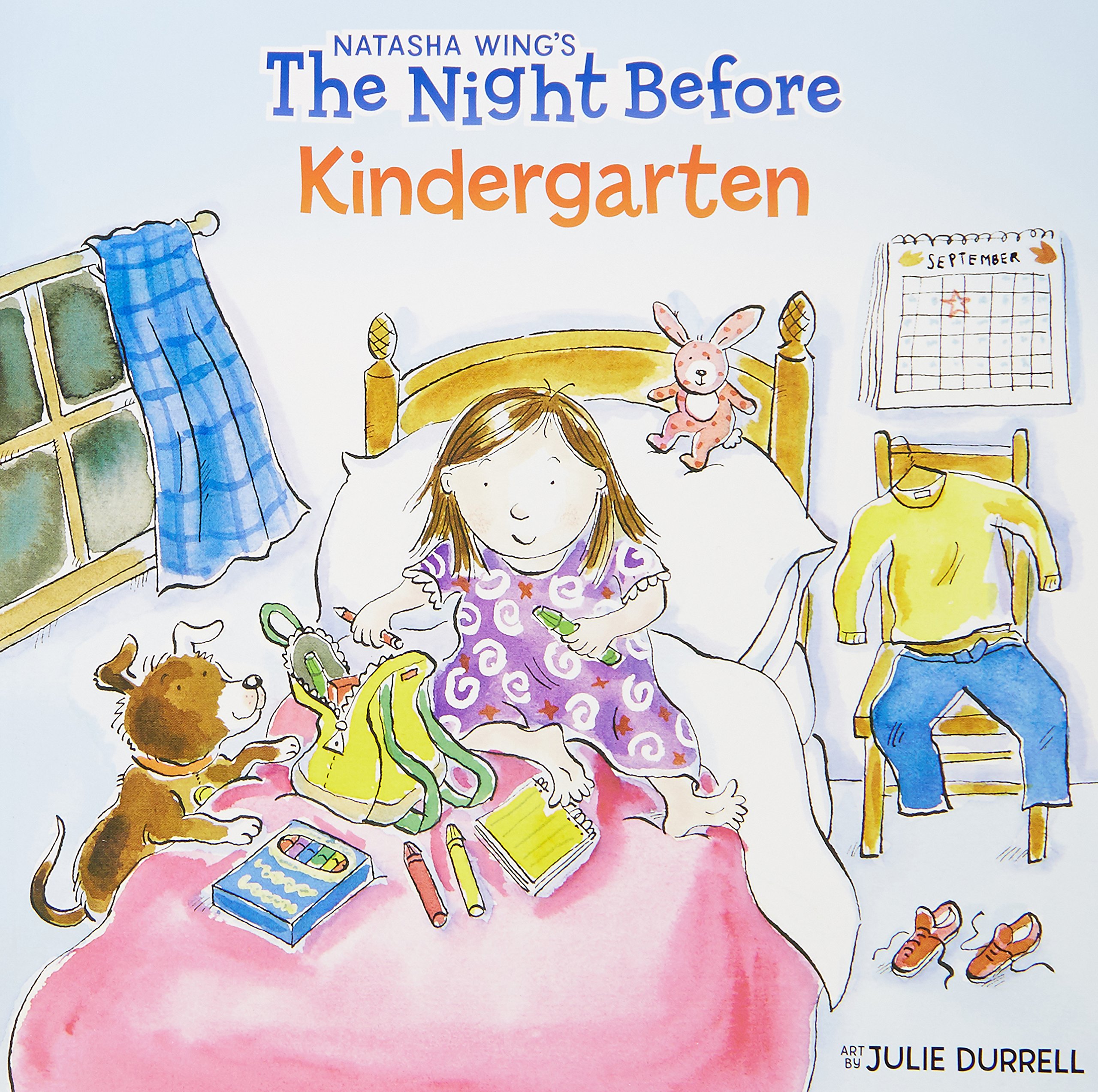 Back to School Book Ideas:
Splat the Cat – Back to School
Curious George's First Day of School
But it doesn't have to stop at Kindergarten. Consider choosing a series and you'll read one book together in each series at the beginning of each school year (Like Harry Potter or The Chronicles of Narnia). You could also let older kids choose a special book just for the occasion.
More Back to School Traditions
Chalk the Walk
Decorate the walkway to your car or the driveway with all sorts of fun sayings and silly faces to surprise them and see them off in the morning.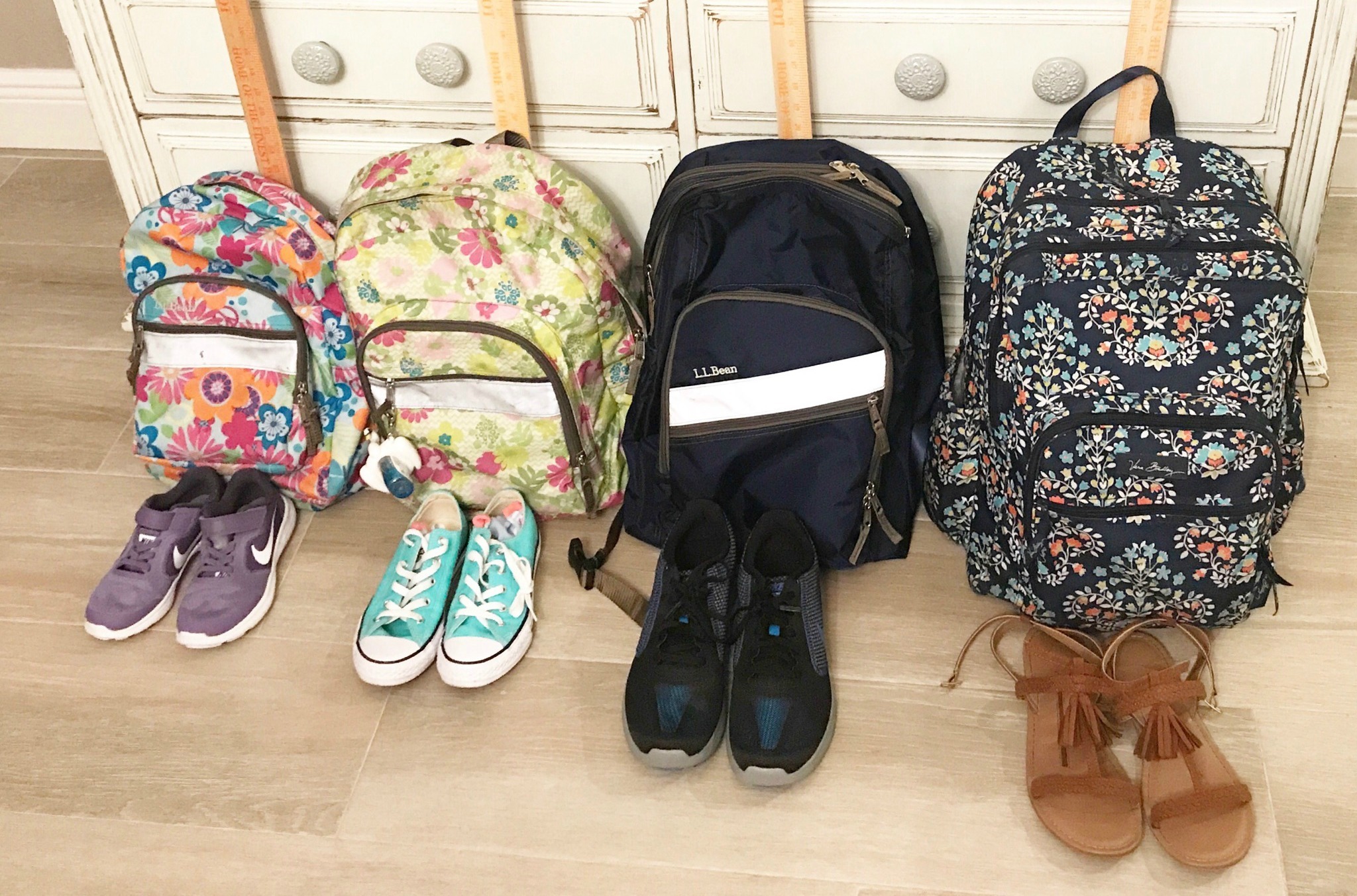 Take a Picture of Their School Supplies, Backpacks and Even New Shoes
Lay them all out and snap a shot of what they picked out for their back to school haul each year. As they grow-up, they will get a kick out of seeing how their choices and styles evolved.
Decorate Their Door
Set a celebratory mood for the big day by hanging sings or banners, covering the door with balloons, or taping streamers from top to bottom. Wait until you see how surprised they are when they wake-up in the morning!
Bake a Special Treat for Lunch
Usually a day or two before school starts, my kids and I will bake cookies or brownies or some other homemade treat to go in their lunches the first few days of school. It's a great way to spend some extra time together before we're all back in the school routine.
Do you and your family have any other back to school traditions?
Other Related Posts:
4 Easy Family Time Ideas For Fun and Meaningful Connection