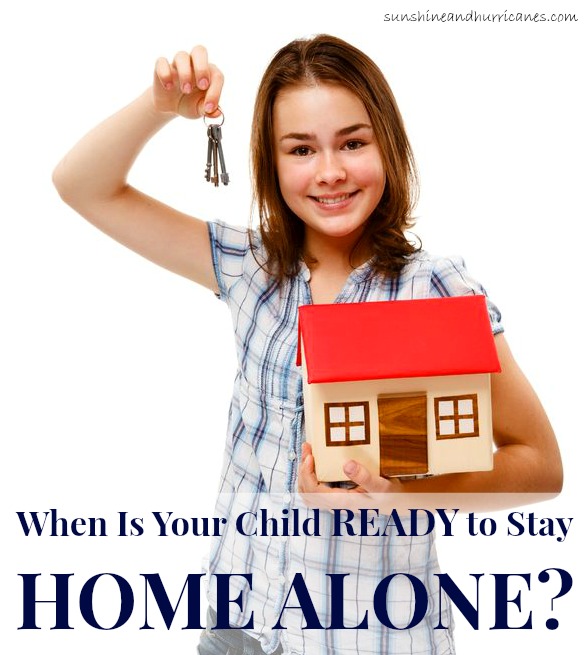 When is Your Child Ready to Stay Home Alone
As the mom of a new teen, there have been quite a few conversations in our home and amongst friends about what age a child is ready to stay home alone. And, like most things in parenting, there really isn't a one size fits all answer. I don't think there is a magical age to be equated with maturity but there are some behavioral indicators that can help you decide if your child is ready to stay home alone:
1) Demonstrates Responsibility: Is your child completing the chores they've been assigned, without continual reminders from parents? Does she care for her belongings, not being careless or leaving them where they can be damaged or destroyed?
2) Knows Safety Procedures: Does she understand when/why to call 911 vs. you, how to use a fire extinguisher, how to use the house alarm system? Does she know where basic first aid supplies are and how to use them?
3) Communicates Well: Is she able to express her needs, concerns, fears, etc? Is she able to engage in healthy discussion about her choices and understand that she is welcome to come to you with any issue or thoughts?
If your child is demonstrating these indicators consistently, then you can feel confident beginning a trial run. Allow your child the stay home for short periods at first. Maybe while you run to the store or take a younger child to an activity. Also, be sure that you have an established set of rules that you have discussed and your child fully understands the consequences for violating the rules.
Here are our rules for when our teen stays home alone:
No friends may come over, regardless of who appears at the front door.

She isn't allowed outside to socialize or exercise or even check the mail or to answer the door.

She isn't permitted to use the oven but she can use the stovetop or microwave.

She isn't allowed to use the internet and the wifi is password protected. We have agreements about television on a case by case basis.

We have predetermined "check in" times that are to be met. I'm a big believer in accountability, especially when a child is a newbie at staying alone.
One of the biggest mistakes you can make as a parent is assuming your child "knows better". I've found out the hard way, assumption leads to trouble, so play it safe and make sure your expectations are crystal clear.
Lastly, if you need additional guidance to help you determine when your child is ready to stay home alone, there are also laws governing the minimum age a child must reach before staying home alone. The laws vary on a state by state basis so you'll definitely want to check your state's requirements, here is a link that provides that information.
Overall, staying home alone is an important step on a child's road to independence. You can set your child up for success by first making sure that they are ready to take on this new responsibility and then by putting the proper boundaries in place to help keep them safe and make it a positive experience.