It's October, and although the holiday season is just beginning, you'll find this month offers up a few treats if you know the right tricks. Keep your family budget on track and save money when you know what to buy in October to get the best deals of the year!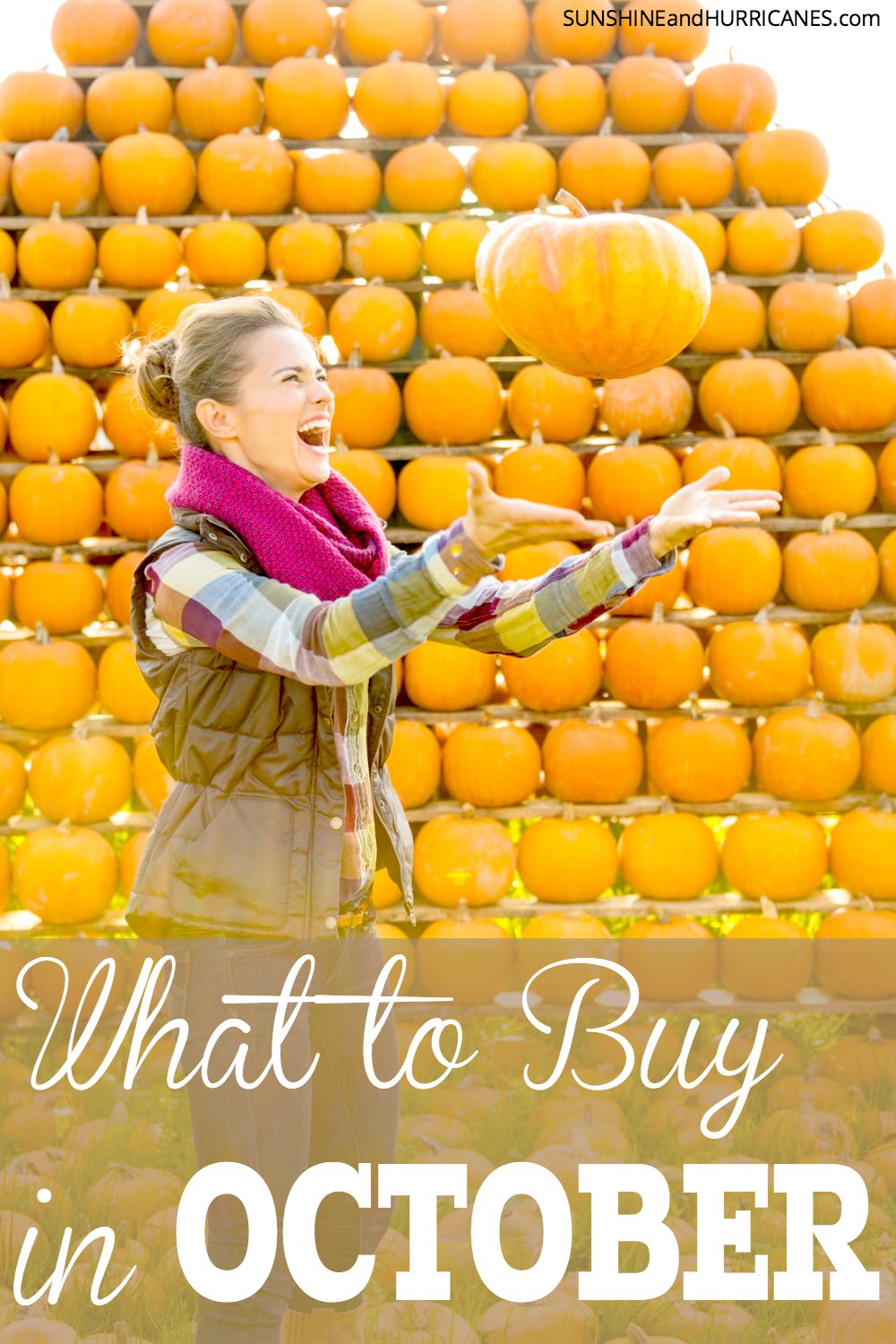 Holiday Trick or Treat
Filling the shelves and aisles left bare by back to school, you will now find witches, ghosts and ghouls galore. Typically, the very best prices on holiday merchandise come after a holiday is over, but Halloween may be one exception. Since the big money maker, Christmas, is waiting in the wings, the stores will already begin encroaching on Halloween's real estate almost as soon as they put out all those tricks and treats. Markdowns on costumes and décor will often start as early as the third week of the month. If you wait that long, you might not get first pick of the costumes, but the savings should be more than worth what you sacrifice in selection.
Also, before you buy candy at a big box retailer, check out the dollar stores. I was surprised to find out how much I could have saved last year on the exact same popular brands of sweets had I just taken a few extra minutes to stop by a different store. As for the after Halloween clearance, expect that it will happen fast. If you're on your game, you could pick up a few items that don't scream Halloween as affordable stocking stuffers and maybe some leftover costumes for dress-up play.
Black Friday is Coming
Okay, as for other deals, I realize most frugal minded shoppers have their eyes set on Black Friday, even though it's still a month or more away. You may be putting purchases on hold in anticipation of this well marketed shopping occasion, but I'm here to tell you, beware of all the hype. Many deals on some traditional gift items, like jewelry or hot fashion trends and toys, might actually be found long before Black Friday is upon us. As the holidays approach, supply for some of the more popular gifts can begin to run-out, which will drive-up prices. You don't want to get stuck paying significantly more or worse yet, end up empty handed.
We'll talk more about the best Black Friday bargains in What to But in November, but if I were to pick two types of purchases I would delay right now, they would be electronics and appliances. Whether for yourself or if you know someone is likely to have items in these categories on their holiday wish list, you're better off waiting another month. However, it's never a bad idea to start budgeting today, for what you plan to buy tomorrow. If you spread out your spending, it may be easier to manage the expenses across three months rather than all at once.
Driving Deals
Alright, so let's talk about some other good buys during October. I briefly mentioned in What to Buy in September that the 2015 car models would start arriving at dealerships across the country. The markdowns would have begun on the older models at that point, but October is when the sales start getting really serious. You might see savings as high as 20%, which could be well timed if you need some new wheels for traveling to see Grandma this season.
Sail Away Savings
Perhaps you want to put off those visions of visiting the in-laws a little longer and instead plan a little getaway to mentally prepare for all the holiday chaos. You won't feel guilty sneaking away for a long weekend when you see the deals that are available. October is caught in the middle between two peak travel times. This means many resorts and other popular vacation destinations will be offering special promotions and other discounts to drum up some extra business during this low demand period. Take advantage of the lower than usual costs and just consider it an early present to yourself this year.
Camping Clearance
If your idea of a getaway is less about sitting poolside somewhere and more about communing with the great outdoors, then this is the time to head to your nearest camping supply store and stock up. In warmer states, it's finally starting to get cool enough to make camping comfortable again, but the rest of the country is packing away the tents and other gear in preparation for winter's imminent arrival. We Floridians certainly can benefit from our seasonal advantage when it comes to sales on camping equipment. If you can't find what you're looking for at local stores, be sure to check online. As the market here isn't freezing over, inventory may go faster. Oh, and as a side note for sports parents, now is when you want to look into replacing your fold-up chairs or open-air tents that may be on their last legs.
Jeans for Sale
The last good buy savvy shoppers might spot on store shelves in October are jeans. This fashion staple is sold year round and as a result it isn't as susceptible to the typical sales cycles. However, stores will usually substantially increase their stock for back to school. By October, the extra inventory needs to go, which can result in your favorite denim brands being as much as 50% off.
I hope everyone has a very safe and happy Halloween and be sure to sign up for our monthly newsletter so you'll get next month's What to Buy post where I'll be taking you all through my Black Friday boot camp.
Want EVEN MORE great savings ideas?
Follow Sunshine and Hurricanes 's board Frugal Finds and Budgeting Wisdom on Pinterest.
When it come to what to buy in October, do you have any favorite steals and deals?