What to buy in September? Now that we've sent our little sweethearts back to school and we're trying to settle back into a budget routine. We might be feeling a little bit of a squeeze after purchasing new school supplies and clothes while also paying for all those extra-curricular activities that have started up again. Looking forward, we realize the holidays are quickly approaching and we need to begin saving for gifts and other seasonal merry making.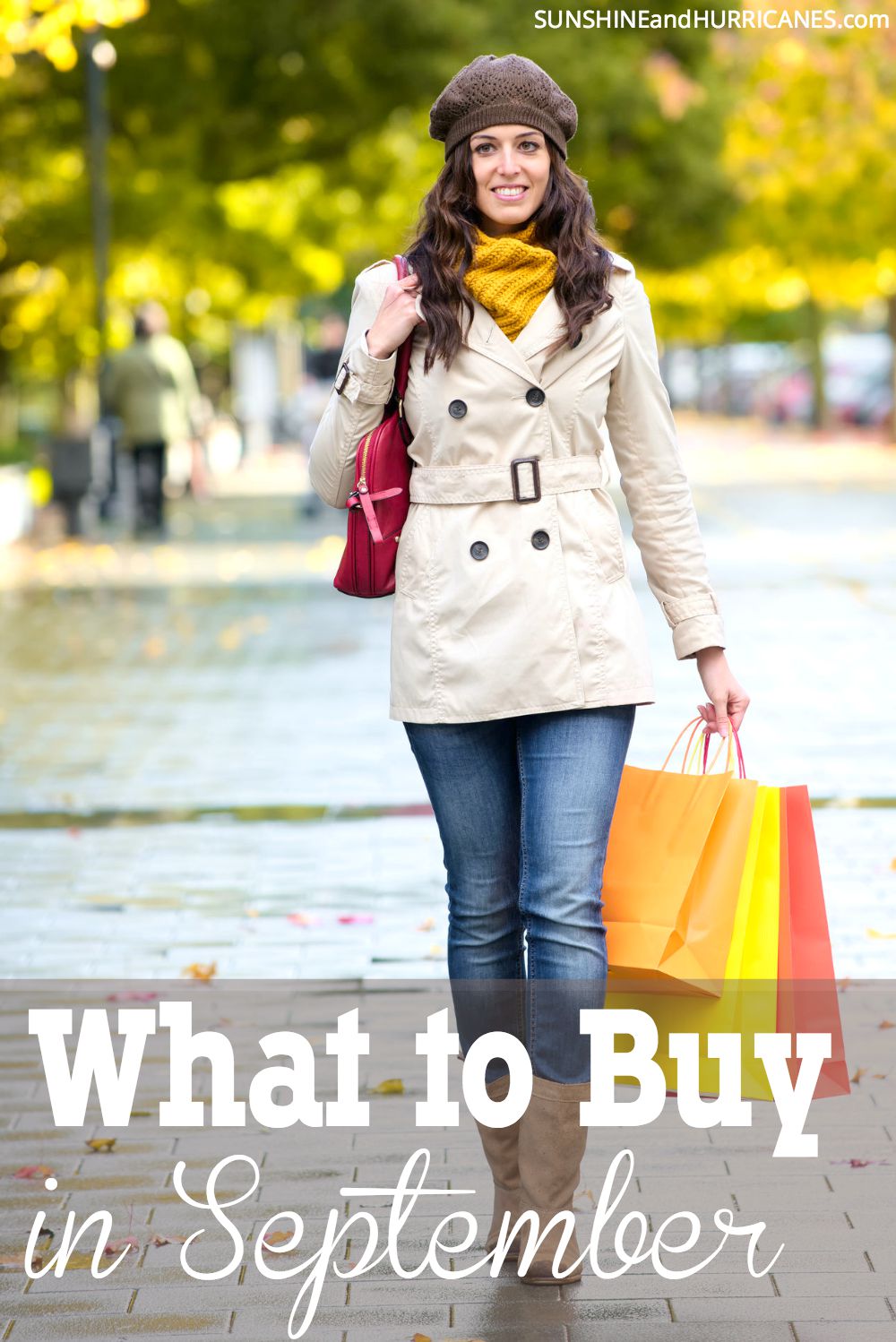 What to Buy in September? Holiday Travel
During this time of year with all these extra expenses, it's more important than ever to be certain we are spending our money wisely and getting the best deals possible. Start thinking about any holiday travel plans on the horizon, because airfare is typically at its lowest eight weeks before a travel date. This means September is when you'll want to pick up Thanksgiving tickets and start monitoring prices for December travel as well. Break out your calendar and start checking those dates and booking your plane tickets now.
Cut Costs on Car Purchases
If you won't be flying the friendly skies, but instead road tripping it to Grandma's house this year, you might be in the market for a new, reliable family vehicle. All the 2015 car models will start being released at Summer's end and the dealerships will be in a hurry to get the old inventory off their lots. If you don't mind a 2014 version, you can find a fairly decent deal and often manufacturer incentives on vehicle purchases.
Stock Up on Outdoor Equipment
In Florida, although we know we've still got another month until we see slightly cooler temps, our daily rainfalls are coming to end and our time spent on landscaping chores is dropping off. Also, the rest of the country knows it won't be long until their grass is covered in snow. All of this means a collective drop-off in purchases of lawnmowers and other yard tools, which will lead to some serious markdowns in an attempt to spur on final seasonal spending. Also, any remaining pool accessories and equipment, as well as patio furniture and grills will be on final clearance to make way for holiday merchandise. If you've been waiting to upgrade your mower, go get a good deal before they are gone!
Back to School Final Clearance
As summer fades for this year and school has been back in session for several weeks, most school supplies and summer clothes will already have been moved on out. However, it is worth looking out for that final clearance merchandise when you are in your favorite stores or even online, because you might just luck out and stumble upon some rock bottom prices. This can be a great chance to stockpile some items for the following school year or for future donations. Schools need supplies all year long and many school supplies make great donations for Holiday toy drives. It pays to think ahead and make your charitable contributions go farther! Plus, don't miss this opportunity to pick up inexpensive stocking stuffers and other holiday gifts.
Looking Forward to Black Friday
Since we're talking so much about the holidays, I guess it is inevitable that we mention Black Friday. We know it's coming and although the hype may make us wary, it really has become a time of year when you'll find some of the best pricing on electronics and appliances. Unless your TV, computer or fridge has broken down on you completely, these items are NOT what to buy in September.
iPhone Upgrade
One exception is the iPhone. The tech world was anticipating Apple will announce the release of the latest iPhone version this month. For those who don't feel the need to wait and upgrade to the latest gadgetry, current models will drop in price in anticipation of the new iPhone unveiling, which will save you a bundle.
Save on Slumber
If dreaming of a new iPhone hasn't been keeping you up at night, maybe you are having trouble getting a good night's rest because your mattress has gotten old, lumpy and bumpy. Don't let your sleep suffer any longer. Generally, over Labor Day weekend mattresses hit their lowest prices via big name retailers like Sears. Many times, other large stores will price match the ads so do your homework to ensure to maximize the savings.
National Coffee Day!!!
Oh, and what month would be complete without a fun and whimsical holiday that no one has ever really heard about, but which creates a great excuse for promotions and FREE stuff? I'll confess, I think this month's is one of my favorites. September 29th is National Coffee Day. Many of the best coffee joints around the country will be offering up a free or discounted cup of joe. You can get one at Dunkin Donuts with their mobile app or try samples at Starbucks. If you prefer to get your caffeine fix from a different source, a quick Google search as the day gets closer could pay off. Or if you are loyal customer, check your email, as its likely many other coffee retailers will send celebratory special offers via this route.
Anything you would add to our list of What to Buy in September?
Looking For Even MORE Money Saving Ideas?
Follow Sunshine and Hurricanes 's board Frugal Finds and Budgeting Wisdom on Pinterest.