What to Buy in July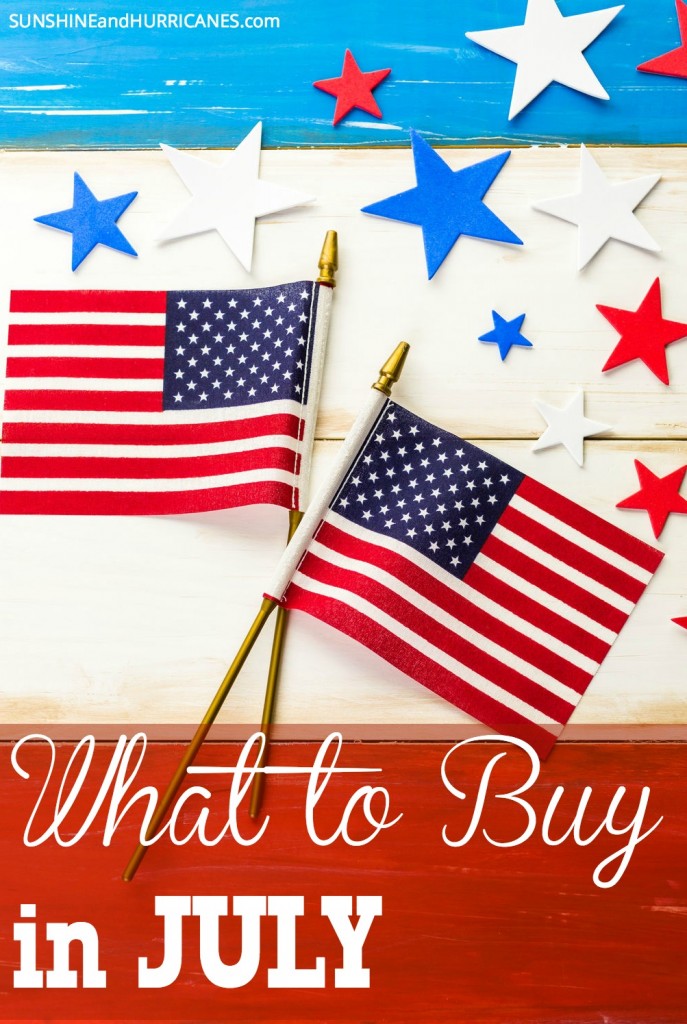 For many of us it feels like by The Fourth of July our summer is really just getting into full swing. However, for most retailers it represents the peak of the summer season. This is the point at which they will start seriously marking down summer merchandise in order to make space for all the back to school gear and fall fashions.
Cooking Out
BBQ's and other outdoor shindigs mean that grills are in high demand as we head into the Fourth of July. You may be tempted to upgrade your grill in preparation for all these fun food oriented events, but if you can make do until after the holiday you will be ready to set off a few more fireworks in celebration of your spectacular savings. Stores begin offering large price reductions on grills starting in mid-July and heading on into August. Keep an eye on your favorite brands and styles and be ready to purchase when the sales stickers hit. Oh, and this goes for most other outdoor products as well including everything from patio sets to pool toys and gardening goods.
National Ice Cream Month
So, already this year we've learned about national frozen food month, national auto care month, and national donut day. Now in July comes, National Ice Cream Month. I confess I think this is my favorite so far! Coupons and sales should be jumping out all over in the newspaper, online and even on grocery store websites and in-store circulars. Remember you can often combine store coupons and a manufacturers coupon on top of general price promotions. If you're savvy in searching out these types of stacking deals, you can stock up your freezer for the rest of the year with sweet frozen treats.
Bling, Bling Baby
If you followed my advice and steered clear of shopping for something sparkly around Mother's Day, now that delayed gratification can pay off in a big way. As summertime delivers a damaging dry spell of jewelry worthy gift giving holidays, most jewelry stores will get creative with promotions and discounts to lure buyers to their wares. If you've had your eye on a pair of trendy new earrings or a few beautiful bangles, feel free to indulge now knowing you're getting a great deal. Also, don't forget (as much as we might like to) that the holidays will be back upon us before we can blink. Consider your gift list and perhaps pick up a few trinkets now to tuck away. Your Christmas budget will thank you later.
Mr. Fixit
Dads should not feel left out in the buying bonanza. I also suggested they might be better off if they delayed adding to their tool collection until after Father's Day. Again, your patience will likely be rewarded with some pretty appealing prices. Although, if you're good on the self-discipline and those home projects aren't pressing, you'll see the best prices as we head into Black Friday and the end of the year sales.
Project Runway
The whole family can benefit in July from all the summer fashion discounts. In other parts of the country, sometimes the best sales won't arrive until August, but in Florida because our schools go back earlier, we often get those huge clearance deals sooner. If you want to get a jump on back to school shopping, start scouting the stores by the middle of the month. You're likely to find discounts at 50% or more, which is some significant savings. Plus, if you put it off, the most sought after styles may already have been scooped up. Don't fret if you forget though, come August just take your shopping online where you will probably still find plenty of inventory available at reasonable prices along with offers for free shipping and returns. Also, keep in mind that our kiddos wear summer clothes almost year round. Your budget could benefit in the long run if you buy up a size and pack those items away until they are needed. It might be sooner than you think if your kids grow like mine do, and planning ahead could save you a bundle.
Delayed Gratification
Okay, now what do you want to steer clear of this month? While it's true that most summer fashions will be nearing the higher end of the discount range, swimsuits and sunglasses tend to lag behind this cost curve. If those items are on your wish list, you may want to wait until next month or even into September.
Also, let's talk about the growing gimmick of Christmas in July sales. This movement has gained in popularity over the last few years and some of our favorite stores have joined the bandwagon. Unfortunately, you are likely to find more hype than hot deals. Most of the items that are marked down during this time are the same ones that you'll see promoted for considerably less during the Black Friday timeframe. If you don't need it now, don't buy it now.
Lastly, back to school often brings pleas from our children for new technology and especially computers. If you've got a child heading off to college and sometimes even in high school, where a tablet or a laptop is required, be sure to look into student discounts. It can definitely help with sticker shock. On the other hand, if there is no immediate need, you may find that delaying the purchase until after the back to school buying rush will net you a more attractive offer.
See you in August and when I'll give you some tips on savvy shopping for school supplies as well as savings strategies for heading into the holiday shopping season.
Want to Find More Ways to Save?
Follow Sunshine and Hurricanes 's board Frugal Finds and Budgeting Wisdom on Pinterest.