What to Buy In April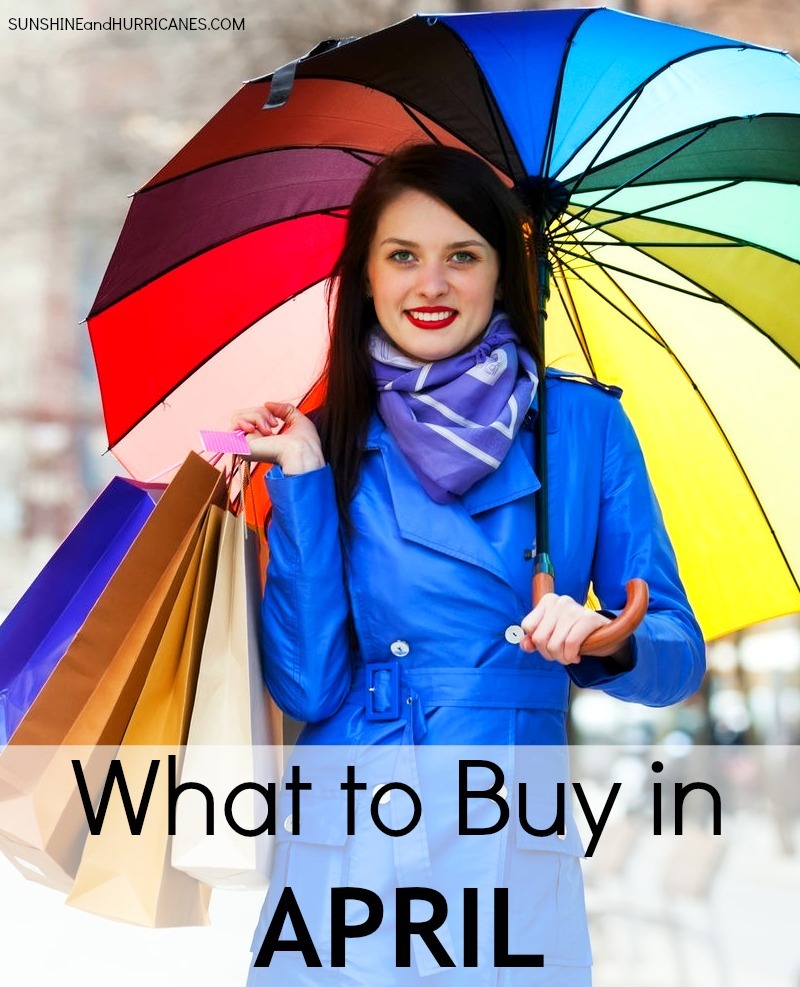 Fashion Finds
In April, as most of the country begins to thaw out, a shift will be taking place in many retail spaces to move towards the summer season. Spring merchandise will begin to see some initial markdowns with discounts likely to be in the 20%-30% range. Hold out a little longer as May will bring the more serious savings. However, if your kids have outgrown their raingear this may be the time to buy. The stores will be stocked with umbrellas, boots and jackets, but the rainy season is short-lived. Almost as quickly as they put these items on the shelves, the clearance process begins.
TVs and Other Electronics
If you missed some of the Super Bowl sales on televisions, you actually get another chance in April to score a great deal. The fiscal year in Japan ends in March, meaning that new models for televisions and other electronics made in Japan will start arriving in stores this month. In their rush to get older models out the door, clearance sales will be prevalent. Rarely are there dramatic differences as models change year to year, so for most people, picking up last year's version is more than worth it when taking into consideration the lower costs. If you've also been eyeing a new digital camera, April can be one of the better months to pick up these memory making must haves.
Summer Events – Purchase Gifts Now
With graduation and wedding season just around the corner, popular gifts for these two big occasions tend to start going on sale in April. Cookware and other kitchen gadgets will be particularly easy to find on sale as all the retailers in this product space seek to capture consumer's dollars. Also on the gift front, Mother's Day is quickly approaching and if jewelry is on her wish list, then buy early rather than waiting until May. Often prices on those beautiful baubles start going up as the holiday gets closer.
Tax Day Freebies
While most people associate tax day with paying money rather than saving it, there are actually a considerable number of freebies offered on the 15th or 16th. Several fast food chains and convenience stores offer everything from free slurpees and coffee, to free tacos and hotdogs. Even many restaurants get in on the action with buy one get one free deals. Hey, at least you can celebrate a night of not having to cook. As it gets closer to April 15th, a simple Google search on "Tax Day Freebies" will provide you with a full list of what will be available.
Easter Clearance
The Easter bunny will be making an appearance at most homes in the middle of the month. After all the colored eggs hidden around the yard have been found and everyone has eaten their bodyweight in peeps, work off the extra calories with a run to the store where you will find Easter décor and related goodies for up to 70% off original prices. You can pick up some of the non-perishable Easter themed items to tuck away for next year, but also consider looking for small toys and other generic gifts that could be repurposed as stocking stuffers. A cute little stuffed bunny or chick would be as welcome Christmas morning as it is in an Easter basket.
Go Green on a Budget
Did you think we were done with April holidays, oh no, not yet. April also plays host to our annual celebration of Mother Earth. This year, Earth Day is officially April 22nd, but most stores will be running promotions on "earth friendly" products throughout the month. You're also likely to find coupons for these products on brand websites, popular coupon websites or in the Sunday coupon section of your paper. It's also National Car Care month (no this isn't an April Fool's Day joke) making April one of the two best months of the year to put new tires on your car.
Vacation Specials
If a road trip isn't exactly what you had in mind and your sights were set instead on a slightly more exotic destination, you are in luck. April marks the end of high season in the Caribbean. Vacation packages to a variety of sunny islands with their clear blue seas will be far more reasonable than most other times of year. A cruise would also be another option as April is a slow month for these popular family getaways.
DIY Deals
If you would rather stay home and work on making your personal residence the kind of retreat where you can escape for a little relaxation and rejuvenation, then make your list for those projects you've been picturing. Home improvement supplies have shown a history of lower prices during April. In the past, Home Depot has held a "Spring Black Friday" sale in April for all those turning spring-cleaning into spring remodeling. Although that specific sale isn't a guarantee this year, it has had the benefit of putting all retailers in this space into a natural sales cycle in April.
Other Odds and Ends
Lastly for April, there tends to be some disagreement among the experts about whether or not this is really the month to snag a bargain on vacuum cleaners and office furniture. Some believe that new vacuum models coming out in May and June are likely to create a few sweeping deals for these household helpers this month, but others say that nothing compares to the period around Black Friday. Office furniture may be discounted in a few of the larger office supply stores during April, but pricing trends over time actually suggest that summer is a better time to buy. At the end of the day, a deal is in the eye of the beholder and also depends on how urgent the need. I know if my vacuum cleaner needed replacing, it couldn't wait a few months. However, I can probably survive without a new desk chair at least a little while longer.