Inside:Gifts for Kids – Special Needs Toys including sensory processing toys, autism toys and more
It isn't always easy to know what the right gift is for a child with special needs. The newest hottest toy on the market may not be a great fit.
If you are a caregiver, you know that it can require a different tools depending on the day or the specific issue you're dealing with. But there are more and more toys available that can make things fun, for you and them.
If you are a family member or a friend who wants to make sure you get just the right gift for this special child you care so much about, a little guidance can be helpful. There are so many special needs toys on the market today.
Whether it's Autism toys , ADHD toys, Sensory Processing toys or toys for any other special need, we've narrowed down the choices and provided lots of great options here to help you pick out that perfect gift!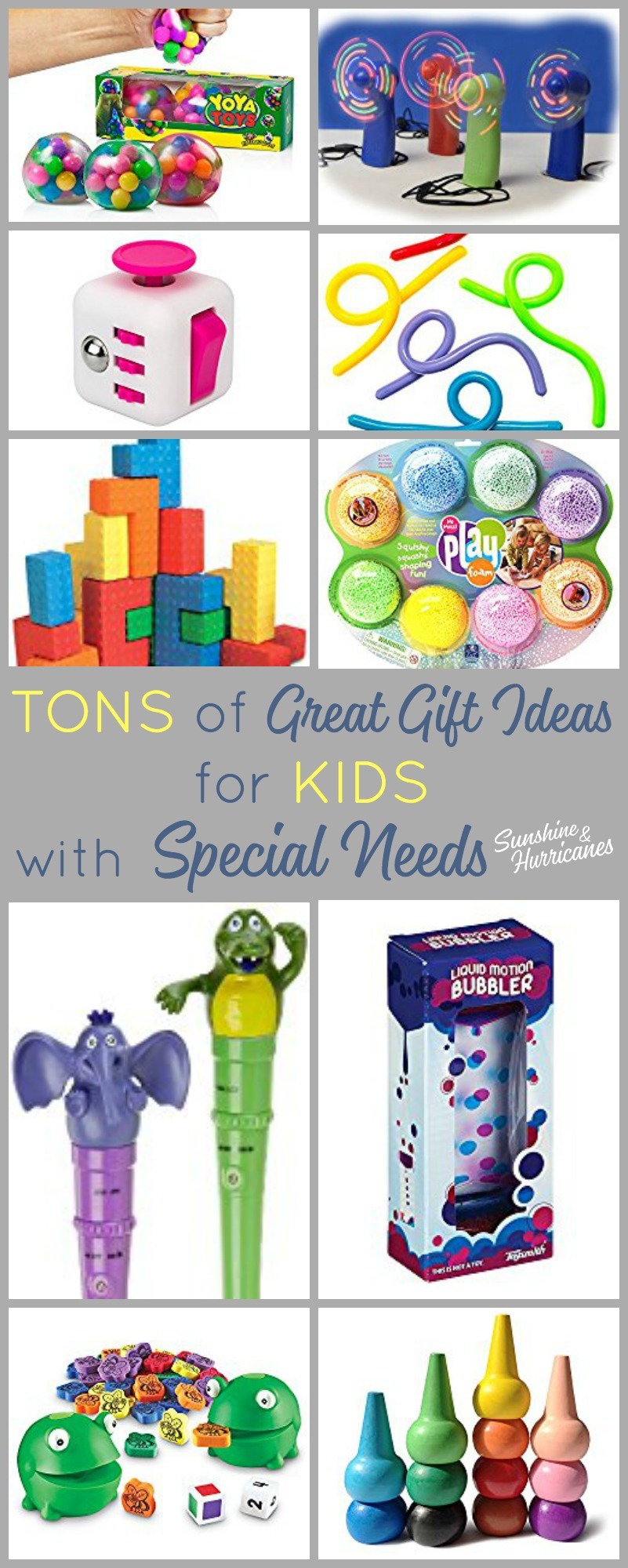 Gifts for Kids – Special Needs Toys
(Sensory Processing Toys, Autism Toys and More)
href="https://www.amazon.com/Fat-Brain-Toys-Dimpl-Gifts/dp/B079CH7PLF?tag=calmandchaosm-20″ style="color:inherit;display:inline-block;text-decoration:none;margin:1.5%;vertical-align:top;width:250px" target="_blank" rel="nofollow" title="Fat Brain Toys Dimpl Baby Toys & Gifts for Ages 1 to 2, Multi">
Fat Brain Toys Dimpl Baby Toys & Gifts for Ages 1 to 2, Multi
Harkla Hug (60 inches) – Inflatable Peapod for Children with Sensory Needs – Great Sensory Product for Ages 6 to 12 – Occupational Therapy Tools, Autism Toys
MarvelBeads Water Beads Rainbow Mix (Half Pound) for Spa Refill, Sensory Toys and Décor (Non-Toxic)
ALEX Active Monkey Balance Board
Sensory Weighted Lap Pad for Kids 5 pounds – Great Weighted Lap Blanket for Kids with Autism, ADHD, and Sensory Processing Disorder – Classroom and Special Education Supplies
5 Pc Sensory Processing Disorder Bundle for Kids; Autistic Toys, ADHD Tools, Stress & Anxiety Relief
Impresa Products Spiky Slap Bracelets / Slap Bands (3 Pack) – Great Sensory Toys / Fidget Toys – BPA/Phthalate/Latex-Free
AMAZEYOU Kids Swing Hammock Pod Chair – Child's Rope Hanging Sensory Seat Nest Indoor Outdoor Use Inflatable Pillow – Great Children, All Accessories Included (Green)
Fat Brain Toys Door Pong
Fat Brain Toys Ribbon Ninja Active Play for Ages 6 to 10
Kid O A to Z Magnatab
Kid O PlayMonster Glow-in-The-Dark Jumbo Magnatab
Gymnic Rody Horse Inflatable Bounce & Ride,
KEVA Structures 200 Plank Set
KEVA Contraptions Plank Set
Fat Brain Toys Morphy Brainteasers for Ages 8 to 11
Ghost Cube by Mefferts- Speed Cube, Brain Teasers, One-Player Games, Shape Puzzle, Twisty Puzzle
Snap Circuits Jr. SC-100 Electronics Exploration Kit, Kids Building Projects Kits, Stem Engineering Toys for Kids 8+
Pencil Grips – BUSHIBU Children Pen Writing Aid Grip Set Posture Correction Tool for Kids Preschoolers Children,Hollow Ventilation (4PCS)
Patterned Stacking Peg Board Set Toy | Montessori Occupational Therapy Early Learning For Fine Motor Skills, Ideal for Toddlers and Preschooler, Includes 36 Plastic Pegs & 2 Boards, 4 Sides | Storage
DIGYT Therapy Putty and Stress Ball Kit – Occupational Therapy and Sensory Toys for Hand Therapy, Fine Motor Control, Grip and Mobility – Stress Relief Balls for Kids and Adults – ADHD Fidget Toys
PreWriting Fine Motor Skill Toy – Blue Walking Elephant – Helping Hands Tool for Five Fingers – Occupational Therapy Toy
Learning Resources Hide-N-Go Moo, Sensory Awareness, Cognitive Function Farm Animal Toy, 9 Pieces, Ages 2+
Fidget Toy Bundle
Sensory Fidget Toys
Stress Balls

Chew Brick Necklace
Race Car Chew
Vibrating Pillow
Sensory Sock
Autism Sensory Light
Easy Grip Soft Foam Blocks
Rainmaker
Tabletop Scissors
Sensory Toothbrush
Smart Loop Scissors
Stackable Grip Crayons
Wooden Puzzle Set
Pinch Me Dough
Playfoam
Diverse Abilities Figures
Moonscape
Peg Board and Pegs
Weighted Blanket

Animal Massagers
Wow Cups
Light Up Fan

Liquid Bubbler
Pin Art
Froggy Feeding Game
If you've got a child with special needs in your life, you may also find this article helpful: Reducing and Surviving Sensory Overload During the Holidays
We've also got great tech resources for special needs families:
Apps For Sensory Processing Disorder: Helpful Resources
10 Dyslexia Apps To Help Your Struggling Reader
Do you have other special needs toys you would suggest? What about sensory toys or autism toys specifically?