Inside:Gifts for Kids – Special Needs Toys including sensory processing toys, autism toys and more
It isn't always easy to know what the right gift is for a child with special needs. The newest hottest toy on the market may not be a great fit.
If you are a caregiver, you know that it can require a different tools depending on the day or the specific issue you're dealing with. But there are more and more toys available that can make things fun, for you and them.
If you are a family member or a friend who wants to make sure you get just the right gift for this special child you care so much about, a little guidance can be helpful. There are so many special needs toys on the market today.
Whether it's Autism toys , ADHD toys, Sensory Processing toys or toys for any other special need, we've narrowed down the choices and provided lots of great options here to help you pick out that perfect gift!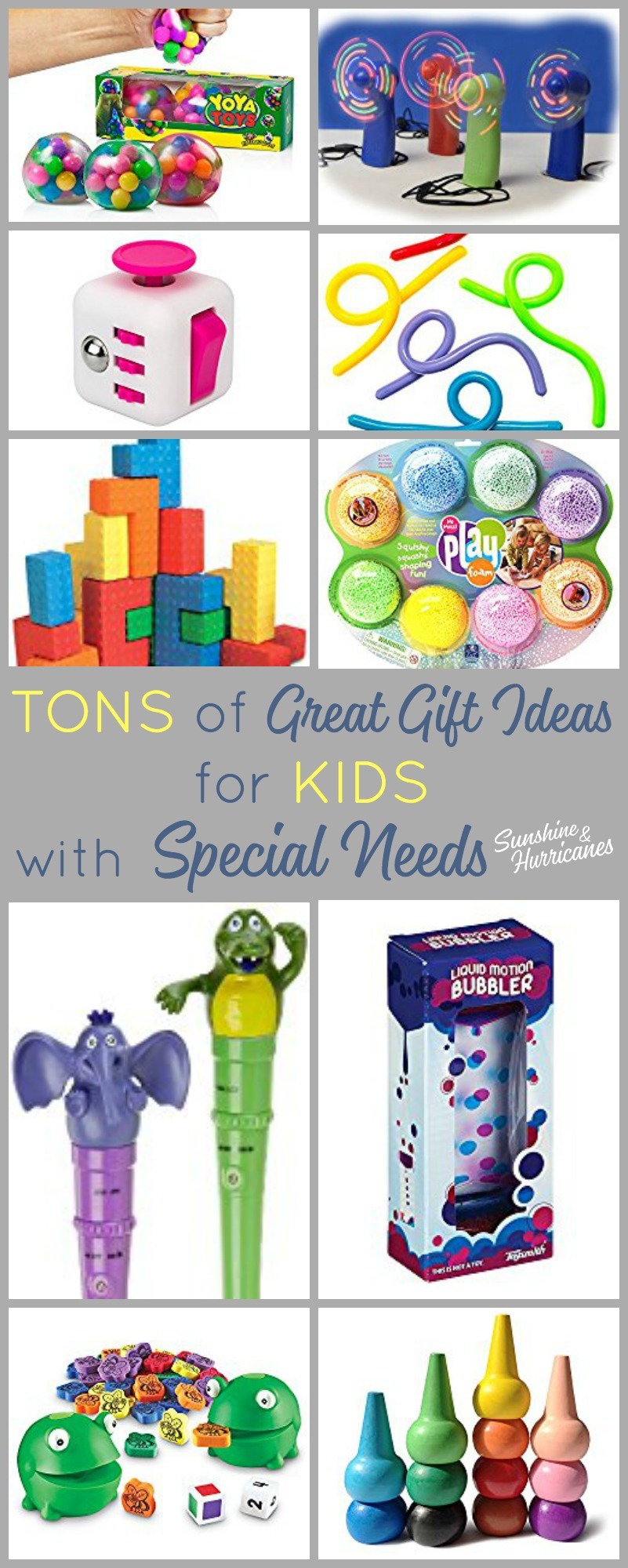 Gifts for Kids – Special Needs Toys
(Sensory Processing Toys, Autism Toys and More) 
Fidget Toy Bundle
Sensory Fidget Toys
Stress Balls

Chew Brick Necklace
Race Car Chew
Vibrating Pillow
Sensory Sock
Autism Sensory Light
Easy Grip Soft Foam Blocks
Rainmaker
Tabletop Scissors
Sensory Toothbrush
Smart Loop Scissors
Stackable Grip Crayons
Wooden Puzzle Set
Pinch Me Dough
Playfoam
Diverse Abilities Figures
Moonscape
Peg Board and Pegs
Weighted Blanket

Animal Massagers
Wow Cups
Light Up Fan

Liquid Bubbler
Pin Art
Froggy Feeding Game
If you've got a child with special needs in your life, you may also find this article helpful: Reducing and Surviving Sensory Overload During the Holidays
We've also got great tech resources for special needs families:
Apps For Sensory Processing Disorder: Helpful Resources
10 Dyslexia Apps To Help Your Struggling Reader
Do you have other special needs toys you would suggest? What about sensory toys or autism toys specifically?